The HMA app prioritizes masking your activity to the maximum. HideMyAss is famous for excellent usability and trouble-free interface.
HMA VPN is a wise choice when you are ready to pay for long-term usage to ensure top-notch protection. The HMA app prioritizes trail erasures and bestows various features that help with masking your activity to the maximum. The HideMyAss app is famous for its excellent usability and trouble-free interface.
The mentioned VPN is a rare app that allows for using specially optimized streaming servers. Users report that they managed to stream in 4K without major slowdowns. Some servers are still slow, but users always have a speed tester that picks the fastest server with minimal ping.
HMA developers covered many countries, contributing to bigger access chances. Many countries allow using only a couple of servers. Yet, the number of servers is never less than two, even for rare locations.
Extra payment allows thirty connections to ensure end-to-end encryption for many business devices. In addition, the HMA tool may scale as your business develops. So, the Hide My Ass app can be a wise addition to the business toolkit.
The HideMyAss app is not the most expensive when looking at the monthly payment. Yes, the charge is under $5 when you calculate the 30-31 days price. That price seems affordable in contrast to many proxies. Notwithstanding, you can obtain the program only when you pay for twelve months — and that is the minimum term. Another plan allows you to spend only $2.99 per month if you give more than $400 instantly for three-year usage. Occasional limited offers cut that sum in half, but that is still pricey. Moreover, users might not want to use the only program for twelve and more months. Of course, business usage plans cost more.
We must also highlight that the number of countries and more than 1000 servers did not manage to unlock Amazon Prime. But there are no issues with other popular media hubs like Netflix, HBO, and Disney+. On top of that, the ads will still hamper your browsing sessions because the HMA app does not have an ad blocker.
There is an enigmatic thing going on with the client's trust. Almost 20% of the HMA VPN havers do NOT recommend the service. And there are solid reasons for that.
Overall, the Hide My Ass VPN deserves high estimation and can be a wise addition to your Internet toolkit. Still, be ready to pay hundreds of dollars from the very start. Maybe, a discount offer might lighten your purchase expenses. But also prepare to use the app for a long time.
Essentials about HMA Tool to Consider before Purchasing
The HideMyAss VPN has various features. Some of them might be excessive for users who merely want to watch Netflix. But, in any case, here is what to keep in mind:
Feature-set
Privacy. The website elucidates the VPN privacy policy and says that the service collects minimum information. Some data pieces are essential to solving issues (for instance, crash reports), and others are essential to know it is you who accesses the website. In addition, there are indispensable cookie files that ensure your website usage and fix info about your preferences. Still, the company does not store your data and does not collect extra info like browsing experience. So, the data collection extent is far from being Google Analytics. Also, the service does not keep logs:

Your credit card details are beyond reach for the service. HMA group relies on third parties that handle transactions. Thus, the bank will see your card details, but it will not send them to the service. The billing information remains in HMA databases, but there are no card details. The HideMyAss team might obtain that information only when there are fraud prevention processes.
Security features. The HideMyAss team highlights that they strive to protect user information maximally. There are two hubs of information — one in the UK and one in the Czech Republic. So, data travels between those two info centers, but the company says it takes all standard measures to shield user data. Also, HMA VPN havers may automatically switch their IP for 100% masking and make tracing even more complicated.
Refund. The HideMyAss team may replenish your expenses when you have not used the program for more than thirty days. So, the money-back guarantee is actual, but there are various situations when the company might not carry out a refund. For instance, HMA is not responsible if you purchase the program from an alien seller. Also, they might not give any money back if users violate the Acceptable Use Policy. You can analyze this document for more details, but we did not detect anything unfair — in posted material.
Server network. HideMyAss team allows using a broad server network. There are more than two hundred countries to choose from as your location.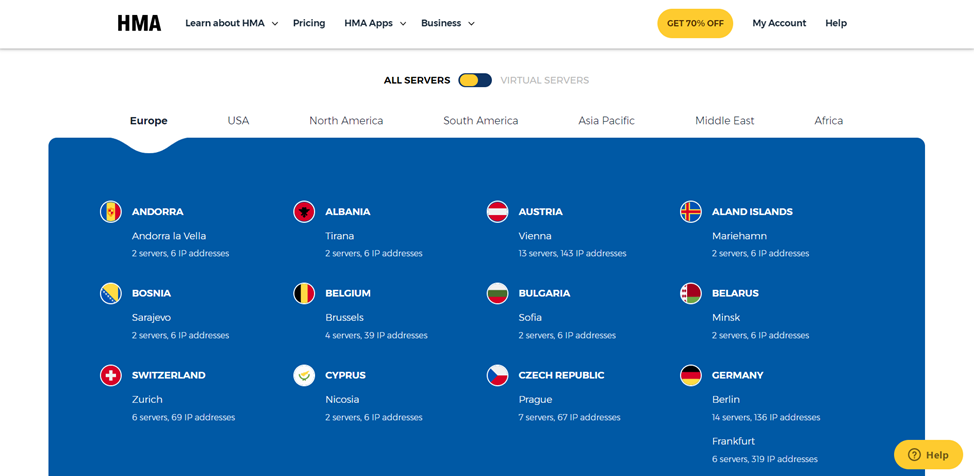 The speeds vary depending on the location you pick, but the server network performs well overall. Stability is another prerogative. Thus, HMA is recommendable for its wide and solid network.
Torrenting capabilities. High-speed servers are a good choice for torrenting. Overall, speeds allow trouble-free torrenting. Thus, this point is ten out of ten.
Kill switch. This component has zero complaints and demonstrates sustainable work. So, the function performs momentarily if the HMA VPN connection drops. As a result, the users do not experience IP leaks or other drawbacks.
Compatibility and simultaneous connections. The HMA VPN functions with various devices. You can say that the list of compatible devices is standard, and pretty much any app of the type will allow the same operations.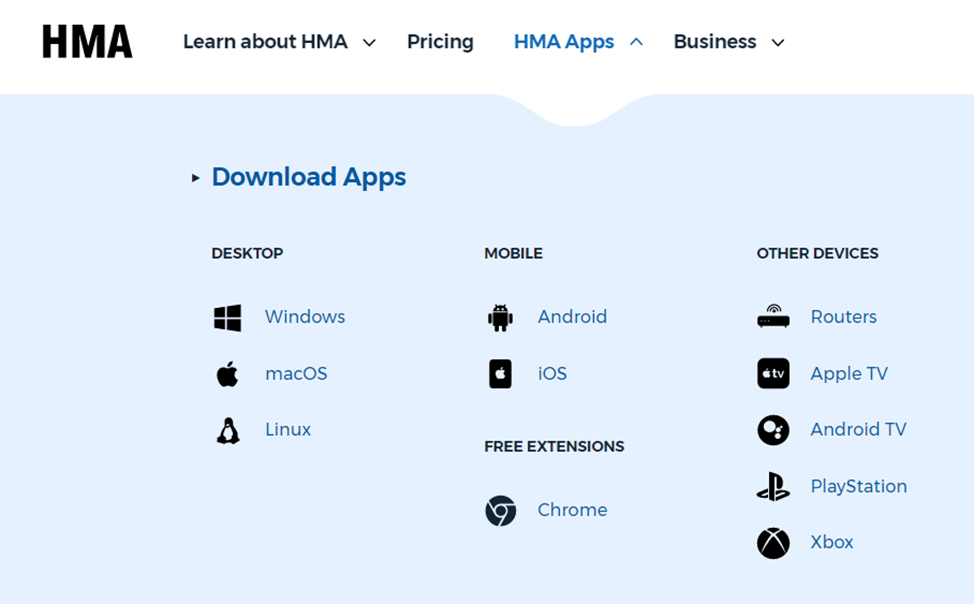 So, you may install the HMA program to your Android and iOS devices, Linux, macOS, Windows, PlayStation, Xbox, and routers. The program allows five simultaneous tie-ins. But note that additional payment allows more concurrent connections. Business accounts may permit up to thirty connections to protect as many business systems as possible. Yet, note that the prices start scraping the skies if you require so many connections.
Streaming. HideMyAss might be one of the finest options for streaming. The company ensured the functioning of specially-optimized servers that focus on streaming services. Not all servers are fast, but German, the US, and the UK ones exist primarily for streaming. There are also several P2P-optimized servers in Czech, Germany, France, Netherlands, the UK, and the US. As a result, HMA can be an advisable tool for that purpose.
Usability
The website provides intelligible information and covers maximum essentials. It is also worth mentioning that 99% of the presented information corresponds to the objective functioning of the HMA VPN. Maybe, the stellar speeds are a bit of an exaggeration. Yet, the company embraces the fact that speeds drop occasionally.
The most clickable buttons are at the top: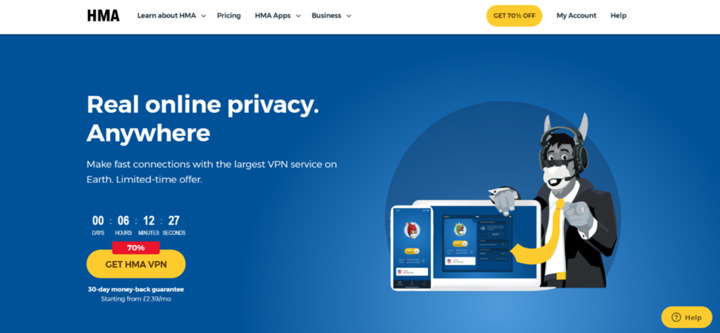 But there could be some other buttons. For instance, users might need another language. They will have to scroll the site down to find the language switch. Also, it is advisable to click some links at the bottom because many of them contain vital information about the HMA programs' functioning: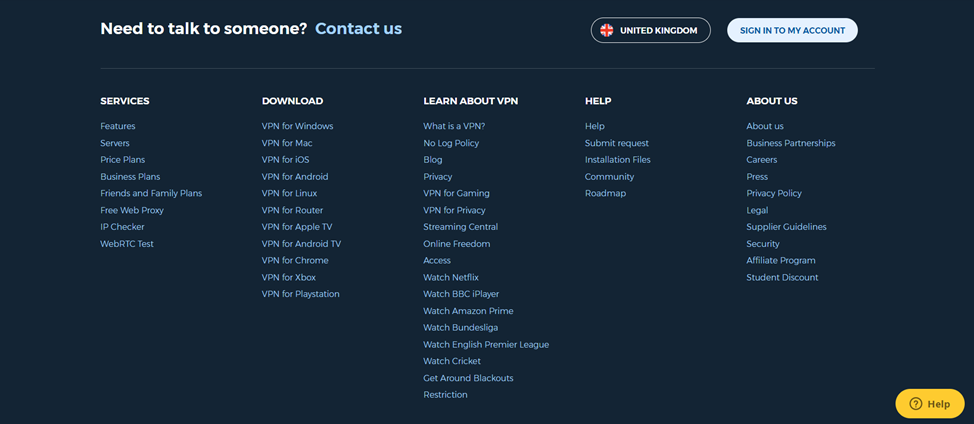 En passant, the language translations are praiseworthy. The company did not use machine translations. Users have a wide range of languages to choose from for utmost comprehension. That is a vast plus, given that VPN services usually focus on a couple of European languages. So, you may choose: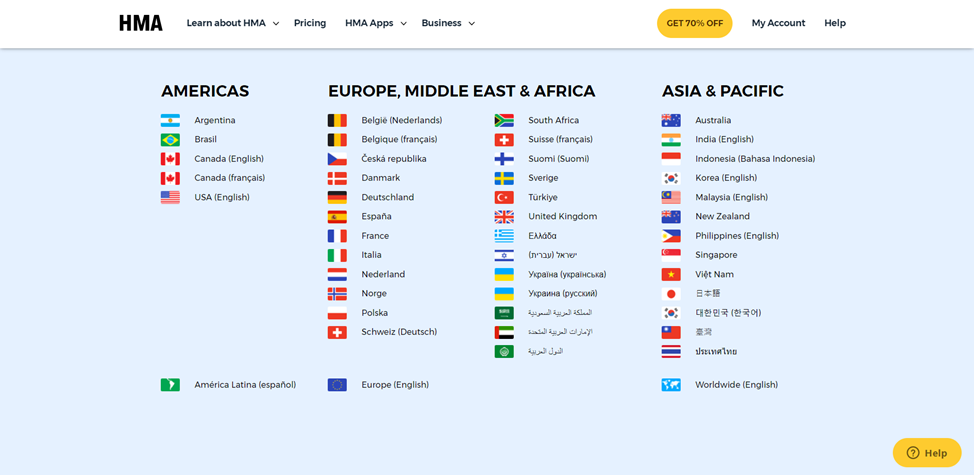 Yet, we must highlight that some translations make the font smaller. Sure, that does not hinder the experience, but you might want to zoom in to read. Also, you may get assistance in English solely. For instance, let us switch to a Slavic language: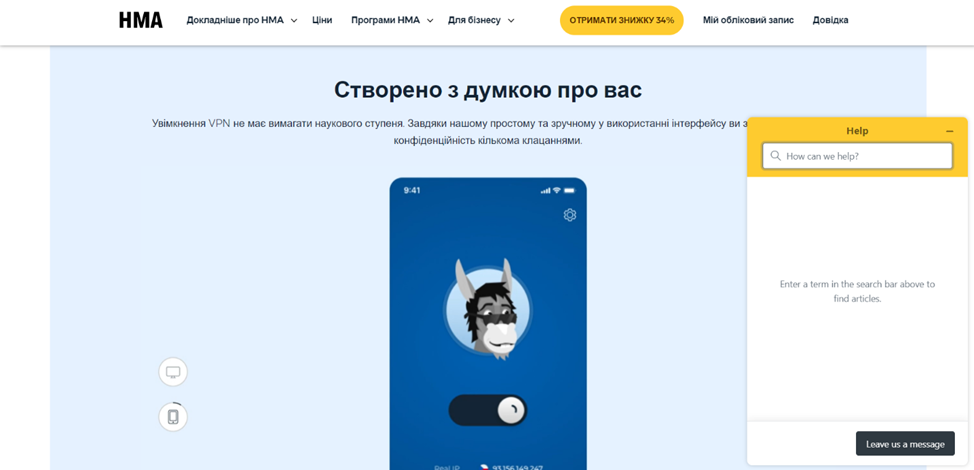 We can see that the text changed, but the Help button remains in English. And the messaging remains in English too. Sure, many people have high levels of that language, but some users might need Google Translate's help. Still, websites' usability deserves five stars for trouble-free navigation and language adaptation.
Customer Service
HMA VPN has various issues with clients' trust. While its features are praiseworthy, the buyers highlight significant problems. So, only 58% of the HideMyAss reviews on Trustpilot materials give it five stars.
We must note that various positive comments used to be negative. Some users experienced issues but received profound support and changed their minds about the service.
And now we move to the bitter section: 13% of the users scream that people should avoid the program. 5% of reviewers are willing to give the company only two stars. Most of the raged clients say that the subscription cancellation does not stop automatic money flushing on the app. We can see that the HMA VPN team is trying to solve problems, but there are still too many unanswered comments.
For instance, the Djjjk user tells their story about how they tried to contact support, but no one responded. The user then noted that the support marks the inquiry as solved. Although, there was no communication before that.
The Dat Way user has a resembling story: "Charged me after I canceled the subscription before the trial ended […] That is shady; I would stay clear from this one".
Yes, some users manage to get their money back in their pockets. Yet, various unwilling HMA VPN havers still wait for the response without accessing the features.
HMA proxy reviews on Google Play are better, but there are still some complaints. In parallel, Sitejabber does not show any results when you ask for HMA review materials. And Reddit does not provide too many comments about the app.
Thus, something enigmatic is going on with subscription peculiarities. It is advisable to scan more comments on Trustpilot, as that website appears as the vastest hub of comments on the app. But we must say that HMA VPN is not the most trusted program.
Performance Testing
The HMA VPN is famous for stable, fast speeds. Moreover, there are special servers that exist mostly for torrenting and streaming. The company also acknowledges that some servers might slow your actions down significantly. Yet, the average speed is:
Download speed: approximately 40-43 Mbps;
Upload speed: approximately 5-7 Mbps;
Ping: from 20 to 50 ms.
The fastest servers are the US ones. Their downloading speeds exceed 70 Mbps, while ping remains minimal, taking VPN average pings into account. European servers, in turn, will download files with around 40 Mbps speeds. The Asian servers perform poorly: you can expect experience-changing drops down to 5 Mbps when downloading. Consequently, uploading speeds are almost null, and ping starts knocking on heaven's door.
Pricing
The price is not the worst on the market. Users spend less than $5 per month. But first, they must buy twelve of thirty-six months of usage instantly. Also, do not forget the subscription canceling issue! So, the American prices look like this:

Look at the discount offer: it says 75 percent. But discounts do not have equal volume when you switch to another language. For instance, let us bring the Slavic language in Cyrillic back:

The new offer (in red) says only a 34% discount (ekonomia in Ukrainian).
Let us also highlight that the prices vary depending on the country where you buy the app before you suppose unfairness. So, some countries get more lucrative offers. The discount is 73% for the Netherlands, 75% for Arabia Saudyjska, and 69% for Poland. But the limited offer Polish price is only $47.5, while American is more than $100.
Also, note that buying the HideMyAss proxy for ten connections multiplies the price. Business accounts demand even higher payments. And we must highlight that such stellar discounts are not constant.
Final Verdict
HideMyAss proxy deserves praise for the feature set, usability, and many other components. The HMA kill switch performance is speckless, and there is a convenient IP switcher for utmost digital stealth. The streaming capabilities are one of the finest. Torrenting bears zero issues — there are no negative comments on that matter.
The policies are clear and sufficient. Their translation to many languages is a notable plus. Yet, we recommend being attentive to details and adding what clients say.
So, the vastest problem of the Hide My Ass proxy is the clients' trust. Too many purchasers canceled their subscriptions but experienced money withdrawal still. And let us remind you that the Hide My Ass program does not gorge a couple of dollars for a monthly charge. The program snatches payments for a year automatically.
Speeds are also suitable for any browsing actions. People manage to watch materials in 4K without irritating slowdowns. Yet, some servers are objectively slow.
The payment plan's peculiarity might be what averts you from purchasing the proxy. Remember that no user can subscribe for one month or another short period. You have two options: one year of the Hide My Ass usage or three years.
Functionality deserves all five stars, but the clients' trust is a significant problem. If the administration commented on that occurrence and helped more HideMyAss havers, the service would get a better mark. Minus 0.5 points for the weird payment plan.
Why does HideMyAss service have such extensive payment plans?
There could be any reason for that. We might suppose that the service ensures its existence with such charges. But let us not neglect that there are significant discounts sometimes.
What are the fastest servers?
The US, the UK, German, French, Czech, and Netherland. The mentioned servers show the finest speeds and can handle active torrenting and streaming in 4K. Some other servers perform well, too (mostly European ones), while the Asian servers are the slowest.
Does the HideMyAss website collect my information?
The website requires some data pieces to ensure the website's functioning for you. In addition, there are ubiquitous cookie files that are indispensable if you want to use the website. Still, the company does not monitor your Internet activity. Nor does it fix information about your credit card. You can see more details on Privacy and Cookie policies on the website.
Is HideMyAss proxy popular?
The HMA VPN can boast popularity. More than fifty thousand reviews on the Play Market and approximately twenty thousand on App Store. Multiply those numbers by five (at least), and you will get the number of downloaders.
Have you already used this proxy? Or do you still need some additional info about the solution? Feel free to share your experience and ask any questions below!