MobileHop enables you to rent mobile proxies for a day or longer. Enjoy consistently fast speeds and a large pool of rotating IPs.
Overview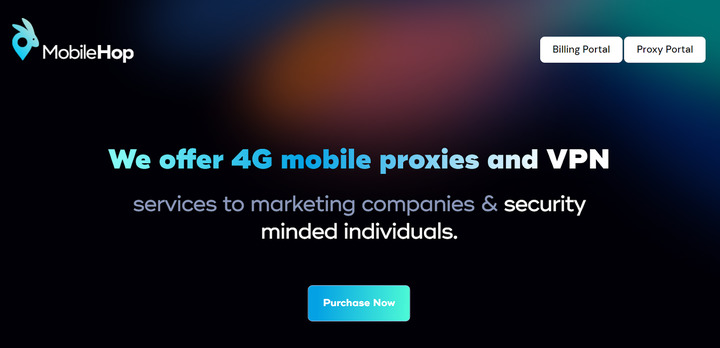 Feature-Set and Guidance
Wondering if MobileHop is the best mobile proxy provider for your needs? Let's figure it out by discovering the solutions it offers.
Dedicated 4G and 5G Mobile Proxies

This company provides customers access to dedicated 4G and 5G modems from AT&T and Verizon networks. Whenever you rent a 5G or 4G proxy from MobileHop, you won't have to share a mobile proxy server with anyone else. In addition, each proxy for mobile is available to only one customer at a time.
Speedy and Extremely Reliable Proxies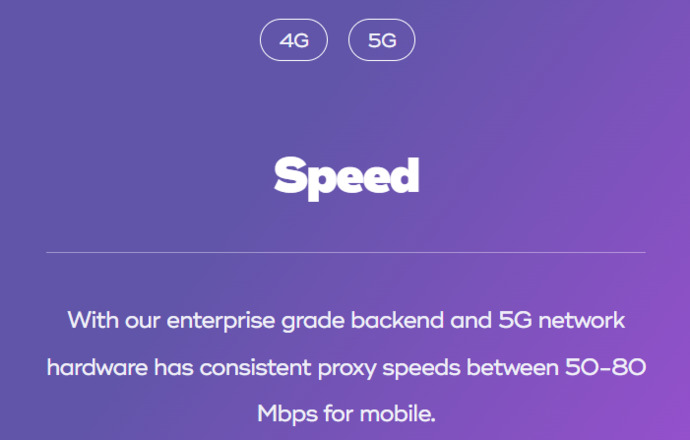 AT&T and Verizon proxy solutions from MobileHop feature consistently high speeds — of up to 80 Mbps. Plus, the reliability of 5G and 4G proxies enables customers to reach major sites on the Internet with no delays. Overall, the company does its best to ensure a 99.9% uptime for its proxies.
Proxy Portal Services
Whenever you rent a modem from AT&T or Verizon 5G, portal services will help you manage your license. By logging in to the MobileHop Proxy portal, you can control your access to mobile 4G proxies and mobile 5G proxies. Update the IP addresses, hard reset your proxy mobile if needed, and access VPN services — all from the single control panel.
A Large Pool of IPs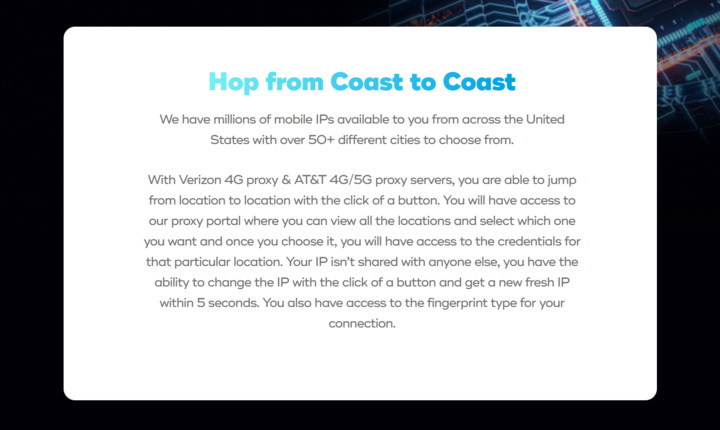 If you're searching for "mobile proxies usa" online, this company has got you covered. Once you get your license, you can choose a preferred location from over 50 American regions. With one proxy, mobile IP addresses to cycle through are numerous — up to 8,640 for a single modem daily.
Fast IP Reset

This service enables customers to cycle through IPs instantly. Using the fast IP reset feature, you can obtain a new address in as little as 5 seconds.
Auto IP Rotation
If you want to automate the use of rotating mobile proxies, this service has the Auto IP rotation feature in place. You can change your IPs at a specified frequency by enabling this feature.
TCP Fingerprint Spoofing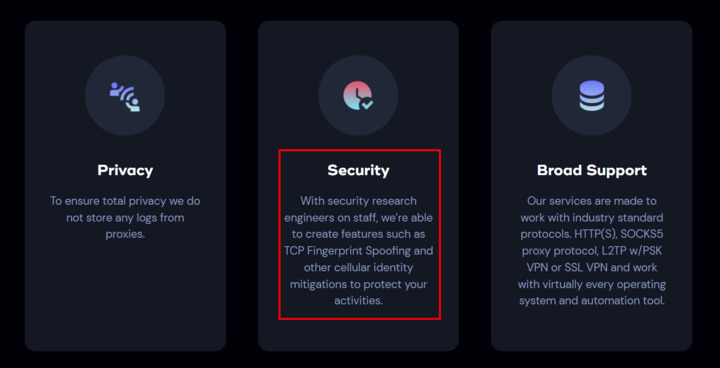 Customers might worry about detecting OS fingerprint mismatches when using a mobile proxy server. Such mismatches may result in being blocked. MobileHop's proxy mobile solutions feature TCP Fingerprint Spoofing — a helpful tool to prevent the detection of possible mismatches and protect your browsing activity.
EasyPort
If you're using various proxies from MobileHop, the EasyPort feature enables you to use a single connectivity point as well as the same MobileHop login credentials. To activate the feature, you need to do the following:
Sign in to the MobileHop Proxy portal,
Select a license,
Link it to any location within the network,
Turn EasyPort On,
Set up the client to use the Easyport server, port, and login credentials.

So, your IP/Port remains the same whenever you change your location.
VPN Services
You can connect to your dedicated proxy modem through L2TP VPN protocols if you need to access VPN services. First, you must sign in to the MobileHop Proxy portal to set up the VPN connection. The profile creation should take a few minutes of your time.
Usability
The website is visually appealing and easy to navigate. Still, the description of features on the main page could be more detailed. In particular, the website doesn't mention features such as EasyPort and Auto IP Rotation. However, the company discusses these features on the BlackHatWorld forums in detail.
The FAQ section on the website is comprehensive and covers most of the typical customer queries.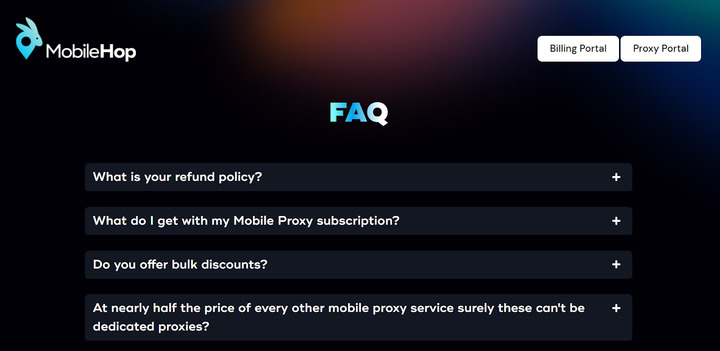 Buying a proxy on MobileHop is pretty straightforward. Once you click the "Purchase now" or the "Get started" button, the system redirects you to the Billing portal. Then, you can select the plan that works best for you, review your order, and proceed with payment.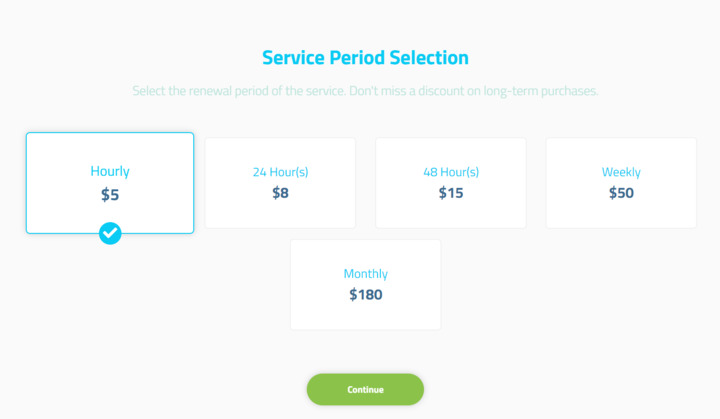 As the company strives to make its services more user-friendly, it releases new features occasionally. Auto IP Rotation and EasyPort we've covered previously are among the latest updates designed to improve user experience.
Customer Service
Their customer support works round the clock to assist users with any issues. You can reach the support reps via live chat on the website.
If you check the MobileHop reviews on Trustpilot and G2.com, you'll see that users appreciate the quality of customer care the company provides. Along with customer service, users like access to 50+ US regions, consistently high speed, unlimited IP rotations, and the TCP Fingerprint Spoofing feature.
The company's rating on Trustpilot is 4.0. On G2.com, the company has scored 4.5 out of 5 stars. As of writing this review, there are no comments about this service on Sitejabber and Reddit.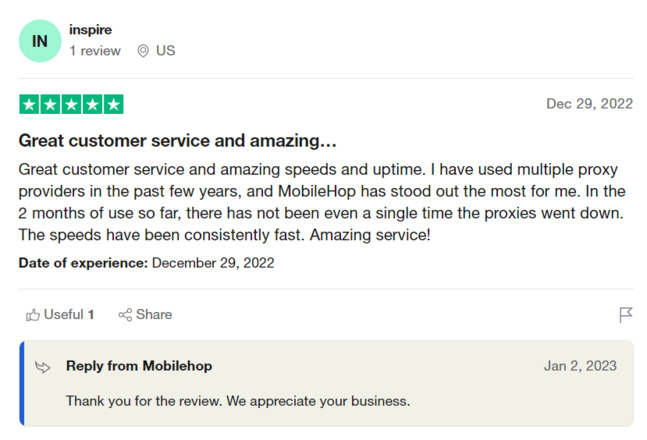 Performance Testing

According to the FAQs on the corporate website, the only way to test a proxy is to set up the credentials and see if it works. If you see no traffic sent from the proxy, a Hard Reset might help. Unfortunately, this mobile proxy provider doesn't offer long enough trial access to its solutions.
As stated on the website, the speed of MobileHop proxies may reach 80 Mbps. However, as practice shows, the average download speeds on 5G proxies are somewhere around 15-30 Mbps.
Pricing

The company offers two types of subscriptions — SingleHop and MultiHop. With a SingleHop license, you get a proxy connected to only one location. MultiHop plans enable you to jump around to other available locations.
SingleHop licenses are available in hourly, daily, 2-day, weekly, and monthly plans, with prices ranging from $8 to $180 per subscription period. With MultiHop subscriptions, you can choose between daily, 2-day, weekly, and monthly plans. The costs for the subscription duration range from $16 to $225.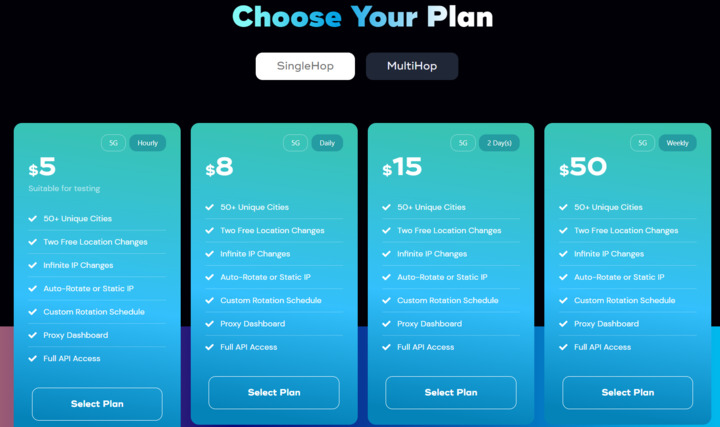 Based on user feedback on the Internet, this service's prices are relatively high. Still, most customers admit that the quality of the company's services is worth the price you pay.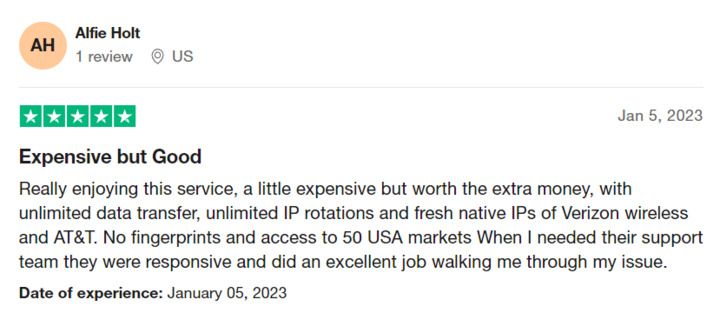 Final Verdict
Mobile proxies from MobileHop can be relevant to anyone who needs a mobile IP in the US. In addition, SEO, SMM, and data scraping specialists may find these services helpful.
As customers note, mobile proxy solutions from MobileHop are not the cheapest in the industry. At the same time, its proxies have definite advantages over the competitors:
Access to dedicated modems not shared with anyone else;
Ultimate reliability and consistently high speed of proxies;
Using a single connectivity point to connect to different proxies within the network.
The reliable 24/7 customer service also contributes to a positive user experience.
While customers are generally happy with proxy speeds, the actual speed may differ from the advertised figures.
As a result of our comprehensive review, we are giving MobileHop 4 stars. The solutions from this mobile proxy provider can be a good fit for both individuals and businesses.
FAQ
What does the MobileHop Subscription Comprise?
Once you subscribe to any of their plans, you'll get access to a dedicated proxy modem in a preferred location. With the fast IP change feature, you can access up to 8,640 IP addresses daily.
How Soon Can I Access my Mobile Proxy Server After Placing an Order?
You'll get access to your mobile proxy as soon as the company processes your order and receives payment from you. It takes about 5 minutes on average.
Can I Get a Free Trial to Test Out MobileHop Services?
This company doesn't provide relevant trial access to its proxy solutions. The most affordable way to test out their proxies is to buy an hourly license for $5/hour.
Will I have to Pay for New Features Released?
All the updates to the MobileHop proxy services come at no cost to existing customers.
How Often Can I Change IP Addresses?
This service sets no limits on the frequency of changing the IP address. So you can change it as often as you want.
Does 24/7 Customer Support Imply Answers from a Chatbot?
When you reach out to the service's customer support team, you'll get a response from a real person, not an AI-powered chatbot. Additionally, you can contact customer support guys via live chat on the website.
Have you already used this proxy? Or do you still need some additional info about the solution? Feel free to share your experience and ask any questions below!