Are you having trouble accessing Australian websites or online services that are blocked in your region? Or do you just want to get a higher level of online privacy while browsing the Internet? Then, you can use Australian servers located by providing Australian IP addresses. This way, your actions will appear as Australian traffic to the Internet resources you want to visit. In this article, we have compiled a list of the top Australian servers for 2023 to help streamline your search.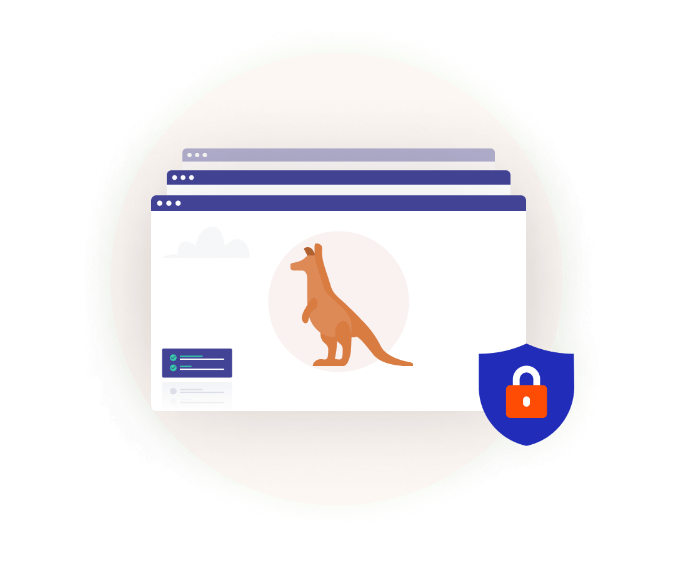 What To Consider When Using An Australia Proxy Server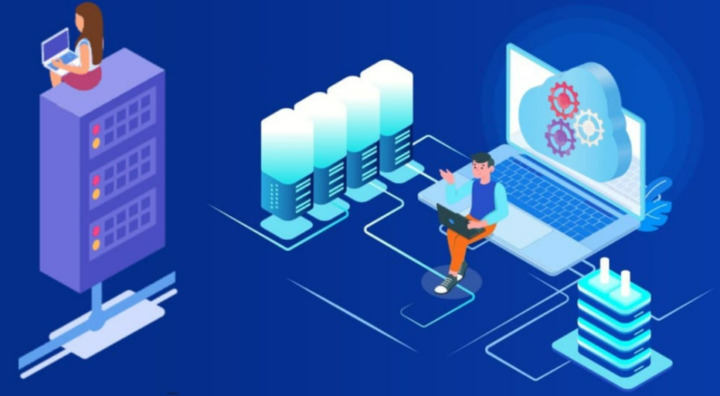 When choosing a premium Australian proxy provider, you should consider multiple factors. Here are some crucial things to keep in mind.
One of the key factors to consider is the location of the servers. Ideally, a provider should have servers located in different regions so that you can access various websites and content without any restrictions.
Another essential factor is the protocol used by the provider. There are several types of protocols, including HTTP, HTTPS, SOCKS4, and SOCKS5. Each has advantages and disadvantages, so choosing the protocol that best meets your requirements is important.
While choosing Australia proxies, you may also want to consider any additional features the service offers. Some providers offer features such as automatic IP address rotation, which means that your IP address will change every few minutes to help you avoid detection. Others may provide a kill switch feature that immediately cuts off your connection if the server fails, ensuring that your real IP address will never be revealed. Other useful features may include ad blocking, anti-malware protection, and the ability to select a specific server location.
The free service trial is another significant consideration when choosing a server. The free trial allows you to try out the service and ensure it meets your needs before signing up for a subscription. Some providers may require you to enter payment information before accessing the free trial, so read the terms and conditions carefully before signing up.
Finally, be aware of any restrictions when you deal with any Australian proxy. Some providers may have limits on the number of simultaneous connections or bandwidth. Others may limit certain types of traffic or restrict the sites you can access, while some others may turn unsuitable for high income economy.
Criteria For Selecting The Best Australia Proxies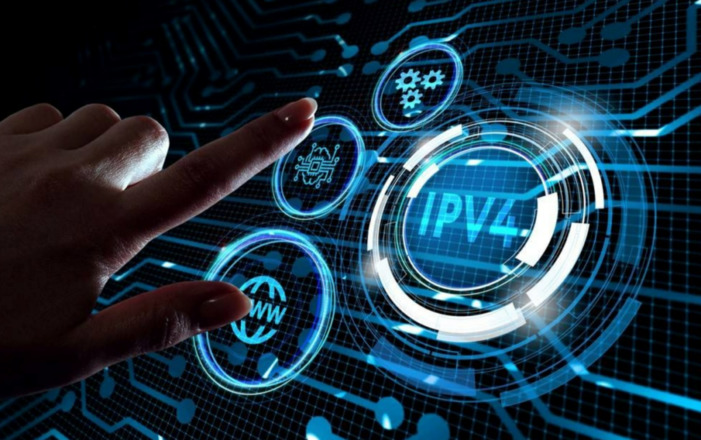 While preparing our list of the top 10 Australian proxy service providers, we carefully considered several factors.
Speed and Reliability
We chose Australian proxy servers that offer fast and stable speeds, ensuring that users can browse securely and stream content without interruption. We also focused on services that offer high reliability, minimizing the likelihood of disconnections.
Security and Encryption
Selected services have robust encryption protocols, such as SSL and HTTPS, to ensure the security and privacy of user data. The services offer additional security features, such as ad verification and anti-malware protection, further enhancing users' safety during online activities.
Number of Available Proxy Servers
Each proxy mentioned in the list has numerous servers located in different regions, giving users access to a wide range of real IP addresses.
Customer Support
Excellent customer support was also an essential factor in our selection process. Best Australia proxies provide multiple communication channels, including 24/7 chat, email, and phone support.
Price and Value for Money
We considered transparent pricing with no hidden fees or charges. We also looked for services that offered flexible payment options to meet different budget needs.
10 Best Australia Proxy Services
1. Oxylabs – Best for Best-in-Class Performance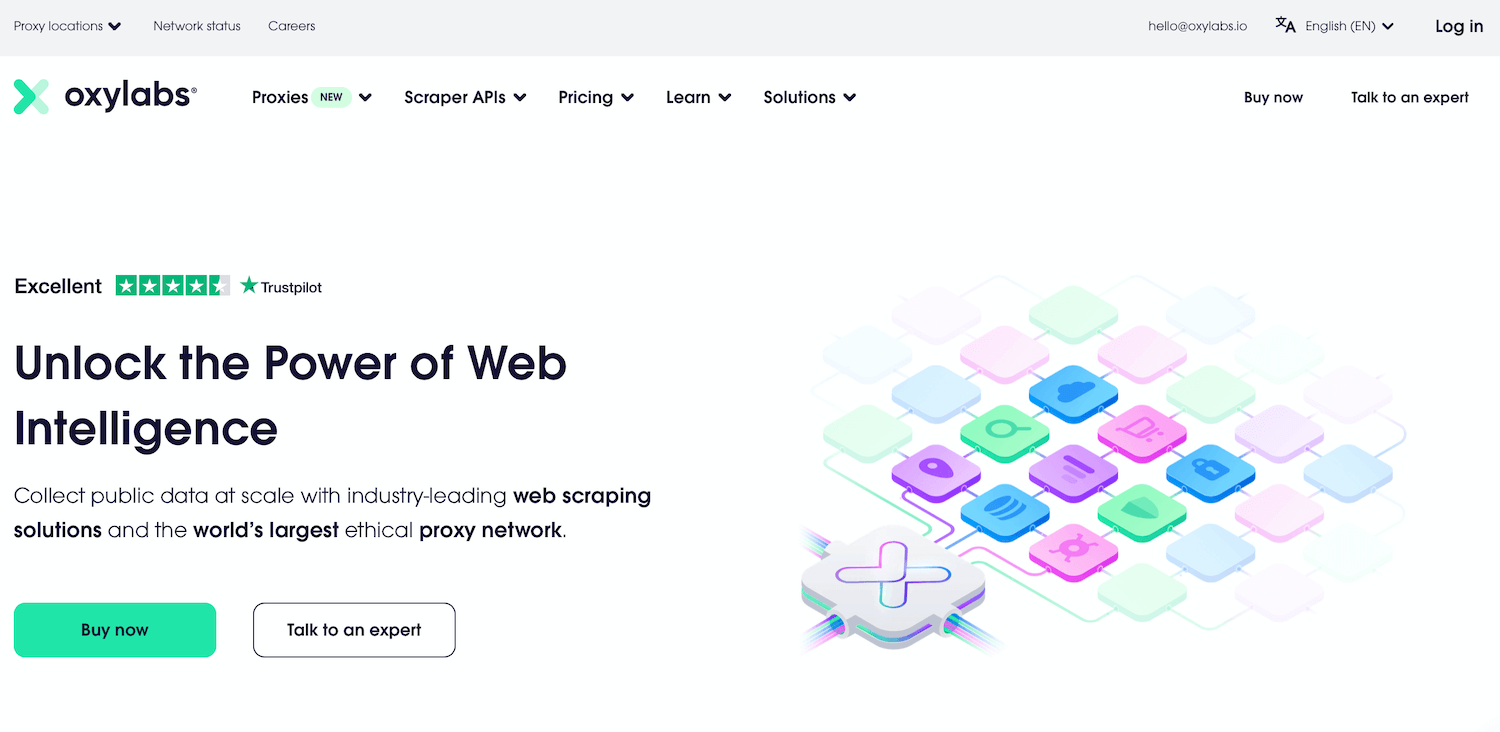 Overview and Features
Oxylabs is the undisputed leader in the provider market. They offer extensive experience and exceptional proxy networks of over 100 million IPs. The service stands out for its next-generation, state-of-the-art residential proxy server that uses machine learning and AI to accurately mimic user browsing behavior, bypass bans and captchas, and deliver unparalleled performance.
Features:
Oxylabs offers various server types, including data center Australia proxies, ISPs, residential and mobile
With up to 99.9% uptime and the ability to bypass anti-scraping measures, Oxylabs provides unlimited access to sites
Reselling is possible
24/7 customer support is always available to help you
Oxylabs supports HTTP, HTTPS, and SOCKS5 protocols; their centers can be either dedicated or shared. In addition, their Real-Time Crawler web scraping tool can retrieve data in HTML or JSON format. All these tools would be especially useful for internet marketers of all kinds
Pricing Plans
The popular residential proxy has the following plans:
Pay as you go – $15/GB (Up to 50GB per month)
Starter – $300/mo (25GB)
Premium – $800/mo (100GB)
All plans have concurrent sessions, city-level targeting, and 24/7 support.
SOCKS5 Australia Proxy start from $180/mo.
Pros and Cons
Pros:
More than 100m residential IPs
Global locations
Best-in-class performance
Flexible proxy management
Insurance for all products
Cons:
The above-average price tag may not be suitable for smaller companies
User Reviews
On popular review portal Trustpilot.com, Oxylabs has a 4,7/5 score. Users like the service for many IP addresses and excellent support with live chat.
2. Storm Proxies – Best for Affordable Pricing Options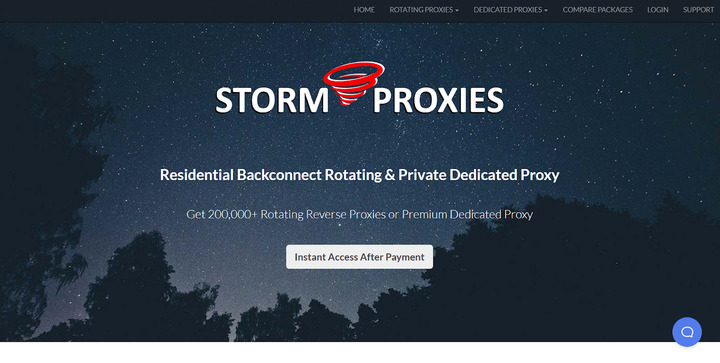 Overview and Features
Storm Proxies may not be taking the proxy world by storm, but they are a decent option for individual and small users who prioritize affordability over advanced capabilities. While they offer cheap residential and data center rotating proxies, their limited pool and lack of physical location targeting may upset some users.
Their private dedicated proxies have a limit on the number of IPs per account, rotating backconnect Australia proxies have rates based on concurrent connections, and rotating residential servers have charges depending on the number of ports.
Features:
HTTP, HTTPS Protocols
Every port supports up to 50 stable connections
Data center (dedicated, shared) and Residential (rotating) servers
24-hour refund for residential servers
Pricing Plans
There are many pricing plans available for different types of proxy, but rest assured, Storm Proxies are cheaper than the majority of other Australia proxy providers. Most popular Residential IPs Backconnect proxies start from $50 for 5 ports. But if you buy 50 ports once, you will pay $300, which is $6 per port.
Pros and Cons
Pros: 
Simple to use
Unlimited bandwidth
Affordable pricing
Cons:
No location targeting
Limited pool
Unfortunately, you will not find many reviews on this service. On Trustpilot, the rating is 2.0/5, users are not satisfied with poor UX and the lack of customer support, but there are less than 100 reviews, which means that the result is not an objective assessment picture. Nevertheless, the service is developing and worth trying if you are looking for a budget-friendly option.
3. BrightData – Best for Developed Infrastructure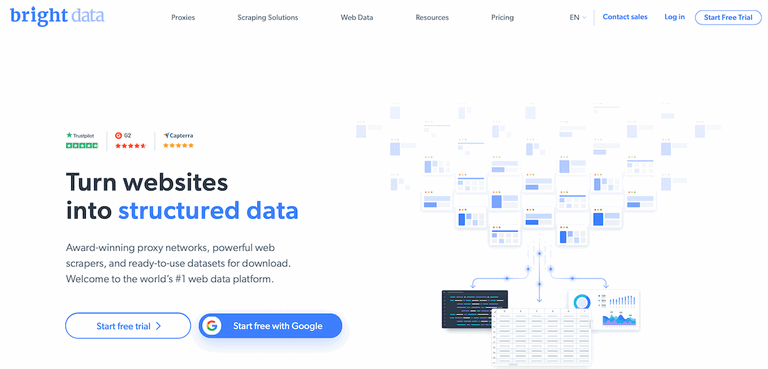 Overview and Features
BrightData is a dominant player in the industry, boasting a massive proxy network and an impressive data collection infrastructure. But despite the service's exceptional capabilities, its high prices and complex terms of use may not suit everyone.
Founded in 2014, BrightData provides access to all types of servers, multiple APIs for data collection, a code-free web scraper, and pre-collected data sets.
BrightData's Proxy Manager ensures you can get the most out of the service. Technically, BrightData is second to none; its tools are packed with features that most of its competitors can't match. Their residential Australia proxies work exceptionally well, with success over 99% of the time and several times faster than many other Internet service provider companies.
Features:
Data center (dedicated, shared), residential, ISP, and mobile proxy types
The proxy manager allows you to set IP rotation rules, blacklist IP addresses that produce unwanted results, and minimize bandwidth usage by routing specific requests through a non-proxy connection
BrightData also offers mobile IPs, which costs more, but can work with even the most sophisticated targets
Pricing Plans
Rates for Residential and ISP Servers:
Pay as you go tariff – $15.00/GB
Growth – $500 or $12.75/GB (39 GB Traffic)
Business – $1000 or $11.25/GB (88 GB Traffic)
Pros and Cons
Pros:
A wide range of targeting options
A polished and functional management infrastructure and data collection tools
High-quality residential servers
99.9% guaranteed uptime
SOCKS5 protocol support
24/7 customer service with competent, professional, and friendly staff.
Cons:
The high price
Inconvenient use of the service for some users
User Reviews
Despite the high stakes, the service is highly valued by users and rated 4.8/5 at Trustpilot for the quality of customer support, speed, and good data scraping functions.
4. NetNut – Best for Its Scalability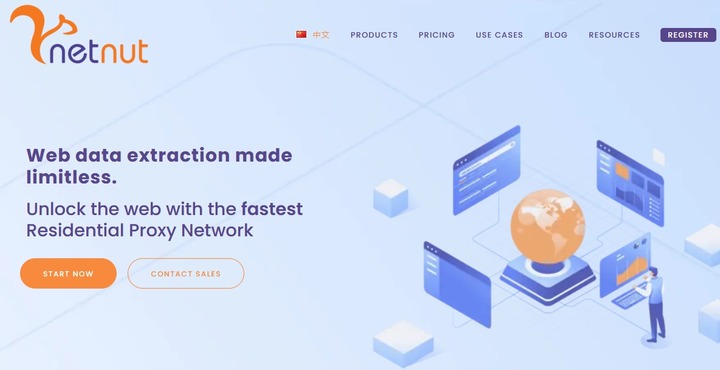 Overview and Features
NetNut, a well-known provider of rotating proxies, offers competitive services to businesses. Although not as popular as Bright Data or Smartproxy, this service is definitely a must-consider option. As of early 2021, NetNut has become an affordable option for customers with few demands, such as one-time scraping, sneaker copying, or multiple social media accounts management projects. NetNut's resident Australian IP addresses are quick and provide high performance, but they are most effective for power users or those looking for a scaling proxy.
Features:
NetNut provides residential servers that come directly from static ISPs and do not require rotation
52+ million residential proxies available
Good scalability
Pricing Plans
Rotating residential proxy:
100 GB – $800
250 GB – $1,625
500 GB – $2,500
1 TB – $4,000
Static residential proxy:
100 GB – $1,000
250 GB – $2,000
500 GB – $3,250
1 TB – $5,000
Pros and Cons
Pros:
Customer support is available 24/7
High level of performance
Cons:
Rate plans are limiting
The user experience could be better
User Reviews
The overall score at Trustpilot is not bad – 3,8/5. Users adore the value they get for money but sometimes face problems with a trial period.
5. Proxy Seller – Best for Flexible Pricing Rates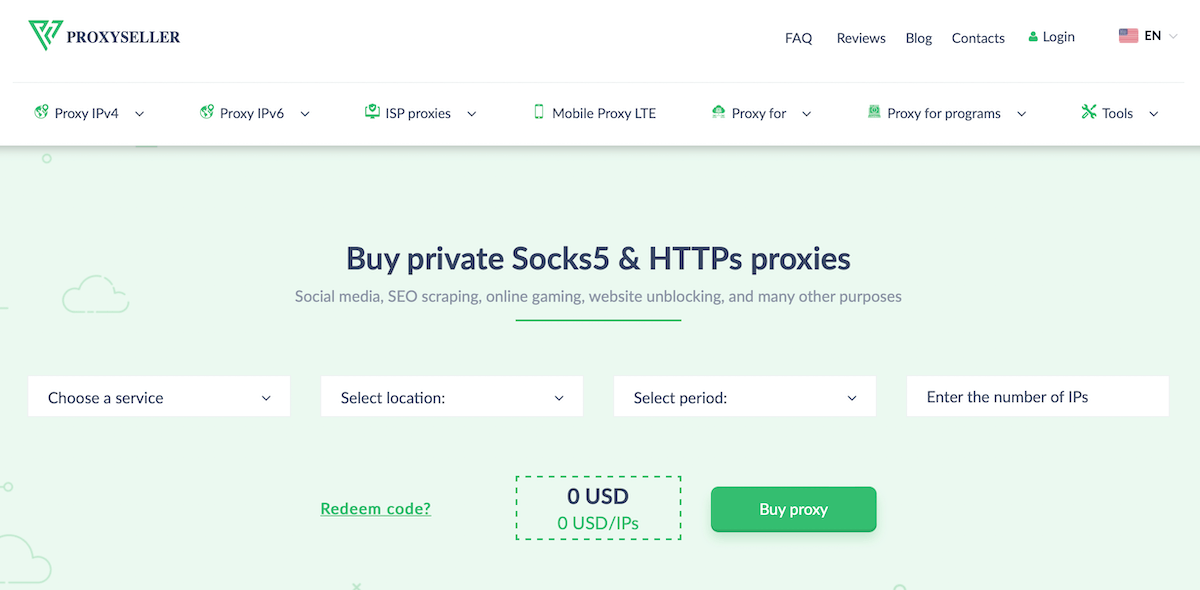 Overview and Features
Proxy Seller is known for its lightning-fast and accurate proxy delivery, which makes the basis of its strong reputation. With many servers in its proxy stock, Proxy Seller can offer enough resources for the most demanding projects. Their uptime is virtually flawless, with a 99.9% guarantee, and speeds can reach an astounding 1GB/s with unlimited passing traffic – all of these can be achieved without the usage of any third party software.
Features:
The ability to ping test before or during your connection
You can join their affiliate program and potentially benefit financially from your membership
Their customer support team is top-notch, and you can contact them via email or chat for any questions or help
Pricing Plans
The service provides flexible rate options. IPv4 proxies for Australia cost from 24.7 USD for 5 pcs for a month up to 278.25 USD for 75 pcs (25% discount).
Pros and Cons
Pros:
Proxy Seller guarantees 99% uptime
It supports SOCKS5, HTTP, and HTTPS
Offering low prices and flexible payment options to get you started.
Cons:
The price may vary depending on the data center
There is no trial period
User Reviews
According to Trustpilot, customers sometimes face difficulties with the service, and they rate it 2.7/5. However, they still note the unlimited traffic, reasonable prices, and simple user interface.
6. IPRoyal – Best for A Wide Range of Proxies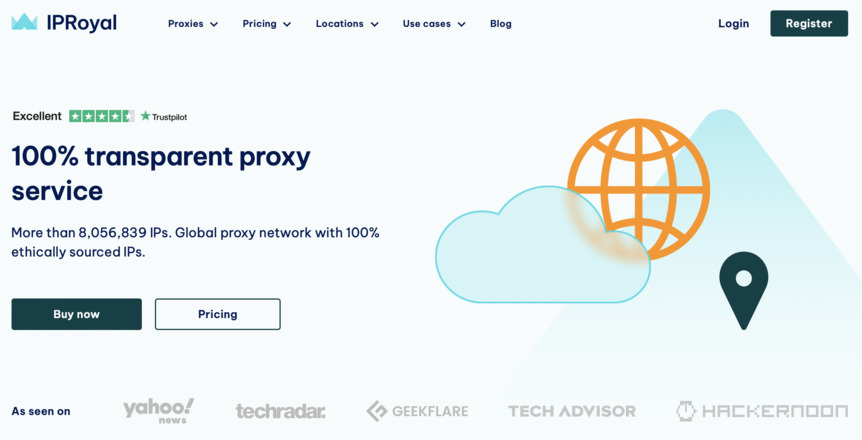 Overview and Features
IPRoyal is a provider of accessible residential pay-as-you-go proxies. With its advanced features and top-notch performance, you can easily handle marker analysis tasks and web scraping without going broke. IPRoyal's aggressive pricing strategy leaves the competition out.
Features:
Availability of IPv4/IPv6
A wide range of web scraper and sneaker products on a budget
For all wondering how many proxies the service has – the total number reaches 8+ million IPs worldwide
Pricing Plans
Residential Proxies
Min. volume of GB – $7/GB if you buy only 1 GB
Max. volume – $2.45/GB if you pay for 5000 GB once
Sneaker Proxies:
1 Day (Up to 10 GBPS port speed) – from $1.00 per proxy
30 Days (Up to 10 GBPS port speed) – from $1.80 per proxy
Datacenter Proxies:
5 Datacenter Proxies $9.00/month ($1.80/proxy)
50 Datacenter Proxies $83.50/month ($1.67/proxy)
100 Data center Proxies $157/month ($1.57/proxy)
Private Proxies:
5 Private Proxies $9.00/month ($1.80/proxy)
50 Private Proxies $83.50/month ($1.67/proxy)
100 Private Proxies $157/month ($1.57/proxy)
Pros and Cons
Pros:
24-hour support service
City-level targeting
Supporting SOCKS5
Suitable for both individuals and businesses
Cons:
Speeds can change from location to location
User Reviews
The good rating of 4.6/5 based on almost 1000 reviews on Trustpilot shows a really high quality of service.
7. ProxySale – Best for Free Tools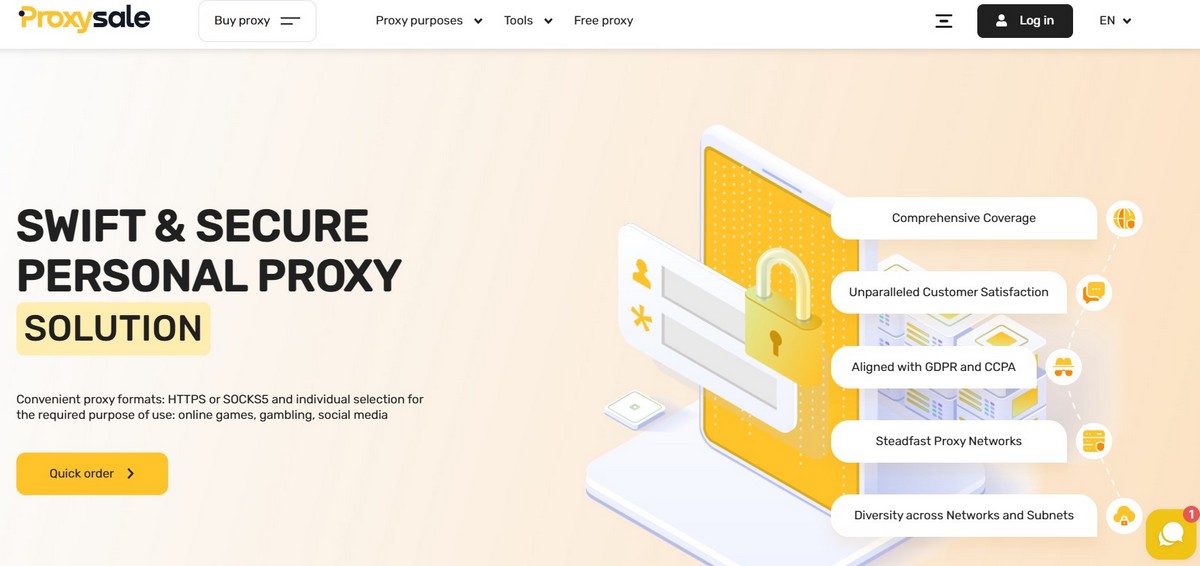 Overview and Features
ProxySale offers exceptional services for personal usage, providing affordable private servers with an extensive list of free web instruments. Australia proxies boast a huge pool of servers and IPs across the region. ProxySale is not only secure and fast, but they also support SOCKS5 and HTTPs protocols, making them suitable for almost any online activity, including social media access, gambling, online gaming, and some other scenarios.
Features:
Customers can get free proxies
IPv6 private proxies
Pricing Plans
Pricing packs vary depending on the number of days selected. 7 days packages start from $38 for 10 pc. with a discount as the desired volume increases (up to $320 for 100 pc.)
Pros and Cons
Pros:
High speed
Instant customer support response
40+ IP locations
IPv6 Support
Cons:
City-level targeting is not available
No free trial
User Reviews
ProxySale has a rating of 4.1/5 on Trustpilot. But note that the score is based only on a few ratings.
8. Smartproxy – Best for High Privacy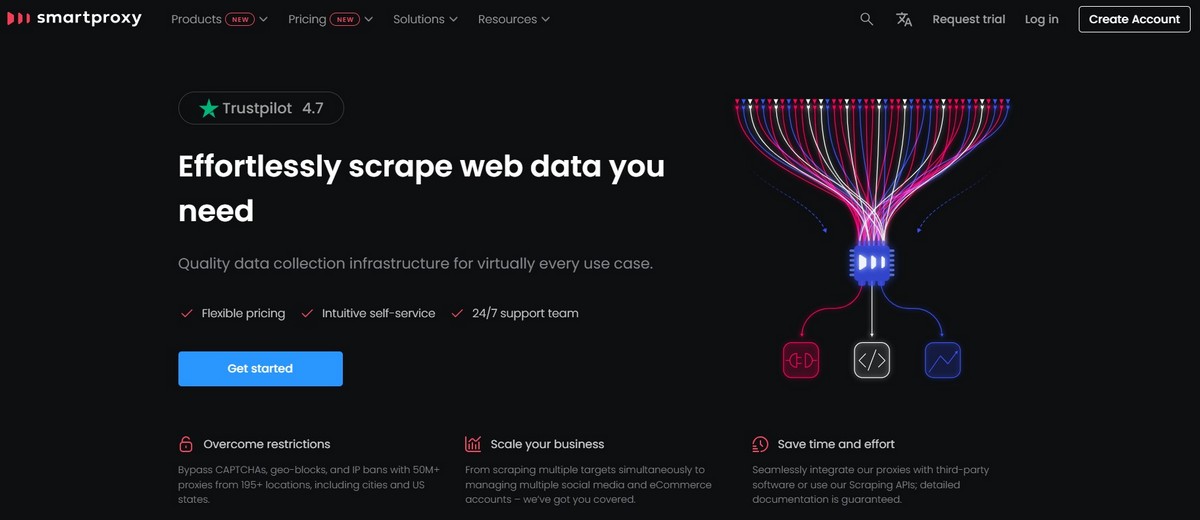 Overview and Features
Smartproxy is a top-tier international provider, established in 2018, offering outstanding features and services to its users. The provider offers two high-quality rotating networks, various web scraping tools, and dedicated centers to meet all proxy requests. In addition, Smartproxy boasts an extensive pool of more than 4M+ real IPs, emphasizing Australia proxies, and supports 195+ other locations worldwide, making it an excellent choice for all international tasks.
Furthermore, Smartproxy provides high security by relying on HTTPS protocols for anonymity. It is a versatile mid-tier provider, covering all use cases, from scraping to sneaker copying to social media management – all at average industry prices. Smartproxy offers excellent performance and a fantastic 24/7 support team to help with any questions.
Features:
Original IP addresses
Data center and residential proxies networks
Average response time of 0.61 seconds
Sticky IP feature that allows internet users to keep the same IP addresses longer and use multiple accounts simultaneously
Plugins for Chrome and Firefox to refine the location search and proxy type and authentication method
Pricing Plans
Residential plans – from $12.5
Datacenter plans – from $10
Dedicated DC plans – from $7.5
Pros and Cons
Pros:
24/7 chat
Free instruments
Extensive self-service resources
Cons:
User Reviews
Smartproxy has got 4.7/5 on Trustpilot thanks to the uninterrupted and fast operation, flexibility, and excellent customer service.
9. GeoSurf – Best for State and City Targeting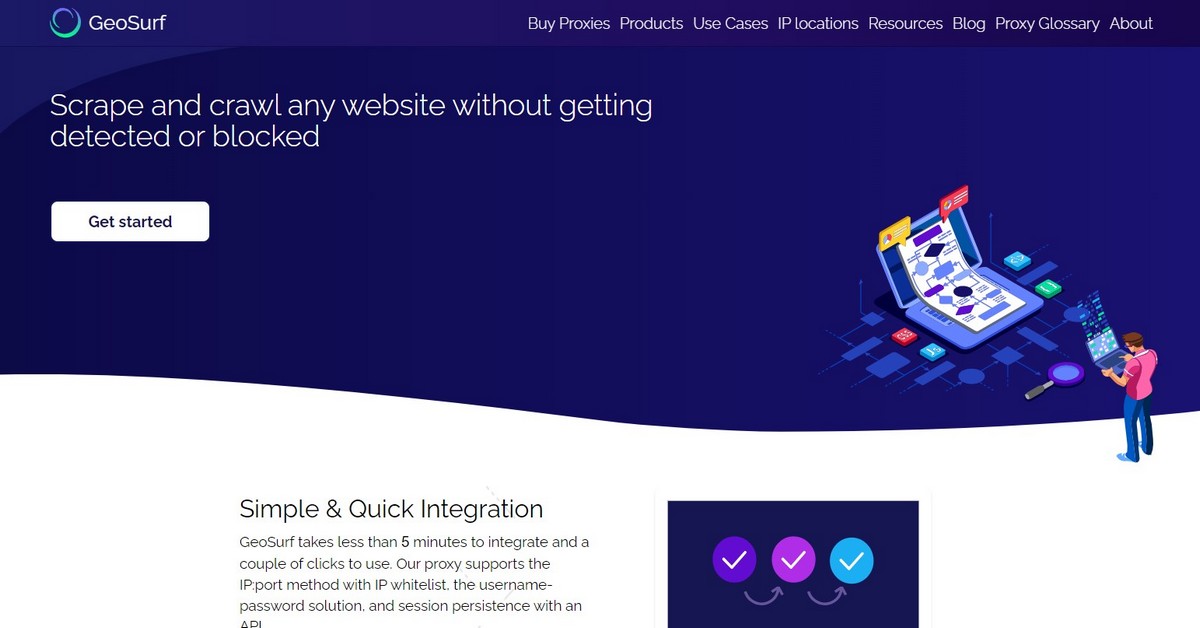 Overview and Features
GeoSurf, the oldest platform in existence, has been serving large enterprises since 2009. Despite its relatively small network, GeoSurf allows its users to choose specific cities in Australia. However, the price paid for this service provides significantly fewer proxies. While new premium platforms may outperform GeoSurf, it still offers many benefits to larger businesses.
As a reliable IP provider, the GeoSurf service provides seamless IP rotation, ensuring that each request leads to a new IP. However, the registration process requires users or company representatives to apply to become a GeoSurf customer. While this registration process may seem outdated, it is the only method to contact the service.
Features:
The state and city targeting
Over 3.7 million residential IPs
GeoSurf provides gateway addresses in more than 150 countries
It boasts a 99.6 percent success rate
HTTPs protocols support
Pricing Plans
Pricing packs are designed to suit different needs, from Explorer tariff ($300 a month) up to Plus ($1750) and Special tariffs.
Pros and Cons
Pros:
Fast and simple integration
Extensions for Firefox and Chrome browsers
Intuitive control panel for clients
A huge variety of cities
Cons:
The lack of live customer support
High prices
No SOCKS5 support
User Reviews
The service prefers to work closely with established and loyal customers, and the flow of potential customers is not as immense. That's why you won't find its reviews on Trustpilot.
10. SOAX – Best for Mobile Australia Proxy Servers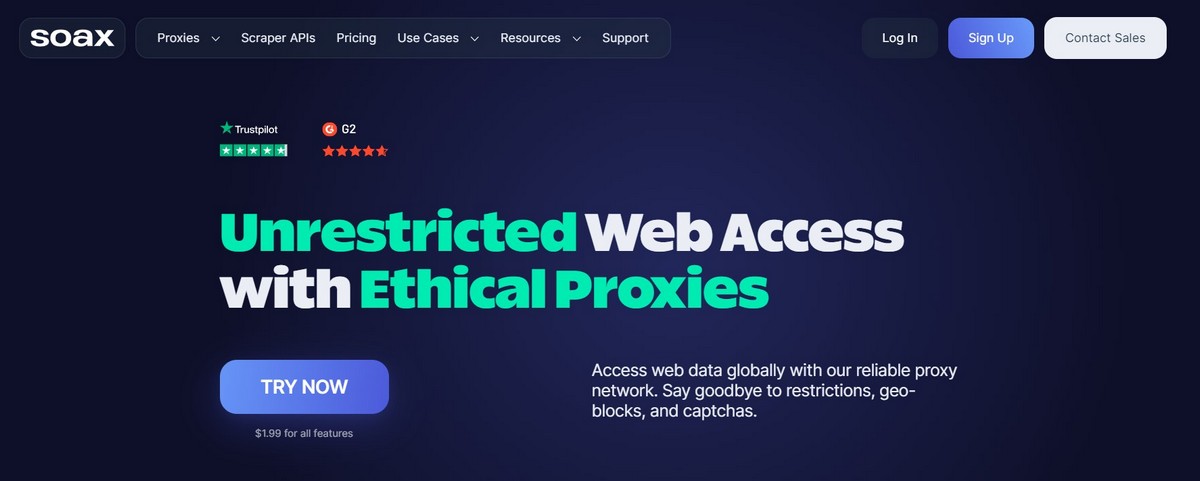 Overview and Features
SOAX relies on residential and mobile proxies. With lightning-fast connectivity, unmatched server reliability, and no restrictions, SOAX gives you control over the Internet. With the service, you can enjoy the freedom to choose between a rotating IP or a permanent IP.
Since its debut in 2021, SOAX has already made a name for itself. It rarely crashes, offering unprecedented flexibility with customizable filtering choices and top-notch management instruments.
Ideal for small enterprises, SOAX is focused on providing mobile proxies with 3G, 4G, 5G, and LTE connections that make it easy to find consumer information or relevant social media topics.
Features:
8.5M IP addresses
Filtering options: state, country, state, city, and ASN
Pricing Plans
Starter Residential – $99 / month (8 GB Traffic)
Pro Residential – $300 / month (27 GB Traffic)
Plus Residential – $500 / month (55 GB Traffic)
Regular Residential – $700 / month (100 GB Traffic)
Pros and Cons
Pros:
Simple integration
Support for HTTPS/SOCKS
ISP level and City targeting
Cons:
Concurrent connection limitations
User Reviews
SOAX has a good mark at Trustpilot in 4.4/5. Key features users note: incredible customer support, fast speed, and high performance.
FAQ
What are proxies?
They act as intermediaries between your device and the internet, routing your internet traffic through their official server. This can help you stay on the web anonymously and ensure an extra layer of security.
Why would someone need Australia proxy providers?
If you are a regular user who wants to access content restricted to a specific region, Australia proxies can help you bypass geographical bans and access the content you want. It also helps in data collecting, web scraping, market research, market intelligence and social media automation.
Can I use Australia proxies on all my devices?
Best providers are compatible with multiple devices and operating systems, including desktop computers, laptops, smartphones, and tablets. Check with your provider to ensure compatibility with your specific devices.
Why you should get an Australian IP?
If you want to surf the Internet from this region, an Australian IP is the way to go. With these IPs, you can scrape data, and reliably access localized content, on-demand news, and services from Australian websites.
Why should you avoid free Australian proxies?
Don't be tempted to use free proxies just because it doesn't cost you anything. No-charge Australian proxies cannot be trusted. You can't be sure of the services' quality by using free proxies. In short, using free Australian proxies puts your personal and business data at risk. It's better to pay a small fee and enjoy the high anonymity and protection you need.
---