Proxies, often used on Instagram for data protection, play an intriguingly complex role in promotion and optimization, allowing the customization and tracking of SMM algorithms. Many in the SMM field, including specialists, marketers, and influencers, often query about locating a secure and functional Instagram proxy server. As there are numerous ineffective servers that could harm your promotion strategy and privacy, we've compiled a detailed review of the top 10 best Instagram proxies in 2023 to mitigate these risks.
How an Instagram Proxy Can Protect Identity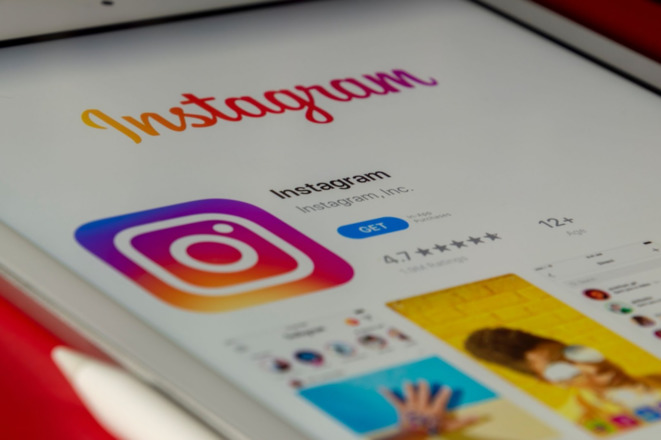 A proxy is an intermediary between a user and an Internet resource. Mobile proxies servers are often classified as rotating or backconnect proxy. They are based on multiple IPs and work according to human algorithms. For example, mobile proxies for Instagram naturally change the IP and transmit specific data to the source server.
Regarding the best Instagram proxies, users most commonly turn to mobile proxies because of their practicality and functionality. This is because users most often use smartphones and tablets to enter Instagram profiles, and the IPs of mobile operators look more natural for controlling Instagram automation systems.
So, how does a mobile Instagram proxy build user protection from unwanted actions? Proxies for Instagram provide a strong level of network security for your connection. Most often, people use private services only to hide their location (although VPNs can easily cope with this task).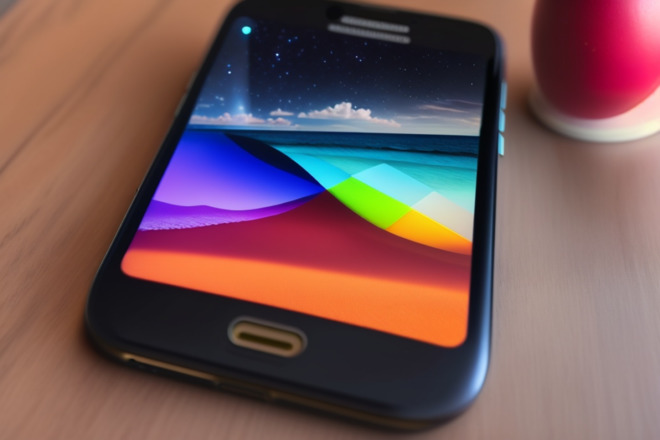 The Instagram proxy sends requests through a third-party IP address, thereby ensuring the protection of your connection and your IPs. That is, if you build a chain of user interaction with the Internet space via the proxy, it will look like this:
By the way, mobile proxies work in conjunction with an Instagram bot. Thus, they both raise and hold the boundaries of safe Instagram use. Therefore, the bot monitors the performance of the proxy at intervals from half an hour to several hours.
---
💡Friendly Reminder: Experienced SMM specialists know that fast promotion of goods and services is possible only when using Instagram bots that automatically wind up subscribers. However, Instagram automation has its pitfalls. Therefore, it is recommended to purchase a proxy with a high level of anonymity to bypass the blocking when using such software.
---
There are several advantages of mobile proxies over server ones:
No blocking from the resource
A vast pool of IPs
Bypassing target servers
Real user-mimic IPs
Value for money
Instagram Proxies Use Cases
Everyone knows that people commonly use more than one Instagram account permanently for promotion. However, the absence of an intermediate server may cause the account to be banned. It means that an intermediary software package allows you to safely promote any number of Instagram accounts using different services and applications.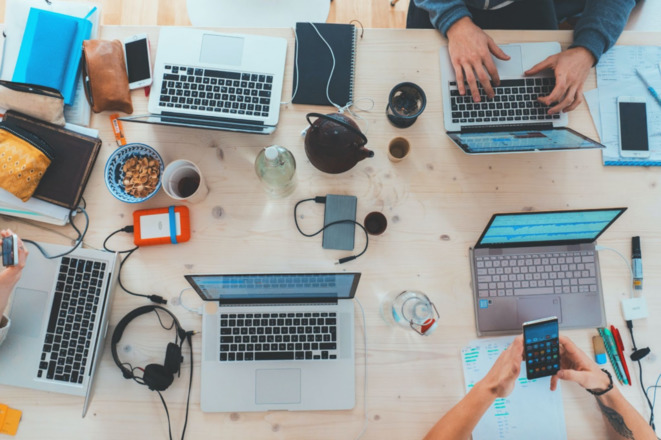 However, promoting social networks is not the only purpose of Instagram proxies. Hence, it is possible to distinguish the following Instagram proxies use cases :
Managing multiple Instagram accounts
Caching speed increase
Providing Internet access from the local network
Protection of the network from directed network attacks
Data conversion to reduce the device memory they occupy
Providing limited access to the global network from the local
How Do Proxies Bypass Restrictions on Instagram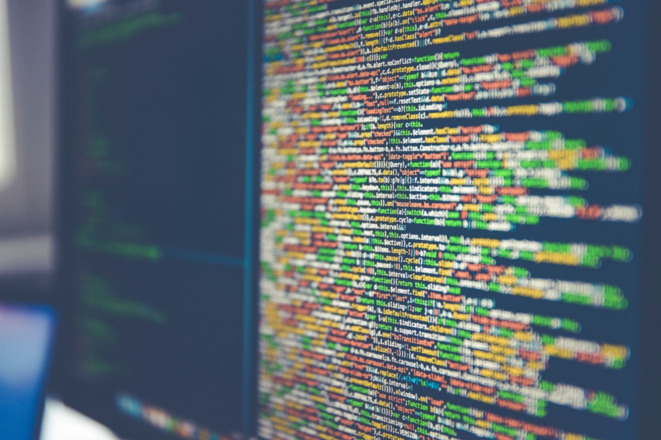 Instagram is an excellent platform for SMM promotion. Thus, proxies are a must if you want to boost your own business on Instagram and avoid blocking. All social media — Instagram is no exception — carry out activities according to specific terms and conditions. They define what users can and cannot do in the space of this platform. If your actions seem suspicious, your account may receive a block or ban. So how can you avoid this unpleasant situation?
Instagram proxies come to the rescue. Thanks to a whole pool of IPs, you can avoid or remove the block and continue using the service. The best choice for bypassing prohibitions and restrictions is residential proxies for Instagram.
A residential proxy is an intermediary that uses an IP address provided by an Internet Service Provider (ISP) rather than a data center. Using a residential proxy, you can choose a specific location (country, city, or ISP) and surf the Internet like a real user. Due to the specifics of such proxies, a high level of anonymity and a low level of ban risks are guaranteed.
No matter how reliable the proxy server is, do not forget to follow a few basic rules:
Do not post content too often, and keep the pace between posts
Do not ignore the terms and conditions
Do not violate copyright
We also remind you that it is essential to use Instagram bots only with proxies. This is because Instagram instantly recognizes bots and blocks them. However, thanks to a good Instagram proxy, you can stop worrying that heavy posting, following, and other Instagram activities can cause increased attention from the Instagram protection systems.
Thus, we have discussed the main points that may raise questions, and now you can safely move on to the main part of our article — a selection of the 10 best mobile proxies for Instagram accounts to make your marketing strategy work without a hitch.
10 Best Private Proxy Providers for Instagram in 2023
In this article, we will pay attention to private proxies for Instagram accounts, i.e., you are the sole owner of a single IP address. It is time to start an honest and ruthless review of the best Instagram proxies!
1. BrightData — Best Overall Instagram Proxy Provider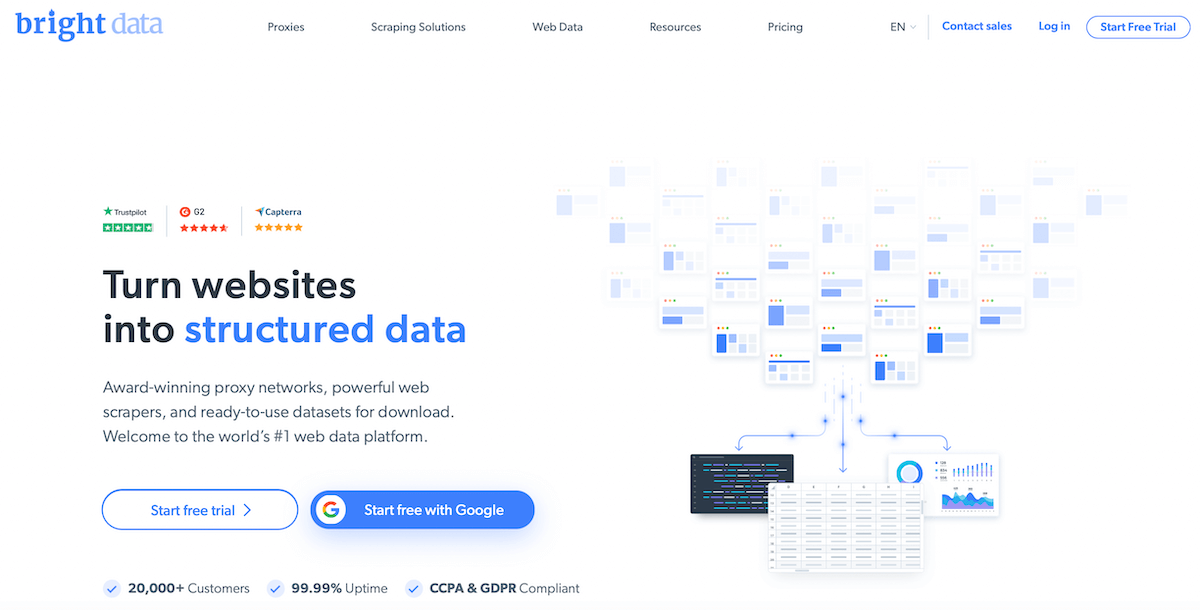 Features and benefits
BrightData is an excellent Instagram proxy solution in every way. This proxy server is one of the leading web data collectors in the industry. The company started its work in 2014 and currently has 15.000+ customers. Thus, in almost ten years, BrightData has turned into an exclusive packaged web product. Hence, BrightData can provide you with the following tech-savvy and digital perks:
Four proxy types available (datacenter, residential, ISP, mobile)
IDE web-parsers
Web scrapers (no-code data collector, proxy-based API, engine scraping API)
Intelligent routing
The functionality of the mobile Instagram proxy is top-notch. It comes with the flexibility of over 7 million mobile proxies that not only target countries but also handle Autonomous System Number (ASN). In addition, BrightData boasts data collection accuracy, speed, and relevance.
Strengths and weaknesses
| | |
| --- | --- |
| + | – |
| Web scrapers (no code data collector, SERP API, etc.) | High prices |
| Fastest 3G/4G/5G mobile proxy network | Training required |
| Large global proxy IPs | Strict KYC |
| GDPR and CCPA privacy compliant | |
| HTTP(S) and SOCKS5 protocols supported | |
| SSL private proxy | |
Price comparison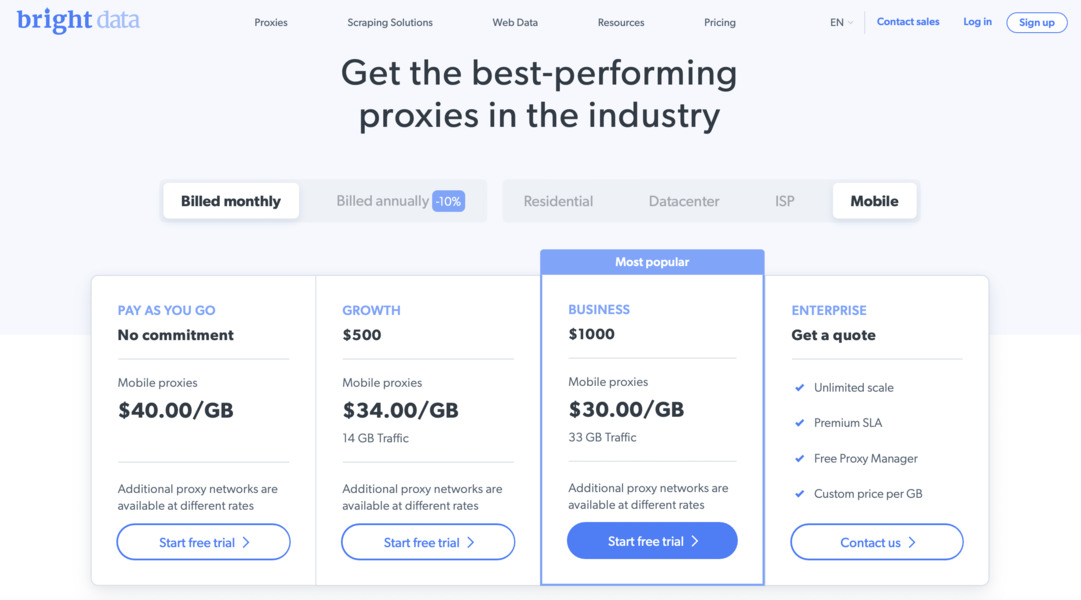 BrightData pricing screen
BrightData mobile options' prices are slightly higher than the main market. For example, the minimum rate is 30$/Gb for the Business package. However, having studied user reviews and a hub of unique features, this Instagram proxy is worth its cost.
2. Oxylabs — Best for Real Internet Connections Mimicking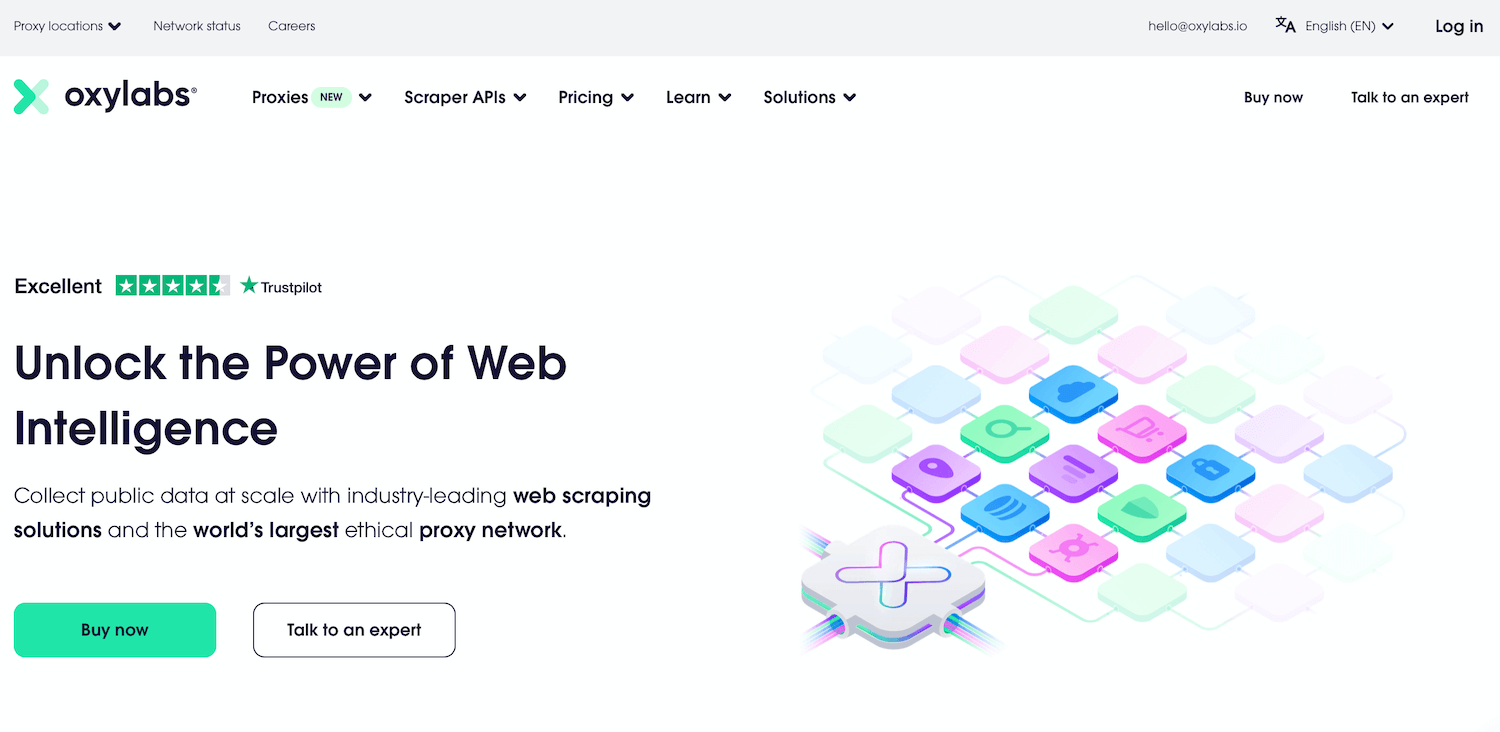 Features and benefits
Do you want to use only secure Instagram proxies to manage multiple accounts? No one will have access to your personal data if you become an Oxylabs user. This site was launched in 2015 in Lithuania. And if you have been wondering how many proxies does the company provide, we have the answer for you. It has 100+ million proxies in 195 countries around the world. This proxy integrates seamlessly using a single endpoint, automatically assigning pre-verified mobile proxies to your connection. Let's see the features offered by the provider:
Residential proxies
Datacenter proxies
Shared proxies (DC)
Mobile proxies
Scraping solutions (SERP Scraper API, Web Scraper, E-Commerce Scraper API)
"Human-like browsing"
Strengths and weaknesses
| | |
| --- | --- |
| + | – |
| 20 million IPs | High prices |
| Country and ASN targeting | No free trial |
| IP addresses from real mobile devices | |
| Automatic IP rotation | |
| IPv6 supported | |
Price comparison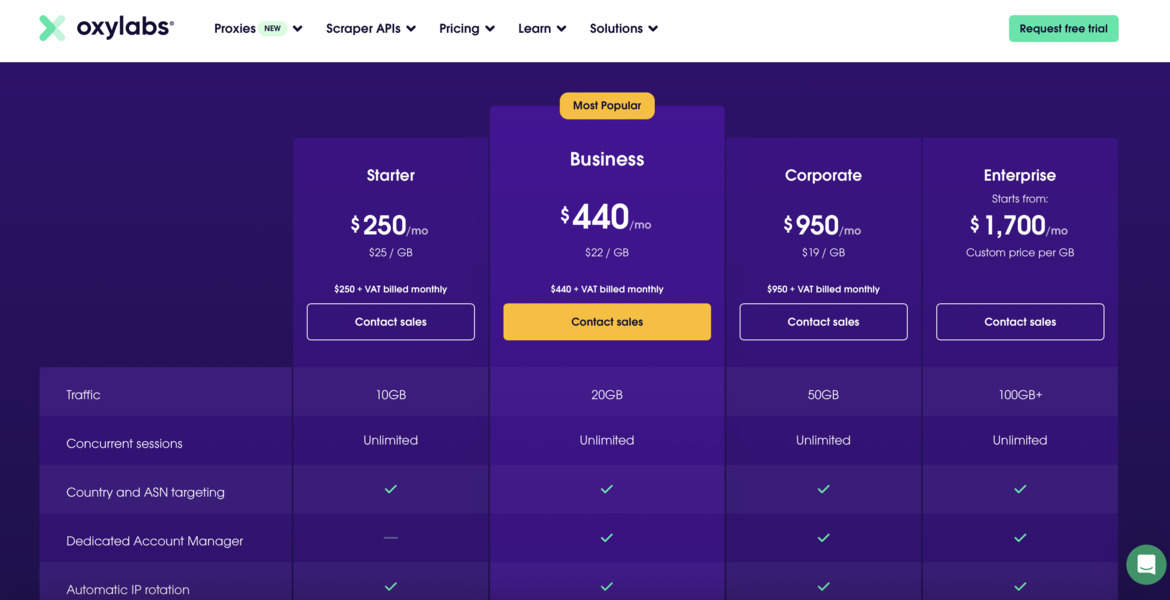 Oxylabs pricing screen
In general, the price of packages with mobile solutions is again above average. However, do not forget that you are getting a high-quality product for your money. The price depends on what your goals require. The cost of the Starter package is $250. This includes 10 Gb of traffic, which is enough for individual use. The higher the traffic demand, the higher the price.
3. Proxy Seller — Best for Social Media Use Cases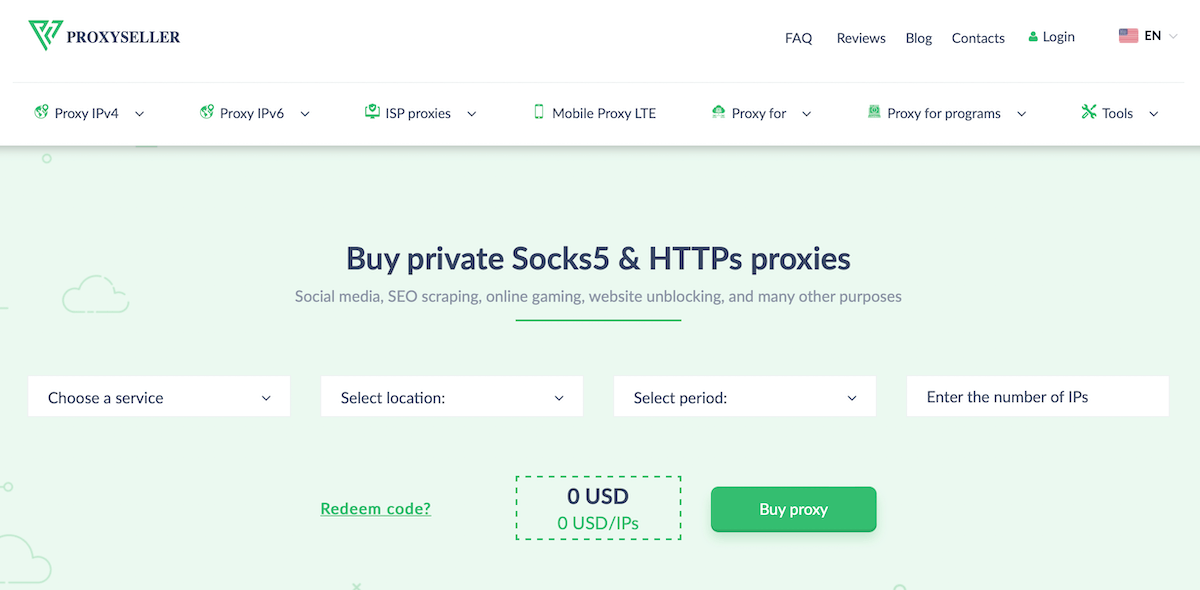 Features and benefits
The service is a convenient solution for both SMM and SEO, as well as for online games and social networks. Thus, this datacenter proxy is great for Instagram activities as well. It has a very convenient and clear interface, where you can see all the available features. Here you can benefit from the following services:
ISP proxies
Mobile p. LTE
IPv4/IPv6
Special tools (Proxy-Checker, Ping-IP, IP-trace, IP-Trace, Meine IP)
The proxy is a very handy tool for promotion in social networks. Unlike other Instagram proxies, this one is a real find for web marketing. You can choose a proxy solution for a specific social network: Facebook, Twitter, Instagram proxies, and more than 15 other social media. Thus, if you are looking for not just Instagram-focused solution, then this one may be the right choice for you.
Strengths and weaknesses
| | |
| --- | --- |
| + | – |
| SOCKS and HTTP(S) protocols supported | Expensive pricing |
| Flexible payment options | No free trials |
| Refund policy | |
| IPV6 supported | |
Price comparison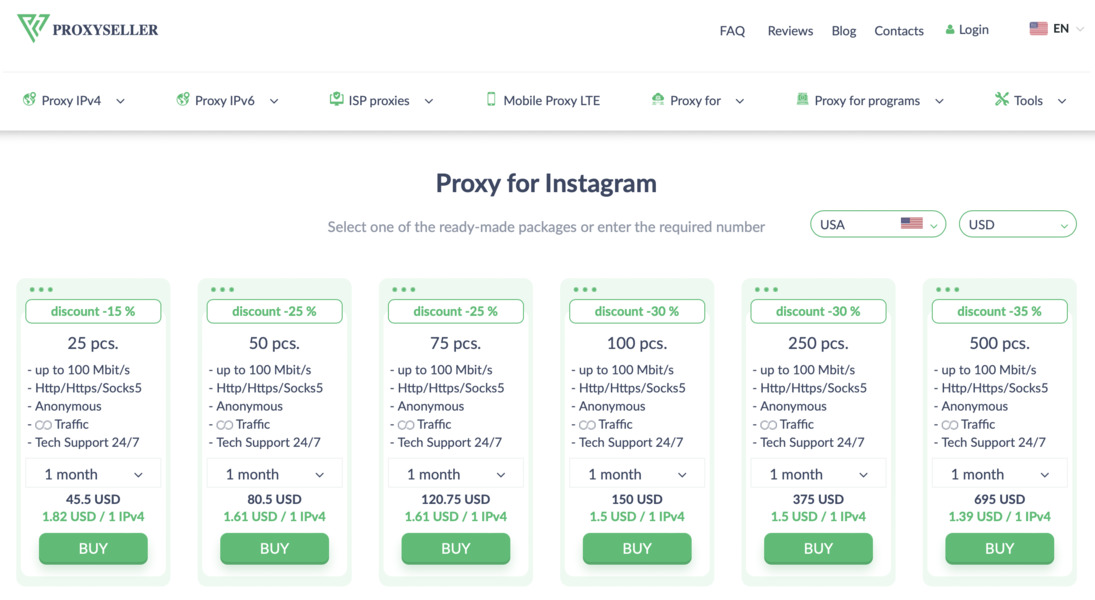 Proxy Seller pricing screen
The price of your Instagram proxy solution depends on your goals and needs. You can customize your package yourself. The price for the most affordable option is $15.7 per month and includes 5 pcs. The maximum number of proxies the package can reach is up to 1000. At the package setup stage, you can also select a country.
4. IPRoyal — Best for Notch Mobile Proxy Solutions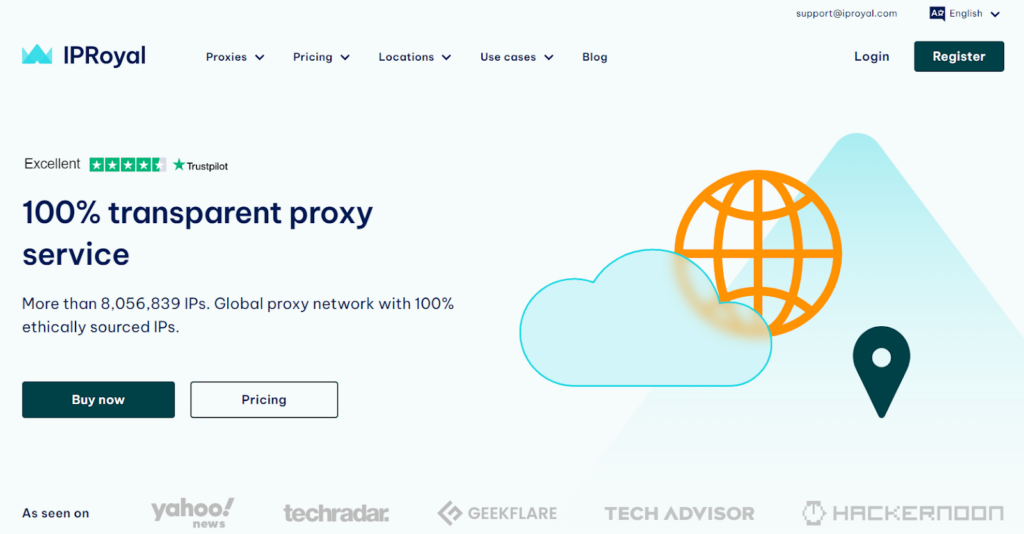 Features and benefits
IPRoyal is a quality balance of competitive prices and exceptional unlimited connections experience in the field of data processing and account management. It is a reliable UAE provider launched in 2020. Affordable rates, solid clients, and an exclusive proxy pool inspire trust among new clients. Take benefit from the following services:
Static residential proxies
Datacenter proxies
Mobile proxies
Data scraping
IPv6 subnet leasing service
If you need a quality mobile IP provider, pay attention to an IPRoyal proxy for Instagram. Currently, the provider supports 3G, 4G, and 5G. Users have access to over 1 million IPs. They also receive privatized IP tunneling to ensure complete anonymity.
Strengths and weaknesses
| | |
| --- | --- |
| + | – |
| Dedicated 4G mobile proxies | Slow proxy connections |
| Unlimited bandwidth and higher speed | |
| SOCKS and HTTP(S) protocols supported | |
| 24/7 effective support service | |
Price comparison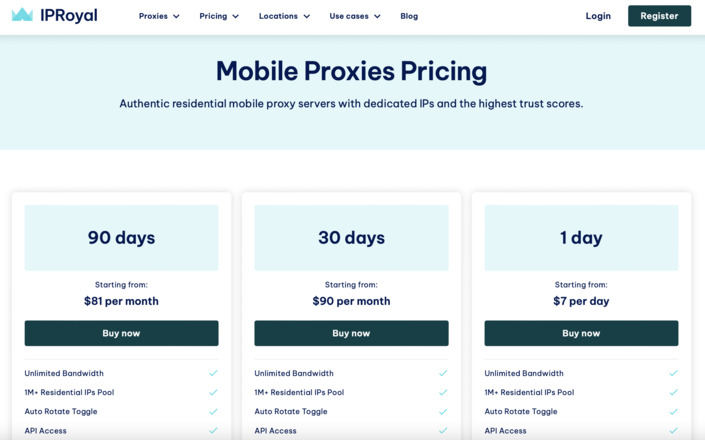 IPRoyal pricing screen
Unlike its competitors, IPRoyal has set quite reasonable prices for its service packages. You can try out how this proxy suits you by purchasing a 1-day package for just $7. Of course, this is not a free trial, but you can evaluate the possible payment methods and plunge into all the available functionality.
5. Storm Proxies — Best for Unlimited Geo Coverage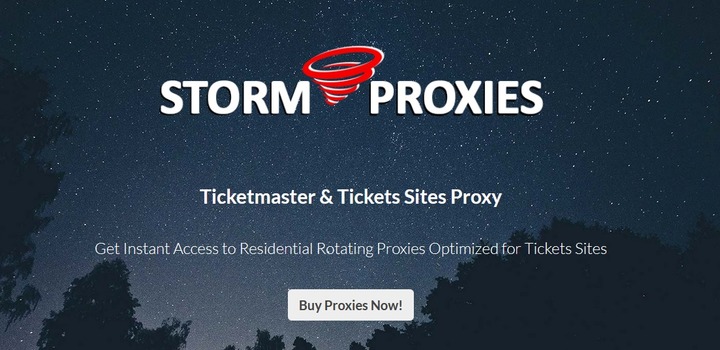 Features and benefits
This service lives up to its stormy name. The provider hosts 200,000 rotating Instagram proxies. However, the configuration options are somewhat limited, which does not allow for custom targeting. But on the other hand, Storm Proxies is a fairly budget option for active Instagram users. So, what key features can this safe Instagram proxy offer us?
Rotating residential IPs
Dedicated proxies
Shared proxies
HTTP and HTTPS protocols
US and the EU region coverage
Social sites proxies
Strengths and weaknesses
| | |
| --- | --- |
| + | – |
| High speed & performance | Weak geotargeting |
| Unlimited bandwidth | Small IP pool |
| Strong anonymity | |
| Instagram-focused proxies | |
| Affordable rates | |
Price comparison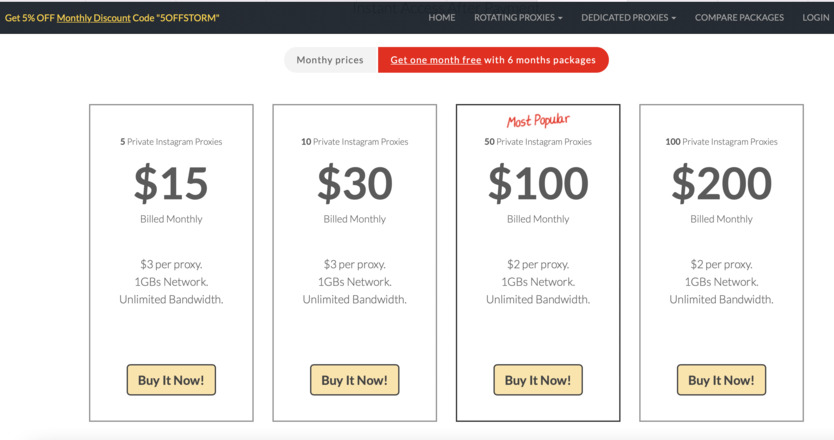 Storm Proxies pricing screen
As we mentioned earlier, the price won't drain your wallet. You still get working Instagram proxies despite the insufficient strength in a professional way. The starter package costs $15 per month and includes 5 private proxies addresses, which means that you will have to pay only $3 per one proxy.
6. NetNut — Best for the Biggest IP Pool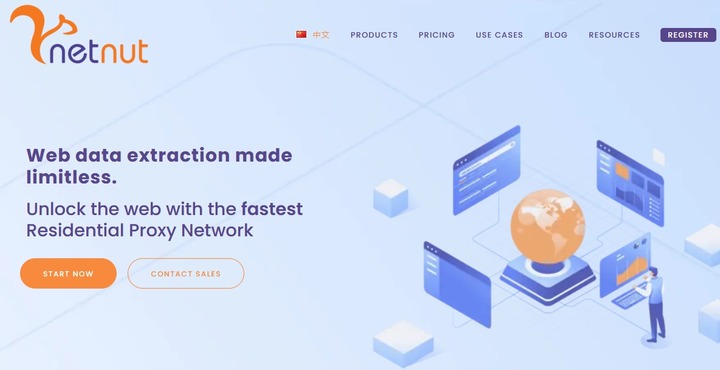 Features and benefits
The next in line for review is a Tel Aviv-based Instagram proxy service NetNut. This is a fairly young proxy, which is aimed more at non-scale use but will be a good solution for medium and large enterprises. NetNut is more than just a pool of over 52 million premium IP addresses across the site and 99.9% uptime. This service is excellent for effective web data collection and SEO monitoring, as well as for social media management. In general, NetNut offers a wide range of options to meet your professional goals:
Rotating residential proxies
Static residential proxies
Mobile IPs
Data processing proxy
Strengths and weaknesses
| | |
| --- | --- |
| + | – |
| Unmatched global coverage | High rates |
| Zero IP blocks | New on the market |
| 1M+ auto-rotating IPs | |
| Hybrid P2P network (ISP + residential IP addresses) | |
| Cost-effective proxies | |
| Excellent scraping performance | |
Price comparison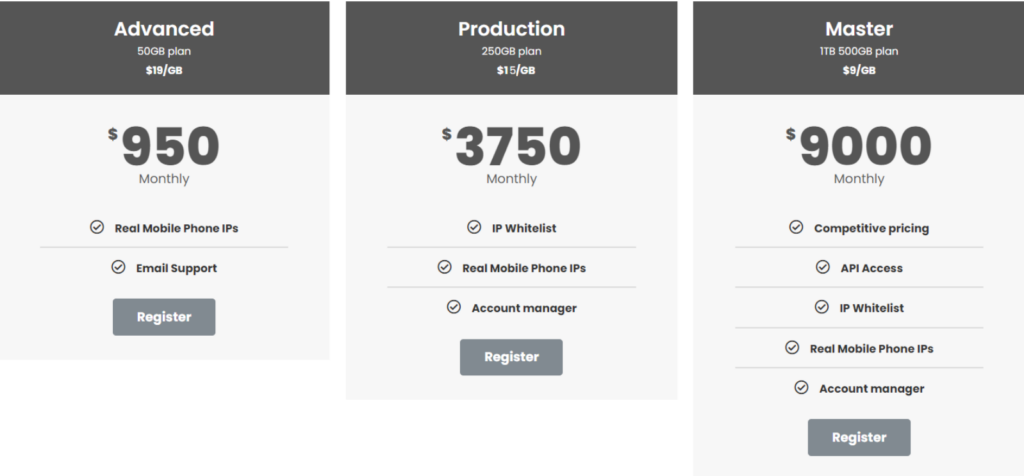 NetNut offers 3 packages in total. The cost starts from 950 (Advanced Package), which includes 50 Gb for 30 days. At the same time, for all other packages, the cost includes the support of an account manager. Besides, the package can be easily personalized (Master Package ). Prices for custom solutions are to be specified in the support service.
7. SmartProxy — Best for the Fastest Speed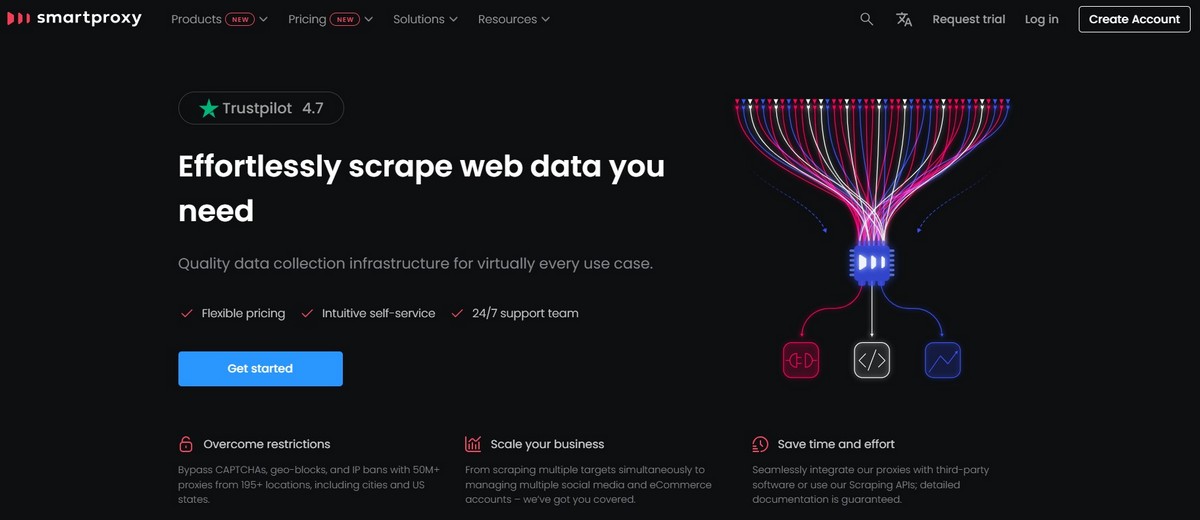 Features and benefits
It is a blazing SEO proxy that provides simple but not trivial Instagram proxies solutions to unleash the Internet's full potential and enjoy unlimited connections. Do you need to unblock Instagram and avoid suspicion from Instagram automation systems? SmartProxy is a potent tool for your business. Whether you're a freelancer or a business owner, this platform has great solutions for your one Instagram account management needs:
Residential proxies
Datacenter proxies
Dedicated IP addresses
Social media scraping API
No-code scraping
Strengths and weaknesses
| | |
| --- | --- |
| + | – |
| Unlimited number of simultaneous connections and streams | SOCKS protocol is not supported |
| Reliable IP authentication methods | |
| Professional technical support | |
| 10M+ ethically sourced mobile IP pool | |
| 700+ ASNs | |
Price comparison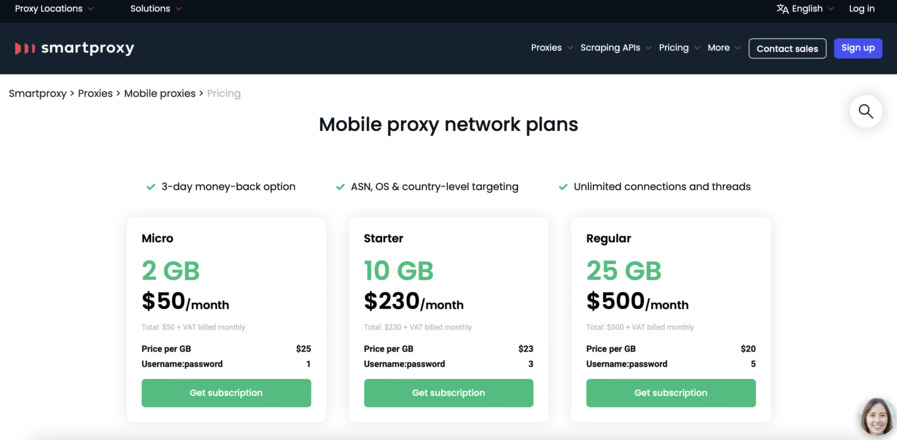 SmartProxy pricing screen
In total, SmartProxy offers two plans: a personal proxy (one proxy) and small businesses proxy (three packages) and for the enterprise (one powerful package). The $50 micro package is convenient for individual use. The Enterprise plan can be customized depending on how many gigabytes you need to manage your multiple social media accounts.
8. GeoSurf — Best for Smooth Mobile Compatibility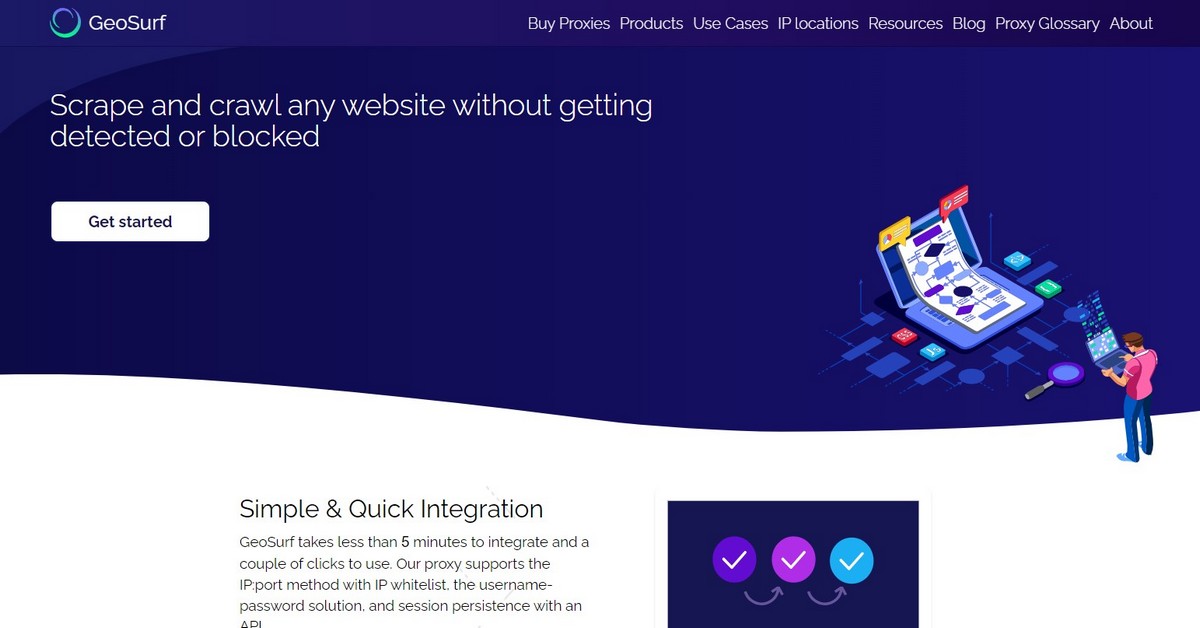 Features and benefits
Do you want complete freedom while keeping your IP addresses anonymous? Try GeoSurf anonymous proxies solutions for your multiple accounts. GeoSurf is an Israeli web product launched in 2009. The provider positions itself as a top-notch proxy with unique web capabilities to bypass restrictions. What can you find on the site?
Datacenter proxies
ISP proxies
Residential proxies
Universal web scraping API
If you are looking for high-quality Instagram proxies, you are in the right place. For multiple Instagram accounts, privacy, anonymity, and legitimacy are paramount. Private mobile proxies are what you need to keep your Instagram profile up-to-date.
Strengths and weaknesses
| | |
| --- | --- |
| + | – |
| Android app available | ASN is unavailable |
| Easy to manage dashboard | No SOCKS support |
| HTTP and HTTPS proxies protocols supported | |
| A large pool of IP addresses | |
Price comparison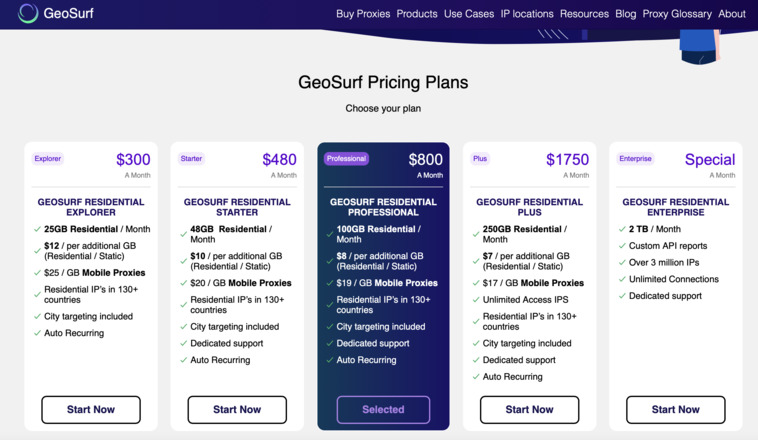 GeoSurf pricing screen
The site hosts 5 plans for different web goals. You can start with a $300/month starter package that includes 25 Gb of traffic. Then, if you like the features of GeoSurf, you can choose the popular Professional package or the special Enterprise plan for the biggest ideas.
9. Rayobyte — Best for Customizable Pricing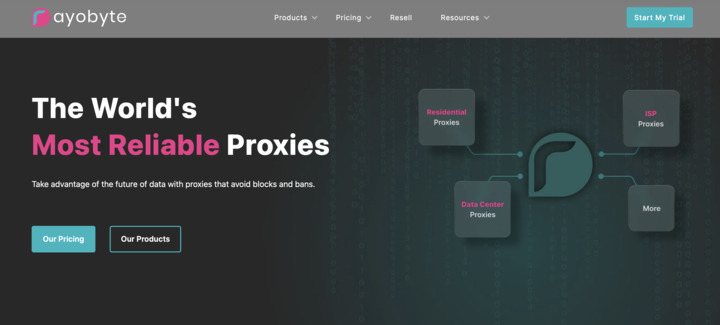 Features and benefits
Launched in 2015, Rayobyte is a solid operator with fairly strong options to manage multiple accounts. It is well known among web analysts, SEO specialists, and SMM experts, which proves its reliability and legality. You can use the following proxy services from the provider:
Residential
ISP
data center (rotating, dedicated, semi-dedicated)
mobile
scraping robot
Strengths and weaknesses
| | |
| --- | --- |
| + | – |
| Free proxy replacement | Limited country targeted |
| Unlimited bandwidth | |
| End-to-end hardware control | |
| Personalized pricing solutions | |
Price comparison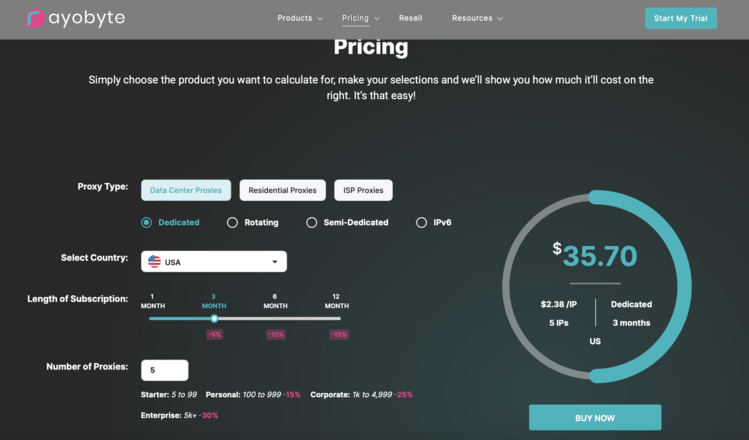 Rayobyte pricing screen
The pricing customization element is straightforward and convenient. The client can independently choose the type of proxy, the number of gigabytes, set up targeting, and specify the number of proxies. At the same time, you will definitely like the prices. For example, for a month of using the Starter plan with 5 proxies, you need to pay only $12.50. Discounts apply for more expensive and larger packages.
10. SOAX — Best for Personal Use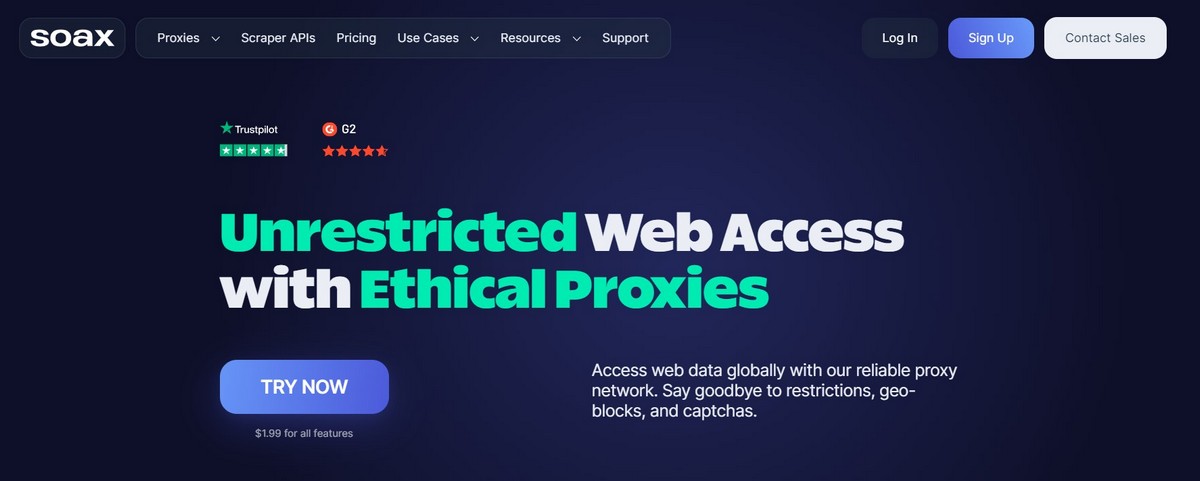 Features and benefits
So, the last on our list, but not the last in importance, is SOAX. This is a provider of mobile and residential proxies for Instagram profiles with a constantly updated database of IP addresses. Currently, more than 8.5 million addresses are available worldwide. So, let's outline the main services that you can count on using SOAX:
Mobile proxies
Residential proxies
IP-whitelisting tool
As for use cases, the operator includes social media. Hence, accurate geotargeting, restriction bypass, and a growing IP pool are guaranteed. Here, you will definitely find the best Instagram proxy services!
Strengths and weaknesses
| | |
| --- | --- |
| + | – |
| Worldwide coverage | Expensive pricing |
| 99,9% network uptime | |
| Free proxy trial | |
Price comparison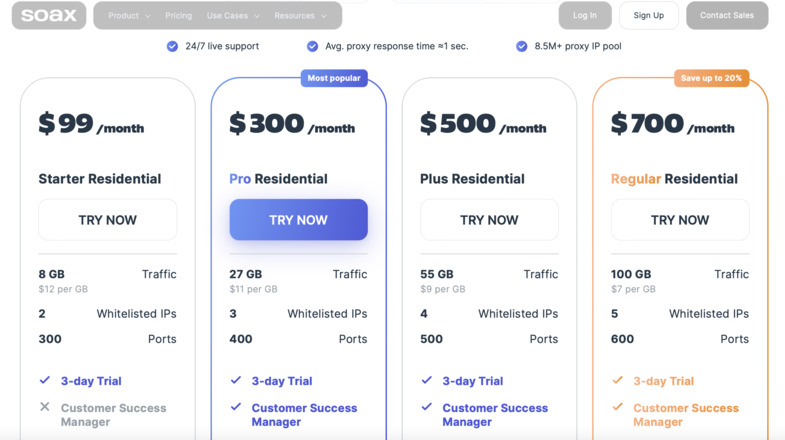 SOAX pricing screen
SOAX is equipped with a huge number of monthly and annual plans for both individual use and large companies. At the same time, only whitelisted IPs are included in each of the packages. The minimum cost of the Starter Package is $99 per month (3 Gb of traffic).
Honestly speaking, $33 per GB is not the cheapest option. However, the larger the package you purchase, the more profitable it is to buy traffic. In addition, the operator offers good discounts. The $2,880 annual plan can be purchased at a 20% discount.
Frequently Asked Questions
IPv4 or IPv5: what are the best Instagram proxies? 
If you are looking for the most suitable proxies for Instagram, it is better to use an IPv6 proxy. They are considered to be newer, more secure, and provide a higher level of privacy than IPv4 proxies. In addition, IPv6 processes data faster. However, there is one point to pay attention to: check which protocol is supported by your provider. For example, in SOAX, most of them are IPv4 addresses. Carefully study the conditions of the operators before paying money.
What to do if the IP changes quickly?
Too frequent rotation can really make Instagram automation systems suspicious. Try setting up the GEO and changing the port to stick to the same IP. Some proxies offer a Sticky IP feature that prevents the IP from changing and returns you to the same IP address if something goes wrong. Always choose a single proxy location. Instagram blocks accounts if it sees a lot of requests from different countries.
What are the benefits of a SOCKS5 proxy for Instagram?
A SOCKS5 proxy is what you need for Instagram marketing purposes. It not only provides excellent location spoofing but also allows users to hide their real IP address. So, there are four main reasons why it is important to choose an operator that supports the SOCKS5 protocol:
– Bypassing online blocking,
– High level of privacy,
– Improved performance,
– Compatibility with many devices and applications.
What is the difference between a mobile proxy for Instagram and VPN?
Both VPNs and proxies serve the same purpose of providing online privacy; the only difference is how VPNs and proxies work. VPN is a virtual part of the network that forms an encrypted channel for data transmission. A proxy, on the other hand, is an intermediary that passes all traffic through itself to replace the real data of the user device with its own. 

VPNs work at the operating system level and redirect all traffic through the VPN server, while proxies operate at the software level and redirect traffic only from a specific app or browser. Thus, if you are looking for a way to work safely and anonymously with Instagram profiles, a proxy will be enough.
How safe are free proxies for Instagram?
When it comes to the security of your data on the Internet, it is better not to take risks and avoid using social proxy sites. Almost all free proxies for Instagram do not support HTTPS, which means that your connection is not encrypted. Such services will control your traffic. In addition, free providers provide low speed. Now there are many inexpensive but reliable proxy solutions on the market. A free Instagram proxy solution is a risky choice. Don't compromise your privacy!