The variety of sneaker bots and proxies for botting is huge, and there are many factors to consider before buying a sneaker proxy package. It is essential to weigh all pros and cons, define your goals, and carefully view the sneaker proxy providers' offers.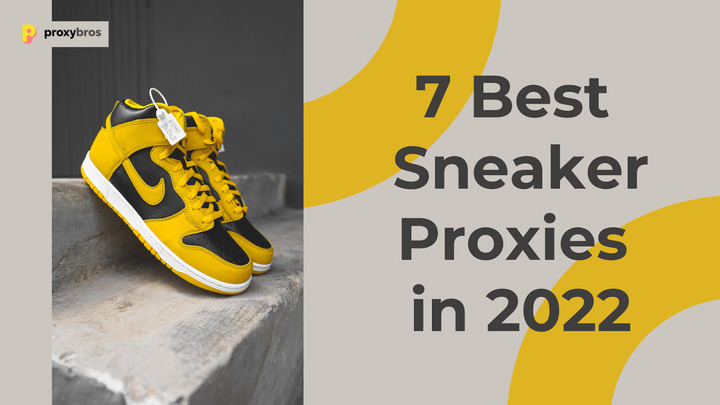 Brand new footwear from big-name companies such as Adidas, Supreme, or Nike is sold out faster than a person could react. It is practically impossible to get 2 or 3 pairs — not speaking of making a dozen purchases. Smart resellers and fashion geeks know the solution, though. Sneaker bots and sneaker botting proxies exist for such cases. These software packages allow sneakerheads and entrepreneurs to become owners of precious limited footwear collections.
Best Sneaker Proxies in 2023: Overview
The variety of sneaker bots and proxies for botting is huge, and there are many factors to consider before buying a sneaker proxy package. It is essential to weigh all pros and cons, define your goals, and carefully view the sneaker proxy providers' offers.
Here are seven services that provide user sneaker proxies to make this task easier. Our review focused on each company's main features and strengths. Here are our top-8 best sneaker proxies providers for 2023:
What Are Sneaker Proxies and How Do They Work?
To understand what sneaker proxies do, it is essential to know how a proxy scheme works.
A common proxy routes the user's internet traffic through a proxy server. That is an intermediary that uses its IP address to hide the IP address of the user's device. When the request reaches its final destination (e.g., an online store order), it looks like the action was from the address where the proxy server was located.
The main feature of sneaker proxies is their optimization for footsites and compatibility with sneaker bots. The top footsites that sell limited-edition goods implement restrictions and ban suspicious activity to avoid bulk purchases. That is where sneaker bot proxies can help. Bot proxies allow the bot to make not one but multiple purchases immediately without any quantity limits.
The second thing is that sneaker proxies can trick the geo-restriction requirements. Many of the limited sneaker collections are sold in certain countries only. With bot proxies, online shopping becomes possible for a citizen of any region. A location change is also essential for a faster purchase as the server location can be critical for a faster response.
Also, it is important to remember that footsites deal with big money transactions, which is very attractive for scammers. Such websites protect seriously against fraud, but it is never redundant to use extra protection. A sneaker proxy hides the user's IP like any other proxy so website customers can ensure their data is secure.
Sneaker proxies' best features are:
Possibility to make multiple purchases;
Possibility to purchase goods from restricted regions;
Faster order placement;
User data protection.
Sneaker Proxy Types a User Might Need
There are three main types of proxies for botting that are commonly used. These are residential proxies, datacenter proxies, and static residential (ISP).
Residential proxies
Residential proxies for sneakers use real IP addresses provided by Internet service providers. Since these IPs are physically attached to real devices from real homeowners, these addresses are unlikely to get denylisted.
Multiple purchases via several real IPs look like a bunch of independent legal purchases from certain places. This safety and reliability make residential bot proxies the most preferred by entrepreneurs.
Datacenter proxies
Datacenter proxies are less expensive than residential proxies for sneakers. They do not physically exist, nor are they affiliated with Internet providers. They are much faster than residential proxies for botting, but they have one strong negative against them. These proxies use artificial IP addresses generated by hosting companies. The connections via data center proxies may look suspicious for highly protected online stores. It is much easier to track down a data center proxy connection and reveal a fake IP address.
ISP
ISP or static residential sneaker proxies are not physical, like data center proxies. The difference is that ISP proxies are officially supported by Internet Service Providers (ISP). Thus, an ISP sneaker proxy uses a non-physical but approved IP address that looks like it is real. This proxy type combines the speed of datacenter proxy connections and the reliability of residential ones.
How to Choose the Best Sneaker Proxy: Top Features to Keep in Mind
Purchasing unique items is not easy. The details are important, so keep an eye on these features the best botting proxies should have.
Speed
Sneakerheads and resellers should act fast before the limited collection is sold out. High speed is critical for a successful purchase, and this is a must-have feature for the best botting proxies. A fast sneaker proxy and a sneaker bot is the first key to success.
Location
Check your provider for its IP pool and certain locations. The more locations provider offers — the more options you get. The closer your proxy server to a footsite server — the faster response will be.
Stability
Good sneaker bot proxies usually have a high stability level. Good proxies should have a high uptime without a bandwidth overflow.
IP rotation
Some of the residential proxies for sneakers use a rotational scheme. A rotating proxy assigns a new IP address to a device at scheduled intervals. Hence, every connection attempt happens with a new IP address. An automatic IP change is useful to avoid a boring manual setup.
Proxy type
For sneaker businesses, residential connections are highly recommended. However, if you want fast connections at all costs, your choice will be a data center proxy. If you want both reliability and speed, you will like ISP proxies.
Strengths and Weaknesses of Sneaker Proxies
Sneaker proxies are ideal for their specific purpose. But why are they better than common proxies, and what positives and negatives do they have when compared to other proxies? Here are some pros and cons of sneaker proxies before buying a monthly plan and starting footsites.
Positives
Speed. Sneaker proxies are optimized to help send requests, place orders, and complete tasks quickly. You may not need this speed while surfing the Internet, but online purchases can be fast like lightning.
Security. One of the main goals of sneaker botting proxies is to make multiple purchases without getting banned. That means you have less chance of becoming tracked and denylisted than in the case of using common HTTP proxies.
Work with bots. Most online stores have anti-bot systems, so bots cannot do their work without proper compatible proxies. Sneaker proxies are specially created for bots and have the optimization to work with them.
Negatives
Price. Unfortunately, to get lucky to get your favorite pair of shoes, you need to pay in any case. Free sneaker proxies are too slow to let you outpace other users who want to do the same. At best, you will have no result. At worst, you can become a victim of a hacker attack.
Top 8 Sneaker Proxies in 2023: Reviews

Storm Proxies is a proxy supplier that provides rotating residential proxies for niche solutions. Sneaker proxies are one of those. They are practical for work with Adidas, Yeezy, Nike, and other sneaker sites. Users can utilize Storm bot proxies with almost all known footsite bots like Supreme Bot, Nike Bot, and more. The sneaker solution is simple and does not require any additional research to start working with it.
Key features
Solution specially made for sneaker sites;
Residential proxies for sneakers are available;
IP rotation;
200K residential IPs pool;
Servers located in USA and EU;
Easy to use;
High speed;
Unlimited bandwidth;
Money back guarantee;
Monthly plans from 160$ per 20 ports to 900$ per 200 ports.
Best suited for: Сheap and fast purchasing for small businesses. 
2. Proxy-Seller — Best For Resale Sites Access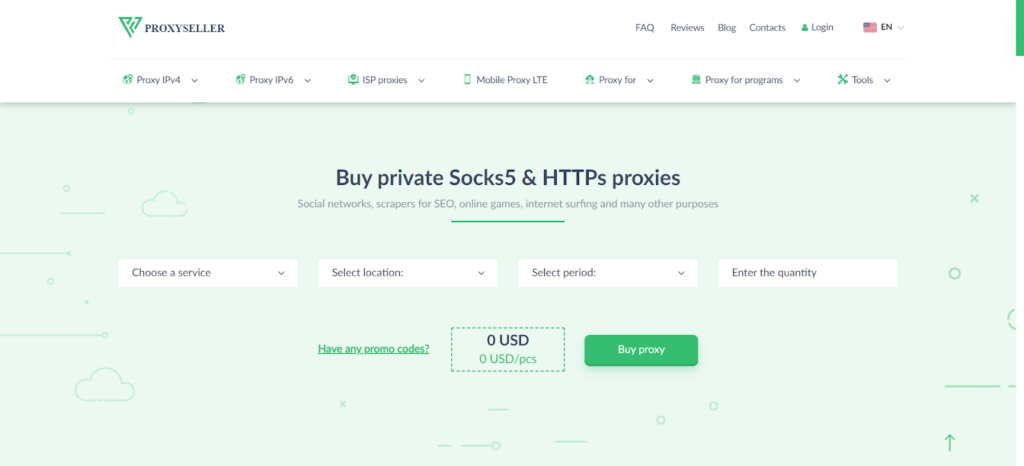 7+ years on the market and premium user experience — these are the features Proxy-Seller can ensure. Despite this service does not have a specialized solution for purchasing sneakers, it still offers multiple plans at reasonable prices for you to choose from. Plus, it allows access to websites dealing with sneakers resale, making your shopping even more convenient. The most popular options on the list include Footlocker, Sneakerhead, JD Sports, etc. Have you encountered any questions while shopping? Then Proxy-Seller 24/7/365 support is always willing to help.
IP choices in 50 countries;
Rotating proxies with a 2-minute automatic shift;
Full mobile compatibility with 4G LTE connection;
Convenient price options for one proxy;
The incredible speed of 1 GB/s;
High anonymity and security with premium HTTP/s & SOCKS5 connections;
A full refund or proxy replacement within 24 hours after activation;
99% uptime;
Selection of 800 subnets and 300 networks.
Best suited for: quickest purchases with resales.

BrightData is one of the proxy market giants that offers full solutions for any purpose. The company provides wide options, including residential, data center, ISP, and mobile proxies. BrightData works with clients and business representatives and offers full support, consultations, and personal plans. But BrightData does not have a product named "Sneaker proxy solution." Nevertheless, it is easy to pick up the solution by yourself or with the help of a consultant.
Key features
Residential, data center, ISP, and mobile proxies are available;
72M residential IPs pool;
Rotating or sticky sessions;
Servers locations in 195 countries;
Request for a custom solution available;
Real-time network performance dashboard;
Support 24/7;
Dedicated account managers;
99.99% uptime;
Flexible pricing per IP, per port, or GB.
Best suited for: Multiple purchases on a corporate basis.

Oxylabs is another provider that offers solutions for big business purposes such as ad verification or SEO monitoring. It uses certified data centers, which is a great reliable business solution. However, Oxylabs offers smaller solutions, including sneaker proxies too. Oxylabs claims all known sneaker bots compatibility and city targeting. City targeting increases the connection speed and accuracy, which is critical for purchases.
Key features
Residential, Datacenter, ISP, and mobile proxies are available;
100M residential IPs pool;
Rotating or sticky sessions;
Server locations in the United States, Germany, France, Turkey, Argentina, India, Spain, and more;
Statistics dashboard;
City-level targeting;
Support 24/7;
Monthly plans from 300$ per 20GB to 5000$ per 1Tb.
Best suited for: Fast and accurate multiple purchases and business purposes.

SmartProxy does not have such a big name as other companies. Still, the provider offers a good quality service for reasonable prices, including one of the best sneaker proxy solutions. These sneaker proxies work with all major sneaker bots. They easily cope with services like Yeezy, Nike, Supreme, Bape, and others. Furthermore, these sneaker proxies are fully mobile-compatible. The important thing is that SmartProxy provides a lot of guides and tutorials. With the best starter kit on the market, SmartProxy is especially attractive for newcomers.
Key features
Residential, datacenter, ISP proxies available;
IP rotation;
Server locations in 195 countries, including the United States, China, India, and more;
40M residential IPs pool;
Mobile-compatible sneaker proxies;
Multi-session browser;
Lots of tutorials;
Money back guarantee;
Flexible pricing;
Monthly plans from 75$ for 5Gb to 4000$ for 1000Gb.
Best suited for: Sneaker retail business or personal purchases.

NetNut's premium product is its ISP proxy access. However, it can offer both data center and residential proxies too. These ISP proxies used for botting are highly fast, stable, and reliable. NetNut is not a cheap solution! It claims to be a premium provider, but the speed and stability of NetNut's ISPs are worth it if your goal is to purchase large amounts of goods regularly.
Key features
Residential, Datacenter and ISP proxies are available;
20M residential IPs;
1M ISP IPs;
Rotating and sticky IP sessions;
Seven days free trial;
Easy proxy setup;
Dashboard statistics;
Dedicated Private Pools;
Support 24/7;
Monthly plans from 300$ to 4000$.
Best suited for: Regular purchases.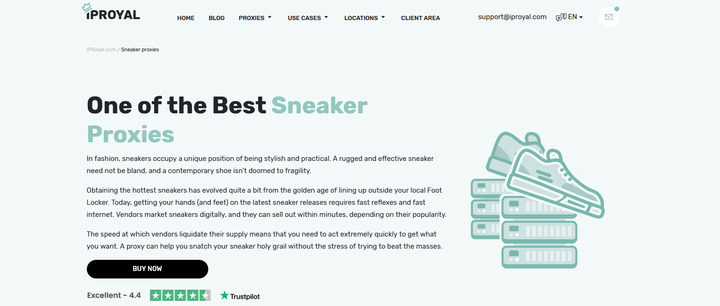 IPRoyal is a reputable proxy provider with fast botting proxies and affordable prices. IPRoyal offers monthly packages for multiple purchases and a daily plan that can be practical for buying even one pair of sneakers only. The convenience is that you pay not for traffic or bandwidth but one proxy. You can buy more proxies or less, depending on your goals.
Key features
2M+ residential IPs;
Affordable prices;
Fast connections;
4G mobile proxies;
Daily and monthly plans starting from 0,8$ per proxy;
99.9% uptime.
Best suited for: One-time purchases.

GeoSurf is one of the oldest players in the proxy market. It provides clean, reliable residential IPs and offers an unlimited number of connections. The sole limitation is traffic. GeoSurf has a special sneaker proxy offer that works with all existing sneaker bots. The GeoSurf website also contains information about botting proxies and has a sneaker release calendar.
Key features
3.7M residential IPs;
Server locations in 130 countries, including the United States, China, India, and more;
Rotating and sticky IP sessions;
IPs locations in 192 countries, including the United Kingdom, Canada, India, China, and more;
99% uptime;
Support 24/7;
Unlimited access to IPs pool;
Sneakers release calendar;
Monthly plans from 450$ to 2000$.
Best for: Unlimited connections.
Is it expensive to use sneaker proxies?
There are lots of offers at very affordable prices. They are not always extremely expensive. Some companies allow payments for a single proxy for $5-$8. You even do not always need to get a monthly plan. But many programs demand vast contributions.
Residential or Datacenter proxies: which are the best to use with footsites?
Despite datacenter proxies being faster, residential proxies for sneakers are more reliable. Most sneakerheads usually use the second proxy type.
How often do they ban sneakerheads' accounts?
Top limited collection sellers usually ban suspicious accounts incredibly quickly. But the sneaker proxy users usually do not have those troubles. Proxy providers claim that the connection via residential IPs never gets banned.
Are sneaker bots and bot proxies legit?
Yes, they are. Bots and bot proxies do not violate any law. They do not steal anything and do not buy goods at discounted prices. Sneaker retail is legit work, and there is nothing bad in using sneaker proxies.
Do sneaker proxies guarantee all the purchases I need?
Purchasing limited sneakers is a competition. You are unlikely to win it using free sneaker proxies or slow connections. But if you have chosen your provider wisely, the chances double, and getting the prize becomes much easier.