Dedicated datacenter proxies with manageable IPs, Smart Scraper, and Proxy Address Generator for free. Nominated as the best value provider by Proxyway, Smartproxy definitely has a lot in store for convenient usage. So what else makes it a top proxy solution? Let's get down to the bedrock below.
Overview
The variety of proxies offered on the market is unbelievable. So, finding a service that will meet your feature and price demands takes a lot of work. Most proxies provide a large proportion of offline IP addresses that tend to low down the connection rate. Thus, searching for a proxy experimentally can be a waste of time. In this Smartproxy review, we will explore this proxy solution and delve into its features to get a complete notion of the service.
Smartproxy Overview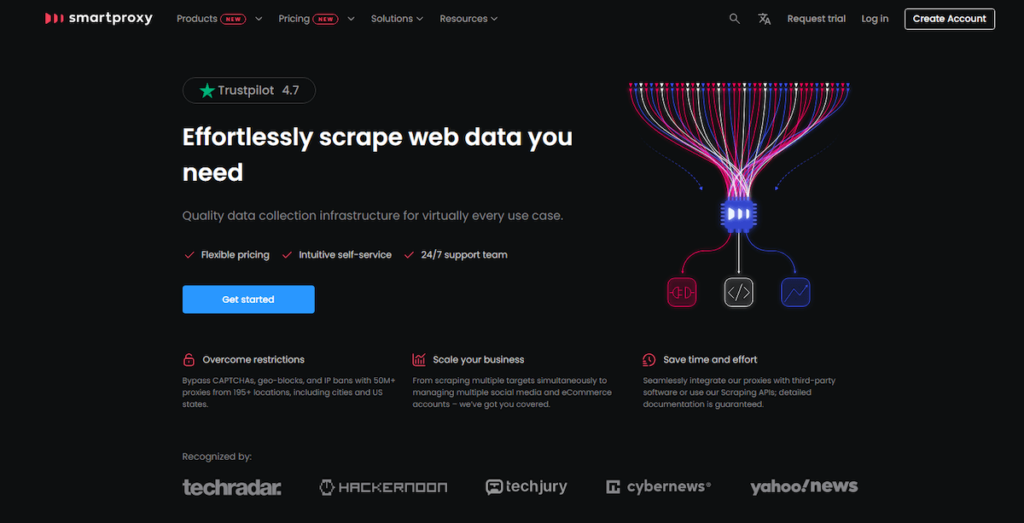 Smartproxy is a premium proxy provider that started its work in 2018. In a few years, it has earned universal acceptance and gained a rating of 4,7 on Trustpilot. The service provides over 50 million rotating IP addresses from 195+ locations. The choice of servers offered is rich. With Smartproxy, you can enjoy a fast, secure, and anonymous network. Besides, there are no traffic limits set for users; hence, you can run several parallel connections.
Feature Set and Guidance
Smartproxy offers a fine set of features for different purposes.
Here you can get:
Rotating proxies
Residential proxies
Backconnect proxies
Datacenter proxies
Anonymous proxies
Shared proxies
Scraping APIs
No-Code Scraper
HTTP proxies
SOCKS5 proxies
No subnets
Chrome and Firefox extensions
Smart Wallet
Let's focus on each feature in more detail.
Rotating proxies

Smartproxy offers an automatic IP rotation which means the distribution of IP randomly or after a specific time interval. The IP is automatically attached from the address pool when connecting via a provider. After disconnecting, the ISP distributes another available IP by rotating addresses.
Rotating proxies offered by Smartproxy work two times faster than an industry average. But if you want, you can keep one IP address for up to 30 minutes; you can do this by choosing the sticky session instead of a rotation. 
Rotating proxies provide higher security and anonymity when performing the same type of actions. They are used to
scrape web
scale your marketing
access local data
automate anything
Residential proxies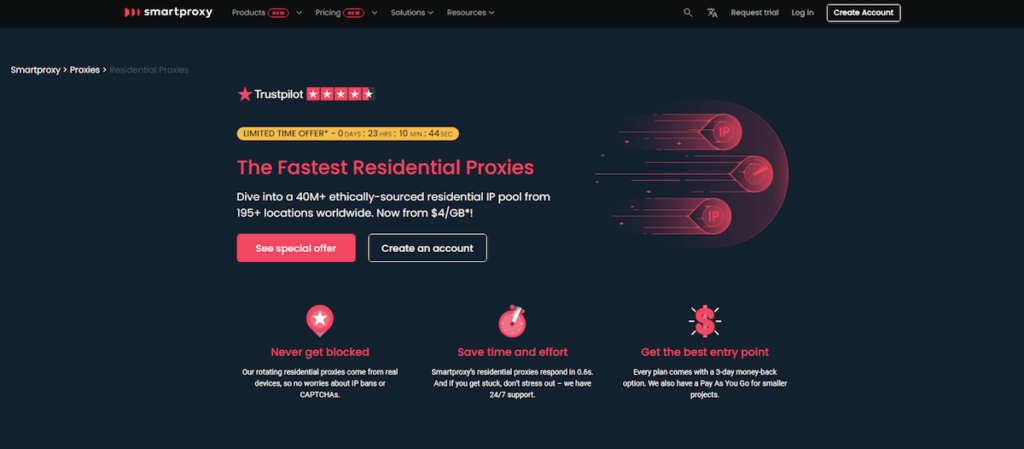 A residential proxy is a server created by a real Internet provider with a particular location. When used correctly, requests from such addresses are similar to requests from a real user. They work stably, without interruptions. Such intermediaries enjoy a high level of trust among Internet resources. Accordingly, the chances of getting on their blocklist are negligible, and Smartproxy promises that you will never get blocked while using its service.
Most sites do not identify residential smart proxies as intermediaries. So, they are considered the safest option since they are always issued strictly in one hand. They are used to
verify ads
scale marketing
automate anything
circumvent bans
create & manage multiple social media accounts
Smartproxy's residential proxies make accessing the necessary content on the Internet possible. They suit better for data collection and task analysis. It is an excellent solution for companies that need to collect data from various sources and bypass possible blockages.
Backconnect proxies

A backconnect proxy does not open the service port but performs a reverse connection to the client. It transfers your connection to a residential proxy pool and allows you to connect to the proxy network as much as you like.
The backconnect smart proxy sends your requests through a single node to the proxy pool by overcoming blocks. Then, the request gets to the target website. With such an intermediate, you can use the whole IP pool without creating a separate server.
They are used to
make many requests
scrap data
circumvent blocks
verify & manage ads
The advantage of this approach is the ability to bypass the firewall, which by default, prohibits incoming connections. It allows users to automate tasks and make connections instantly. Also, it strengthens the security of your IP address and protects anonymity.
Datacenter proxies

Datacenter smart proxy provides IP addresses of virtual and physical servers located in data centers. They ensure reliable and high-speed connections to the sites you request.
In the case of Smartproxy, you can expect to get access to 100k+ datacenter IPs worldwide and 400+ subnets. What's more, datacenter proxies by this service allow setting the average stable connection of <0.3s with 99.99% uptime.
They are used to
hide the real IP address
bypass geo-based content blocking
encrypt traffic
massively collect publicly accessible data
These intermediaries are easy to use and can solve their main task – to mask the real IP address and open access to blocked content.
Besides, Smartproxy offers an advanced version of datacenter proxies called dedicated datacenter proxies.

Using a dedicated datacenter proxy issued by Smartproxy means no one will have the same IP address as yours. It reduces the chances of getting banned and gives you 100% control of the server and browsing history.
By getting a dedicated datacenter proxy, you become the only owner of IP addresses provided by the server. You are free to change addresses as many times as you wish. In addition, the average <0.3 speed of the connection is fast and stable. Finally, navigating and setting up your proxy also turns relatively easy, especially using a Smartproxy dashboard.
What is more pleasant is that you get unlimited gigabytes of traffic and threads. It makes website usage even more comfortable.
Anonymous proxies

This proxy type will never give out your data because it uses no data connected with your identity or proxy. That's why the website you request will never know who makes a connection. It will look like a real device rather than a proxy. So you can be sure your IP address, location, and other private information are safe.
Smartproxy proved to be a highly reliable provider of anonymous proxies primarily because it commits to providing only elite proxies. Their main feature is ensuring the highest anonymity and never revealing a user's identity. They are used to
keep data secret
circumvent blocks
optimize connection rate
Elite anonymous proxies provided by Smartproxy are rotating, but you can always use a sticky session to keep connected to the same IP for longer.
Shared proxies

A Smartproxy's shared proxy is a private IP address used by a limited group of people. The main advantage of shared proxies is the cost – they cost two or even three times cheaper. 
Choosing shared proxies with this service allows accessing the pool of 50m+ IPs worldwide and enjoying no connection limits and 99.99% uptimes. As usual, you can keep rotating sessions or go for sticky sessions for longer connection times to a single IP. They are used to
collecting data
visiting blocked sites
The only drawback is speed. Owners of such a proxy are free to use it however they like. For instance, one of the owners can use a proxy in several services at once. The bandwidth is low, and the work will not be as convenient as it used to be. Plus, it is not advisable to use this type of proxy for social media marketing as they increase the risk of being blocked due to suspicious activities of other users. However, shared services can still be the best choice for those seeking to save their funds.
Scraping APIs

Smartproxy is a service especially notable for its scraping possibilities and solutions tailored to simplify the web crawling process. Thus, scraping APIs were specially designed for users who wanted to take up data collection but didn't want to build their web scrapers. Below, we will discuss the four unique tools to use. Please note that you can access them free of charge during a trial period.
SERP Scraping API
This solution allows users to save time and funds by accessing data from major search engines. Its primary purpose is to gather any type of SERP results in real time and get deep insights into keywords, most popular topics, and other SEO metrics. It is most useful for
Brands monitoring
SEO research
Leads monitoring
eCommerce Scraping API
eCommerce Scraping API allows getting actual real-time data from eCommerce sites like Amazon, Aliexpress, etc. It can become your perfect scraping solution because it brings up a 100% success rate each time you use it, allowing you to conduct price comparisons, analyze product potential, and catch up on current market trends. Moreover, you can get the data scraped with the tool in two convenient formats: HTML and JSON. It is most useful for
Market research
Price aggregation
Product data gathering
Web Scraping API
Collect any publicly-accessible data with Web Scraping API. The solution allows scraping even the heaviest websites built with JavaScript and can handle heavy loads of requests. Most useful for
Fraud protection
Travel fare aggregation
Public data collection
Social Media Scraping API
With Social Media Scraping API, users can scrape social media platforms of any scale and get well-structured data in raw HTML files or parsed JSON results. With this tool, you can scrape a platform of any complexity, including TikTok, Instagram, and Twitter. 
For instance, when scraping TikTok, users can collect data from posts and profiles and will be able to access usernames, hashtags, sounds, etc.
Speaking about Instagram, the functionality gets even broader, as users can access data on photos, posts, hashtags, follower count, profiles, etc., with the ability to retrieve it in HTML and GraphQL. Most useful for
Following account growth
Discovering trending content
Tracking engagement rates
No-Code Scraper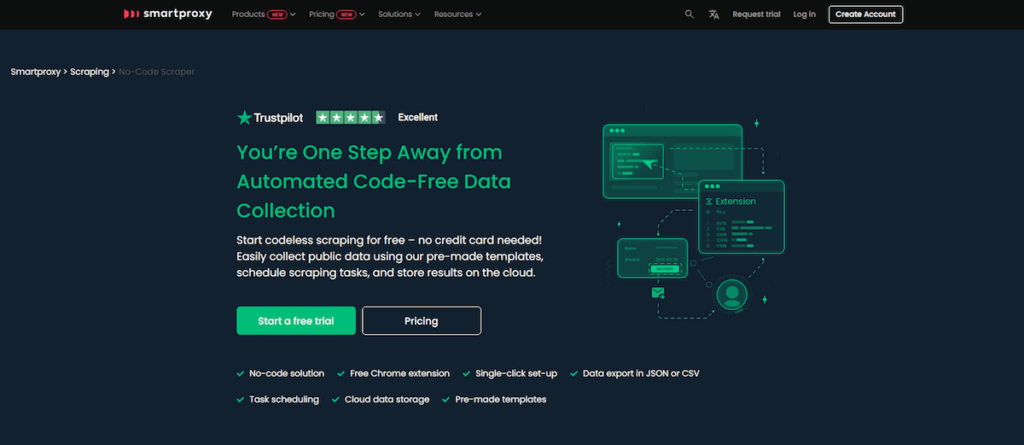 If you want to collect data without prior coding skills, Smartproxy still has a handy solution for you — No-Code Scraper. It allows users to conduct automated web scraping using pre-made templates. What's important, the service includes multiple pre-prepared scenarios, including those for Amazon, Google, or Universal. It also allows scraping from literally any site on the web, including Google, and planning scraping sessions ahead. You can get your data in a convenient format — JSON or CSV via email or Webhook. No-Code Scraper is best suited for
eCommerce
SEO research
Lead generation
Ideas validation
Statistical data
HTTP proxies
HTTP smart proxy uses the HTTP protocol – a data transfer protocol based on the "request-response" principle. It is widely used in the global network. With an HTTP connection, the client sends a request to the server, and the server processes it and returns a response. They are used to
scrape data
cope sneakers
verify ads
manage several accounts
SOCKS5 proxies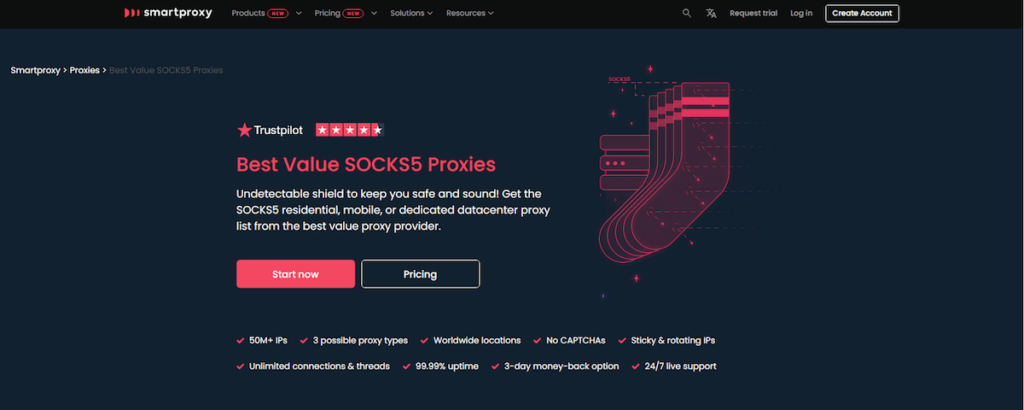 SOCKS5 proxies ensure the highest level of speed and protection. How so? All because they are the latest generation of the popular SOCKS or Socket Secure proxies which took into account all the nuances that the previous generations lacked.
The service in question allows access to 50m+ of residential, datacenter dedicated, and mobile proxies. Besides, you can securely bypass firewalls and reach previously restricted content while setting connections through them. SOCKS5 connections offer maximum anonymity. You can use them for
No subnets

Most IP addresses other proxy providers offer are virtual since they come from data centers. They are hosted on the same server issued by the same provider. Hence, they have personal IPs in subnetworks. Websites can identify such proxies as shared and block them.
Smart proxies are undetectable because they do not share a subnetwork and have unique IP addresses. So, you can use smart proxies without subnets, and so avoid getting banned. They are used to
automate tasks
scale businesses
hide the real IP
Chrome and Firefox extensions

With a Chrome proxy extension offered by Smartproxy, you can access the intermediary instantly. Custom sessions are operated in 2 clicks and supported on different types of devices. It is a good plugin for large-scale projects making the working process several times easier. 
If you have a valid Smartproxy plan purchased, a Firefox Add-on is a free part of it. This extension was designed with a focus on anonymity, localized content, and hassle-free unblocking websites.
Smart Wallet

Smartproxy is known for its wide selection of payment methods. You can start using the product by subscribing to the most suitable plan, accessing a free trial version, or selecting the Pay As You Go option. The latter would be the best choice for one-time projects because it allows purchasing as much traffic as is needed for particular purposes. However, please note that this opportunity is currently available only for residential proxies.
One more convenient feature of this provider is Smart Wallet. It makes purchasing proxies much easier by allowing storing all proxy-dedicated budgets in one place. It will also suit those users who prefer paying with Apple Pay or Google Pay.
Usability
Smartproxy has a convenient dashboard where you can choose an appropriate proxy type and a regular-use plan that suits you better. You can filter proxies according to their types, cost, location, and session. The dashboard will give out the most appropriate variants as you set your requirements and preferences.
Here are the steps of Smartproxy usage:
1. Go to the dashboard and select the proxy type;
2. Then go through the authentication process to confirm your actions;
3. Choose the location of the proxy servers and the type of session.
Smartproxy will generate a list of intermediaries you can download or copy depending on your settings. To make the proxies work, transfer them to the browser settings, and that's all.
Note that before you start using a proxy, you must create sub-users pass authentication. The company supports different authentication methods depending on your chosen subscription plan. In the same way, the subscription plan limits sub-users' creation.
Customer service
Here, we have collected several customer reviews from Trustpilot. The average score on this site is 4,7.
| | |
| --- | --- |
| Dee | "The service is very helpful" |
| Sebastian Skurs | "I recommend the service. I have just started to use their proxy. In the beginning, I had small difficulties creating it because I'm new to this stuff. Eve from customer service helped me. We resolved a problem effortlessly" |
| Amaury | "I am very happy with the service. They provide reliable customer service that is fast in usage. 5/5 completely satisfied" |
| Skanfnf Sjsbdnd | "Amazing service! The technical support is fast" |
| Marko Campos | "I enjoy the smart proxy service very much! The company cares a lot about its users. People are lovely to work with! They do their best to help" |
| HdShT | "To my surprise, the support team is willing to give answers. Dolf had helped me greatly" |
| Arm Mahmoud | "Proxies are fast. The support team is friendly. There are many payment options. Also, there is the possibility of a refund if you do not like the service. I recommend everyone to deal with them" |
Performance Testing
The platform is simple to use. Smartproxy dashboard is also straightforward. There you can find all information about proxies and tools the company provides.
Smartproxy has Chrome and Firefox extensions. They allow users to log in to the system and instantly connect to any IP address of any country without logging into the dashboard.
Here you can use two types of sessions divided depending on when you want to use a particular IP address.
A rotating session adjusts you to a new IP address with each request you send.
A sticky session keeps a particular IP address for up to 30 minutes and then changes it automatically.
When testing Smartproxy, we measured the speed indicator of the service. Here are our results:
Response time – 3.792 seconds
Average ping – 73ms
Average download – 27.23 Mbps
Average upload – 15.85 Mbps
Also, we have paid attention to the performance of the current connection:
| | | | | |
| --- | --- | --- | --- | --- |
| Test | Success rate, % | Error, % | Timeout, % | Block, % |
| Craigslist | 98 | 0 | 2 | 0 |
| Instagram | 94 | 0 | 0 | 6 |
| Booking | 92 | 0 | 4 | 4 |
| Bing.com | 90 | 0 | 1 | 9 |
| Nike | 90 | 0 | 2 | 8 |
The results clearly show us that Smartproxy is the best variant for scrapping. Most of the blocks appeared due to captchas. To eliminate this problem, you need to install a captchas solver.
Pricing
Residential plans
| | | |
| --- | --- | --- |
| Nono | $22 + VAT | Traffic limit – 2 GBPrice per GB – $11Proxy users limit – 1Whitelist limit – 1 |
| Micro | $80 + VAT | Traffic limit – 8 GBPrice per GB – $10Proxy users limit – 2Whitelist limit – 2 |
| Starter | $225 + VAT | Traffic limit – 25 GBPrice per GB – $9Proxy users limit – 3Whitelist limit – 3 |
| Regular | $400 + VAT | Traffic limit – 50 GBPrice per GB – $8Proxy users limit – 4Whitelist limit – 4 |
Datacenter plans
| | | |
| --- | --- | --- |
| Nimble | $30 + VAT | Traffic limit – 50 GBExtra GB price – $0.7Proxy users limit – 1 |
| Foxy | $55 + VAT | Traffic limit – 100 GBExtra GB price – $0.7Proxy users limit – 3 |
| Clever | $160 + VAT | Traffic limit – 300 GBExtra GB price – $0.7Proxy users limit – 5 |
| Smart | $500 + VAT | Traffic limit – 1 TBExtra GB price – $0.7Proxy users limit – 5 |
Dedicated datacenter plans
| | | |
| --- | --- | --- |
| Teeny | $7.5 + VAT | Number of IPs – 3 IPsPrice per IP – $2.5Traffic limit – Unlimited |
| Tiny | $40 + VAT | Number of IPs – 20 IPsPrice per IP – $2Traffic limit – Unlimited |
| Mini | $95 + VAT | Number of IPs – 50 IPsPrice per IP – $1.9Traffic limit – Unlimited |
| Main | $320 + VAT | Number of IPs – 200 IPsPrice per IP – $1.6Traffic limit – Unlimited |
Final Verdict
Smartproxy is a proxy provider that offers relatively cheap and reliable resident proxies. Using the platform, you can access a pool of more than 50 million IP addresses in 195 countries.
Among the strongest points of Smartproxy are the following:
The Unlimited number of simultaneous connections and streams;
Unlimited IP addresses that allow you to choose any of the shared pools;
The average response time is 0.3 seconds;
Multiple authentication methods (by username, password, or IP from the whitelist);
Convenient dashboard;
3-day money-back guarantee, except BTC payment;
Excellent technical support, responds within a couple of minutes.
As for the weak point, we have noticed that:
Smartproxy pricing depends on bandwidth. You get a pool of 50 million, but you have limited traffic.
Smartproxy is quite popular with users and has more than millions of resident IP addresses with city-level targeting and excellent speed. Users appreciate reasonable prices for tariff plans and ease of use. It all makes Smartproxy a superb tool for those with social networks or websites.
FAQ
Which port should I use when connecting the proxy?
In the dashboard, you can select a proxy address and a port depending on the session type and location you need. Then, enter the port number you have chosen to contact the intermediary.
Can I change my subscription plan?
Yes, you can. Just contact the support team via chat and ask for help.
Does Smartproxy offer any free trials?
The company offers a monthly free trial for Scraping APIs or No-Code Scraper.
What are the best tools for web scraping?
The choice of tools for web scraping depends on your needs and skills. The most popular tools are ParseHub, OctoParse, and Smart Scraper. If you want, you can always refer to programming languages such as Python to build your web scraper adjusted to your needs.