Web scraping is a challenging task requiring rotating, residential, or backconnect proxies to prevent being blocked or shut down. It's even more so when running scrapers in data centers, as IPs are frequently blacklisted from visiting widely-known sites. To help you avoid this, ProxyBros has conducted comprehensive research and testing to provide a rating of the best rotating proxy services that balance reliability, speed, and price.
What Is Rotating Proxy?
It is a type of proxy that automatically rotate IPs. A rotating proxy replaces your assigned IP and, according to some set criteria, creates a new one for the connection. Setting rotation is available after a specific period, after each request, or depending on the status code. They supply users with a single-entry port and appoint accidental IP addresses on every port. They also continuously change upon request. Since IP rotation is automatic, users are not required to have bulk proxies for online activities, which is quite advantageous. For data scraping and crawling, proxy IP rotation works exceptionally well.
And yet, there are always two sides to everything. Provided that this type of proxy maintains a session for a particular timeframe, it is not entirely appropriate for crawling and scraping on websites that require their sessions maintained. That is why high-rotating proxies, intended to replace their IP address upon request, are not advised for sneaker copping, for instance, or social media account automation. However, those proxy options that maintain sessions for a particular period are perfect solutions for data scraping, automation, and sneaker copping.
To make the long story short, let's first focus on the main benefits of rotating proxies:
High Anonymity
Avoiding Rate Restrictions
Screen Scraping
Hiding actual IP Address
Preventing Block
How Do Rotating Proxies Work?
If you choose rotating proxies for pricing intelligence and marketing activities, they will definitely enhance the productivity of your price or web scraping projects. Once you receive a pool of IPs for your web requests, using them will give the impression of several users. It decreases your chances of being detected.
With rotating proxies, you get access to IP addresses from various locations. Thus reaching blocked websites and going over geo-blocking will no longer be an issue. In addition, this solution allows you to load traffic uniformly on your business network. As a result, it intensifies the connection speed and, therefore, enhances employees' productivity.
You can rotate proxies in the following ways:
Using IP rotation software
Installing extensions
Applying the backconnect method
Resort to a Rotating Proxy Service
Rotating Proxies: Use Cases
Rotating proxies are best suited for data gathering. They will reduce the chances of your scraper encountering restrictions and bans in cases of too many requests from one IP. Hence, proxy rotation service makes it simple to obtain information for various purposes, including but not limited to:
SEO Monitoring
Market research
Price aggregation
Competitive analysis
Travel aggregation
Besides, a rotating proxy can help test various aspects – safety, usability, the servers' capability, etc. It enables generating a solid flow of requests to imitate particular activity – the rapid traffic spike, for example.
Rotating proxies are also great for all the automated processes in which multiple IP addresses are involved in reaching set goals.
Things to Consider While Choosing a Rotating Proxy
A rotating proxy server might deliver different services that vary from one another substantially. Hence, here we highlight several essential factors to consider while choosing the best option for you:
Speed
The speed of your work, in fact, depends on the speed of your proxy. Thus, search for companies that impose no limitations on threads, speed, or bandwidth.
Trusted geolocation
Keep in mind that some regions might be considered dubious and ill-famous for making scams and spams. Therefore, multiple requests from distrustful areas can indicate a proxy's availability, ultimately leading to blocking the IP.
Compatibility with various tools
This point is clear, isn't it? Some companies ensure compatibility with other marketing tools, while others have some limits. Check it before deciding on an option so that your money doesn't go in vain.
Subnet diversity
It is precisely the lack of subnet diversity that can be detrimental to your anonymity. For example, if a proxy rotation service suggests the same subnet for all IPs, it is simple for websites to detect your presence. Hence, choose those proxies offering a variety of subnets.
Customer support
Even if you have easily managed to set up a web scraping proxy, there is one more crucial thing to remember. Thus, knowing that customer support always stands by remains one of the priorities when choosing the best provider for you.
Strengths and Weaknesses of Rotating Proxies
Speaking about the advantages of using an IP rotating proxy, we can point out the following:
It is easy to use for web scraping – a backconnect proxy server will release you from concerns about managing lists or manual setups.
It is very scalable – considering that providers maintain thousands or even millions of proxy addresses in their pools, instant scaling up and down should not be an issue for you.
It is highly diverse – large pools of rotating IPs obviously provide a great variety of ASNs and subnets, making it difficult to repeat with neat ranges of static IP addresses.
On the downside, though, we have to highlight the following aspects:
Unpredictable IP history – it is almost impossible to determine whether the next IP address will work with the target website. However, companies with large IP pools try to mitigate this problem somehow.
Traffic-based pricing – as a rule, rotating mobile proxies and residential IPs are charged by traffic. Therefore, data extraction could be expensive if you scrape some heavy websites.
Forced rotation – in some cases, you might need a static IP, whereas a 10-30 minute rotation can appear too frequent for the current task.
Top 11 Rotating Proxy Services: Review
1. Smartproxy – The Overall Most Universal Option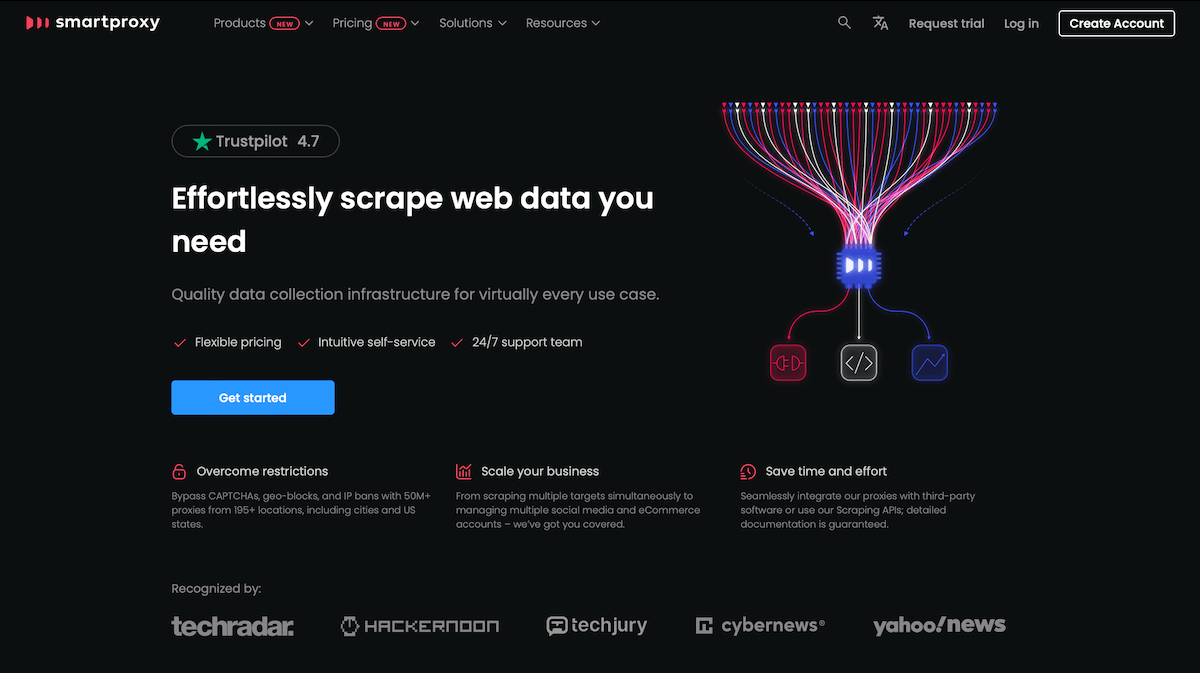 Key Features:
195+ locations with a pool of over 50 million IPs; rotation available every 15 or 30 minutes; cost starts at $8.5 per 1 GB;

The availability of geo-targeting the country to the city level;

Unlimited threads and the connection for data scraping;

Residential proxies from Smartproxy are 2 times faster than many other SEO proxy services out there; 

When online, rotating residential proxies are undetectable; 

The average speed is remarkable – about 0.3 seconds;

If you are unsatisfied with the Smartproxy services, feel free to request a refund within three days.
Best Suited For: 
Data scraping, analyzing the competitors, and tracking ranks.
2. Proxy-Seller — The Speediest Option for Rotating Mobile Proxy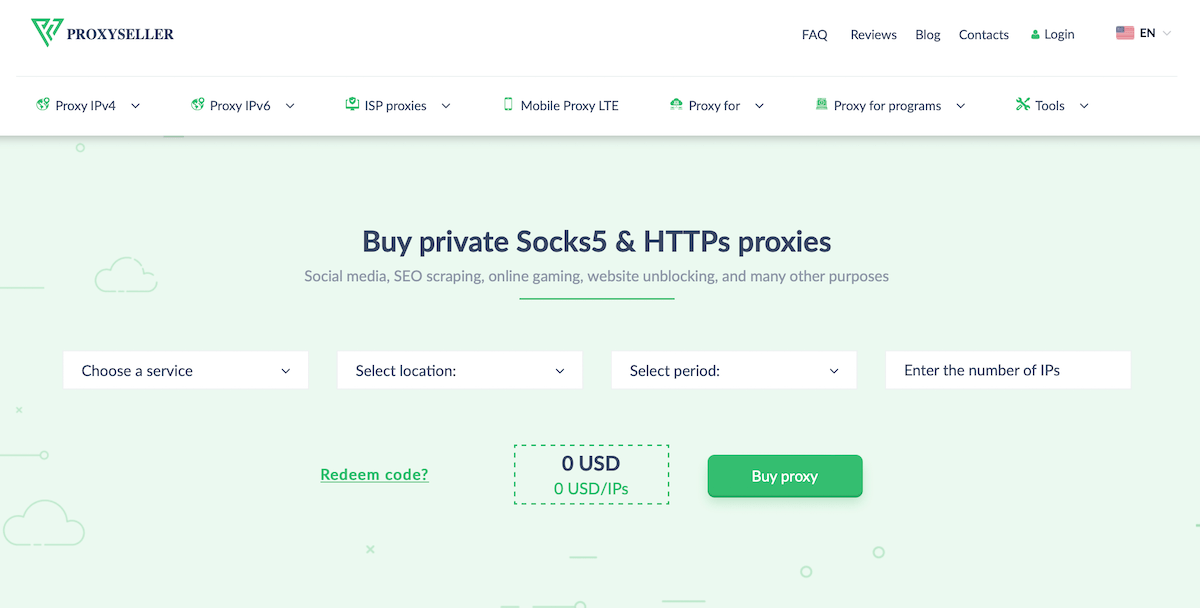 Key Features:
Automatic selection of proxies from 800+ subnets and over 300 networks;
High-speed 4G mobile rotating proxies with dynamic IPs;
IP selection encompasses 50+ countries around the globe;
IP rotation occurs automatically every 5 minutes or via URL-link. A manual reboot is also possible;
The real speed with the 100 Mbps main channel is 30 Mb/s and unlimited traffic;
Flexible payment choices with plans for 1 week, 2 weeks, 1 month, 2 months, and more are provided;
24/7/365 technical support, accessible through various channels.
Best Suited For:
Web scraping, mobile usage.
3. BrightData.com – The Highest-Grade Proxy Provider for Business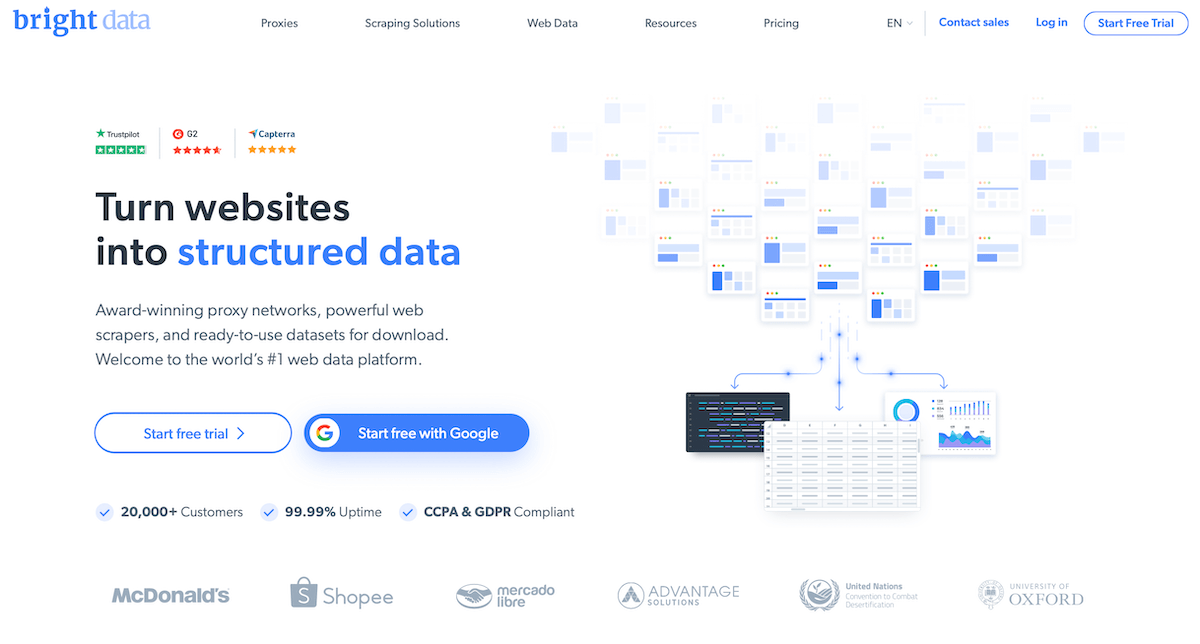 Key Features:
Worldwide coverage with a pool of more than 72 million IPs; cost starts at $15 per month for 1 GB;
They declare to provide the world's fastest and most eminent real-peer IP connections. Due to their superb response time, BrightData has a broad customer base worldwide;
The provider guarantees 99.99% uptime and suggests limitless rotation. Their proxies are known for complying with the laws, meaning they are patented;
There is an ability to scale down or up promptly when sending unlimited simultaneous requests to achieve maximum outcomes;
Due to unlimited parallel requests, their speed is high, effective in data scraping, and cost-effective.
Best Suited For: 
Brand protection, web scraping, and e-commerce data extraction.
4. Proxy-IPv4.com — The Securest Option for Rotating Mobile Proxies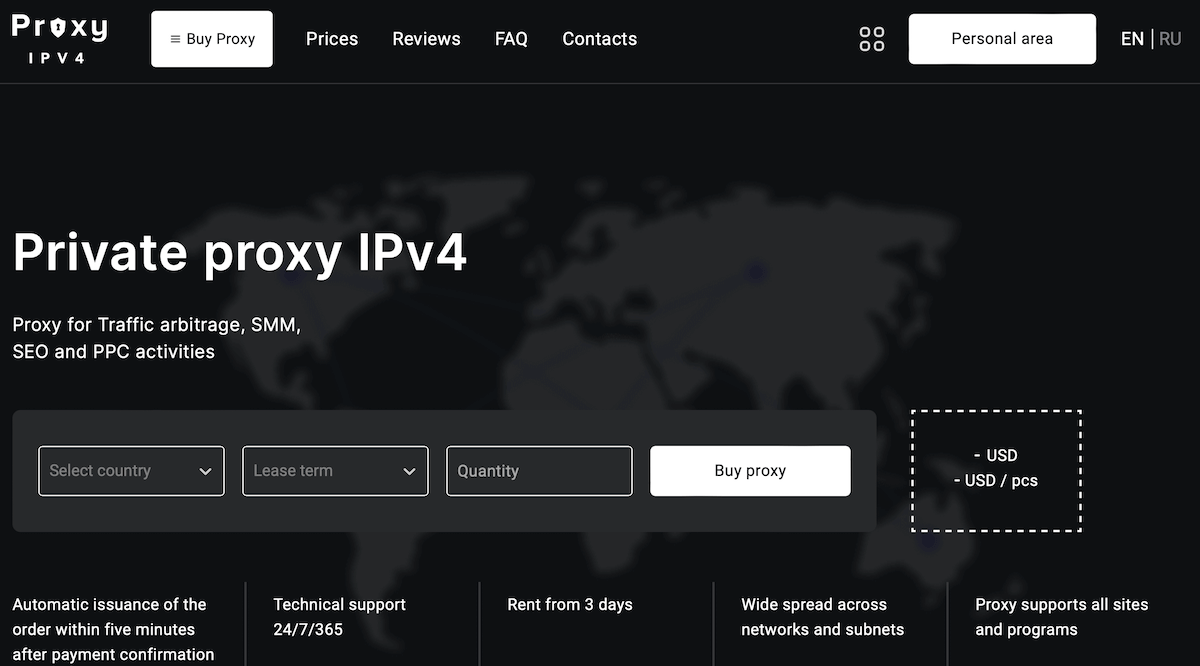 Key features:
Proxy-IPv4.com offers both web and mobile proxies, although IP rotation is only available to smartphone users;
In terms of rotating mobile proxies, it suggests 14 locations to choose from, all of which come with a 3-day package (for a more extended rental period – please, contact its customer service);
Prices vary from $12 for three days (featuring Kazakhstan servers, for instance) to $29 for the same period if you want a European address;
The IP rotation at Proxy-IPv4.com is available by link or by time, with a rotating time of 5 minutes and possible connection breaks while the address is changing;
No traffic limit and a speed of up to 30 Mbps ensure convenient and stable work throughout the whole session;
You don't share a proxy with anyone — all Proxy-IPv4 proxies are individual and never blacklisted or blocked anywhere;
Works with 4G and LTE on all apps;
Individual pricing upon request.
Best suited for traffic arbitrage and SMM specialists.
5. Oxylabs – The Most Upscale Provider of the Largest Proxy Networks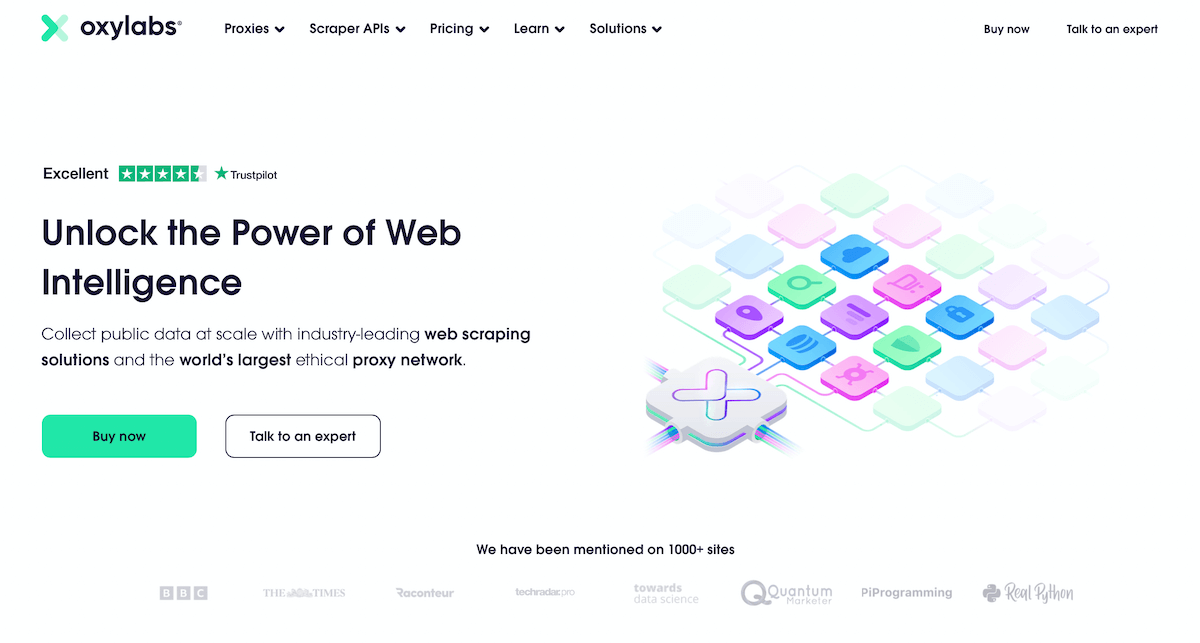 Key Features:
The extensive range of residential and data center proxies;
The proxy pool of 100M+ IPs worldwide;
Oxylabs premium services are relatively expensive, according to users' reviews;
Their dedicated private proxies make your identity stay anonymous;
This might be the best choice for developers with particular needs;
Additional features – such as a real-time crawl service or a random IP proxy – are available, too;
Oxylabs offers a unique feature that can mechanically extract data in both JSON and HTML formats.
Best Suited For: 
Large-scale data extraction, scraping high-security websites.
6. StormProxies – The Best Reverse Backconnect Dedicated Proxy

Key Features:
IP locations stated in Europe and the US with a pool of over 700K+ IPs; rotation is available every 3/15 minutes; cost starts at $50 per 5 ports;
In addition to rotating residential proxies, StormProxies also offers datacenter ones;
Targeting regions of Europe and the US implies the unavailability of particular location targets beyond the mentioned regions;
The services that StormProxies offers are specific enough, yet each plan – including residential IPs – comes with unlimited bandwidth;
The IP rotation is available after every request, meaning that it is based on time;
Since the proxies rotate depending on the crawling protocol and the limit of the reached IPs, they are great for web scraping;
This provider is known for its cheap rotating options as well as their speed and superb customer service;
Even though they do not suggest a free trial, the guarantee of a 24-hours refund is available.
Best Suited For: 
Social media account automation, data scraping, and ticket scalping. 
7. NetNut.io – The Top-Notch Proxy Provider For Web Data Extraction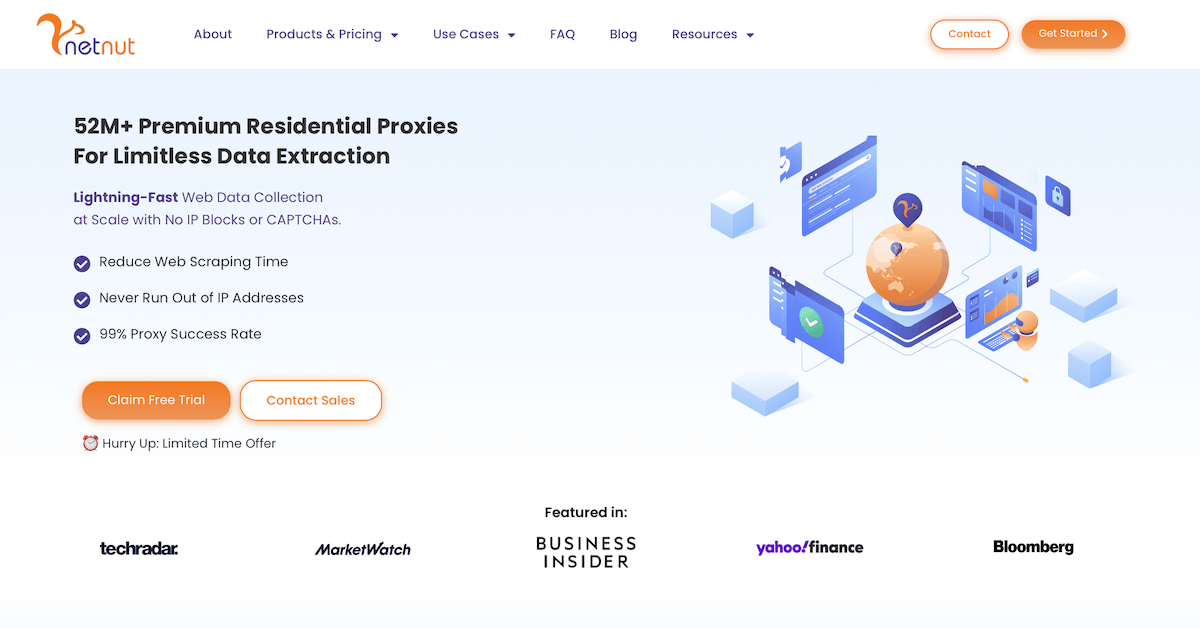 Key Features:
Worldwide coverage with a pool of over 52M+ auto-rotating proxies; cost starts at $800 per month for 100GB;
A great option for residential proxies scraping and crawling, especially if it concerns complex websites, and can come in handy if you would like to avoid being detected;
NetNut options support IP rotation by session and time;
The service guarantees unlimited global coverage;
NetNut guarantees unique connection speed.
Best Suited For: 
Competitive intelligence & market research, SEO monitoring and tracking, ad verification, price comparison, SSM, and e-commerce.
8. Shifter.io – Best For Ultra-Fast Unlimited Bandwidth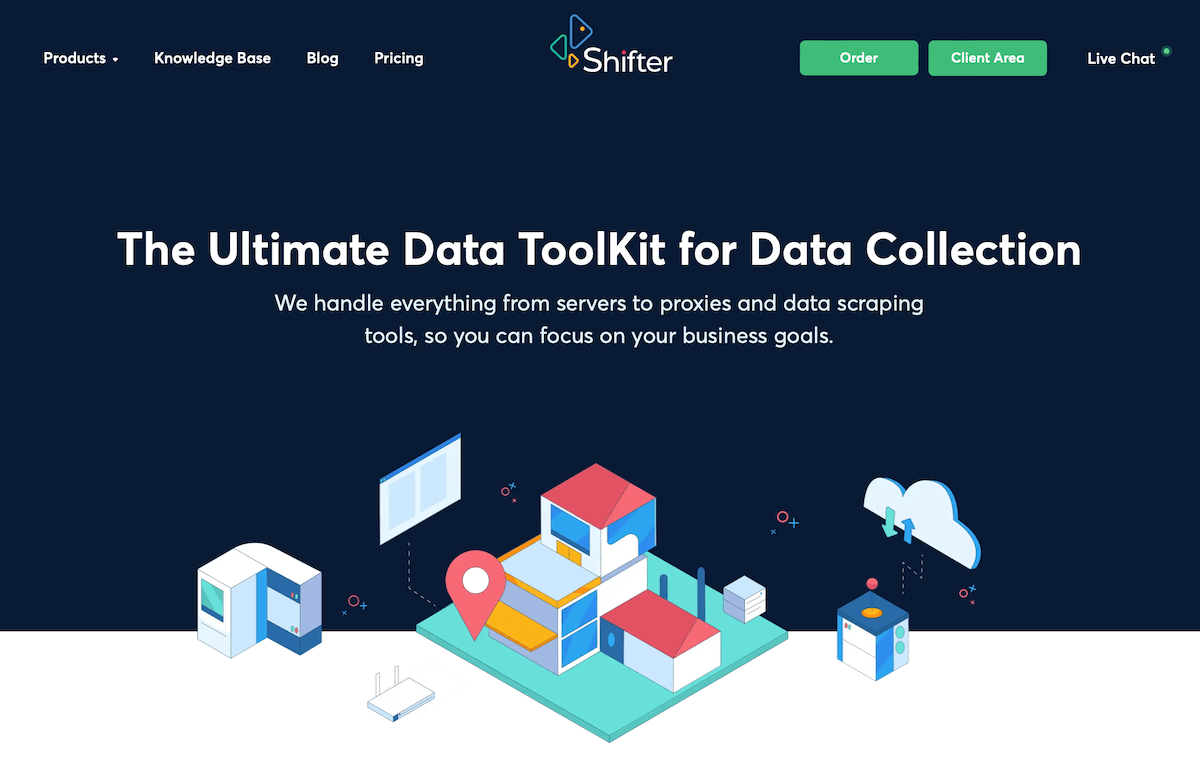 Key Features:
More than 130+ locations with a pool of over 50+ million IPs; rotation is available from 5 to 60 minutes; cost starts at $99.98 per 5 basic rotating proxies;
Shifter declares to cover a great number of countries;
The rotating residential proxies from Shifter lack IP authenticity, unfortunately;
Instead of providing IP rotation depending on the request, the company maintains IP rotation based on time. Manual setting up of IP rotation is available from 5 to 60 minutes maximum;
Basic special packages are available. The unlimited bandwidth – meaning customers are charged per port – comes with all packages;
If evading the ban is crucial for your activities, it is recommended to go for specific backconnect residential proxies and advanced packages instead of basic options;
No free trial is available; however, if the services do not meet your needs, you can request a refund within three days;
Shifter also offers HTTP/HTTPS, as well as Socks4/5 and dedicated proxies.
Best Suited For: 
Scraping Google and YouTube.
9. Soax.com – The Most Upscale Mobile Proxies Provider
Key Features:
More than 130+ locations with a pool of over 8.5 million IPs; cost starts at $99 per 8 GB;
As a premium proxy provider with relatively affordable prices, Soax offers mobile and residential proxies;
With 5 million out of 8.5 being residential proxies, they are considered safe, clean, undetectable, and with almost no chances of being blocked;
Given that it is a backconnect, they rotate IPs randomly for each port of the network connection;
Soax supports geo-targeting; thus, it is an excellent option for online scraping geofenced data. Besides, users can indicate a city up to ASNs level;
The lowest rotation setting is 90 seconds, yet rising their frequency is only available at extra charges;
Soax pricing plan provides customers with limited ports plus the need to whitelist the IPs before using them.
Best Suited For: 
Crawling and data scraping.
10. Rayobyte – Category Leader #1 in Residential Solutions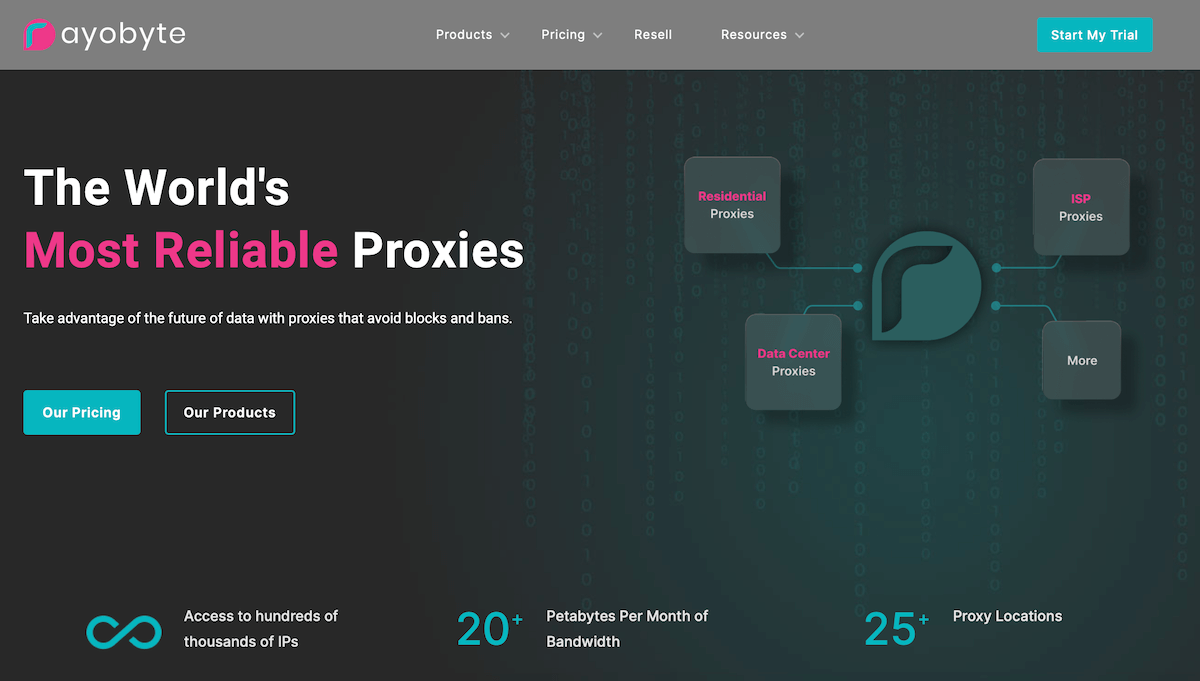 Key Features:
Location map enlists more than 29+ countries with a pool of hundreds of thousands of IPs; cost starts at $1 per GB;
The company provides web services (Windows VPS included) and servers; as for the proxies, Rayobyte specializes in data centers;
They rotate randomly at a range of 10 to 120 minutes; all data center plans include unlimited bandwidth;
The options come with a speed of 1GBPS connection, thus no need to worry about latency;
A free 2-day trial is available for any package you are going to buy.
Best Suited For: 
Scraping, social media, web crawling.
11. PacketStream.io – Best For Cost-Effective Plans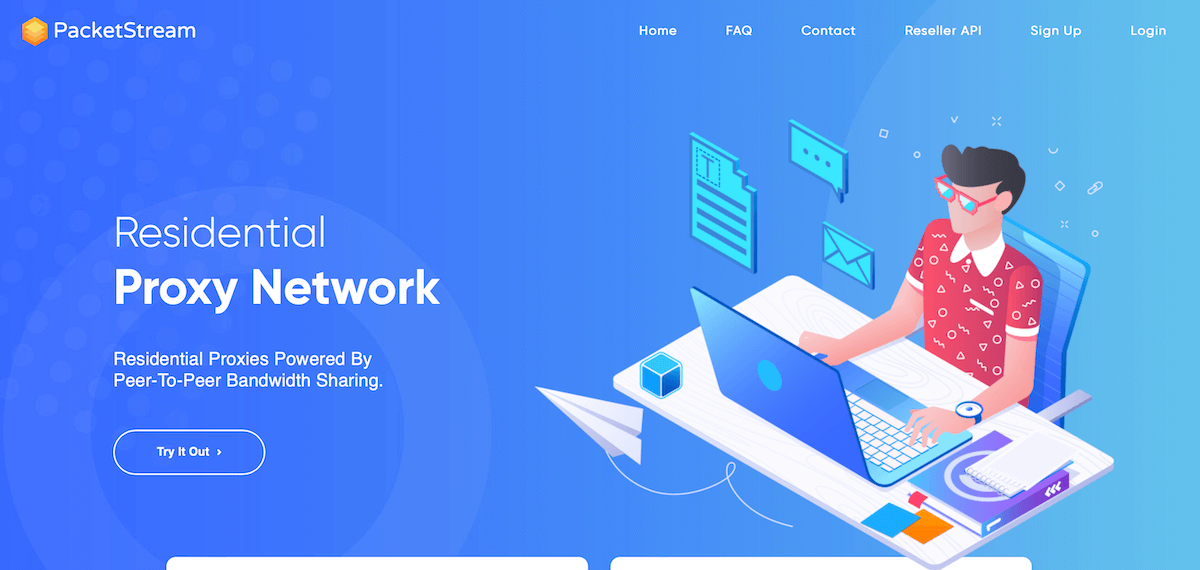 Key Features:
Worldwide coverage with a pool of over 7M+ IPs; cost starts at $1 for a month per 1GB;
The unique feature of PacketStream entails that, in addition to selling proxies, they also deliver opportunities to users to share both their bandwidth and Internet connection in exchange for some money;
Their network is designed and created on a pair-to-pair network model;
This provider is known for being the cheapest rotating proxy available now on the market.
Best Suited For:  Web scraping.
FAQ
What is a Rotating Proxy?
This type routes encrypted data from one spot to another, unaware of the real source or destination. Applying rotating proxies enables you to encrypt all the internet traffic and overcome snooping programs that trace the sites you visit.
Why do I need a Rotating Proxy?
They are required for anonymity while hosting or downloading torrents. Basically, your Internet service provider knows everything you do online. The advantage of proxies is that, instead of your actual IP address, it demonstrates another one. This way, it protects your private data and web traffic.
What are the key features of a Rotating Proxy?
The core features include bandwidth, zero IP blocking, screen scraping, and multiple locations.