Proxy-IPv4.com offers individual proxy services that mainly target professional marketers. The IP addresses you can purchase at Proxy-IPv4 perfectly suit SMM, PPC, SEO specialists, and affiliate marketers doing traffic arbitrage.
How we score?
When analyzing the proxy, we have conducted in-depth research that helped us reveal all the strong and weak points of the service. Considering expert opinion and customer feedback, our pros studied the range of options and, finally, tested the service.
Read more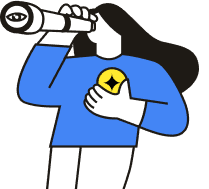 Why Choose Proxy-IPv4.com Proxies: Feature Set and Guidance
Here is the complete list of Proxy-IPv4.com services and features. Read on to know if this provider is suitable for you.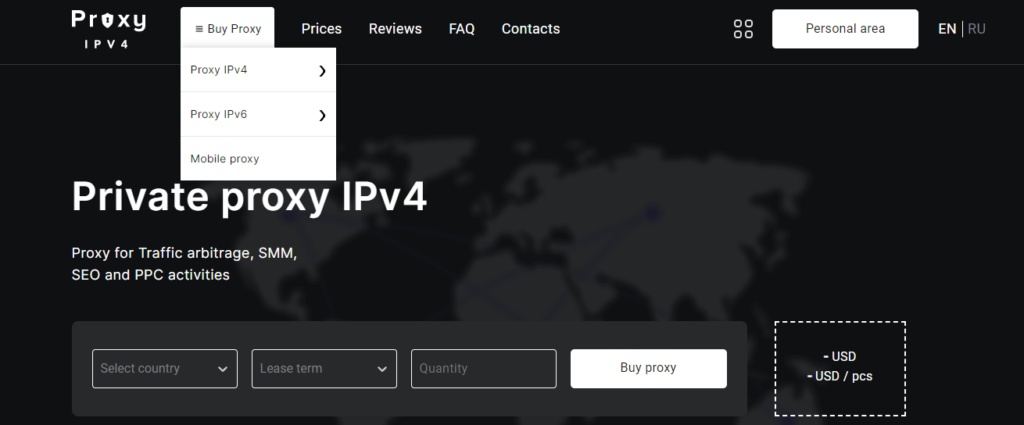 Three Proxy Types with Exceptional Performance
You can purchase an IPv4, IPv6, or a mobile proxy, depending on your needs. All the proxies are individual, which means you don't need to share them with anyone else. This implies the highest possible speed, stable performance, and minimum ping.
Not all the addresses are new — most likely, a proxy server you will purchase has been in use by someone else before. However, Proxy-IPv4.com guarantees that none of their proxies are blacklisted.
Quick and Convenient Delivery
Getting a proxy service with this provider is easy. All you need is to select a proxy type of your choice (IPv4 proxy, IPv6 proxy, or mobile proxy), select a location, and fill in a short order form. Then, the site will lead you to a payment page, and after your payment is confirmed, you will get your new IP address within five minutes.
Two Supported Protocols
Proxy-IPv4.com offers HTTP/s and SOCKS protocols. When ordering a proxy, a user gets both ports. Besides, it is possible to choose from two authorization methods: static IP address or login/password. There is also an option of getting credentials for both methods.
No Speed Limit and Constant Maintenance
You won't face speed limits whatever you choose — IPv4, IPv6 proxies, or mobile rotating proxies. In addition, unlike some other services, this one doesn't require extra fees for exceeding a particular speed.
Besides, the team is constantly tracking the servers' performance. It means that any crash is fixed almost instantly and ensures stable work for users.
Fair Price and Guaranteed Refund
Users can get their money back for any reason within 24 hours after they make an order. Later, you can replace your proxy with another one — for example, if yours doesn't work correctly or isn't suitable for a particular website. Proxy-IPv4.com considers such requests individually.
Another nice thing is that loyal customers who purchase proxies for a long period can get discounts. It may save you up to 40%!
Spread Across Networks/Subnets
One of the top Proxy-IPv4.com features is its ample coverage: it offers over ten networks and 200 subnets. If you purchase several proxies, you receive IPs from various networks.
However, the choice of locations is pretty modest: only twenty available countries.
Usability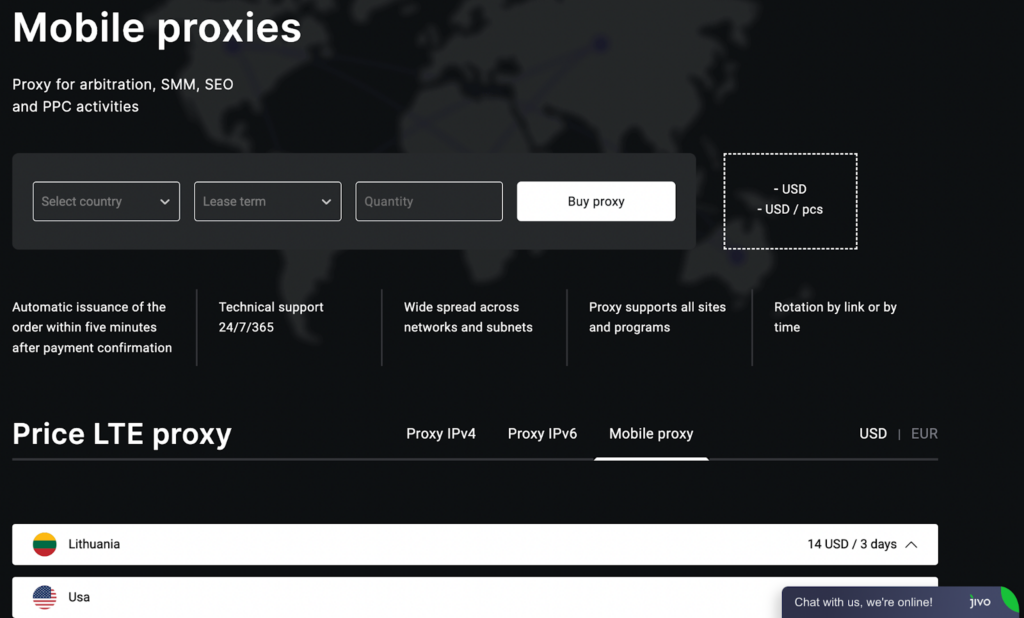 Proxy-IPv4.com's website is a very simple landing page with a user-friendly layout. Users can immediately check out proxy services options, see prices, and make a purchase within a couple of clicks.
Customer Service
Although the company ensures constant maintenance of the servers, Proxy-IPv4.com still has 24/7 customer support. It is available via Live Chat, Telegram, or email. Of course, the quickest contact method is the chat: agents reply almost instantly.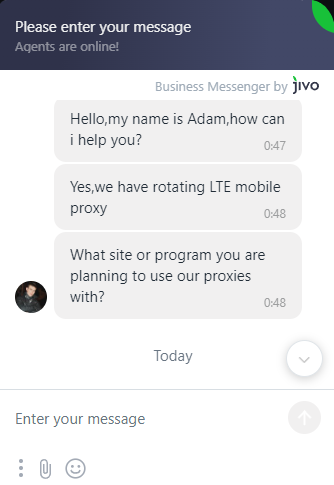 What is also nice is that the brand tracks reviews on independent platforms like Trustpilot. For example, here is how they react to any negative feedback they find:
What is important to highlight here is that such negative reviews are quite rare. Overall, users speak pretty highly about the service — and here is what most of them appreciate:
helpful and professional customer support;
quick help in case of issues;
convenient rotation options for mobile proxies;
competitive price/quality ratio;
impressive IP pool.
Pricing
As we already mentioned, Proxy-IPv4 offers very competitive pricing. Moreover, its prices are flexible and depend on the proxy service type, number of IP addresses, rental period, and GEO.
For example, here are prices for IPv4 and IPv6 proxies if you want an English IP address: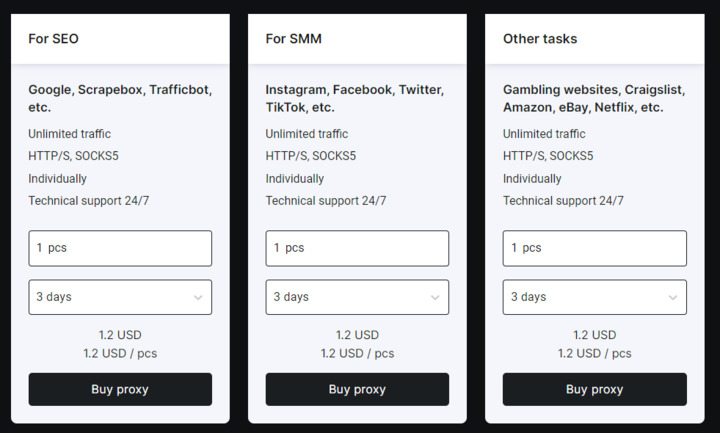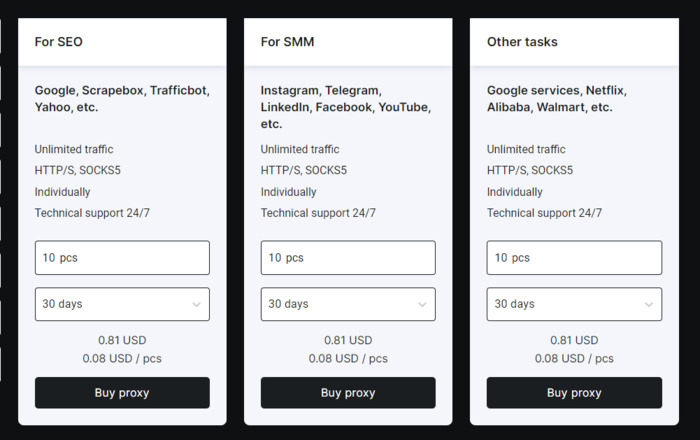 And here are some of the available mobile proxy options: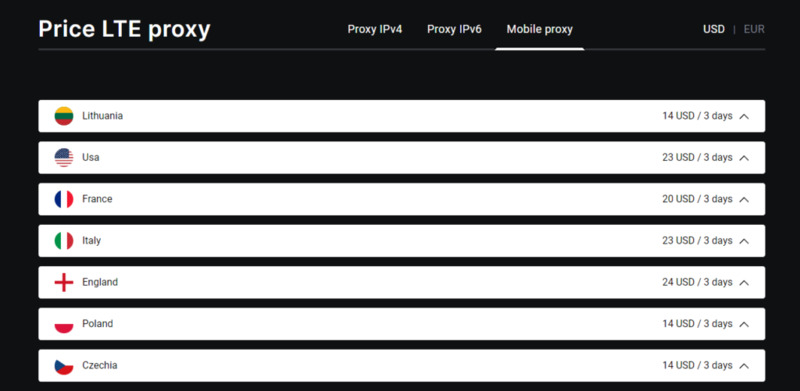 NOTE: Prices for mobile proxies are higher compared to some other proxy providers. However, if you need some extended package — like 30 days, not just 3 — you can make a special request via a Live Chat. In this case, you will get a unique link with your needed rental period — and most likely a discount. For example, our specialist was offered a one-day discount for monthly rent.
Final Verdict
Overall, Proxy-ipv4.com is a great proxy service for scraping and affiliate marketing tasks. It can also be a great VPN alternative for anonymous browsing — just for personal use. In addition, the company offers reasonable prices and excellent customer support — probably its strongest side.
There are a couple of disadvantages, though. First, you are limited in the types of proxies. Need a residential proxy or, say, want to go with the cheapest option of a shared one? You won't find it here and must look at the other proxy providers. Plus, there are more affordable options for proxy for mobile on the market — so it makes sense to shop around.
Still, overall, despite all drawbacks, Proxy-IPv4 is a reliable company that ensures stable work with various IP addresses — and greatly treats its customers.
FAQ
What are the IP address locations you can purchase with Proxy-IPv4.com?
There are 20 GEOs to choose from: UK, Germany, Spain, USA, France, Brazil, Netherlands, Kazakhstan, Italy, Russia, Poland, Czech Republic, Belarus, Europe, Georgia, India, Canada, Lithuania, Ireland, and Slovakia.
Does Proxy-IPv4.com have IP rotation?
Rotating proxies are available only for mobile. If you need IP rotation for the IPv4 proxy or IPv6 proxy, you need to buy a package of addresses and rotate them manually.
What if my proxies don't work?
In this case, you need to contact customer support, and they will change your address for another one or make a refund.
Are Proxy-IPv4.com proxies compatible with iOS?
Yes, the company provides customers with proxies that work on all operational systems, including Android, iOS, and Windows.
Do they help with setting proxies?
Yes, if you need help with installing proxies, contact customer support, and they will connect to your device via Team Viewer to help.
Have you already used this proxy? Or do you still need some additional info about the solution? Feel free to share your experience and ask any questions below!