Watching YouTube can often be inconvenient due to numerous restrictions, censorship, bans, and ads. To overcome these limitations, YouTube proxies are a great solution. However, finding a reliable proxy website can be challenging. Our proxy list provides options for making the right choice. We have analyzed these platforms by reading honest user reviews, comparing them with expert opinions, and trying out the services ourselves. Our fact-based review includes a comparison of feature sets, pricing plans, and distinguishing options.
What is a YouTube Proxy?
The main task of a YouTube proxy is to ensure anonymity when you watch videos on YouTube or to unblock YouTube content. Additionally, they are often used for professional activities connected with cheating views, subscribers, likes and dislikes; downloading videos; and even parsing.
Proxy list for YouTube allows you to hide your real IP address so that you can massively parse data from videos, wind up likes and views, and do other work, minimizing the probability of blocks. Besides, it becomes possible to maintain many accounts on the Internet simultaneously.
The YouTube proxy website is often used to get YouTube unblocked and get full access to the video hosting platform. This tool allows you to bypass regional and local types of blocking and use software for professional promotion without the risk of getting banned.
Reasons to Use a Proxy for YouTube:
high level of anonymity and protection;
good performance;
personal access;
way to unblock YouTube video
the ability to configure the server for your purposes;
uninterrupted operation with maximum performance.
Types of YouTube Proxies
YouTube proxies are general proxies that help to get YouTube unblocked and download videos from the platform. Let's study the features and peculiarities of the leading proxy types.
Reverse
This free YouTube proxy accepts web requests on behalf of online web servers. After receiving the request, it determines whether it deserves to be redirected to a real server. Reverse proxy IP addresses are publicly available, so the probability of hitting the real server reduces to zero. It creates a certain level of privacy for the servers. Though this server is transparent and accessible to external users, it protects the current owner.
Anonymous
If you do not want to make an original IP address for streaming, YouTube anonymous proxy lists can be helpful. Although these servers are still detectable compared to VPN, they greatly conceal the device the user utilizes, thanks to encrypted data. After all, anonymous YouTube proxies can keep your identity secure. They are a perfect fit for online education on the Internet since they can access various educational and technical data restricted in a particular location.
Web Servers
Web YouTube proxies are designed to act as firewalls that monitor traffic on multiple servers on the Internet. They make HTTP requests to externally hosted sources with complete encryption of the data used to allow watching YouTube content without boundaries.
Transparent
While acting as caches for websites, transparent proxies perform an uninterrupted session over several servers to share media on the Internet. They do not hide the user or the IP address, so the process is visible to other users.
IPv4/IPv6
IPv4 and IPv6 YouTube proxies are suitable for users looking for an inexpensive option to work on a computer or laptop. Such services entail privacy and low cost. Among the disadvantages of such a solution is the issuance of only one IP. Besides, such proxies are easy to track and block.
Mobile
Mobile proxies for YouTube are a reliable and effective alternative, ideal for Android users. The only drawback of mobile servers is the high price. However, the number of advantages is also relatively large. It includes high-speed request processing, dynamic mobile IP addresses, and reduced risk of blocking, like in the case of using a VPN.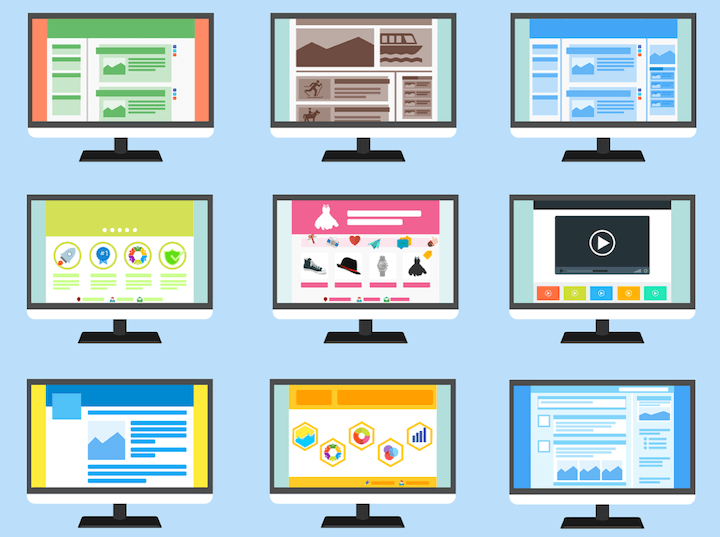 YouTube Proxies: Use Cases
Viewing Video Content
With proxy sites for YouTube, you can unblock YouTube videos restricted at the copyright holder's request. Besides, they allow you to bypass regional restrictions, such as the block of YouTube content in your country or even some local restrictions on studying and working in the office.
It is equally important to mention that this tool provides complete anonymity and security during the proxy session. Thus, you can protect your personal information and secure your device from potential hacker attacks, especially if you have a personal account linked to your real email. A nice bonus for those who use a proxy list is the ability to speed up the connection by caching data.
Promotion on the Platform
Users often appeal to special software to speed up the business or blog promotion and boost its effectiveness for further monetization. However, you should not forget that YouTube restrictions forbid such methods. The hosting punishes the guilty by blocking their channels.
Connecting proxies is a great way to circumvent prohibitions and limits without the risk of blocking the channel. Using a proxy for YouTube, you can feel safe to:
parse data for deep analysis;
increase the number of views;
increase user activity;
attract new subscribers;
get viewers hooked on the broadcast;
maintain multiple accounts at the same time.
Strengths and Weaknesses of YouTube Proxies
Advantages of YouTube proxies:
When you access YouTube, proxies hide your IP address or, to be more precise, shuffle it so that you can access all restricted video categories.
They deny any user data registration to the cache that absolves you from annoying ads you are not interested in.
With this tool, you can freely bypass restrictions set on your region.
Full HD videos become available.
Location, IP address, cache, and other data are malware-protected.
Disadvantages of YouTube proxies:
They can reduce the speed rate.
Top 8 YouTube Proxy Services: Review
1. Smartproxy – Best for Free Additional Tools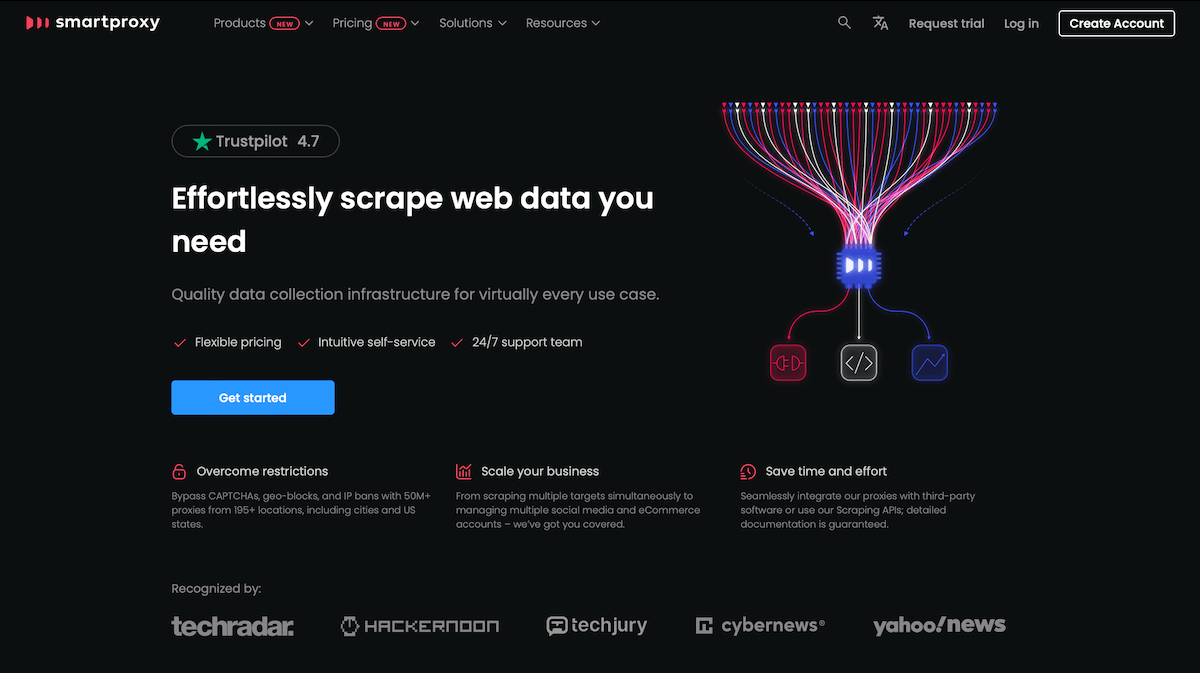 Smartproxy ranks first on the YouTube proxy list and is one of the most trustworthy platforms that can fit almost all use cases. The service controls 40+ million rotating addresses from 195+ locations. Here you can order residential and datacenter proxies along with many additional tools that can come in handy for promoting a channel. These tools include scrapers, an address generator, SERP scraping API, and free browser extensions.
Smartproxy is a suitable choice for online botting and accessing blocked content. So, intense promotion and management of several accounts is not a problem. These YouTube proxies offer city-level targeting, meaning you can target the desired country or particular location that will bring you closer to your selected audience.
If you are seriously engaged in your channel promotion, additional Smartproxy tools are at your service. A proxy generator will export the proxy list to any software. Several specially-tailored scrapers can help you extract all data required to analyze your competitors' operations, shift trends, and personal growth.
Since Smartproxy provides only residential, datacenter, mobile, and dedicated DC proxies, there are a few pricing plans for each type. 
Residential pricing plans:
Nano
Micro
Starter
Regular

$22 + VAT

$80 + VAT

$220 + VAT

$400 + VAT

Traffic limit – 2 GB

Price per GB – $11

Users limit – 1

Whitelist limit – 1

Traffic limit – 8 GB

Price per GB – $10

Users limit – 2

Whitelist limit – 2

Traffic limit – 25 GB

Price per GB – $9

Users limit – 3

Whitelist limit – 3

Traffic limit – 50 GB

Price per GB – $8

Users limit – 4

Whitelist limit – 4
Datacenter pricing plans: 
Nimble
Foxy
Clever
Sharp

$30 + VAT

$55 + VAT

$160 + VAT

$500 + VAT

Traffic limit – 50 GB

Extra GB price – $0.7

Users limit – 1

Traffic limit – 100 GB

Extra GB price – $0.7

Users limit – 3

Traffic limit – 300 GB

Extra GB price – $0.7 

Users limit – 5

Traffic limit – 1 TB

Extra GB price – $0.7 

Users limit – 5
Mobile plans: 
Micro
Starter
Regular

$50 + VAT

$230 + VAT

$500 + VAT

Traffic limit – 2 GB

Extra GB price – $25

Users limit – 1

Traffic limit – 10 GB

Extra GB price – $23

Users limit – 3

Traffic limit – 25 GB

Extra GB price – $20 

Users limit – 5
Dedicated data center pricing plans:
Teeny
Tiny
Mini
Main

$7.5 + VAT

$40 + VAT

$95 + VAT

$320 + VAT

Number of IPs – 3

Price per IP – $2.50

Traffic limit – Unlimited

Number of IPs – 20

Price per IP – $2.00

Traffic limit – Unlimited

Number of IPs – 50

Price per IP – $1.90

Traffic limit – Unlimited

Number of IPs – 200

Price per IP – $1.6

Traffic limit – Unlimited
Key features: 
Unlimited threads

Chrome and Firefox proxy extensions 

Smart scraper 

24/7 live chat

0.61s average speed

Proxy address generator 

The Pay-as-You-Go opportunity

3-day money-back guarantee 
Best for additional tools free of charge.
2. Proxy-Seller – Best YouTube Proxies for Botting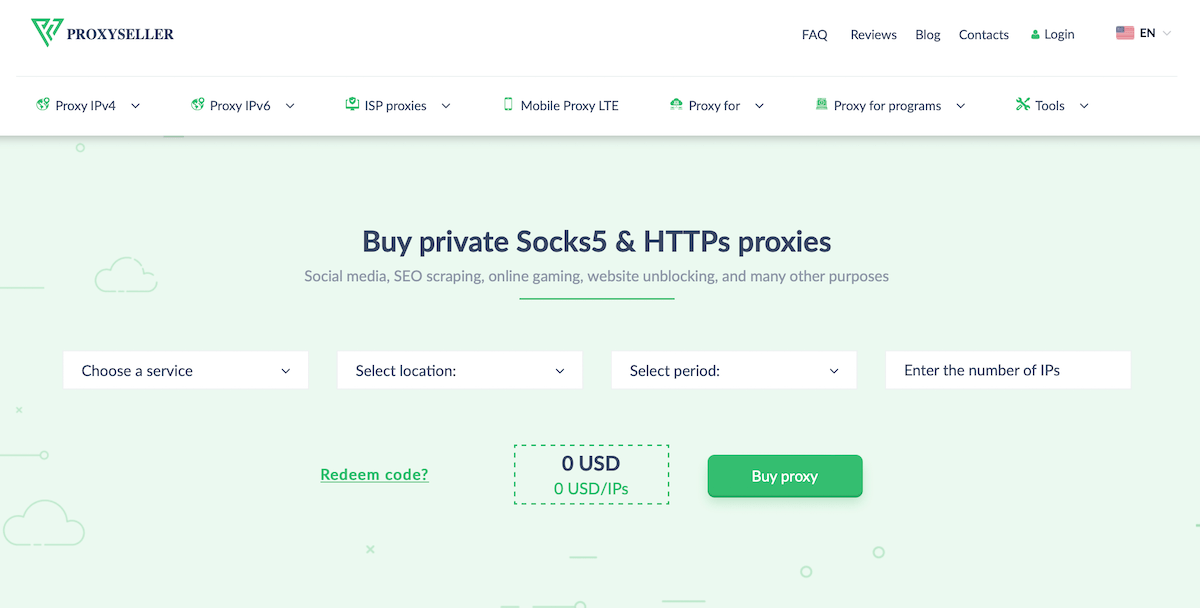 Proxy-Seller is another premium proxy site for YouTube that features mobile, IPv4, and IPv6 proxies with addresses from over 50 countries. Here you can purchase individual proxies without tariff limitations and at a good price.
This free proxy site for YouTube is mostly used to bypass anti-fraud systems when launching mass ads from multiple accounts. This tool helps manage numerous online accounts simultaneously and promotes YouTube channels and business. With it, you can access YouTube videos if your employer blocks the hosting. Besides, it encrypts the traffic and protects the company network from potential hackers, ensuring your anonymity and data security. 
Proxy-Seller offers several packages distributed according to the number of proxies you purchase and the duration of their exploitation. Here you can see monthly pricing plans for USA proxies for one month:
| | | | | | | | | |
| --- | --- | --- | --- | --- | --- | --- | --- | --- |
| 1 IP | 10 IPs | 25 IPs | 50 IPs | 100 IPs | 250 IPs | 500 IPs | 750 IPs | 1000 IPs |
| $2.14 | $20.3 | $45.5 | $80.5 | $150 | $375 | $695 | $1042.5 | $1280 |
If you buy proxies for a more extensive period – from two months to a year – the sum you pay for each service reduces significantly – by 3-5%. 
Key features: 
Best for botting and playing ads.
3. Oxylabs – Best for Ad Verification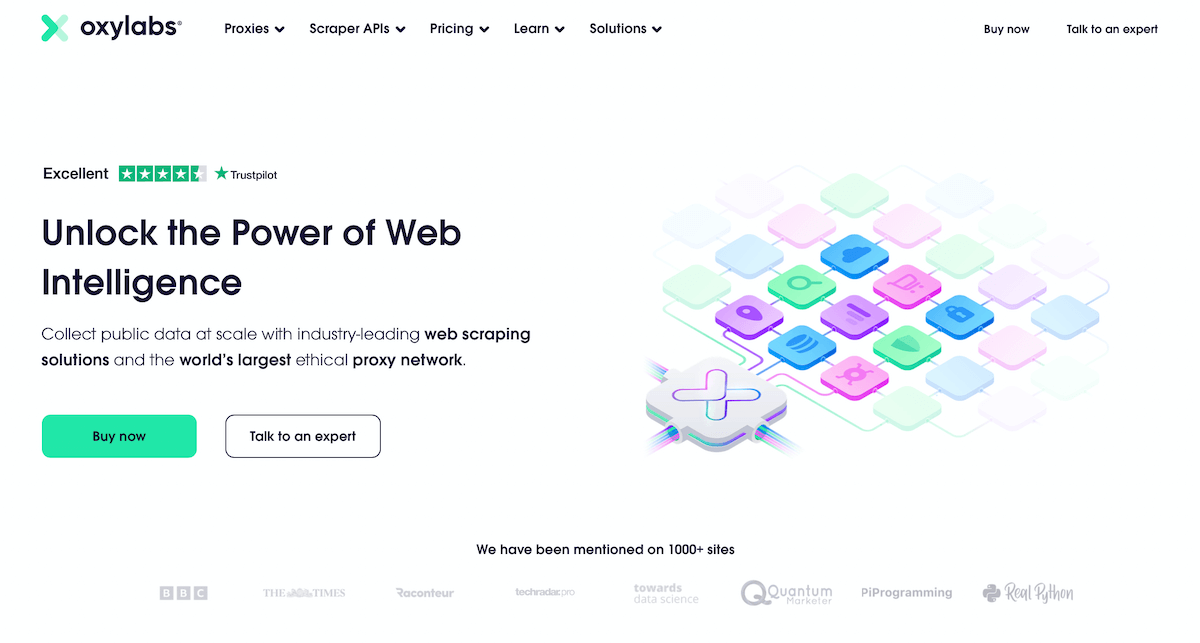 Having a pool of 100+ million proxy IP addresses, Oxylabs occupies the fifth place in the free proxy list. These YouTube proxies cover all countries and cities worldwide, providing advanced country-level and ASN targeting, which means changing the address manually.
Mainly, Oxylabs is used for ad verification and avoiding multiple online captchas and IP bans on all devices. Automatic proxy rotation eliminates all risks of undesired bans giving the green light to YouTubers for further channel promotion and monetization.
Along with proxies, sticky sessions, proxy know-how sharing, and advice on target scraping are all included in Oxylabs packages for free. 
Please find Oxylab's regular pricing plans: 
Pay as You Go
Starter
Advanced
Premium

$300 per month

$600 per month

$800 per month

Up to 50 GB of traffic 

$15 per GB

25 GB of traffic 

$12 per GB

60 GB of traffic 

$10 per GB

100 GB of traffic

$8 per GB
Here are monthly pricing plans for enterprises: 
Venture
Business
Corporate
Custom+

$1,750 per month

$3,000 per month

$4,000 per month

$7,500 per month

250 GB of traffic 

$7 per GB

500 GB of traffic 

$6 per GB

1 TB of traffic 

$4 per GB

2+ TB of traffic

Custom
Key features: 
Unlimited number of targets 

Worldwide coverage

ASN and country-level targeting 

Average 99.9% uptime 

Blocking objects and scripts

Additional data protection 
Best for ad verification.
4. Proxy-IPv4.com — Best Price/Quality Ratio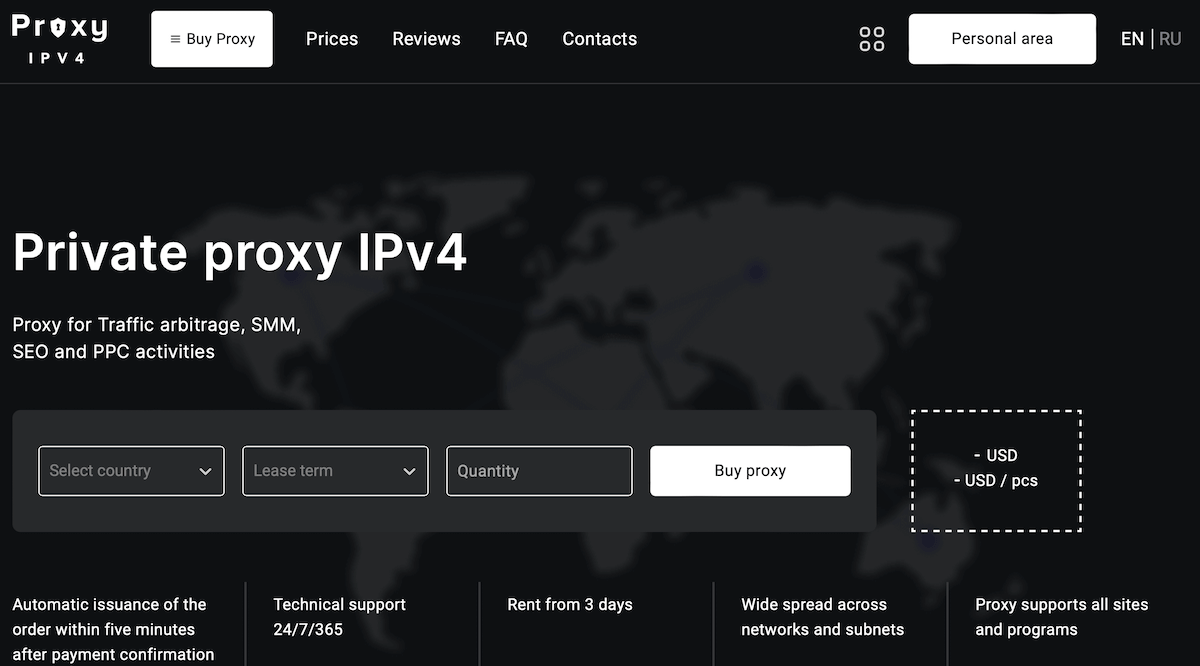 Although Proxy-IPv4.com promotes itself as the best proxy for traffic arbitrage, YouTube scraping can also be a related task. With the cheapest available options — IPv4 and IPv6 proxies, this provider is the best choice for those who want to save money and still get access to high speed with no traffic limits.
You can purchase a YouTube proxy within a few clicks: choose a GEO from 20 options, select a pricing plan, and pay. The provider will send an IP address within 5 minutes to your Proxy-IPv4.com dashboard. You can choose a connection type, HTTP/S or SOCKS5, and change it anytime.
Prices depend on a preferred location and a proxy type. For example, one IPv4 address in the UK will cost $1.2 for three days. Be careful: if you need IP rotation, purchase several proxies to rotate them manually.
Key features:
Unlimited traffic

No blocklisted proxies

Country selection

24/7 Live Chat

Responsive, professional customer service

Individual pricing upon request
Best for SMM specialists.
5. Bright Data – Category Leader in YouTube Data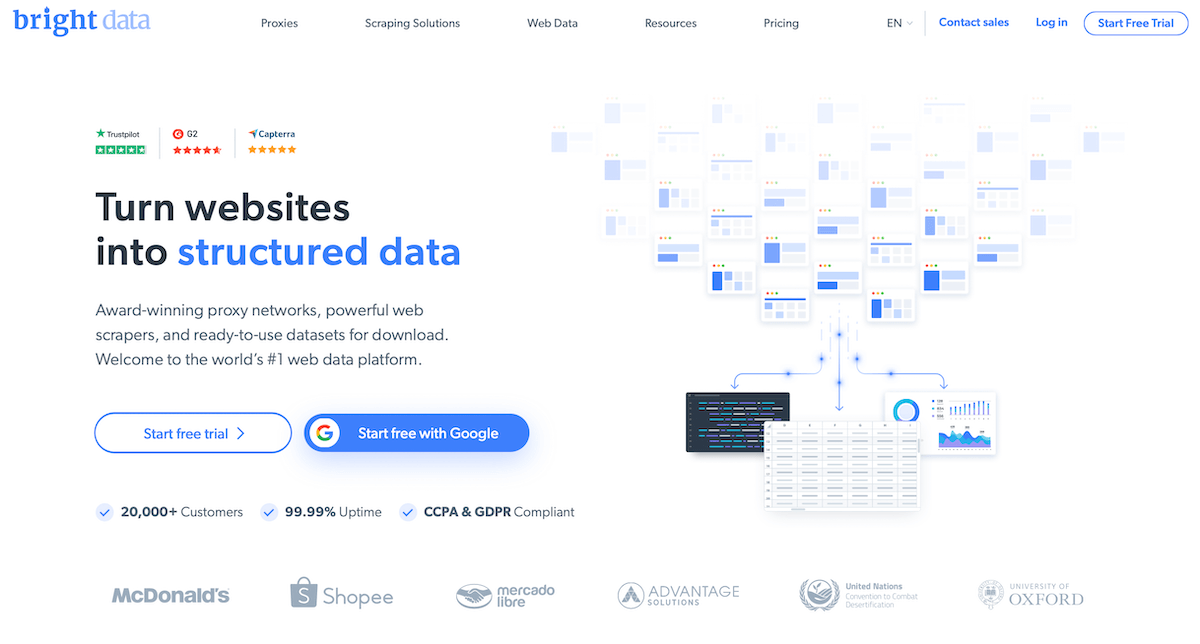 Bright Data is considered the most convenient server focused mainly on web data. It offers an advanced data-gathering tool and a pool of over 72 million proxy addresses, including mobile ones. You can purchase residential, data center, ISP, and mobile proxies here.
With Bright Data, you can extract new and real-time data from online YouTube channels effortlessly and automatically and, hence, master the art of your channel. How does it work? 
Research and influence your target audience to make your business flourish on YouTube. Bright Data implements essential data-driven precision in promotion so that it will become more effective. Filtering comprehensive datasets organized by Bright Data, you can uncover the most relevant influences and focus your marketing efforts on the right user with real-time data like posts, likes, comments, etc. 
Besides, Braght Data allows us to understand subscribers' needs by analyzing shifts in their behavior and monitoring their sentiments. With this advanced server, you can access all data about your subscribers' interests and build up your promotional strategy. 
Finally, Bright Data helps optimize campaign spending and produce resonant content. The proxy data will help you find topics and products that resonate with your audience, optimize social advertising, and stay on top of the search page. 
Bright Data offers five monthly subscription plans:
Pay as You Go
Growth
Business
Enterprise

No commitment

$500 per month

$1,000 per month

Contact support

$15 per GB

$12.75 per GB




39 GB traffic

$11.25 per GB

88 GB traffic
A yearly subscription costs less, reducing the total price. 
Pay as You Go
Growth
Business
Enterprise

No commitment

$500 per month

$1,000 per month

Contact support

$15 per GB

$11.48 per GB

43 GB traffic

$10.13 per GB

98 GB traffic
Key features: 
Worldwide geo-distribution

ASN and career targeting

100% network uptime

Chrome extension 

Advanced data gathering tool 

100% patented and compliant 

Fastest response time
Best for YouTube data gathering tool.
6. IPRoyal – Best for Bypassing Restrictions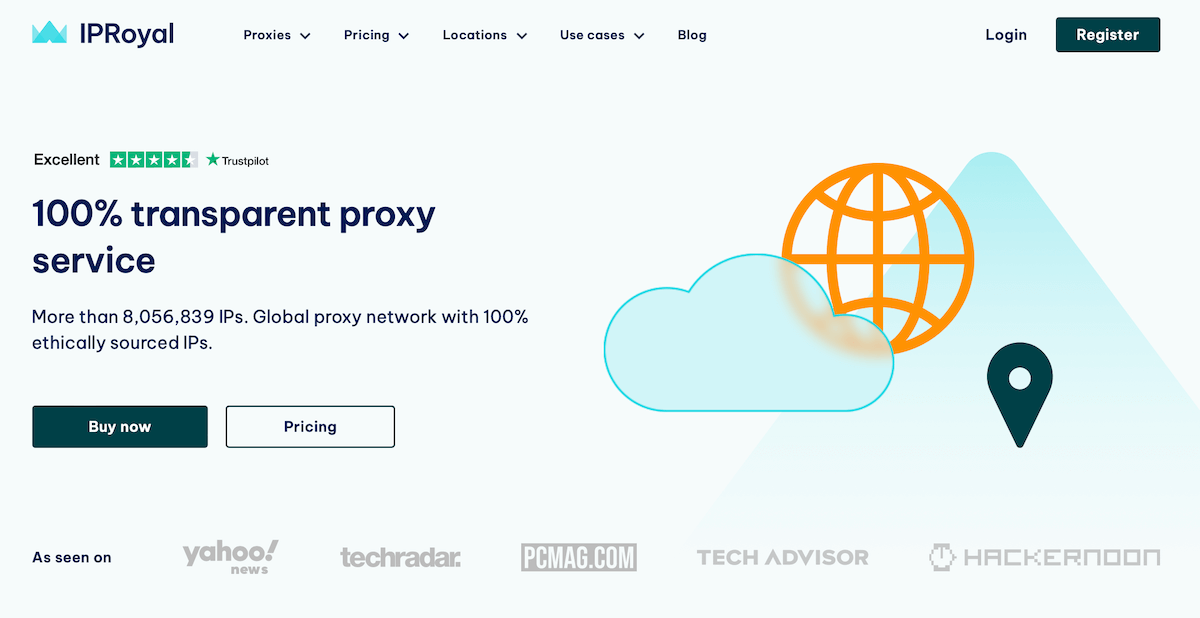 IPRoyal controls over 8 million proxy IP addresses you can use to access YouTube. Among the key features this service provides are sneaker, private, datacenter, 4G mobile, residential, and static residential proxies, along with IPv4 and IPv6 subnets.
It is one of the most incredible YouTube proxy websites often used to unlock restricted content. Users are free to switch from rotation to sticky session. Rotating proxies redirect each request sent to the platform so that the video hosting will see different IP addresses. The sticky session allows users to stay on the same IP address for 24 hours. It's pretty handy for users to choose the mode and change it if needed. 
The sticky session is quite helpful in raising the view count and deploying online subscriber-generating bots. Using the same IP, you won't face any safety issues. Still, rotating sessions are better if you place YouTube scraping in the first place. 
Pricing plans:
| | | | | |
| --- | --- | --- | --- | --- |
| Residential | Datacenter | Sneaker | Mobile | Static residential |
| $2.45 per GB | $1.39 per IP | $1 per proxy | $7 per day | $1.8 per proxy |
Key features:
100% genuine 

Anonymity 

Good choice of proxy types

Rotating and sticky sessions

Proxy tester 
Best for bypassing restrictions.
7. StormProxies – Best for High Anonymity Proxies

StormProxies has a pool of 700,000+ proxy IP addresses characterized by high-level anonymity. When using the service, you can access YouTube online without restrictions. Your IP address will remain secret, as well as your traffic data, so there is no need to worry about your data security.
Besides, the service is simple to use. You only need to choose the proxy route you want to use (reverse, dedicated, or premium). StormProxies will handle the rest. 
Pricing for residential proxies:
| | | |
| --- | --- | --- |
| 40 threads | 80 threads | 150 threads |
| $39 per month | $59 per month | $97 per month |
Key features: 
High anonymity 

24-hour money-back guarantee 

Unlimited bandwidth 

Automatic and instant delivery 

IP rotation 
Best for high anonymity.
8. Rayobyte – Best for Proxy Diversity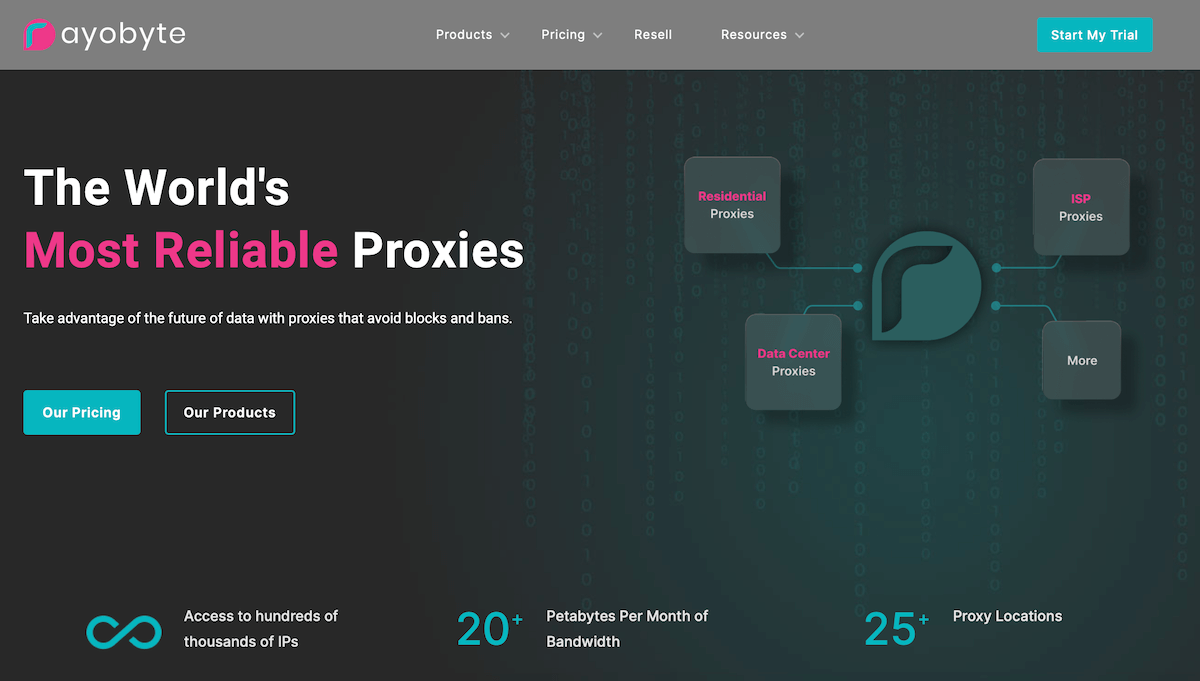 Rayobyte has an extended gallery of proxies that contains almost all proxy types. Mostly, YouTubers choose rotating residential and ISP proxies for their brand promotion. Residential proxies have fewer bans and world-class APIs. ISP proxies have more locations, unlimited bandwidth, and a world-class API. Besides, there is a proxy pilot and a scraping robot offering Rayobyte as additional tools.
Pricing for residential proxies: 
| | | | |
| --- | --- | --- | --- |
| Starter | Personal | Consumer | Professional |
| $15/GB | $12.5/GB | $7/GB | $6/GB |
| 1-15 GB | 16-49 GB | 50-99 GB | 100-249 GB |
| Business | Corporate | Enterprise | Custom |
| $5/GB | $4/GB | $3/GB | $1/GB |
| 250-499 GB | 500-999 GB | 1 TB-4.9 TB | 5 TB+ |
Key features:
Best for proxy diversity.
FAQ
How to choose the proxy site for YouTube?
When selecting a YouTube proxy, you should consider your purposes – what is your ultimate goal? As you've decided, pay attention to each service's three key points: reviews, features, and pricing.
 
Studying these points, you will narrow down the search and understand what platforms are reliable and pocket-friendly. We should also note that it's not a good idea to set your mind on a free YouTube proxy because they tend to be insecure and low-qualitative.
Can I use a free YouTube proxy?
It is not difficult to find a free YouTube proxy; you will indeed find some of them. We all are eager to save money, but using a free proxy is not a good idea. Free YouTube proxy is unreliable and precarious – it is heavily managed. They often malfunction and interfere with normal operations. That's why we strongly recommend you avoid using them.
How to set up a proxy for YouTube?
These proxies function like ordinary ones. To set up a proxy for YouTube, you must perform the following actions:
– Enter the settings and find Wi-Fi parameters.
– Press "Change Network."
– In the "Advanced Settings," click on "Proxy Server."
– Change configurations set in the "Proxy Server" section manually.
– Enter the required data to enable the connection.
– Save settings.
Are there any proxies for botting?
Sure! We can advise you Proxy-Seller – one of the most convenient proxies for botting. It is compatible with all devices, including Android, and several operating systems (iOS, Windows, and Linux). Besides, you can try Smartproxy and iproyal.com. According to their characteristics, they are not inferior to Proxy-Seller.