Many business owners who use the Internet to sell, promote, and conduct customer research may face problems when entering regional markets. While the Internet provides access to a global market, it can also present a host of challenges: from restricted access to multiple connection blocks. Fortunately, the best private proxy services offer solutions to these and many other issues.
Proxies allow small and mid-size business owners to access restricted markets and advertise and sell goods in different locations. In addition, they offer fast management of multiple social media accounts, making it easier to engage with customers and expand brand awareness. Proxies also provide the ability to collect valuable data from various regions without fear of being blocked.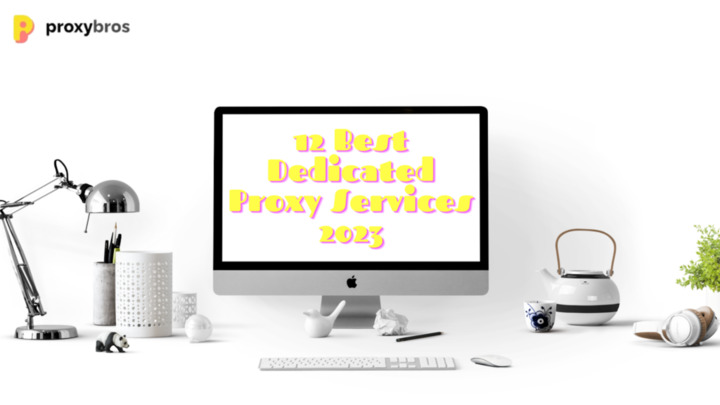 Finally, proxies offer a straightforward way to quickly overcome Internet-related challenges and expand into new markets. By using this technology, companies can enhance their effectiveness and compete globally.
So, if you are a business owner looking to overcome internet barriers, look at this shortlist of the best private proxy providers. Then, learn how an entrepreneur could use them to improve business effectiveness.
The Quest for the Best Dedicated Proxies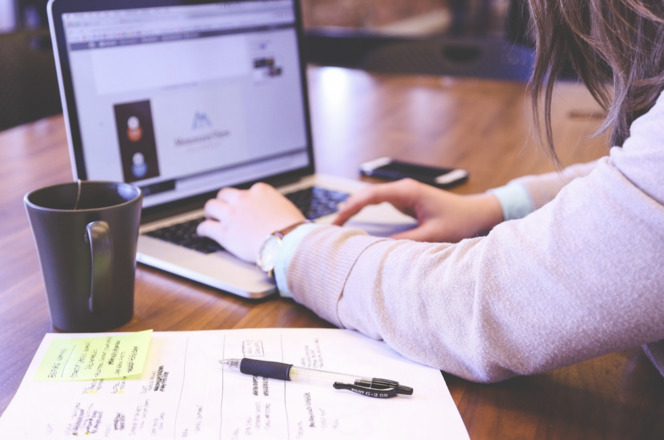 Meet Our Hero
A small business owner named Sarah is on a mission to launch her marketing campaigns worldwide. She wants to sell her services to residents of the United States, Europe, China, and beyond. However, she quickly realizes that a one-size-fits-all approach won't cut it due to cultural differences and regional regulations.
Determined to create an impressive campaign for each country, Sarah needs to know her audience better and see how the ads perform in different regions.
This is where dedicated proxies come in. By utilizing web scraping and bypassing geo-blocks, Sarah should finally be able to gather essential data on her target markets and tailor her campaigns accordingly.
The Journey Begins
First of all, Sarah needs to understand where to start. There are tons of private proxy providers throughout the Internet. Some are too expensive and offer features she does not need at all. Some are very cheap but lack crucial security measures.
Considering the Goals
For anyone looking to purchase proxies, it's vital to define their objectives and background before making a final decision. Sarah is no exception. She mentioned earlier that she especially needed to consider the following parameters:
Her best proxy should perfectly suit her small business.
It should bypass geo-restrictions.
It must collect customers' preferences and web behavior via web scraping.
The next step is to understand the criteria for choosing a reliable private proxy provider
Thinking Over the Criteria
With her general goals in mind, Sarah can now consider the necessary criteria in detail. There are some general factors that will indicate a convenient and hassle-free service that will suit her well.
1. Use cases align with Sarah's goals.
2. Prices are affordable for a small business.
3. An IP pool is high enough for web scraping without the risk of IP bans.
4. Supported protocols are safe and secure.
5. Performance is good, including high speeds and reliable uptime.
Starting the Challenge
Now, it is time for Sarah to dive deep into the reviews and compare the available options to make an informed decision. Sarah will use various sources of information, such as
Proxy blogs.
Review sites.
Social media.
Shortlisting
By carefully evaluating the features and capabilities of each dedicated proxy service from the list, Sarah can select the one that best fits her specific needs and requirements.
Top 12 Dedicated Proxy Services of 2023
Now, the time has come to meet the contenders for the best dedicated proxy. Each has its benefits and potential pitfalls, so which will win today? Well, it is time to clarify. Sit cozy, and let us introduce each one.
1. Oxylabs – Best Premium Provider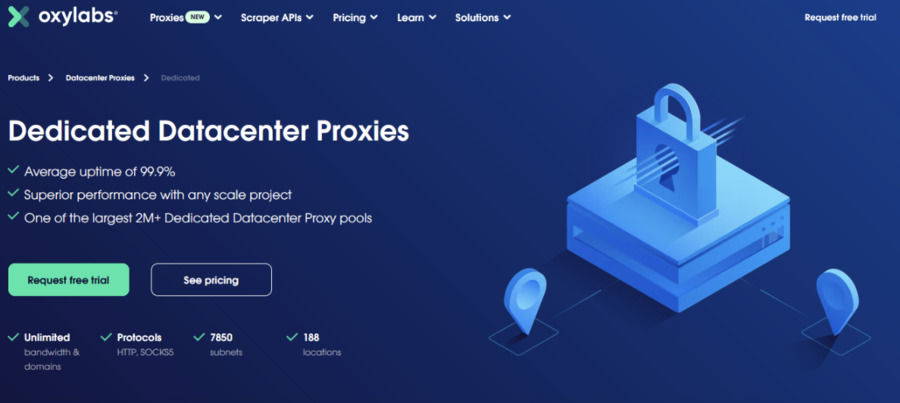 Oxylabs is a premium private proxy provider primarily oriented on large enterprises. Oxylabs provides premium service, highly anonymous proxies, and one of the largest proxy pools in the world. User reviews and expert evaluations also consider it one of the best proxy services.
Use cases
Oxylabs' dedicated data center proxies are ideal for large-scale marketing campaigns to generate bot traffic or conduct massive data scraping, as the offers range from 100 to 5K dedicated IPs. These proxies offer vast opportunities for usage, including brand protection, market research, cybersecurity, and other cases.
Performance
Oxylabs' proxies have high speeds and an impressive 99.9% uptime. The unlimited bandwidth and no limitations on concurrent sessions make the Oxylabs proxy environment easily scalable and manageable.
IP addresses:
With a massive number of 2M dedicated data center IPs spread across 188 countries, Oxylabs can be called one of the world's biggest and best private proxy providers.
All IPs are manageable and have a city-level targeting feature. Switching to another location anytime or turning on proxy rotation is also easy.
Supported protocols
Oxylabs supports HTTP and SOCKS5 protocols as well as both IPv4 and IPv6 protocols.
Prices
The prices may appear high. But since Oxylabs focuses on demanding clients, it delivers a high-quality experience.
The cheapest package of 100 dedicated IP addresses in the USA (or 60 IPs worldwide) will cost $180.
The most expensive package includes 5K IPs in the USA or 2.5K worldwide. It will cost $6000/month.
If the pricing for dedicated private proxies is too high, there is an option to buy high-quality shared proxies instead, starting from $50 for 77 Gb of traffic. A shared proxy means that several people can use the same IP address at the same time. For those who want to try the service before buying, Oxylabs has a 7-day free trial.
2. Bright Data – Best Proxy Ecosystem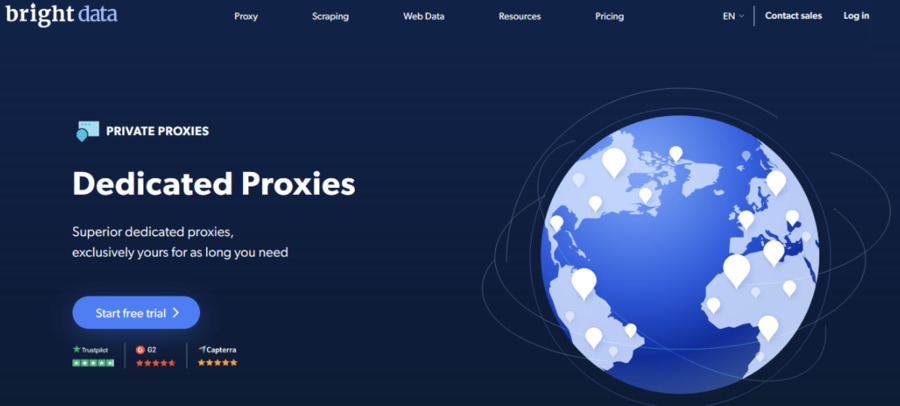 BrightData is a top player, even among the best private proxy providers. This premium provider's focus is primarily on large enterprises and premium customers. It sells high-quality data centers, residential and mobile proxies.
Bright Data's unique proxy ecosystem has earned different industry awards several times. In 2023, the platform won the G2 Industry Leader award. There is no surprise because this service offers not only proxies but also proxy browser extensions, scraping APIs, the proxy manager, and other valuable tools.
Use cases
Bright Data provides the best private proxies that cater to a wide range of business needs. Those are particularly useful for social media management, eCommerce, market research, search engines, and AdTech.
Performance
Bright Data's private proxy servers show outstanding performance. Its uptime is among the highest at 99.9%, ensuring a stable and uninterrupted connection.
The connections are fast and stable. The unlimited bandwidth and concurrent sessions allow entrepreneurs to optimize their workflow and focus on achieving their business objectives.
IP addresses
BrightData has a data center and residential proxy IPs from 195 countries. For example, they have 3.4M residential IP addresses and 400K+ data center IPs in the USA.
In addition to these options, BrightData also provides mobile proxies and static residential proxies. The IP rotation feature allows businesses to change their IPs regularly, ensuring maximum anonymity and security.
IP rotation feature is available. Refreshing dedicated IPs have a different cost from $0.02 to $0.5.
Supported protocols
Bright Data supports HTTP and HTTPS connections.
Prices: Bright Data has different packages, from a pay-as-you-go option to custom enterprise solutions.
Datacenter private proxies cost $0.110 per GB.
Private residential proxies cost $15 per GB.
The shared proxies alternative is also possible. A free trial is available for registered companies only.
3. IPRoyal.com – Best Customer Support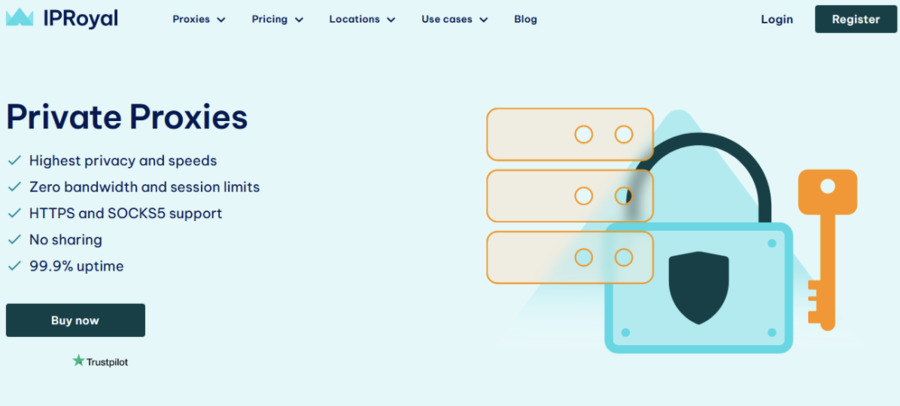 IPRoyal is a dependable provider of the datacenter, residential and mobile proxies for mid-sized companies and individuals. It offers affordable prices and a reliable, transparent service. The proxy users highly appreciate the exceptional customer support provided through various channels like email, live chat, and social media. The additional tools like free proxy manager make the experience of using proxies even better.
Use cases
IPRoyal is an excellent cost-effective solution for small and mid-sized businesses. It provides various benefits, such as access to geo-restricted websites, ensuring the confidentiality of sensitive information, and making bulk purchases. Additionally, IPRoyal proxies can aid in SEO crawling, data scraping, and many other tasks.
Performance
IPRoyal offers a reliable internet connection with speeds reaching up to 10Gbps and a guaranteed uptime of 99.9%. Although a few user reviews report minor speed lags, the service remains affordable compared to premium alternatives, rendering these occasional issues insignificant. Furthermore, IPRoyal offers unlimited bandwidth and sessions.
IP addresses
The private proxy offers IPs from 30 countries, like the United States, Germany, the United Kingdom, China, etc.
There are two types of private proxies available: data center and residential proxy IPs. Private residential proxies have rotation and city-level targeting features. Private data center IPs are cheaper but do not allow access to a pool of rotating proxies.
Supported protocols
IPRoyal provides secure SOCKS5 and HTTPS connections.
Prices
The price range is very convenient and affordable for small and mid-size companies:
The minimum package contains 5 private proxies for a $9 month
The maximum package is 100 private proxies for $157/month
IPRoyal also has a free private proxy list. However, it is essential to remember that only paid proxies provide stability and anonymity.
4. ProxySeller – Best Cheap Private Proxies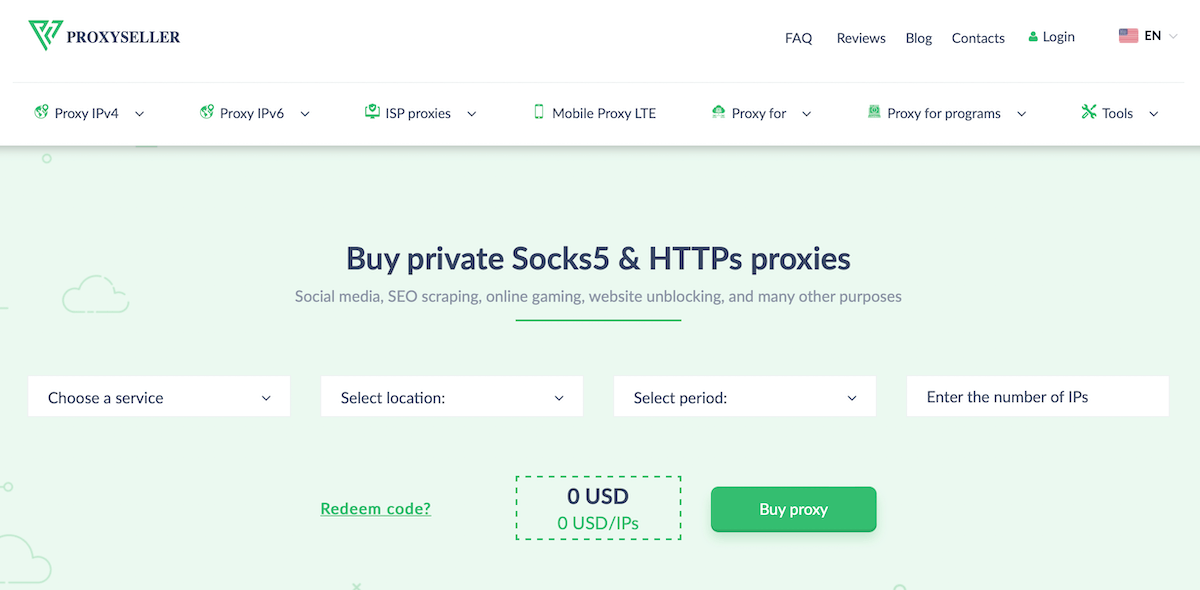 Proxyseller is an affordable service that focuses on private data center proxies for individuals and small businesses. This provider is very convenient for those who prefer not to purchase pre-packaged offers and require tailored selections instead.
Use cases
Proxyseller is ideal for website unblocking, social media, and ad verification proxies. Mobile proxies are perfect for functional testing and SMM marketing. The top menu of the website lists specific use cases, so any customer can easily select the best private proxy for themselves.
Performance
Proxyseller provides a high-speed connection of up to 1 Gb/s and a 99% uptime.
IP addresses
While the total quantity of private proxies pool may not match that of other providers, it is still substantial, featuring over 800 subnets and 300 networks to choose from.
The service offers both IPv4 and IPv6 protocols. IPv4 IPs are available in 50 countries, whereas IPv6 IPs are available in only 15 countries.
Supported protocols
HTTP, HTTPS, SOCKS5.
Prices
The prices on Proxyseller are very affordable. However, they all depend on various factors: protocol, location, period, and quantity.
If you do not know what option to choose, you can select a ready-made package from the top menu for the most suitable offer.
For example, five pcs./IPv4/China for SEO will cost $26.4.
1000 pcs. of the same type will cost $3170.
5. NetNut – Fastest ISP Networks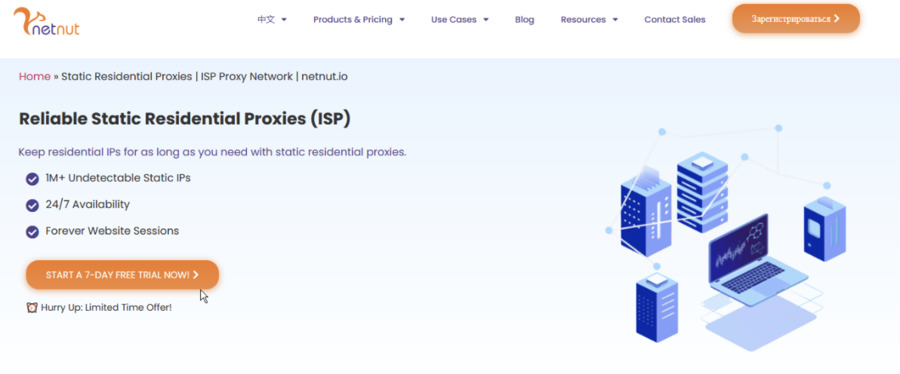 NetNut is a premium-class proxy provider which is most popular for its ISP proxies with dedicated private pools. NetNut cooperates with real Internet service providers, allowing its customers to have over 96% unique static IPs.
Use cases
NetNut is mainly oriented on businesses that need good dedicated proxy traffic starting from 20 Gb. It will be interesting for companies who want to do lots of web data extraction, market research, and price comparison.
Performance
NetNut's main product, ISP proxies (also called static residential proxies), do not rely on end users' devices, so they are as fast as datacenter proxies. At the same time, they are real IPs from genuine Internet service providers, so such proxies are great at providing anonymity and avoiding blocks.
IP addresses
NetNut offers over 1M static residential IPs with city-level targeting, a rotation feature, and a dedicated account manager. 30M+ rotating residential IPs with dedicated private pools are also available.
Supported protocols
NetNut offers SSL private proxy connections (HTTPS).
Prices
The service's pricing and packages are unsuitable for individuals and small companies. However, large enterprises can find exciting offers here. All packages have a dedicated account manager, IP whitelist, and other features.
The cheapest private ISP plan starts from 20 Gb for $350/month.
The most expensive "Master" plan is 1 Tb for $5000/month.
Requesting a 7-day free trial to try the service is also an option.
6. StormProxies – Best for Bulk Purchases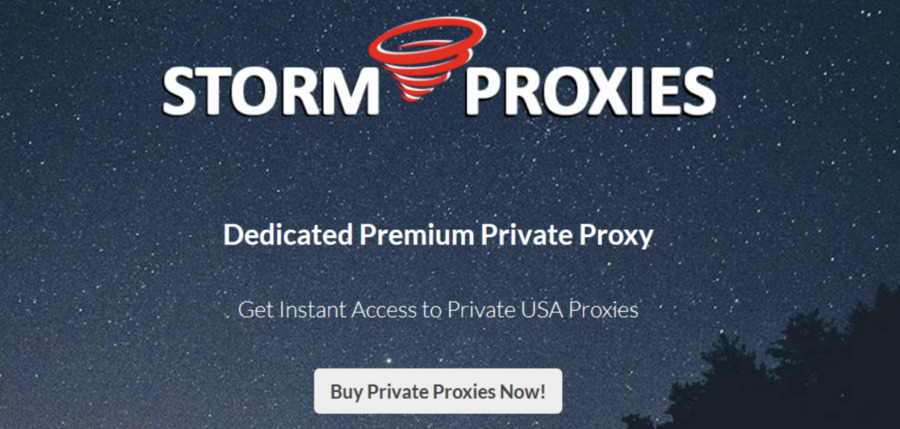 StormProxies targets explicitly small businesses and individuals. This affordable private proxy provider offers a range of reliable residential proxies and dedicated data center ones. The rotating proxies and private datacenter proxies are best suited for bulk purchases as the site pays particular attention to ticket and sneaker bots' compatibility.
Use cases
Storm Proxies sells private datacenter proxies, which are ideal for bypassing geo-restrictions. The company offers a range of proxy IP packages that include between 5 and 400 IPs, allowing businesses to easily conceal their identities, perform bulk account registration, and conduct market research.
For businesses needing multiple addresses for data scraping, traffic bots, and sneaker sites, StormProxies offers reverse proxies with a rotation feature. This service allows businesses to pay for the exact number of connections they require, making it a cost-effective solution for those needing multiple dedicated proxy addresses.
Performance
StormProxies offer good speeds up to 1 Gb/s. Unlimited bandwidth is an additional bonus to improved performance.
IP addresses
There are 700K+ private reverse IPs in the US and EU. However, StormProxies' data centers for premium dedicated IP addresses are available only from the USA.
Supported protocols
Only HTTP is available for purchase.
Prices
StormProxies offers competitive pricing for its services. It is much cheaper and more flexible than other providers.
The smallest package for purchase contains 5 private proxies for $10/month each.
The largest package is 400 private proxies for $640/month.
7. Infatica – Best Ethical Proxies

Infatica is a proxy service that takes pride in ethical sourcing to provide private proxies that are both dedicated and shared. Ethically sourced addresses are associated with genuine devices that individuals legitimately own. These types of proxies do not acquire any personal user information from clients or proxy server owners.
The fact that Infatica owns all of its proxy servers lends credibility to its use of them.
Use cases
Infatica offers access to a pool of 1000 private residential proxies and enables the use of up to 20 proxy lists simultaneously, making it an excellent option for extensive marketing campaigns, SEO, data scraping, price aggregation, and other use cases.
Performance
Infatica speeds are above average, with a 99% uptime. The performance cannot be compared to the premium dedicated proxies providers, but it provides reliable and fast connections.
IP addresses
Infatica gives access to 1000 IPs from 10M residential IPs worldwide. The proxy servers are located in the EU, the US, Saudi Arabia, Indonesia, China, and other countries.
Supported protocols
HTTP/SOCKS.
Prices
Infatica's mid-level offer falls between the lower-priced options and the premium private proxy providers, making it more expensive than some services but still considerably more affordable than the high-end choices.
The cheapest plan is $96 for 8 Gb/month.
The most expensive plan is $3500 for 1000 Gb/month.
You can also get a free trial on any of Infatica's services.
8. Proxy-Sale.com – Best Social Media Proxies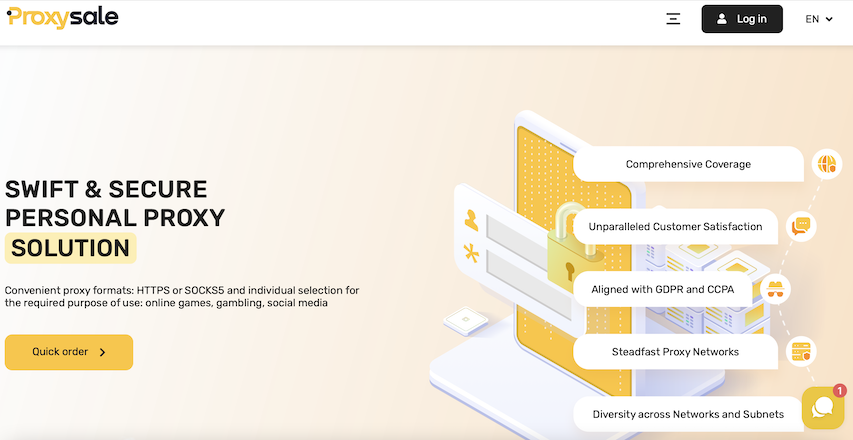 Proxy-Sale.com is a user-friendly website for buying any amount of dedicated proxies for individual use. These are rather cheap private proxies for everyday use, such as managing social media accounts or avoiding IP blocks.
Use cases
While the site offers the option to select up to 10,000 pcs, it is most beneficial for individuals who want to buy a limited number of addresses for personal use. These proxies are well-suited for surfing the net, online gaming, accessing social media, etc. Small businesses can use these proxies to create multiple social media accounts or for web scraping.
Performance
With a 95 MB/s speed and a proxy issuing time of only 1 minute, Proxy-sale.com provides a solid performance that is quite impressive.
IP addresses
Proxy-sale.com has 65,000 active, dedicated IPs available, distributed across 43 locations for IPv4 and 7 locations for IPv6. Proxy-sale.com also has a free proxy list on its website to compare the free proxy IPs with paid ones.
Supported protocols
HTTP, HTTPS, SOCKS5.
Prices
The pricing is super flexible and depends on personal requirements. Proxies can be purchased in any quantity for 7 days, 2 weeks, 30 days, 90 days, or more.
10 pcs./month for social networks will cost $14 on average.
100 pcs/month will cost $125 on average.
9. Smartproxy – Best for Start-Up Developers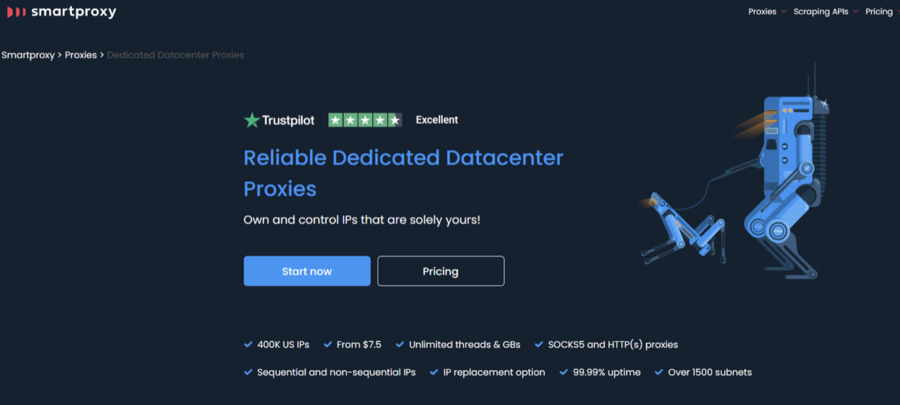 SmartProxy is a quality provider capable of meeting the requirements of both start-up businesses and established enterprises. It provides convenient scraping APIs, free proxy managers, and developer-friendly documentation. No-code scrapers and browser extensions will help a beginner business to start the campaigns without undertaking additional work.
Use cases
SmartProxy is an excellent choice for small and mid-size business needs. It has ready-made APIs for all types of marketing and research purposes: SERP, web scraping, and eCommerce. The API is easy to integrate with lots of starter documentation and guides.
Performance
SmartProxy offers high-speed connections with unlimited gigabytes of traffic and unlimited threads. 99% uptime indicates a high connection stability.
IP addresses
There are 400K sequential and non-sequential IPs available at SmartProxy. All the data centers are located in the United States. There are over 400 subnets, and the IP replacement option.
Supported protocols
HTTP, HTTPS, SOCKS5.
Prices
The cost of SmartProxy services is relatively low compared to premium proxy providers, which ensures an excellent price-quality ratio.
For instance, a package of 3 IPs costs $7.5 per month.
In case multiple addresses are required, the option is available for 200 IPs at $320 per month.
The shared proxy plans start from 50 Gb for $30/month.
Furthermore, enterprise plans are available for large businesses to choose from.
There is also a free trial to test the proxies from the company.
10. Rayobyte – Best for Semi-Dedicated Proxies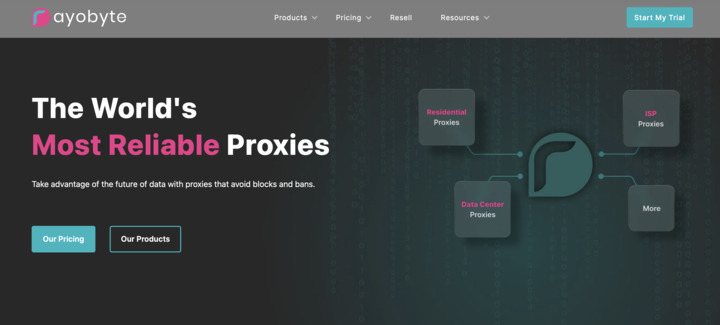 Rayobyte offers a comprehensive range of dedicated proxies for all needs. The selection includes data center, residential, and ISP-dedicated addresses. Moreover, there are both IPv4 and IPv6 protocols and such rare options as dedicated and semi-dedicated proxies. Semi-dedicated proxies are similar to shared proxies, but in this case, only three customers and no more can share the same IP. Such proxies can help to find the ideal balance between shared proxies and the best private proxies.
Use cases
The Rayobyte proxies are well-suited for data collection, price aggregation, search engines, and more. There are also mobile proxies that are great for data scraping.
Performance
Rayobyte offers 1 Gbps speed, 20 petabytes of monthly bandwidth, and unlimited threads.
IP addresses:
The number of addresses available depends on the option purchased. For dedicated IPv4 proxies, over 25 countries are available, while IPv4 semi-dedicated proxies offer 10 locations. Each purchase includes auto-rotation every 10 – 120 minutes and large pool access.
Supported protocols
HTTP, HTTPS, SOCKS.
Prices
Dedicated datacenter proxies (USA) start from $12.50/month per 5 IPs.
Semi-dedicated datacenter proxies (USA) start from $5/month per 5 IPs.
There is an option to get a free trial to test the service.
11. Shifter – Best Software Integration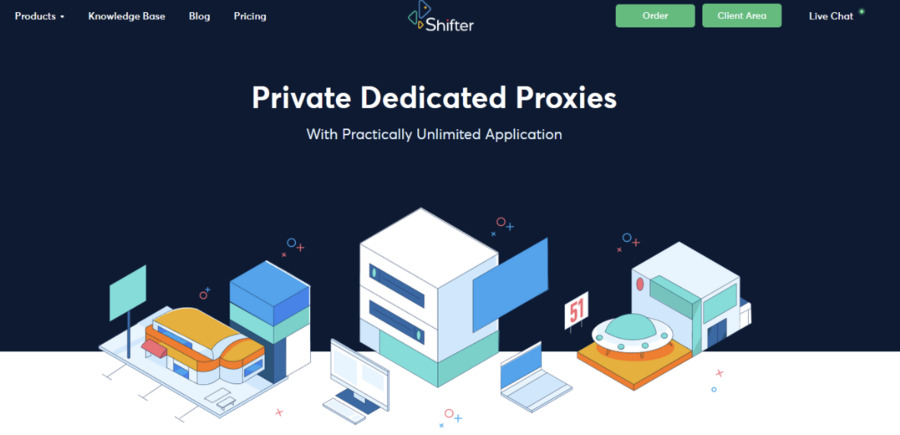 Shifter is a service that allows a company to build a full-scale scraping infrastructure and personal proxy configurations. It offers fast dedicated data center IPs along with business infrastructure such as scraping API and cloud hosting. The integration is easy because of reliable out-of-the-box software.
Use cases
With a web scraper API, SERP scraper API, and its cloud hosting provider, Shifter is ideal for web scraping, market research, and eCommerce.
Performance
Shifter's connections have high speeds of up to 1 Gbps, 99.99% network uptime, and unlimited bandwidth.
IP addresses
Shifter offers access to a pool of thousands of non-sequential IPs. All the data centers are located in the United States.
Supported protocols
HTTP, HTTPS, SOCKS4,5.
Prices
Proxy packages are available in various sizes, including 5, 10, 25, 50, and larger quantities.
The price for a package of 5 pcs. is $99.98.
A package of 150 pcs. costs $2999.99.
Shifter offers a free trial for its residential proxy services.
12. GeoSurf – Best Reliability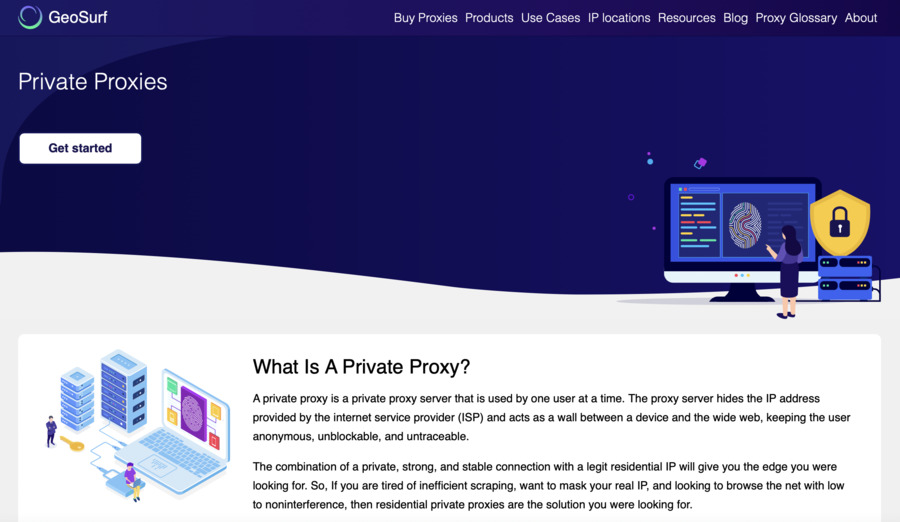 GeoSurf is a premium service with a history. It offers residential private proxies for mid-size and large businesses. It has lots of benefits for large enterprises as well as smaller solutions like a VPN app that can be used on multiple devices: mobile and desktop. To buy any of the products, you need to be a registered company, send a request and become a member of Geosurf.
Use cases
Geosurf private proxy packages have a broad range of uses. They are the best for such purposes as data collection, social media management, SEO, ad verification, sneaker sites, and more.
Performance
Geosurf offers high-performance proxies with 99.9% uptime
IP addresses
Access to residential IPs is available in over 90 proxy locations, allowing for a wide range of selections. Preferred countries and cities are available from a vast IP pool.
Supported protocols
HTTP, HTTPS.
Prices
GeoSurf's pricing falls within the higher range due to its focus on catering to business needs rather than individuals. The pricing plans are tailored accordingly to reflect this distinction.
The most affordable plan offers 25 GB for $300 per month, while the largest packages offer 250 GB for $1750 per month and 2 TB per month for a negotiable price.
Having evaluated multiple services, Sarah has analyzed their respective pros and cons. Ultimately, she has finally found a suitable private proxy for her business and launched successful campaigns in the world's largest countries. However, every business has unique preferences and circumstances; therefore, the final decision on selecting the best private proxies depends on individual needs.
For instance, many small business owners aim to expand their business globally but often do not know where to start. By contrast, global campaigns require significant effort and resources, including finding local partners, studying local laws, conducting customer research, and overcoming language barriers, among others. Proxies can help navigate some of these challenges by providing access to geo-restricted content and allowing businesses to operate anonymously, thereby protecting their privacy and identity.
In today's online landscape, where anti-globalization trends are on the rise, proxies have become more critical than ever before. Try them by yourself to enhance personal online activities and unlock new opportunities for your business. With the right proxy, your companies can overcome the challenges of global campaigns and reach new heights in their online endeavors.