For gamers, using proxies for PS4 has long become a widespread practice to enhance their gaming experience. However, picking the best proxy server can be a daunting task. ProxyBros has done the research and testing to create a top rating of the best proxy servers for PS4. Our experts have thoroughly tested dozens of services' quality, speed, and connectivity to ensure that only the best ones are recommended.
Here is the list of the best proxy servers for PS4:
Why Do You Need a Proxy for PS4?
Proxies might be an excellent help for your gaming experience. But first, what are proxies? Simply put, they are intermediaries between you and an Internet source you want to reach. Here is a visual example of how it works: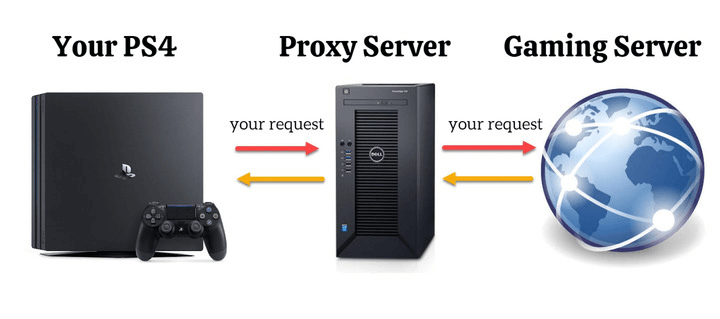 So when you set a proxy service for your console, it stands between your console software and the gaming server. After you set it up, you get access to various locations worldwide: like if you were physically in another place.
Now you'd ask: why should I use a proxy server on PS4 at all? In short, such a trick can help you enhance your gaming experience in different ways.
First, you can get access to restricted games. For example, you can't play FIFA17 in Belgium, and PUBG is unavailable in Iraq. A proxy will change your IP to a country that allows these games and will easily overcome geo-restrictions.
Another helpful thing is boosting your connection speed. For instance, your gaming server is in the USA, and you live in the UK. If you switch to a US location that is closer to the server, it might increase the overall speed and reduce lags. It will also increase your PS4 download speed — your fav games will upload much quicker.
After all, proxies are about your safety. It hides your IP and protects your data from cyber-attacks and malware. Yes, PlayStation's operating system is protected enough to keep you away from almost any viruses. However, hackers are still on the alert — especially if you have an expensive account worth hundreds of bucks. Moreover, a proxy can protect you if someone uses a PS4 IP tracker to find your geolocation.
Of course, it will all work out if you opt for the right service. So, we will stop on the best ones further in this review. For now, let's sum up: why do you need a proxy server for PS4?
Proxy servers for PS4 best features:
Access to games and gaming websites restricted in your region
Quicker Internet connection with reduced ping
Enhanced safety for your PS4: hiding your network identity from any PS4 resolver
How to Set Up a Proxy for PS4?
So you decided that proxy will make your gaming better. But how to get the one and tune your console settings to activate it? You basically have a choice between a free proxy server PS4 and some paid options. Still, most free proxies simply don't work, so experts usually recommend purchasing them from some trusted brands. The procedure is straightforward: you visit a provider's site and order a proxy server address for PS4.
Once you receive a new PS4 IP address, you must set it on your PC or MAC first. After you are ready, you can add it to your console. Here is how you do it:
1. Go to your console settings and select the Network tab.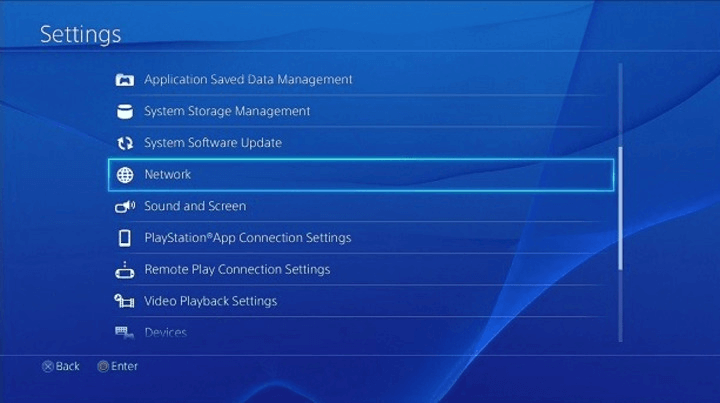 2. Click 'Connect to the Internet' and choose between Wi-Fi and wired connections. Enter your network password before the next step to connect via Wi-Fi.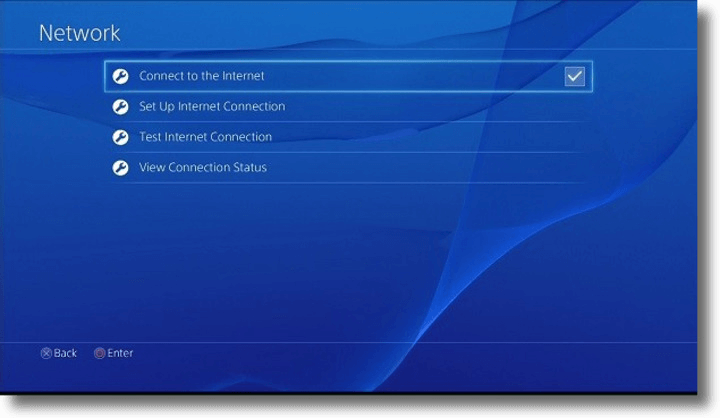 3. Click the 'Custom' tab. If you have chosen a Wi-Fi connection, select your network and re-enter the password.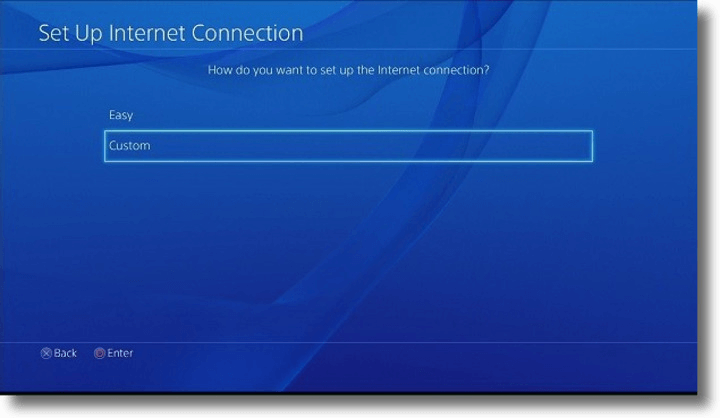 4. DHCP Host Name: choose the 'Do Not Specify' option.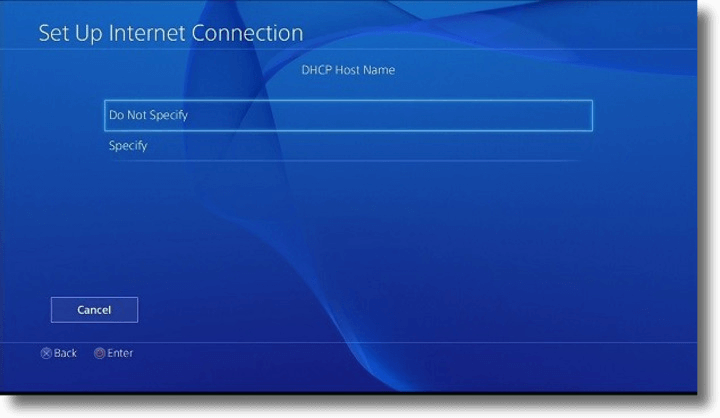 5. DNS Settings: choose the 'Automatic' option.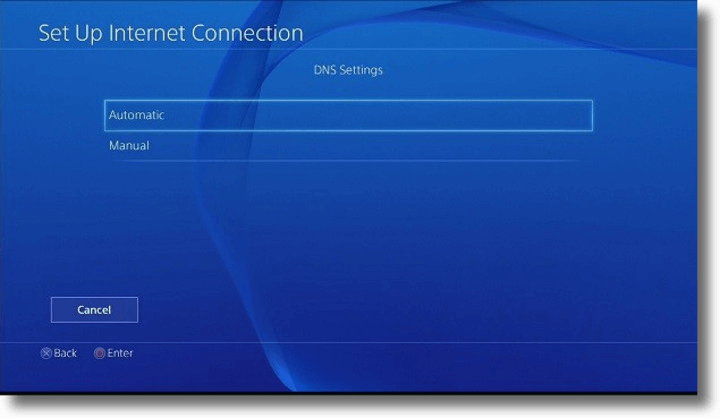 6. MTU Settings: choose the 'Automatic' option.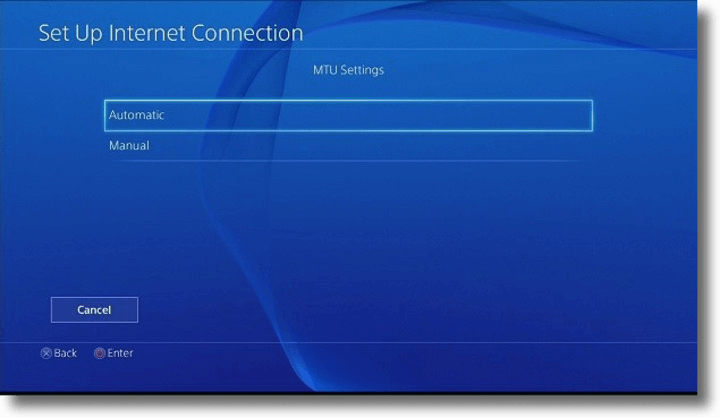 7. Proxy Server: choose the 'Use' option.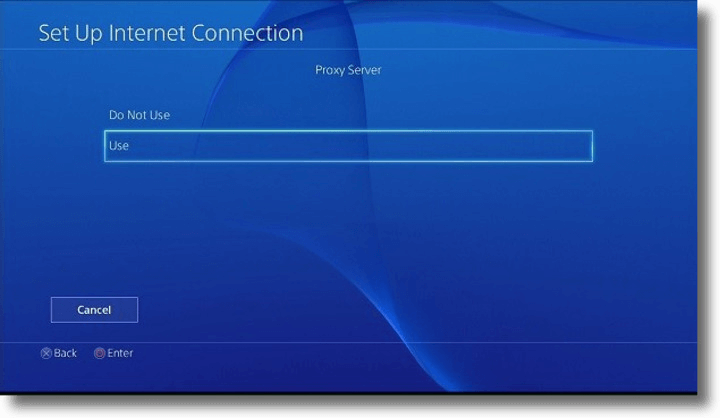 8. Enter your proxy address and a port number: the same one you used for setting your PC or MAC.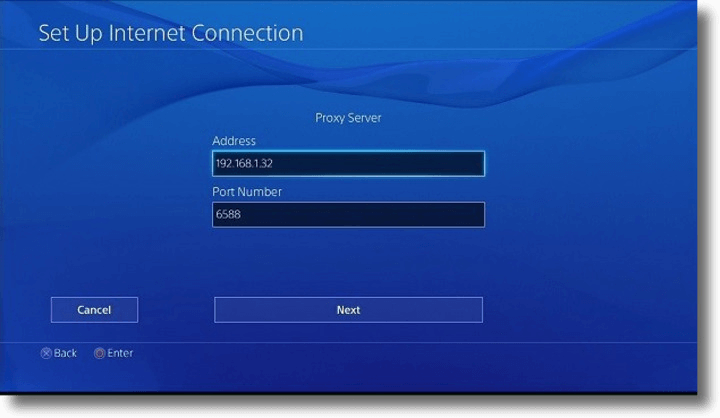 9. Save your settings and test the connection.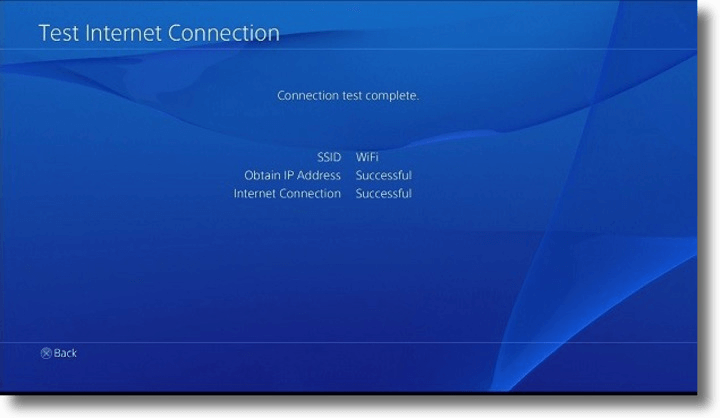 Strengths and Weaknesses of PS4 Proxies
PS4 proxies' PROS include the following:
A proxy server PS4 can enable a faster Internet connection
It boosts your security and ensures IP address protection
With a PlayStation proxy, you can bypass geo-restrictions and blocked games
PS4 proxies' CONS are the following:
A good working proxy server address implies extra expenses
A wrong server can be incompatible with your needs. For instance, a mobile one won't be the best choice for your console
Top 6 PS4 Proxy Services: Review
As mentioned before, free proxies might disappoint you from the very first minute. Besides the fact they may not work, you also risk facing security issues. Fun fact: an Austrian programmer made his survey on free proxies using a custom script. It turned out that only 21% of such servers were safe and didn't threaten users' data.
So, what's the alternative? Obviously, paying for some good service is a way out. How to find the best proxy provider, and what is the difference between various brands? Here is a brief overview of the top proxies for PS4. All of them are suitable for online gaming but have much wider use.
1. Smartproxy – The Best Residential Network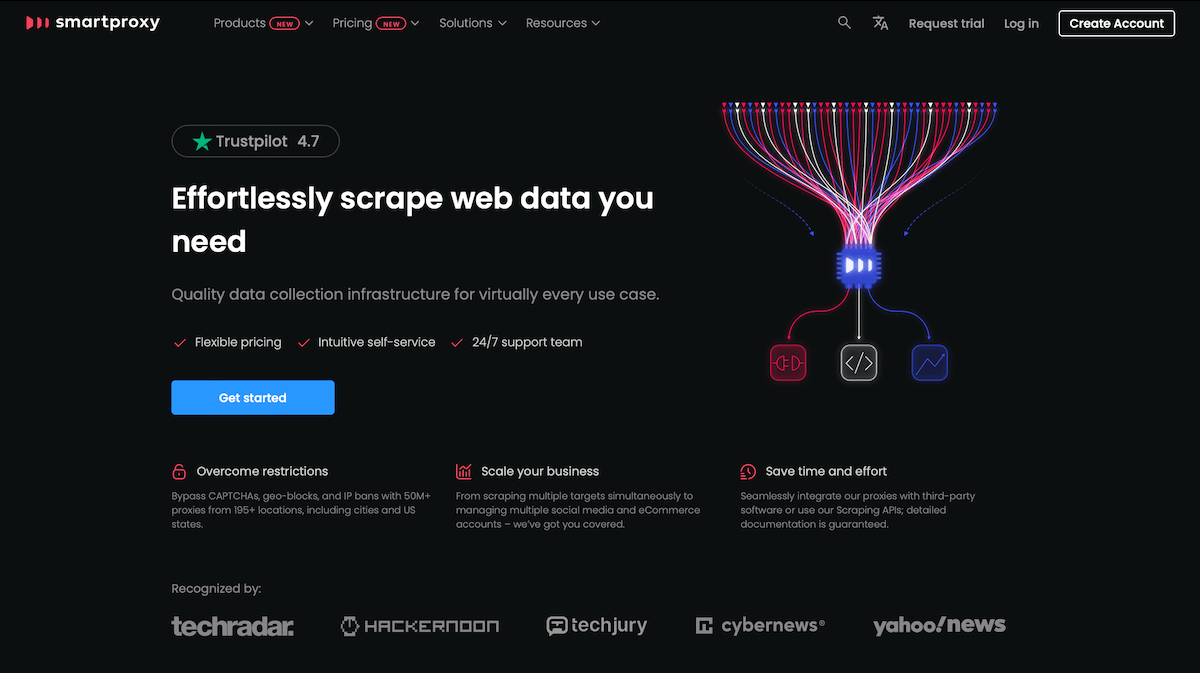 Offering various types of proxies, this provider is superior when it comes to residential ones. Residential proxies are connected to a particular device, not a data center. It means much when you need to look like a real person when using scraping bots or playing on PS4.
This service offers access to the extensive pool of 40M+ IPs and can rotate them per each action you take. Moreover, their proxies are located in 195+ countries with city-level targeting, meaning you can target any state and access restricted games.
Smartproxy's pricing depends on the number of GB you want to purchase. Thus, the lowest-costing plan is $22 and includes 2GB monthly.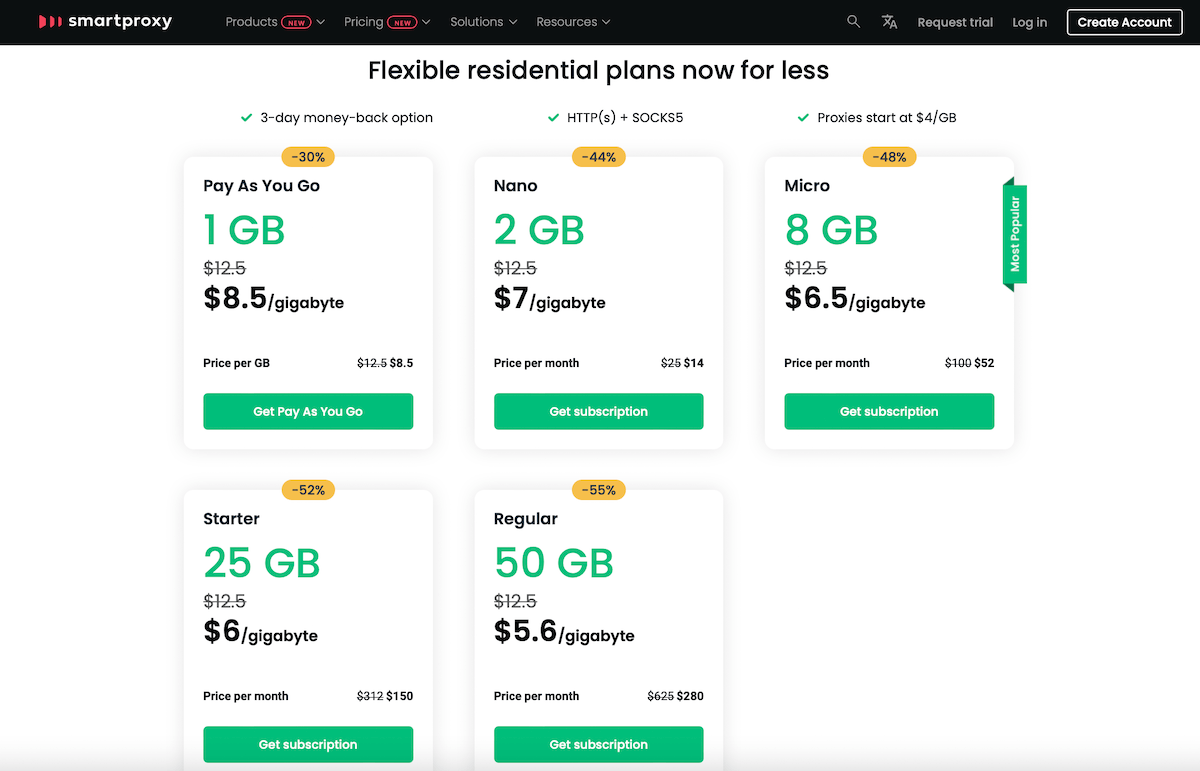 Key Features: high-quality residential proxies, an excellent reputation, flexible pricing plans, unlimited connections, and a speed of about 0.3s.
Best Suited for bypassing geo-restrictions.
2. ProxySeller — Affordable Options and Convenient Search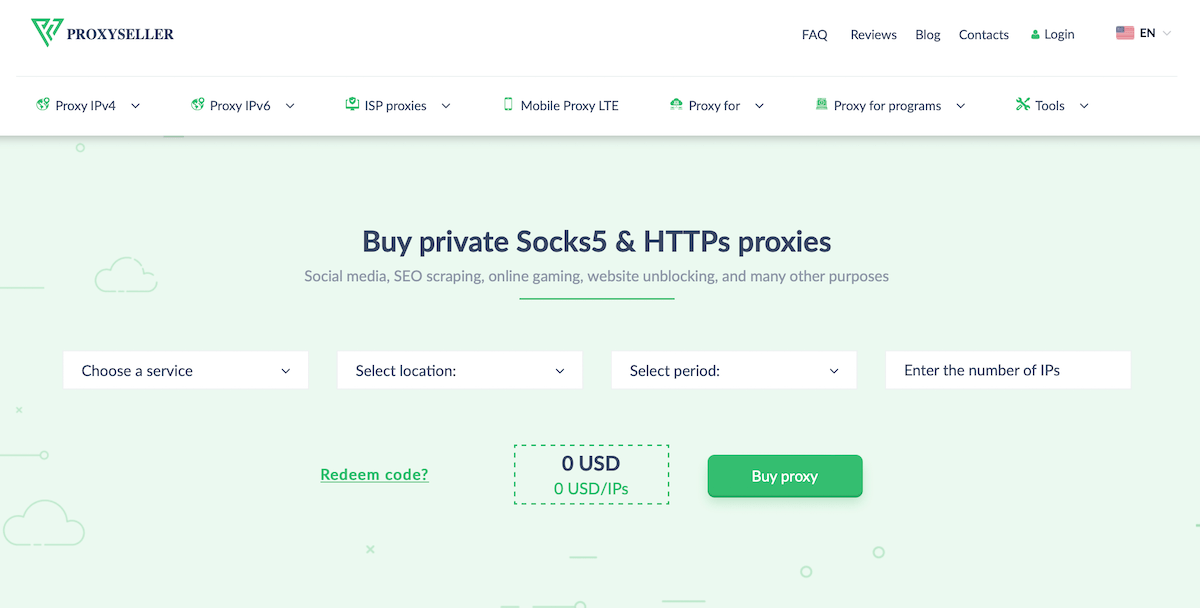 Proxy-Seller allows you to find a server for basically any need. It features a very user-friendly search bar with various filters. For instance, you can simply order a product best suitable for online gaming and even choose a particular game.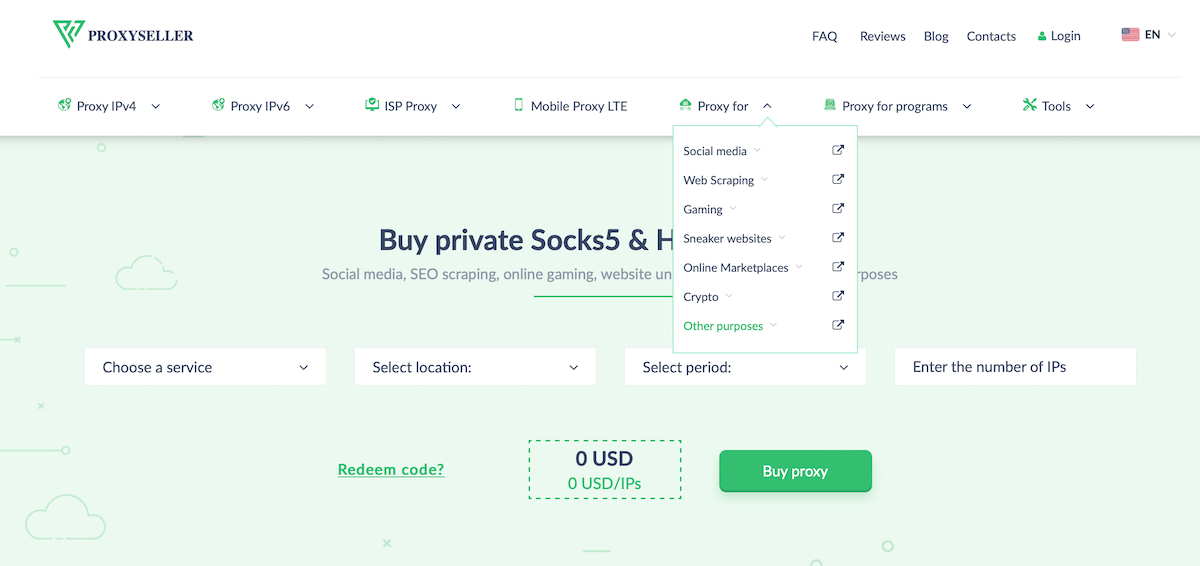 Proxy-Seller offers more than a hundred networks and three hundred subnets. You can choose between IPv4 and IPv6 options, with most of them having unlimited bandwidth. Simply, it means you will always have a stable connection speed.
If you are not satisfied with your order quality, Proxy-Seller will make a refund or replace your purchase with an alternative option. Its customer support is overall good. Some customers complain about a pretty long delivery time, though: up to a couple of days after payment.
Key Features: unlimited bandwidth usage, affordable price, and subnets ban protection.
Best Suited for bypassing geolocation restrictions, social media marketing, SEO scraping, and online gaming.
3. BrightData — The Largest Database of Servers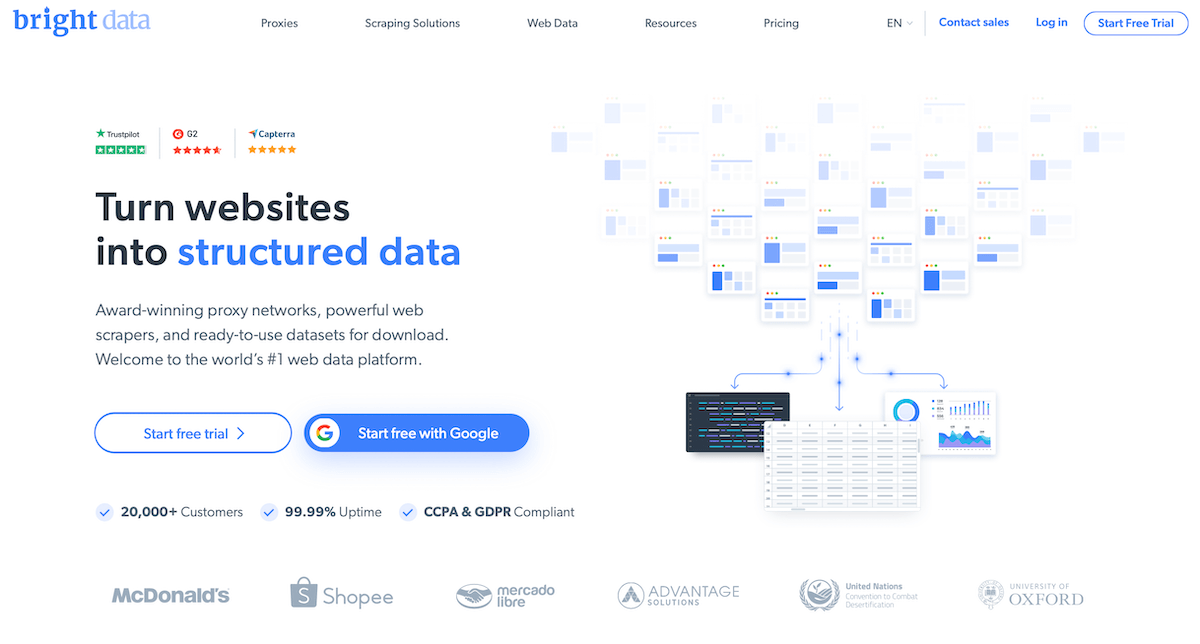 Although Bright Data is not the cheapest option, it's definitely worth its price. It offers a large base of different proxies, with more than 72 million IP addresses. The choice involves shared and exclusive IPs, and you can select from 195 countries.
The IP options include datacenter, residential, static residential, and mobile addresses. Every type has various price plans, depending on your needs. The cheapest datacenter option starts at $0,8 per IP plus $0,11 per GB. If you subscribe for long-term use, you can opt for various discounts.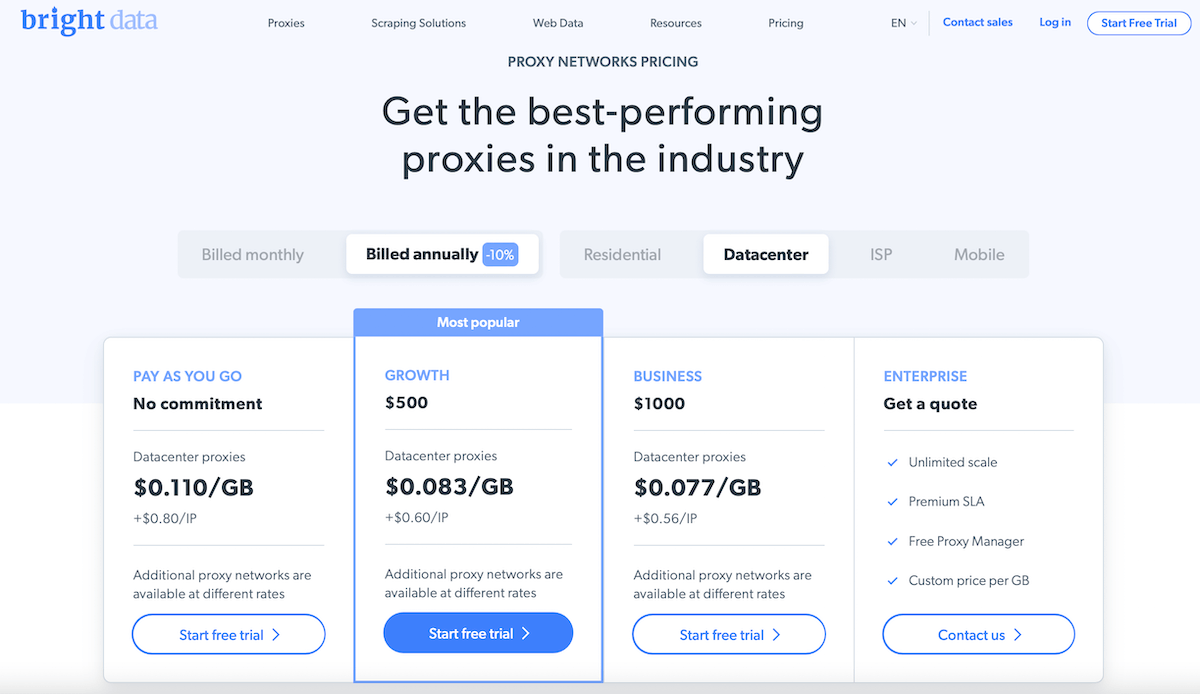 Key Features: a large database, unlimited sessions, extension for Chrome, and a personal manager.
Best Suited for online gaming, SEO scraping, and ads verification.
4. StormProxies — Cheapest Solutions with the Money-Back Guarantee

StormProxies can't be proud of the broadest selection of countries and has only 700 000+ IPs. You can only find US and European addresses here, but it doesn't affect the quality of your order. With this service, you can be sure your connection will be stable and smooth. If you don't require any extended features and need an address just for your personal use to play games, StormProxies is a place for you. Its pricing is more than affordable: the cheapest option is only $39 for a monthly plan.
Key Features: great connection speed, competitive price, money-back guarantee, and instant delivery.
Best Suited for online gaming, SEO scraping, and running multiple accounts.
5. Rayobyte — Unlimited Bandwidth for a Reasonable Price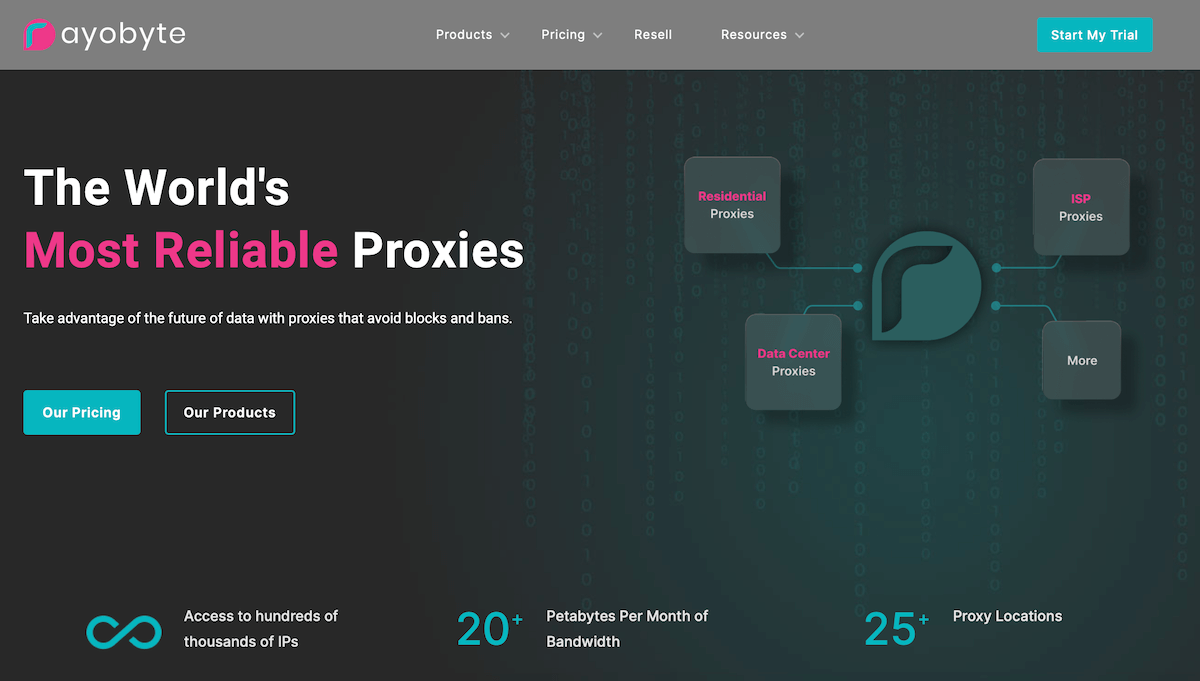 Rayobyte ensures that you receive prompt and relevant support anytime you need it. Besides, it offers very affordable pricing plans. And if you are unsure about the service, you can opt for a two-day trial.
Although Rayobyte is cheap enough, it guarantees a flawless connection with unlimited bandwidth. Besides, you will not face issues if some servers are banned. Rayobyte automatically replaces such addresses with active ones.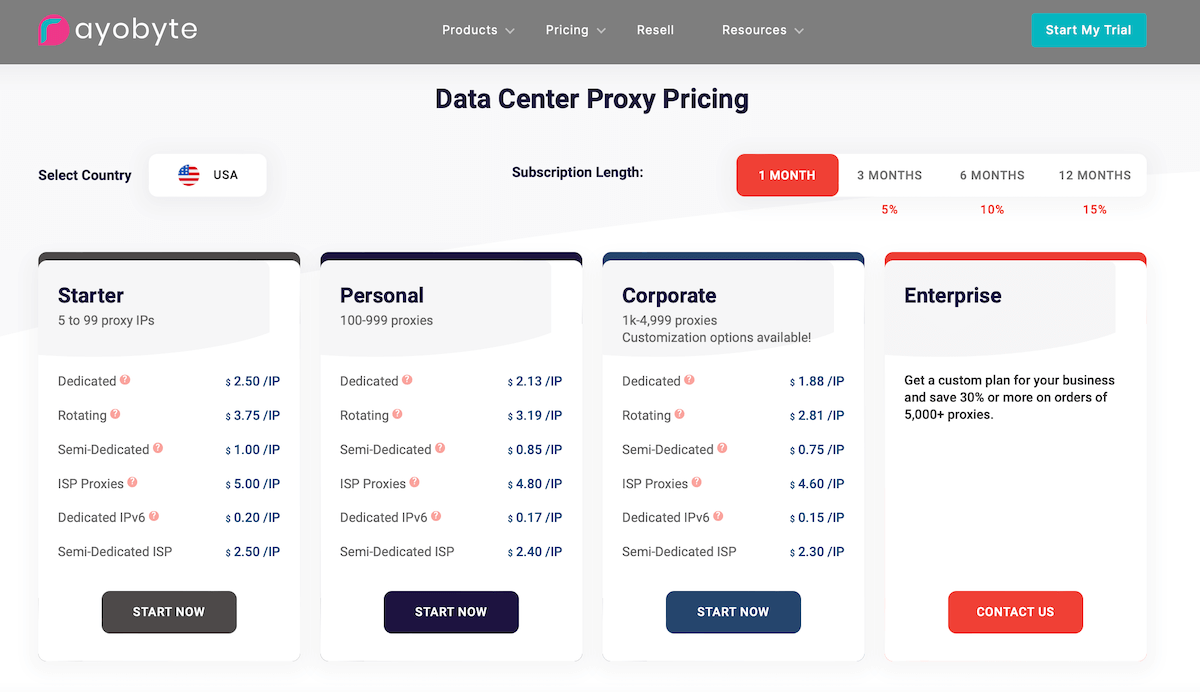 Key Features: 2 days free trial, a wide choice of locations, and flexible pricing plans.
Best Suited for online gaming and Internet security.
6. ProxySale — The Largest Proxy Pool for Private Usage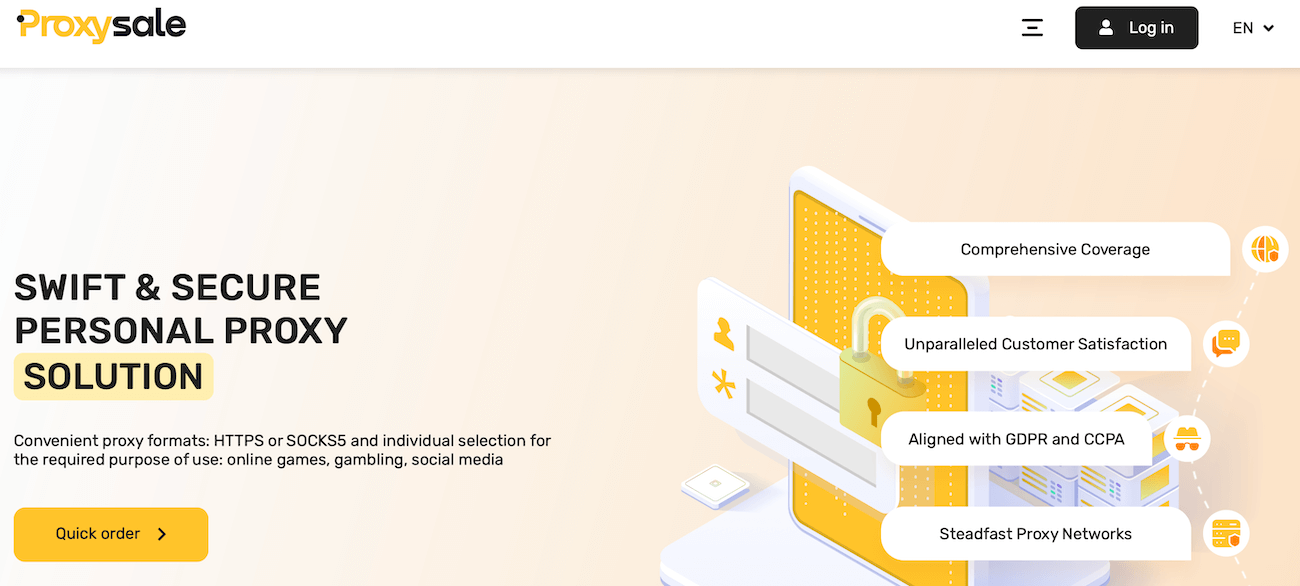 Although you can use ProxySale for any needs, it still works best for individual purposes. Mindblowing speed and a dedicated team are the main reasons to choose this specific service.
Besides, it will perfectly suit your gaming needs as ProxySale can guarantee you the highest speed and security levels. The pricing for proxies is also convenient and varies depending on the country you select. You can also check this site's handy discounts for purchasing a stack of 10/20/30 or more proxies at once.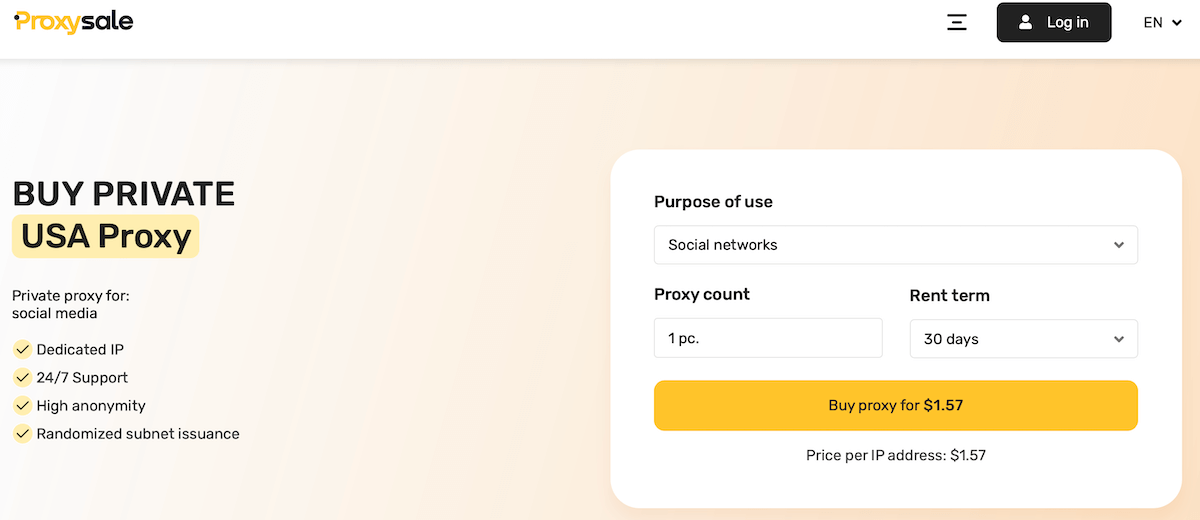 Key Features: reasonable pricing, compatibility with any site or program, moneyback guarantee, ability to test the service while purchasing one proxy for the shortest period.
Best Suited for online gaming and private usage.
FAQ
What does proxy server mean on PS4?
A proxy server is a third party between your PC, console, or mobile device and the web resource you want to reach. Proxies hide your real IP address and guarantee privacy while helping solve various other issues.
What is the best proxy server on PS4?
There are many proxies suitable for online gaming. Among the favorites are BrightData, Smartproxy, Rayobyte, StormProxies, ProxySeller, and ProxySale.
Is there a free proxy server PS4?
Yes, you can opt for proxy servers for PS4, which are widespread everywhere on the Internet. However, you should be careful with them, as they don't usually give the best level of protection. ProxyBros recommends using paid, trusted services to avoid a PS4 IP lookup and other issues.
Is it legal to use a proxy server?
Yes, using proxies for various purposes, including online gaming, is permitted unless you do something illegal with them.