Mobile proxies are gathering pace thanks to up-to-date 5G technology and enhanced anonymity.
How do they work? What are their use cases? And how to choose the best mobile proxy solution? Let's figure it out.
If you feel the number of sites available to your IP address is insufficient, then the proxy is right for you. Due to the convenience of usage, more and more users set their minds on mobile proxies. How to choose the best mobile proxy? It's not surprising for beginners to get lost in an immense gallery of mobile proxy providers. Especially for those, who are still in doubt, we have prepared a brief overview of services that deserve the highest rating and universal acceptance.
Choosing the platforms to analyze, we adhered to a real user experience that allows us to weed out sites known for low-quality service. Besides, we have consulted experts of the proxy industry that know everything about 4G proxies and can give an objective assessment of the service. Thus, we have stopped at the 7 platforms we want to present to you. We've checked them inside out considering their terms and conditions as well as all provided features. The last step was to compare the leading platforms.
So, get acquainted with the best mobile proxies we highly recommend you:
What is a Mobile Proxy?
Mobile proxies are proxy servers that utilize real IP addresses that belong to ISP. By purchasing proxies, you get access to a full pool of addresses that can be used in work. They are considered to be the most reliable, because they suit a wide range of tasks, provide complete anonymity of work on the network, and are not exposed to ban, unlike residential proxies. Since these IPs belong to operators, it is very easy to hide among ordinary users here. There are 4 types of mobile proxies:
3G proxies are a kind of mobile proxies that use unique IPs connected to the net of the earlier generation or that redirect traffic from specific mobile carriers.
4G proxies are mobile proxies that have their IPs connected to 4G net and can redirect traffic from other carriers as well.
5G proxies are mobile proxies that connect to 5G net and redirect traffic from other devices.
LTE proxies are mobile proxies that deal with the mobile communication of the new generation that have a high speed connection.
Reasons to Use a Mobile Proxy Services
Anonymity – 4G Mobile proxies survice to hide your IP address.
Data protection – No data is transmitted from your device when you use mobile proxies.
IP rotation – Due to IP rotation of proxies, you can work with several accounts simultaneously.
Low risk of a ban – These proxies have practically no restrictions.
How Do Mobile Proxies Work?
Residential proxies are a good variant for making the user's session anonymous, unlike mobile proxies that make the session via an operator. This is especially important for social networks, where a significant part of the traffic falls on devices.
The peculiarity of mobile proxies is that they use IP addresses issued by mobile operators as proxies. Operators have few proxy addresses: let's just say there are millions of users for several thousand proxies. The probability of blocking such IP addresses used by ordinary people is higher than blocking your IP. Therefore, social networks practically do not apply restrictive measures to IP addresses owned by large operators. If restrictive measures are applied, the restoration of the trust occurs quite quickly.
Mobile Proxies: Use Cases
Since we are talking about innovative technologies, the scope of their application primarily lies in the plane of modern areas of human activity, both in everyday life and in business. Among the most popular areas it is worth highlighting the following:
Marketers. The promotion of goods and services in social networks is perhaps the most promising area of activity today. No outdoor advertising, no print media can be compared with the effectiveness of social networks. However, it is not always possible to ensure maximum coverage of the target audience from one or even several accounts. In this regard, a proxy is indispensable.
SEO specialists. They conduct parsing to collect the semantic core, as well as the study and analysis of behavioral patterns of subscribers. Moderators, administrators, and security bots often make their work more complicated. Therefore, such a proxy is professionally necessary for them.
Media buyers. They process large flows of Internet traffic and also use these technologies. It is impossible to cope professionally with your duties from one IP.
The software developers. The creators of their own, both professional and amateur, software that works based on existing projects to bypass the protections of the original servers.
Ordinary citizens. Mostly, they worry about their safety and anonymity on the web. The reliability of particular resources can be quite questionable. In this case, the use of mobile proxies seems justified and reasonable, for example, to protect against aggressive network trolls who can spoil not only the mood but also the life of any citizen.
Types of Mobile IPs
Proxies are divided according to mobile operators that issue proxy IPs and broadband cellular network technology. The broadband cellular network technology is divided according to its generations: 3G proxy and 4G one (or LTE). The difference is in the download speed. It is worth choosing proxies depending on the tasks needed to be solved. A great variety of users prefer 4G mobile proxies for Instagram, although it will be enough to use a 3G proxy. For complex tasks and large amounts of data — 4G LTE mobile proxies will be the best option. You can order 4G mobile proxies on special services or create your proxy farm yourself. Creating your farm has its advantages since you can use such proxies for personal tasks or sell them.
Strengths and Weaknesses of Mobile Proxies
Advantages of mobile proxies:
It is unprofitable for sites to ban mobile proxies because the risk of blocking other users is high.
Unlike residential proxies, you buy a pool of thousands of 4G mobile proxies that will change dynamically.
You can connect several accounts via a single mobile proxy channel for simultaneous work because the IPs rotate not arousing suspicion.
Disadvantages of mobile proxies:
Low speed, so they are more suitable for use in programs for automating actions.
Using a private channel increases the speed of work, but the correct operation of several open tabs in the browser is not guaranteed.
Top 7 Mobile Proxy Services: Review
Smartproxy has been on the market since 2018 and has successfully established itself as a reliable ad trustworthy provider of elite proxies. With its extensive choice of solutions, this service is best suited for multiple web scraping purposes. After studying professional and Trustpilot reviews, we can highlight the excellent price-quality ratio provided by Smartproxy and its caring, client-centered approach.
Considering all abovementioned, it's not surprising that Smartproxy scores high on the rank of the best mobile services. It provides premium 3G/4G/5G proxies, thus closing any of the needs you may have. 
Besides, it ensures access to 10M+ ethnically sourced mobile IPs in 130+ locations around the globe. The support of HTTP(s) and SOCKS5, added by the 99.99% uptime, ensures proxy scalability and reliability. Moreover, Smartproxy is known for its scrutinous approach to IP selection, which allows users to forget about IP bans and CAPTCHAs.
But of the speed and reliability, this provider also cares about easy setup and usage. The service offers a user-friendly dashboard and reliable online support ready to assist with any issues 24/7.
With this provider, you can integrate proxies with Chrome Extension, Firefox Add-on, or other third-party tools. Moreover, while Smartproxy is best known for its excellent-quality rotating proxies that change after each user request, you can keep a proxy for up to 30 minutes while choosing sticky sessions. 
Considering all this, we can state that Smartproxy offers an abundance of proxy settings while complying with the highest reliability requirements. 
The pricing plans offer various choices for any needs and budget:
| | | |
| --- | --- | --- |
| Micro | Starter | Regular |
| 2GB | 10Gb | 25GB |
| 50$/month | 230$/month | 500$/month |
For those searching for plans with 50GB+ included, Smartproxy offers additional flexible pricing options. 
Key features:
0.3s average speed
130+ locations
Rotating and sticky sessions of up to 30 minutes
HTTP(s) and SOCKS5 support
700+ mobile carriers
Filtering OS by iOS and Android
99.99% uptime
Best for web scraping.
Proxy-Seller — Best choice for 4G connection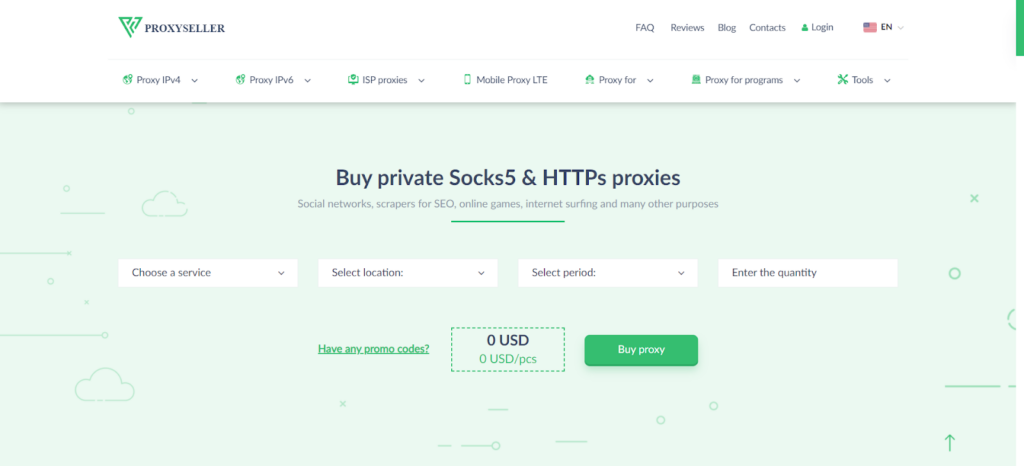 Proxy-Seller is the best option for those seeking some premium experience. 7 years on the market and 100 000+ satisfied clients make this service an outstanding choice on our list. Besides, this service is definitely a must-consider for those seeking a speedy and highly-secure 4G LTE connection. Proxy-Seller can offer you an incredible pace of 30MB/s with the ability to connect to IPs in 50 countries.
This service offers mobile users simple yet convenient rotating 4G proxies. When using their dynamic proxies, you can be sure that the IP rotation will be performed every 2 minutes or upon visiting a new site. These and other features of Proxy-Seller make it a widely used option for web scraping, SEO optimization, SMM, functional testing, CPA networks, and traffic arbitrage.
This service offers you to choose among 6 subscription plans. But remember that whatever option you prefer, you can claim a subscription plan change or a full refund within 24 hours after the activation. Also, note that the fees may vary by location and provider (the current minimum prices for the USA are included in the table below).
| | | | | | |
| --- | --- | --- | --- | --- | --- |
| 1 week | 2 weeks | 1 month | 2 months | 3 months | 6 months |
| 26 USD per IP | 45 USD per IP | 60 USD per IP | 114 USD per IP | 167 USD per IP | 324 USD per IP |
Key features:
Support of HTTP/S, SOCKS5 protocols,
Automatic proxy rotation by link or timer,
Guaranteed refund,
24/7 technical support,
Variety of subscription plans,
High-speed connections.
Best for web scraping
Oxylabs started its work in 2015. This is the best proxy provider that can boast an extensive network of more than 20 million mobile proxies covering numerous countries and cities in the world. Besides the country-level targeting, you can also set up targeting based on ASN (autonomous system number). To use such targeting, you will have to manually change the address.
The company guarantees fewer IP blocks which makes scraping more comfortable than ever. Automation of IP rotation comes as a convenient tool to achieve high success rates so that users forget about multiple captchas and IP bans.
Mostly, Oxylabs proxies are used for ad verification to check if ads are displayed on the right websites and reach their target audience and for review monitoring to look through public reviews from various websites all over the world.
Depending on your use cases and the amount of traffic you require, Oxylabs dedicated account managers have prepared 4 pricing models designed for monthly usage:
| | | | |
| --- | --- | --- | --- |
| Starter | Business | Corporate | Enterprise |
| $500 per month | $1,100 per month | $2,000 per month | $11,000 per month and more |
| 20 GB of traffic $25 per GB | 50 GB of traffic $22 per GB | 100 GB of traffic $20 per GB | 1 TB of traffic and moreCustom price per GB |
If you are going to use the proxies for a year, here are yearly packages that can reduce 10% of the prices:
| | | | |
| --- | --- | --- | --- |
| Starter | Business | Corporate | Enterprise |
| $450 per month | $990 per month | $1,800 per month | $9,900 per month and more |
| 20 GB of traffic $22.50 per GB | 50 GB of traffic $19.80 per GB | 100 GB of traffic $18 per GB | 1 TB of traffic and moreCustom price per GB |
With no additional fees, packages include sticky sessions, proxy know-how sharing, advice on target scraping, an unlimited number of targets, and a dedicated account manager.
Key features:
Best usage stats dashboard
Reliable source
Unlimited number of targets
ASN and country-level targeting
IP pool growth
Average 99.9% uptime
24/7 live support
Best for ad verification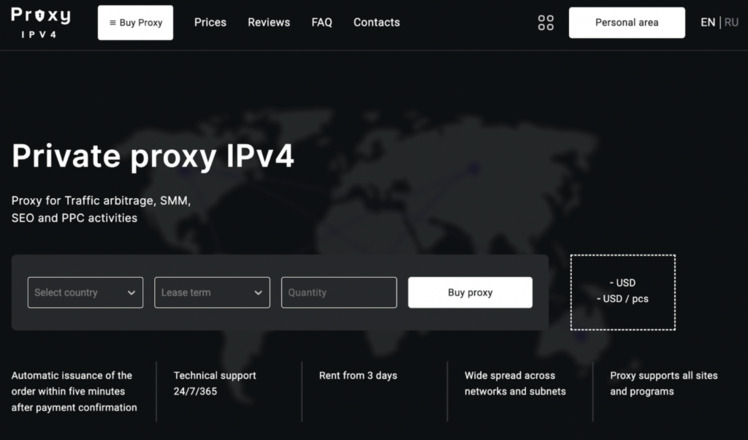 Proxy-IPv4.com offers a choice of mobile proxies in 14 locations, including USA, European, and Asian countries. The standard package is three days, but you can extend it by sending a special request.
The proxies are rotating, meaning the IP address changes every several minutes. At the moment, the rotation delay is 5 minutes. It implies that Proxy-IPv4 greatly suits those who need to scrape competitors' websites and overcome anti-fraud systems.
The provider has 24/7 maintenance, so all possible issues are quickly fixed. Another nice thing: there is no speed limit, so whatever traffic volumes you have, there are no extra fees.
Speaking about fees, prices for Proxy-IPv4.com begin from $12 per 3 days. In particular, it is a package with Kazakhstan IP — and there are more expensive ones, like a German address, for $29/3 days.
Here is the full pricing plan: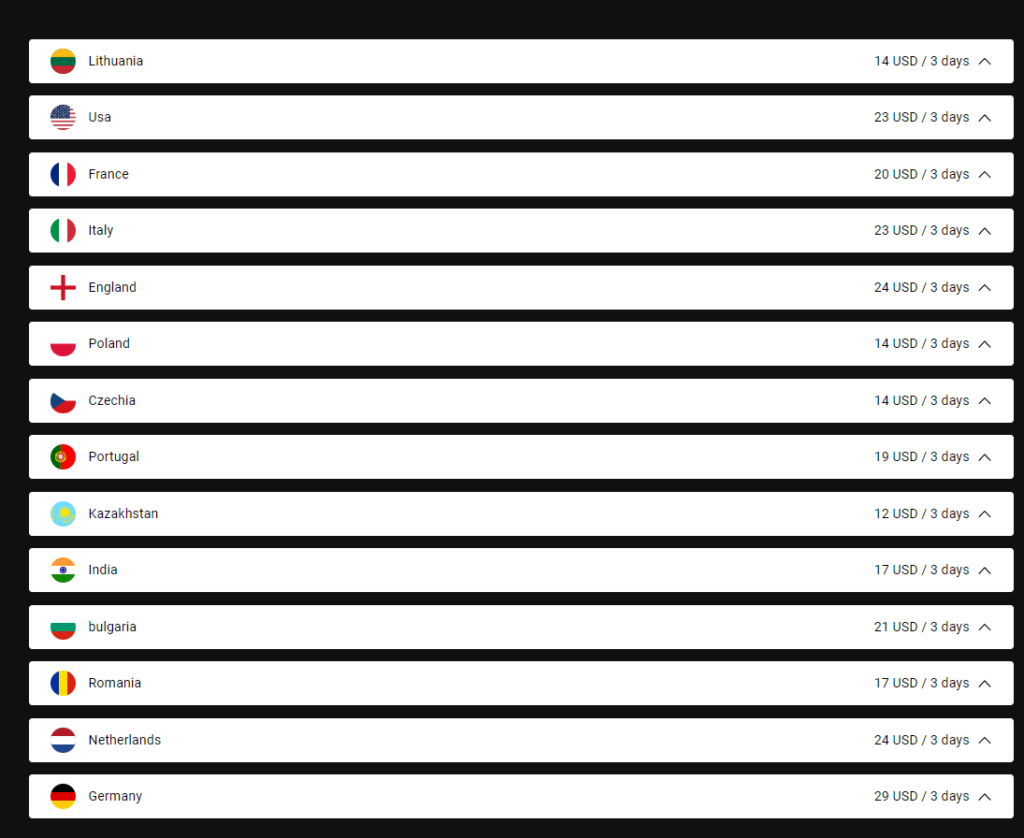 If you need a proxy for a longer period, you can make a special request via customer support's live chat.
Key features:
Unlimited traffic
IP rotation for mobile proxies
Works with 4G and LTE on all apps
No blacklisted proxies
24/7 Live Chat
Helpful, professional customer support
Individual pricing upon request
Best suited for SEO specialists.
BrightData.com states itself as the world's #1 data platform. We should rightfully note that the company manages to match its declaration – customers rate it as one of the best companies in this industry compared to other proxy providers. The pool of 4G mobile proxies is significant – over 7 million IPs around the world that are 100% reliable and work smoothly.
Mobile proxies issued by BrightData.com are simple in use and designed for individuals by their carrier. Mobile residential proxies work in every city with no limitations on concurrent connections. As for targeting, this proxy provider offers ASN and carrier targeting, so that customers could verify online assets using the highest resolution IPs available. Mostly, BrightData.com 4G mobile proxies are used for web data extraction, ad tech, collecting stock market data, e-commerce, etc.
The pricing plan contains 5 monthly subscriptions that are rather expensive:
| | | | | |
| --- | --- | --- | --- | --- |
| Experimenting | Starter | Production | Plus | Enterprise |
| $300 per month | $500 per month | $1,000 per month | $3,000 per month | Contact support |
| $35 per GB | $30 per GB | $28 per GB | $26 per GB | |
Besides monthly subscriptions, there are yearly ones that can reduce 10% of a total price:
| | | | |
| --- | --- | --- | --- |
| Starter | Production | Plus | Enterprise |
| $450 per month | $900 per month | $2,700 per month | Contact support |
| $25 per GB | $25.20 per GB | $23.40 per GB | |
For those, who want to try the service and pay only for the number of GB used, BrightData.com provides the best Pay-as-you-go package that costs $60 per GB.
Key features:
Unlimited concurrent sessions
Worldwide geo-distribution
99.99% network uptime
Fastest response time
100% compliant and patented
ASN and career targeting
Best for data collecting.
Soax.com offers highly reliable proxies with worldwide coverage that allows you to access any website. The proxy platform has an extended mobile proxy pool of 8.5 million proxy addresses overall. Soax.com mobile proxies are often used for multiple API purposes related to price monitoring, ad verification, website availability, SEO monitoring, data collection, market research, speed testing, and brand protection.
With Soax.com, you can mask your identity and go through restrictions on any website. By simulating requests of all kinds from supposedly real users, Soax.com hides your IP so that neither real users nor programs will define you as a proxy. This solution can be used both for business and everyday life.
Also, it should be noted that Soax.com gives a choice between 4G or 3G, as well as LTE proxies. The 4G mobile proxies Soax offers are quality and proven options.
Here are 4 pricing plans set on Soax.com for such proxies. If you are not sure about the service, there is a $1.99 trial before the purchase.
| | | | |
| --- | --- | --- | --- |
| Starter Mobile | Pro Mobile | Plus Mobile | Regular Mobile |
| $99 per month | $300 per month | $500 per month | $700 per month |
| 3 GB$33 per GB300 ports | 10 GB$30 per month 400 ports | 19 GB$26 per GB400 ports | 27 GB$26 per GB600 ports |
Key features:
99.99% network uptime
Ultra-fast
City & carrier targeting
Automatic proxy rotation
Worldwide coverage
100% anonymity
Unlimited concurrent sessions
Full compatibility
Best for price monitoring
Infatica.io provides a pool of over 1 million mobile proxies with flexible pricing and 24/7 support. Although the platform supports over 100 countries, it excludes targeting the city. Another limitation that can be significant for some clients is the inability to define a custom rotation policy. Anyhow, both these cons do not detract from the quality of Infatica.io proxies and their work. Mostly, Infatica.io proxies are used for uptime and performance tracking, search engine optimization, cybersecurity, brand protection, and data collection.
Pricing plans:
| | | |
| --- | --- | --- |
| 3000 proxies | 8000 proxies | 20000 proxies |
| Channel of 5 Mbit/s | Channel of 5 Mbit/s | Channel of 10 Mbit/s |
| Rotating proxy pool | Rotating proxy pool | Rotating proxy pool |
Key features:
High speed
Perfect anonymity
100% compliant network
Complete freedom
Only 3G and 4G types of proxies
Best for uptime and performance tracking
FAQ
How to choose the best 4G proxy?
Each user chooses proxies according to particular use cases. So, decide on your needs and desires before you start searching for an appropriate such proxy. The second question is what amount of money you are ready to pay for the service. Remember, that free mobile proxies or those that are too cheap tend to be of a very low quality. There is no need to be stingy – your money will be paid off with a high-quality service. Finally, read real user reviews because it is the best way to get information about the service quickly.
Which proxy is better: 3G or 4G?
These proxy types differ in broadband cellular network technology. 3G is the third generation of the technology, 4G is the fourth generation. The main difference between these proxies is hidden in the download speed they provide. Since this generation was issued earlier than 4G, the quality of connection it covers is a little lower. It doesn't mean you should purchase exceptionally 4G proxies. For some cases, it will be enough to install a proxy of the earliest generation , but a complex task with a large amount of data requires a mobile proxy.
Are there any free mobile proxies?
Sure, you can find free mobile proxies issued by different proxy providers. No matter how eager you are to save your money, it's not a good idea. We strongly encourage you not to use free mobile proxies because they are insecure, low-quality, and even dangerous for your devices. They will not hide your IP but endanger your data.
How to enable and disable mobile proxy services?
Enabling and disabling the mobile proxy is performed along with its configuration. There are no standard proxies on Android. The thing is that a mobile proxy is a remote device to which you connect and redirect all your requests. As a result, the data received by the user will also come not from the base server to which they were sent, but from a special mobile proxy service. Disabling the proxy connection occurs similarly. You can deactivate the mobile proxy by simply returning the phone settings to the previous state. If everything was configured in a web browser, then you should restore the parameters in it.
How to set up a mobile proxy?
1. Go to settings. 
2. Find the section with Wi-Fi parameters. 
3. Select "Change network" and go to "Advanced Settings". 
4. Click on the "Proxy server" option and choose to change configurations manually. 
5. Enter the proxy address, its name, and other values that will be required for a normal connection. 
6. Apply and save settings.