Top 8 Proxy checker tools in 2022 (Free & Tested)
Purchasing a proxy server takes a couple of minutes. However, don't rush to change your settings after you get your new IP address. Even an expensive private address might require a check. Why do you need to check proxies and how to do it? Let's straighten it out.
What is a proxy check and why do you need it?
There are several reasons why you may want to check your free or paid proxy. One of them is that your proxy might simply be invalid. It's a common thing when you opt for free or cheap shared proxies. However, it's the least bad option. A good online proxy checker can save you from data leakage if you are not sure about your provider. So, why is it important to test proxies?
Working capacity
Any proxy server can become invalid as time passes. Any database regularly loses some of its addresses. Many trusted providers guarantee a refund or an alternative address if a gateway doesn't work. So, if you have a working checker tool on hand, you will instantly see if you need to contact your provider's customer service for a refund.
Working speed
A proxy checker tool can also show if your server works with the right speed. Instead of finding out that your pages download too slowly after a couple of days, you can check it right away.
Particular needs
Many marketers use proxies for work. For instance, you may need it for web scraping: collecting data from webpages. It usually requires a whopping set of proxies, and if one fails to operate correctly, it may ruin the whole campaign. Besides, a checker can help understand if your server can give you access to a particular website.
Blacklisted addresses
You visit a webpage and see a message like 'Your IP address is banned from accessing this website or something similar to that. It means that someone used your server address for some mean purposes. For instance, DDOS attacks, hacking accounts, and all that. An IP proxy checker can prevent you from using such an address.
Safety
Basically, safety is one of the main features of using a third-party server. However, not all gateways are really safe and guarantee you a high anonymity level. Besides, you may want to know if your provider was fair and gave you the correct info on the IP you purchased.
As you see, a checker is a pretty useful tool for literally any user. But how to find the right one? What is the difference between various IP proxy checker tools and are they free? Can you check the proxy online or need to download any software? ProxyBros prepared a list of the best services that can help you out.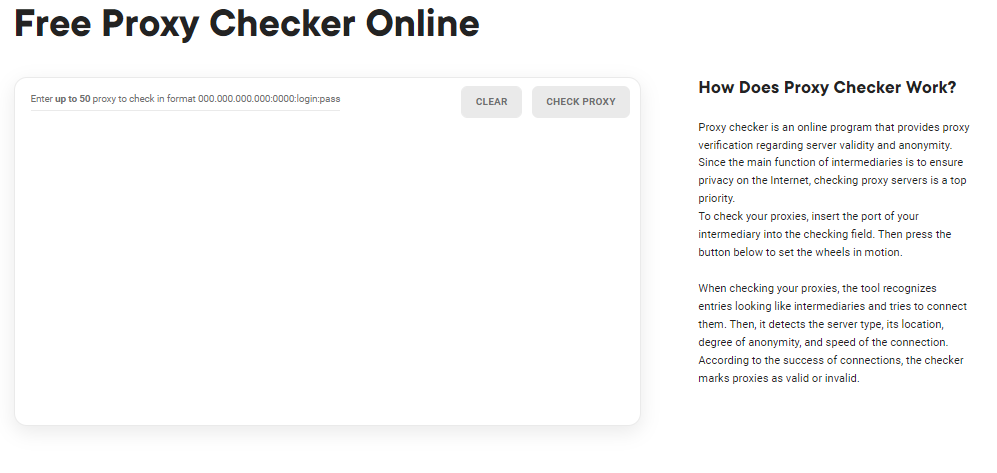 Free proxy checker issued by ProxyBros processes large amounts of information thanks to the powerful equipment it operates on. The checker offers a simultaneous verification of several servers so that checking a large number of IP addresses in a short time is no longer a problem. The interface is user-friendly and navigated intuitively. It's difficult to get lost here – everything is on the surface.
If you need to get detailed data on a proxy server you test, ProxyBros Checker is the right choice. It studies the server you request and checks the proxy availability; estimates its speed; determines geographic location and server type. Besides, this tool tests the level of anonymity – not a common feature for other checkers. If some proxies turned out to be invalid, ProxyBros will suggest new servers distributed by country.
One of the great advantages offered by ProxyBros Checker is the in-built result filter. With it, you can easily tune the displayed results choosing those options you find more important. To ease data management, the tool provides two result formats: txt and CSV. Note, that you can ask them to send you all results as well as only valid ones. 
HideMyName checker works on a Freemium basis. You can get basic info for free, and purchase a premium version for more advanced checks. The basic check involves the following parameters:
Type: SOCKS/HTTP/HTTPS;
Location: country and city;
Speed;
Anonymity level.
In this version, HideMyName will check at 20 threads. The maximum number of proxies to check at once — is 100.
If you opt for the premium, you will get an advanced set of web tools:
Export of the test results in the .csv format;
API access to download the list of proxies;
Checking at 64 threads for quicker results;
Checking the unlimited number of addresses.
There are three paid plans: a monthly plan for $5 per month, an annual plan for $2 per month, and a 5-year plan for $1 per month.
What is especially convenient about HideMyName, is that you don't need to prepare a proxies list fitting a standard IP:PORT format. Instead, you can just add them in any format and rely on a smart algorithm. Besides, HideMyName can recognize proxies using website links: just insert it in the format of http:// or https://.
TestMyProxies is a very quick and straightforward free proxy checker. It doesn't give you much information on your IP address but can perform a check of private proxies. It works simply: you indicate the address in the format 'IP:port:user:password', and get a result within a couple of seconds. The result will appear under a 'Good Proxies' or 'Bad Proxies' tab, depending on the checker's verdict.
The test will show a server's speed, type (HTTP or SOCKS), and location. You can add several proxies at the time, and then export the results. For instance, you can collect all good proxies to create an Excel or Word list.
TestMyProxies doesn't offer any advanced options. Still, it will perfectly work if you need a fast, free, and intuitive check of a private server's basic info. An important note: TestMyProxies may send a good private proxy to the 'Bad Proxies' list if you don't indicate a username and a pass for a check.
Geonode proudly calls itself 'the most advanced proxy checker online. It definitely offers more parameters for checking than the previous one. With Geonode, you can test speed, anonymity, geolocation, and if your server is valid for using Google.
Such a thorough check can take some time, especially if you add several addresses. Geonode allows you to test up to 100 gateways at once, and export the results in .json, .text, or .csv formats. It's possible to check both public and private addresses.
Unlike the previous tool, this anonymous proxy checker is oversimplified. You will need it for only one purpose: to check a single address for anonymity. It's very straightforward: you enter an IP: port in a field, and get an almost instant estimation of the anonymity level.
It's not about checking several addresses and any additional features. Still, this easy-to-use service is a nice way to go for casual users concerned about their safety.
Another very simple tool without any advanced options will help you check if your server works or not. All that you get as a result of the check is the IP address status: working or dead. It might be useful when you need to make a quick check of a public free address. However, ProxyScrape doesn't work with private proxies and doesn't accept the IP:PORT:USER:PASS format.
Like with most other checkers, you can download the results in the .txt format.
However, you won't get any further details, so the service is not at all universal and actually very basic.
Checker Proxy is one of the quickest online tools for verifying a server's status. It can check about 1,000 addresses in 30 seconds and export the results. It checks a proxy type, its speed and anonymity level, location, and helps create convenient lists of working addresses. Besides, CheckerProxy shares a list of free working servers and publishes data of yours for the other users. However, you can tick a 'Do not publish my proxies' box.
Fogldn claims itself to be the standard of proxy checking. It works like this: you download Fogldn software to your PC or Mac, install it, and enter the destination URL to a dedicated field. Then double-click the Import Proxies button to add addresses you want to test. Fogldn works with both public and private options: you can use IP:PORT or IP:PORT:USER:PASS formats.
When you are ready, double-click the Test Proxies button and you will see the speed at which your proxy can reach a particular website. You can export the working proxies list to a text file.
Final words
This overview doesn't cover all reliable checkers you can find on the Internet. Still, they are 100% safe and efficient. It's not a good idea to share your user and pass with the first available testing service: it might turn out to be a scam, after all. For instance, some rogue checkers can use your IP for their own servers. You definitely don't want to end up with your address on a blacklist. So, try sticking to trusted services — as the one ProxyBros experts suggested in this overview.