Next-gen residential proxies, SERP and e-commerce scraper APIs, full IPv6 support, and 7-day free trial.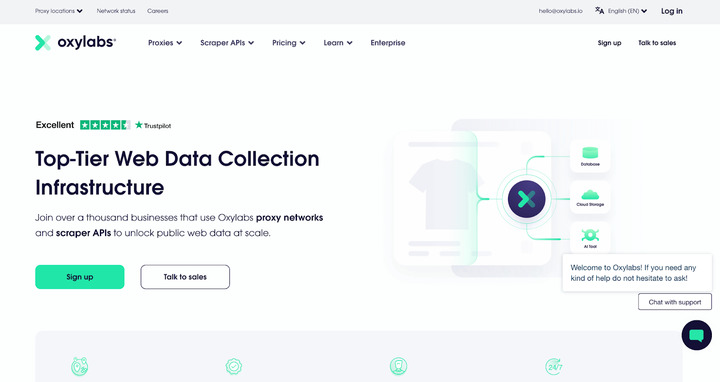 Oxylabs is the major worldwide provider of data scraping solutions and high-quality proxies for massive-scale web data extraction.
Due to millions of high-grade data centers and residential IPs around the world, Oxylabs users can maintain strong data-collecting infrastructures that enhance their business. The service also provides other advanced solutions like Next-Gen Residential Proxies (powered by AI & ML), the data gathering success rate of which is 100% regardless of the target's complexity.
In the context of market research, brand protection, pricing intelligence, ad verification, SEO monitoring, and travel fare aggregation, this provider guarantees the highest quality. At the highest price, others would add… Yet, is it really so? And if yes, is that pricing worth the quality? Let's find out.
Overview
Oxylabs ensure holistic privacy protection for businesses, impeding external websites from accessing private information. As a developer, you may start utilizing a private endpoint tool that helps integrate with different software stacks to operate and doubt proxy data. Selecting a trustworthy proxy server might be frustrating in the current market, especially considering the personal requirements every business or individual now has for applying proxies. We recommend Oxylabs, a rare old tech company engaged in proxy servers and large-scale data.
Feature-Set and Guidance
Taking up a respectable space among all the other tech players in the industry, this provider delivers outstanding features. Here, we highlight just a few of them:
· Datacenter Proxies
· Next-Gen Residential Proxies (powered by AI & ML)
· SERP Scraper API
· Residential Proxies
· E-Commerce Scraper API
· SOCKS5 Proxy
· Web Scraper API
· Mobile Proxies
· Rotating ISP Proxies
Read through more detailed reviews of each feature below.
Datacenter Proxies
This Lithuania-based company guarantees high business ethics standards in all of its operations. They launched on the market in 2015 and keep developing a robust proxy service. Over 500+ companies and worldwide businesses currently utilize Oxylabs' newest technological advancements to collect data for the diverse brand, marketing, and cybersecurity purposes.
More than 102M+ IP proxy pools in 195 locations are being monitored by dedicated systems 24/7. The spectrum of services Oxylabs provides ranges from the worldwide coverage of the largest data center and residential proxy pools to custom-made web scraping solutions. All of its products are insured by Technology E&O as well as Cyber insurance.
Unlike other companies in the industry, Oxylabs doesn't limit the concurrent sessions and enables you to use the same with no bandwidth restrictions. All its solutions are tried and tested, resulting in a very reliable solution for web monitoring. To increase the scraping possibilities, datacenter proxies here support both IPv4 and IPv6. They are also pretty simple to integrate with any third-party software to make the performance even better.
Next-Gen Residential Proxies (powered by AI & ML)
Next-Gen Residential Proxies are the solution for easy web data gathering. They return already parsed results by performing ML-based Adaptive Parsing and assist businesses in scraping even the most disputing data available in public with no IP bans. ML-based Adaptive Parser can adapt to virtually any type of HTML code given from an e-commerce product page.
This tool is customizable and highly scalable given the global 100M+ IP proxy pool at Oxylabs. CAPTCHAs, AI-powered IP blocks, and website change handling features are all available. The integration is hassle-free as it is the same as is with regular proxies. AI-powered proactive fingerprinting makes imitating an organic customer's behavior more natural. In case of unsuccessful attempts, the auto-retry system will mechanically repeat data extraction.
This mainly web scraping API, being based on the infrastructure of the residential IP addresses and having incorporated some extra features to increase the performance, guarantees a 100% success rate. Oxylabs' next-gen residential proxies manage to fetch data, regardless of how complex the target is. AI and ML themselves enable rendering websites and extracting accurate data that fits any business requirements. This product is slightly more expensive than others, yet its performance results are worth the price.
SERP Scraper API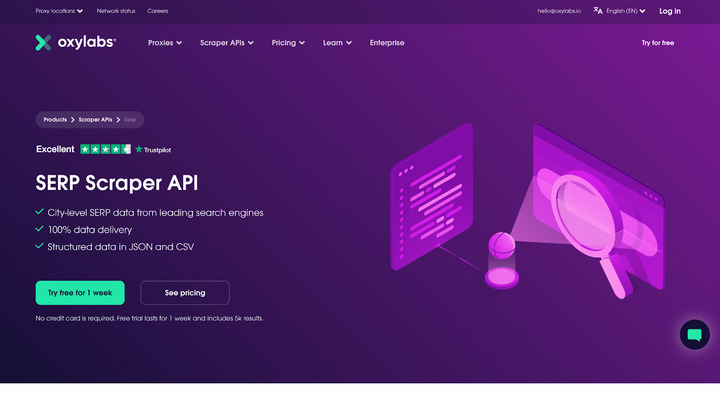 This work tool provides city-level SERP data delivery from all main search engines. It ensures localized search results, real and credible data along with the resilience to SERP layout changes. Don't hesitate to pick it once you require keywords data collection, ads data tracking, or brand monitoring.
SERP Scraper API supports asynchronous as well as synchronous replies and is easy to integrate. The ready-to-use parsed and structured data can be delivered in CSV & JSON formats either through REST API or directly to your cloud (GCS or AWS S3).
Residential Proxies
Some reviews from customers of Oxylabs claim its residential proxies to be the most effective product that can amp up any web scraping project on the go. The pool of more than 100M IP addresses makes it possible for a user to access proxies from every nook and corner of the globe. Furthermore, they boast exceptional uptime of 99.9% making your web scraping project run just seamlessly.
The average success rate is about 99.2%. Given 195 locations available, you will face neither geographical blocks nor any restrictions on the concurrent sessions. The change of an IP address is available with every single request. With the state and even city-level targeting, residential Oxylabs proxies indeed could compete with datacenter ones for the number one pick.
E-Commerce Scraper API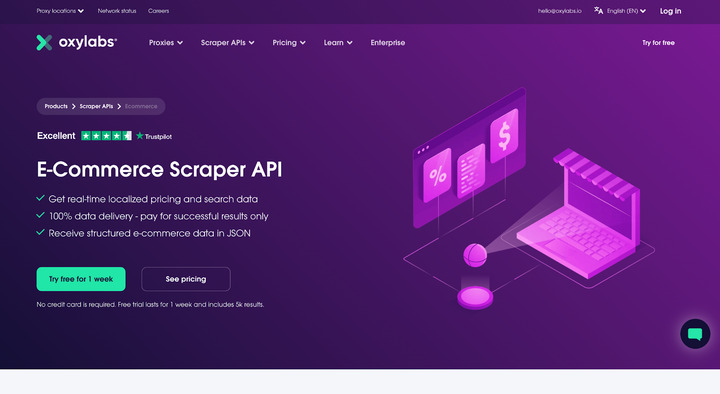 If you need to gather ready-to-use information from e-commerce product pages and do it promptly, with no hassle, and no worries about proxy management, then this tool is for you. It will do all the work for you so that you could focus on the data analysis straight away. The database of e-commerce websites at Oxylabs to scrape from is composed of over 1000s. This e-commerce scraper API has an adaptive parser and is able to return structured data in JSON format.
SOCKS5 Proxy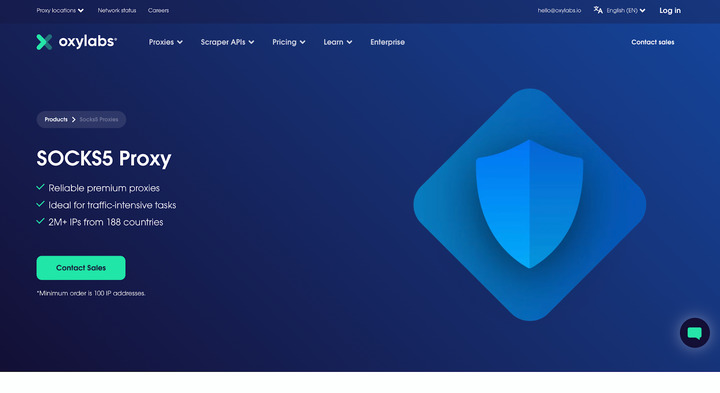 The network supporting the SOCKS5 protocol consists of 2 million IP addresses from 82 countries. This Oxylabs proxy is perfect for traffic-intense job goals when HTTP/HTTPS is just not enough, and you require a UDP connection.
The company boasts of its residential IPs network (over 100+ million in total) as well as its datacenter IPs network (highlighting more than 2 million IPs), both of which are probably the largest out there with a pretty admirable geographical coverage. Datacenter proxies are fast and cheaper than residential ones, yet they are also easier to detect and be blocked by spam filters.
Web Scraper API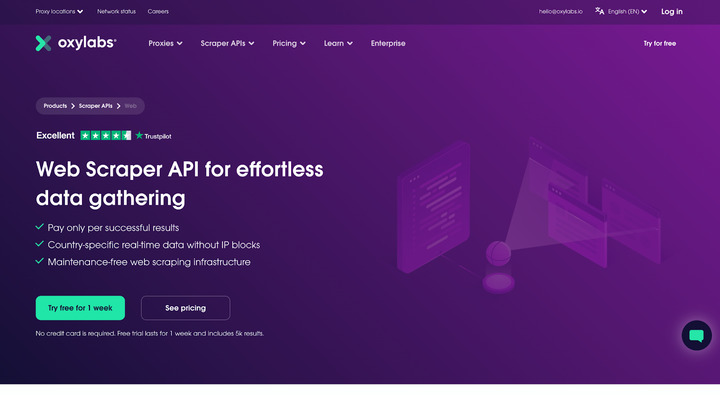 Scraper APIs are considered an all-in-one solution for effective web scraping as they can help you collect real-time data from any public website. At Oxylabs, they are easy to use and do not require any infrastructure or extra resources from the user's side. This solution will exempt you from worrying about setting up and maintaining proxies.
The tool is highly customizable and offers a 100% success rate. It supports high volumes of requests and nullifies the risks of getting blocked. No maintenance is required as Scraper APIs handle website changes, proxy management, and IP blocks. It also contains a Proxy Rotator – a licensed feature for block management.
You can apply this instrument for SEO monitoring, sales intelligence, and e-commerce.
Mobile Proxies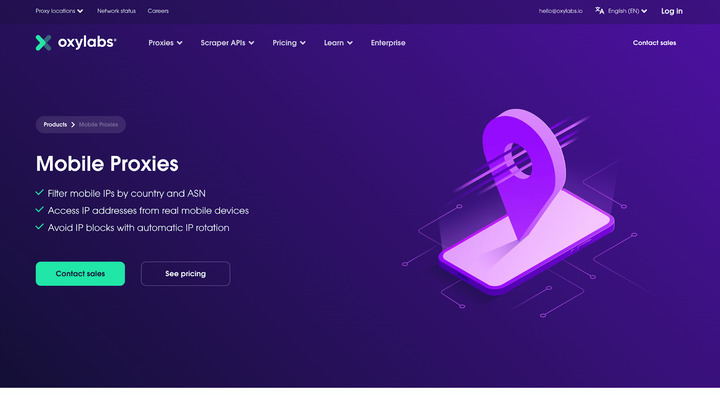 Even the most challenging geo-restrictions could be overcome due to the stable IP pool of Oxylabs Mobile Proxies. It has an extensive list of locations and ensures ASN and country-level targeting. More than 20M+ mobile IPs across the globe will help you let go of IP bans and CAPTCHAs. Whereas automatic mobile IP rotation will enhance the success rates of your projects.
They are easy to integrate by merely utilizing a single endpoint that mechanically appoints pre-checked mobile proxies to your connection (no proxy lists' import is required).
Rotating ISP Proxies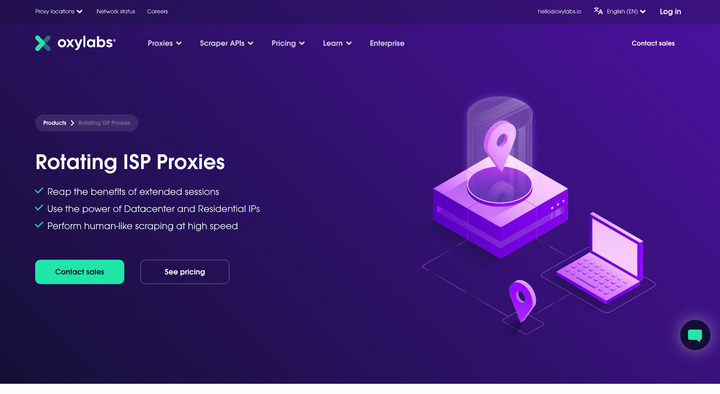 Oxylabs offers the solution that warrants a long session time, ensuring you collect all the data required without facing connection errors. Steady sessions enable you to continually go through all the needed scraping steps and get access to various pages with the same IP address. All this results in obtaining data effectively with no delays.
Rotating ISP proxies from Oxylabs include the best features of residential and data center ones. They are just as quick as data center options and just as difficult to detect as residential ones. In those competitive scraping cases when frequent requests and speed are crucial, rotating ISP proxies perform just perfectly.
Even though Oxylabs' ISP proxies are hosted on datacenters and perform with high velocity, they carry real IPs distributed by official Internet Service Providers. Regardless of the site that you try to access, it will identify you as a real user. This will lead you to gather public information even from the most complex target websites.
Proxy Server Network and Distribution
A lot of automation operations online have to deal with submitting hundreds and thousands of requests to a website and doing so in a minute. Whether you use a proxy or not, sending requests at such rates from the same IP address would certainly make any website suspicious. In the best case, it will identify such requests as bot-originating and decline to provide the required data. In the worst case, though, you could be considered a hacker performing a targeted Denial of Service (DoS) attack, and, thus, your IP address will be blacklisted.
For preventive purposes in such a case, you need to change IP regularly either every time period or session. This changing process is known as IP rotation. It usually performs best provided that IPs are from diverse locations. So, that is where the servers' network, as well as their distribution across regions, come in. In case a proxy service can offer residential IPs only from a particular country, such a company will not be able to serve well in terms of large-scale work. This is because it won't be able to suggest the mix and variety required to mislead a web server as if the requests are coming from various devices in diverse regions.
And this is where Oxylabs comes into play and performs just the best. The company claims to have a network of more than 30 million IPs allocated across all countries. This guarantees that your IP won't be blocked and you won't be disturbed by captchas either. They come up with an interactive map indicating the number of IPs in a particular country. And as for the proxy entry points, there are two of them here – a sticky and a random one.
The sticky entry point ensures a proxy to apply every 5 minutes. Once 5 minutes pass, you will be given a new one. This should be enough as hardly any website would be wary of a 5-minutes surf from the same IP address.
Whereas the random entry point provides a substitute IP for each web request that you send. This means, for example, that the IP address you applied while visiting a website homepage differs from the one you will have for logging in. And so, one by one, the IP address will keep changing.
Usability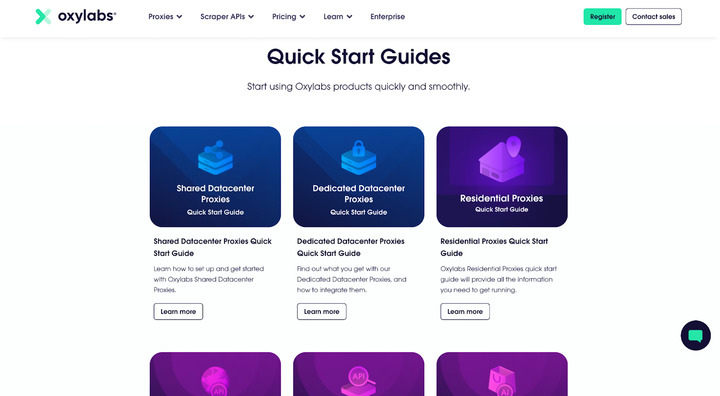 So, once you purchase a plan from Oxylabs, you log into a new account and have access to the dashboard. Basically, it is a one-stop proxy management hub, which looks like many other dashboards from other companies. However, it differs here significantly and you'll need to learn how to deal with it most productively. Yet, for good reason: this company just has many more features than its counterparts on the market, some of which are quite rare yet very useful.
From the very start, we advise creating one or more sub-users to help you manage all your projects. Afterward, you will be able to adjust their activities according to your needs. For example, you could limit the traffic this or that sub-user can consume, which is a convenient way to manage your bandwidth distribution.
While other providers usually show regular proxy lists in plain text, Oxylabs can do it in JSON format. And its Statistics page demonstrates how your projects are going in every detail, featuring target domains, number of requests, used traffic, errors, and other important specifications. Many other things in this dashboard work similarly to elsewhere, you shouldn't find it complicated.
To help every client customize the service according to their exact needs, the company advises checking through a knowledge base that covers basically everything you would want to know, from the dashboard credentials to more complex options to help. Another useful resource here is the Integrations page with helpful tutorials on how to work with Puppeteer, Octoparse, Jarvee, and many other third-party instruments, as well as the more technical developer's documentation.
Any other assistance you might need is available via live chat 24/7. Otherwise, you can send an email or raise a ticket. Some reviewers have claimed to get 'premium' support and the company seems to deliver it – we think it's great, especially if you are engaged in a heavy-duty proxy project.
Customer Service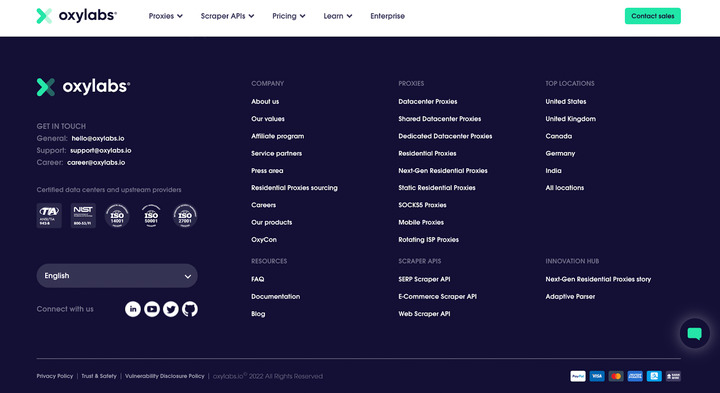 Using a proxy network provider that has supportive customer care is essential. In fact, the level of customer support responsiveness is what makes a provider either excellent or inferior. Oxylabs, in particular, claims to suggest customer care services 24/7, however, some users have complained that is not the case as they have managed to solve their issues only by reaching the service via email.
Whereas trying to contact them via other channels like social media or live chat has led to no replies. Yet, even replying to an email might take Oxylabs a rather long time, thus one could forget about such a luxury of receiving an instant response to queries. Some users even claim that the company's support team may often be arrogant and provide poor-quality assistance.
Their review page at TrustPilot has an overall rating of 4.7 out of 5, which looks quite impressive. And although most users highly appreciate the quality of proxies and Oxylabs pricing, most negative reviews refer to extremely poor customer service support and issues with refund policies (caused by, again, a non-responsive customer team).
Indeed, it got to be disappointing for the provider to guarantee the top-notch quality, take care of its market reputation, constantly devise new plans, and work on improvements, while poor customer service might sometimes nullify it all at once. Hope it will change soon and Oxylabs will become a well-deserved pick number one.
Performance Testing
Mere introducing the service to our audience is not enough. That is why we tested Oxylabs proxies' latency (or ping) as well as their speed so that you could be well aware of what to expect for sure.
The speed of a proxy is the volume of data that, every second, can pass through the gateway. Whereas latency means the amount of time it takes for the information to go from the host to the server and back. Hence, a good proxy must have a small ping and great speeds.
In order to have something to compare the tests' results with, we first test our VPS with no proxy. Afterward, we picked 3 UK, 10 US, and some Canadian proxies to conduct testing. The results were not bad, given that the velocity of residential proxies is restricted by the host's internet speed. In some cases, the latency might look a bit concerning, but it is not rare among other counterparts.
| | | | |
| --- | --- | --- | --- |
| Type ofProxies | Average Ping,MS | Average Download, Mbps | Average Upload, Mbps |
| Residential | 82,3 | 69.3 | 163.16 |
| Datacenter | 67,9 | 232.6 | 140.8 |
All the proxies we tested had a download speed of more than 50 Mbps which is sufficient for any proxy activities (streaming HD content included).
You will have a hassle-free experience with any server performing well if its ping duration is less than 200 milliseconds. The lower the ping of a server, the better your experience would be.
| | | | | | | | |
| --- | --- | --- | --- | --- | --- | --- | --- |
| | Instagram | Google | Twitter | Amazon | Craigslist | YouTube | Pinterest |
| Access | ✔️ | ✔️ | ✔️ | ✔️ | ✔️ | ✔️ | ✔️ |
One of the main purposes for applying proxies is to get access to particular sites by hiding your real location. As we all know, most well-known and complex websites are pretty good at detecting whether or not you use a proxy. However, Oxylabs has managed to do its job the best as we did access the most crafty sites, including Instagram (although the proxy rotated in this case).
Pricing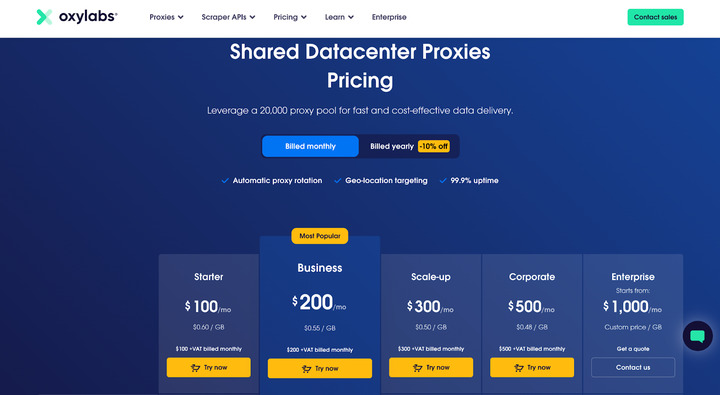 Oxylabs provides a rather large range of products that contain data center, residential, ISP, mobile, and SOCKS5 proxies. Other offers are targeted at a more general purpose, e-commerce Scraper APIs, or search engines.
Next-Gen Residential plan, leveraging machine learning and AI, ensures a 100% success rate, for instance, and its cost starts at $360 per month. These particular proxies, by the way, use CAPTCHA handling, dynamic fingerprinting, adaptive HTML parsing, as well as JavaScript rendering, which makes automatic retrying run without any problems.
The company recently launched a new shared data center proxy plan for an as low price as 100$/month!
The price for residential proxies starts at $300 per month, offering 20 GB of bandwidth. At the other end of the spectrum, there is also a plan suggesting 1 TB for $5,000 per month.
You can purchase the cheapest plans online and get started with Oxylabs proxy services right away. However, most users start by reaching out to the company's sales team and articulating their individual needs. That way, the sales team could work your requirements through and come up with the best options that should fit precisely your needs.
Yep, even starter plans might seem pretty expensive at Oxylabs, but we still highly recommend you contact the sales team as they have some free trials available if you ask them or share some of your doubts.
Final Verdict
With Oxylabs, you won't be disappointed if you fall into its target audience. Let us be blunt about it: this is not the kind of service where you purchase a plan and walk away with some flimsy instruction manual. This proxy provider is for business rather: delicate, refined, and no-nonsense.
Here, you will be collaborating with real people who will be well aware of your name and requirements as well as proactively endeavor to keep you content. At Oxylabs, you can be sure to get great service, and even more importantly – one that's trustworthy. The proxies really are of superior quality, and so are the scraping tools. Simply put, you will be in good hands.
In return, you will have to pay more. The entry threshold is pretty high, too, as this provider implies 20 GB of residential proxies as "basic". However, the Oxylabs pricing becomes much more appealing with advanced plans. Hence, this proxy service is indeed for the best of the best and for those who will be able to make full use of it.
FAQ
Are Oxylabs' residential proxies self-rotating?
Here, they are rotating proxies by default. Dissimilar to a fixed proxy, which issues a single constant IP address, this rotating residential proxy grants you access to a pool of IPs.
How hard is an Oxylabs' rotating proxy to detect?
Basically, the easiest proxy to reveal is the data center one, whereas a residential proxy is much harder to discover. Rotating ISP proxy is the hardest to intercept because it is the complex of the speed of a data center proxy and the ability to stay latent from the residential one.
Any free trial for rotating proxies at Oxylabs?
Yes, to test a free trial, you are required to complete a contact form on the website. If you represent a company, you can get a seven-day free trial. As an individual, you might expect a three-day money-back guarantee trial.
Have you already used this proxy? Or do you still need some additional info about the solution? Feel free to share your experience and ask any questions below!