SOCKS5 is a protocol that changes your IP address and directs online traffic via a proxy server. It is the most secure tool for bypassing internet blocks and accessing geo-restricted content. This protocol is widely used in web scraping, gaming, torrents, and video streaming. Our team has researched and compared the top 10 companies that provide SOCKS5 proxies based on customer reviews, prices, and features to identify the best providers.
Top 10 SOCKS Proxy Providers – Brief Overview
When choosing the SOCKS proxy server, it is essential to know that it has two different versions: SOCKS4 and SOCKS5. SOCKS4 only supports TCP protocol, while SOCKS5 supports both TCP and UDP protocols. Besides, the SOCKS5 proxy is compatible with various authentication devices.
For this article, we studied and compared multiple proxy providers to determine the top 10 companies that provide SOCKS5 proxies. We focused on the following criteria to identify the most appropriate providers: customer reviews, price, and features.
What Is SOCKS5 Proxy?
SOCKS5 is the most modern version of the SOCKS protocol tailored to be more suitable for irrational forms of traffic. SOCKS5 is valuable for that software that can be hard to use with most proxies. For instance, when the applications do not allow you to use proxies due to performance or abuse prevention, you can use "Socksfiers," also known as proxy "wrappers". Socksfiers can force the application traffic through the chosen SOCKS proxy without notifying the application.
Diving deeper into the benefits of SOCKS5, if you are interested in any traffic based on TCP or UDP, this connection can efficiently work it through. Additionally, several applications directly support SOCKS5, even though they do not have an entry for proxy configuration in the main settings, while other applications use the operating system's default proxy configuration. The SOCKS5 proxy server is challenging to detect. However, depending on the program settings, tools, and use cases, it is still possible. For example, if you use the SOCKS5 proxies for web scraping, they will not differ from most types of other proxy servers, including the detection rate, amount of proxy IPs, and sorting requests.
SOCKS5 Best Features:
Concealing the IP address – high level of anonymity
Working with all kinds of data
Outstanding for high-volume traffic
Immense demand
How Does SOCKS5 Work?
SOCKS5 proxies are similar to HTTP proxies yet have several differences. When using a SOCKS5 proxy, you start with an SSH application found on the client's computer and connect to the proxy server through it. In addition, computers like Mac and Linux have SSH by default, meaning you can install a putty application to do this.
The first process is called tunneling, where the client laptop makes a web request to the SSH application, sending the HTTP connection through the existing SSH connection with a present proxy server. After all, the proxy server will send an HTTP connection to the website and wait until it responds. When the website responds to the proxy server, the tunnel will back that connection to the SSH application, where the SSH application will return the response to the client computer. The benefit of tunneling is that the metadata will be exposed on the proxy server instead of the client's laptop.
What Are SOCKS5 Proxies Used For?
They have numerous benefits, including increased anonymity, access to censored content, web traffic analysis tools, and parental blocks. SOCKS5 proxies are reliable premium connections that are ideal for traffic-intensive tasks. Different providers offer similar benefits, including up to 2M+ IPs from 80+ countries.
These proxies guarantee fast speeds that suit any business needs. They help companies monitor copyright infringements on the web and ensure the content is legitimate and visible on versatile browsers. Unlike HTTP(S) connections, a SOCKS5 proxy can go through a UDP connection and work with any traffic-intensive scraping, including video streaming and live calls.
SOCKS5 Proxies: Comparison
Based on the pool of services analyzed, top solutions offer affordable prices and versatile benefits for every customer. Whatever you plan to use proxies for, they should serve your purpose – that is why paying close attention to the features is essential. Test-driving them will help to ensure the quality matches the money paid for the service. However, a trial is not always the case, so you'd better determine which type suits your needs. Let's break down the nuances, comparing SOCKS5 proxies with available alternatives.
SOCKS5 VS HTTP(S)
The main difference between SOCKS5 and HTTP(S) is how to work with data. For example, HTTP has two network traffic processing and transmission schemes, tunneling and caching, while SOCKS5 processes any network traffic without sending it to the client. In other words, HTTP aims to work with network resources through a browser, while SOCKS5 ensures compatibility with different protocols.
SOCKS5 VS SOCKS4
The main difference between SOCKS5 and SOCKS4 is that SOCKS4 does not support authentication and UDP proxies. By contrast, SOCKS5 supports numerous authentication methods as well as UDP proxies.
SOCKS5 Proxies: Strengths and Weaknesses
Pros of SOCKS5 proxies include the following:
SOCKS5 proxies can be used with any data, including web pages.
These proxies ensure the highest level of anonymity.
They work with traffic-intensive tasks.
Among the most significant downsides are as follows:
SOCKS5 is not recommended for online payments and anything related to sensitive personal information, as the data going through them is unencrypted.
Not all applications support SOCKS5.
These proxies usually cost more than HTTP(S) IPs.
Top 10 SOCKS5 Proxies Review
1. Smartproxy – Best Elite Proxies for Any Online Activity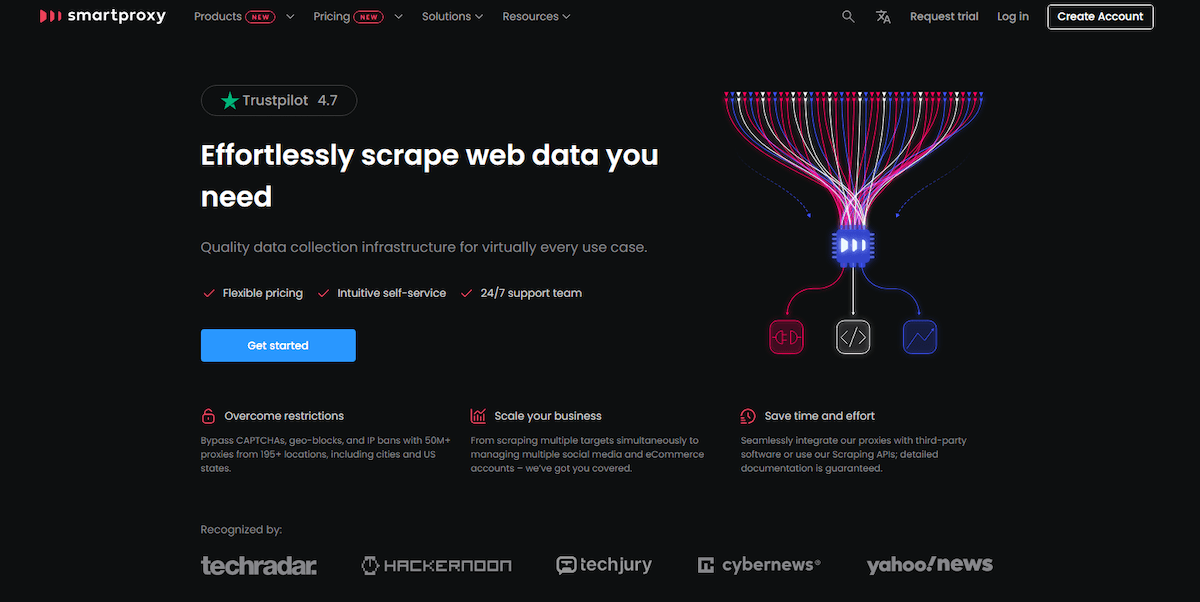 Key Features:
50M+ IPs

Locations around the globe

City-targeting

No CAPTCHAs

Choice of sticky or rotating session
99.99% uptime

Flexible pricing

The selection of dedicated datacenter, residential, and

mobile proxies

IP randomization

Unlimited GBs

The average connection speed of 0.3s

Unlimited threads
Best Suited For: web scraping, market research, accessing geo-restricted data, verifying ads, encrypting traffic.
2. Bright Data – Category Leader #1 in Web Data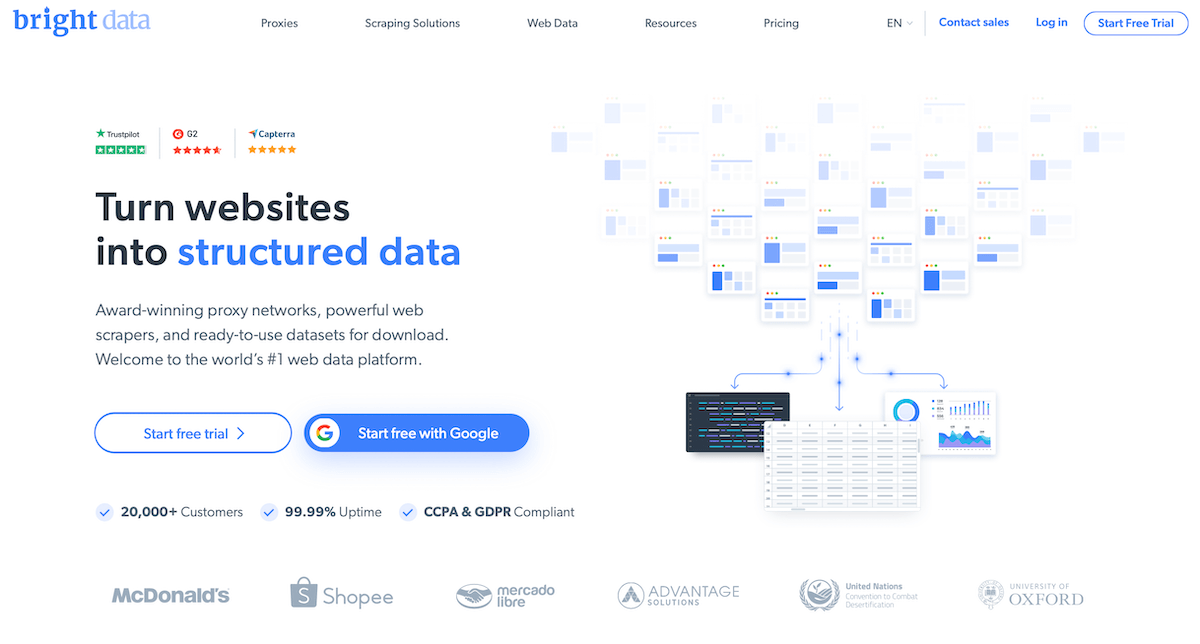 Key Features:
Datasets
Data collection
Proxy infrastructure
Ad verification
E-commerce
Travel aggregation
SEO monitoring
Market research
Search engine results crawling
Website testing
Request a custom solution
Best Suited For: business leaders, decision-makers, analysts, software engineers, IT professionals.
3. Oxylabs -The Best Premium SOCKS5 Proxies For Business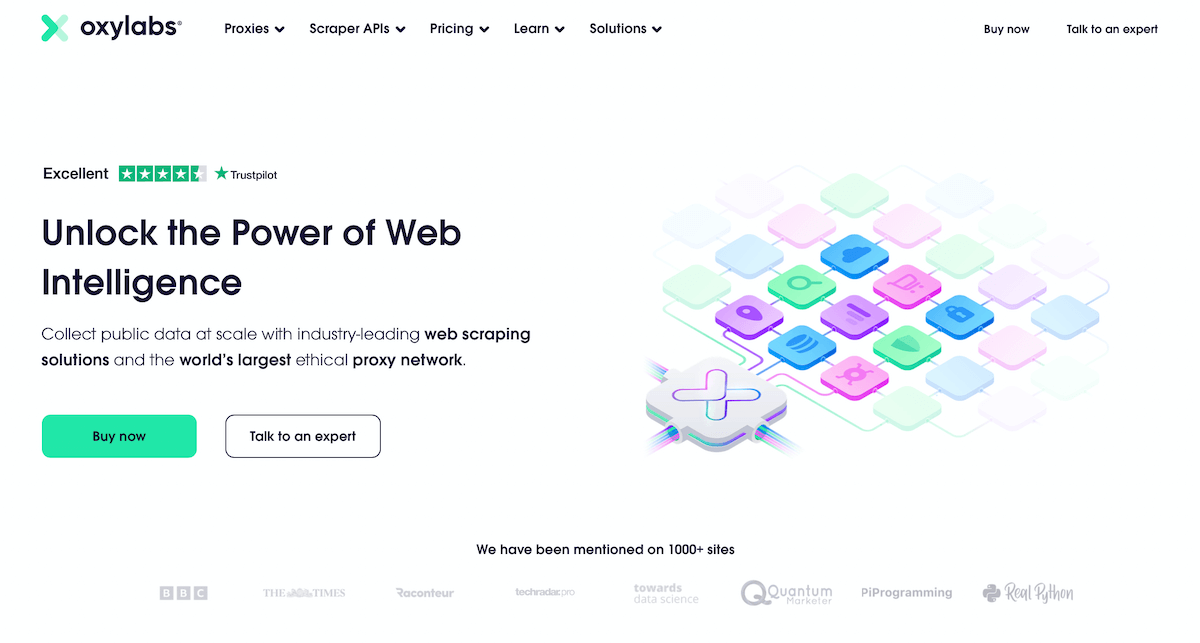 Key Features:
Dedicated account manager
Unlimited bandwidth
Custom setup
ASN and country filtering

Quality Parsing DOM
Chrome extension
Auto-retry system
Built-in security tools
Effortless integration
24/7 live support and instant help
Datacenter, residential, and next-gen residential proxies
Scraper APIs
Best Suited For: market research, brand protection, travel fare aggregation, ad verification, cybersecurity, SEO monitoring, price monitoring, and email protection.
4. Shifter – Best Proxy for Web Scraping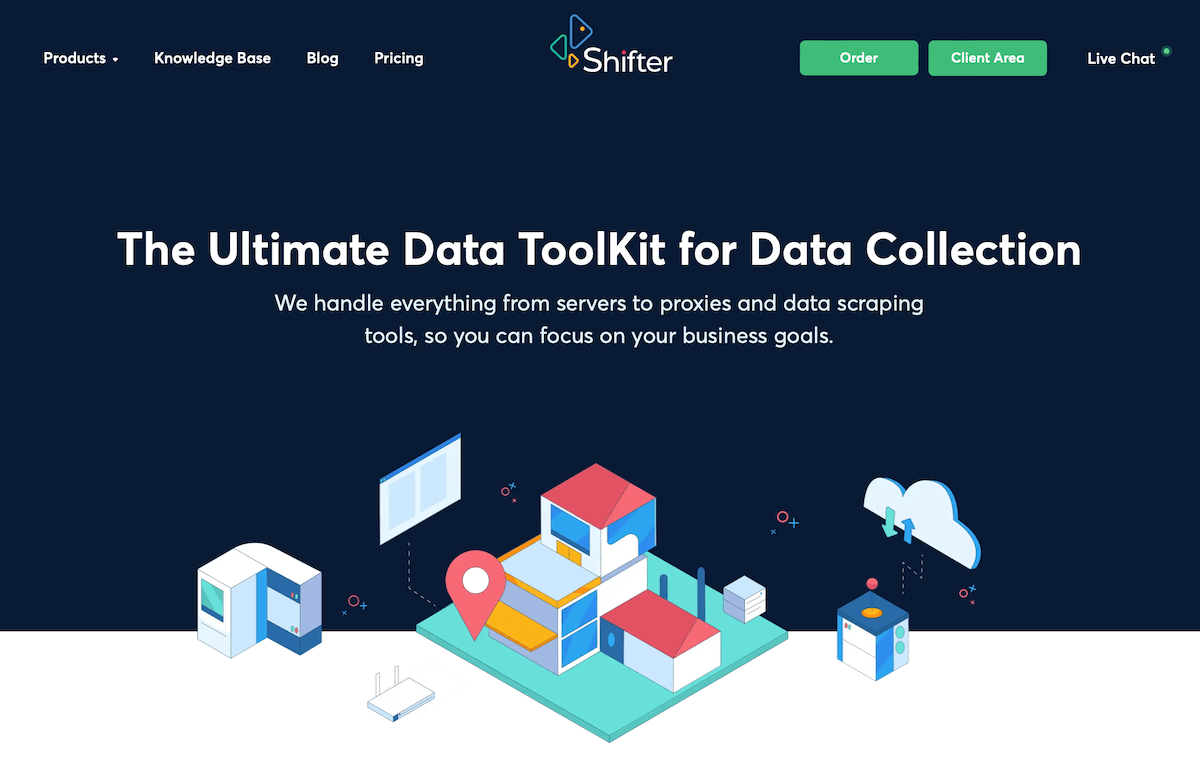 Key Features:
99.99% Uptime
Super speeds
Over 50+ million IPs
24/7 customer support
Multiple subnets
Best Suited For: web scraping.
5. Rayobyte – The Most Affordable Proxy Provider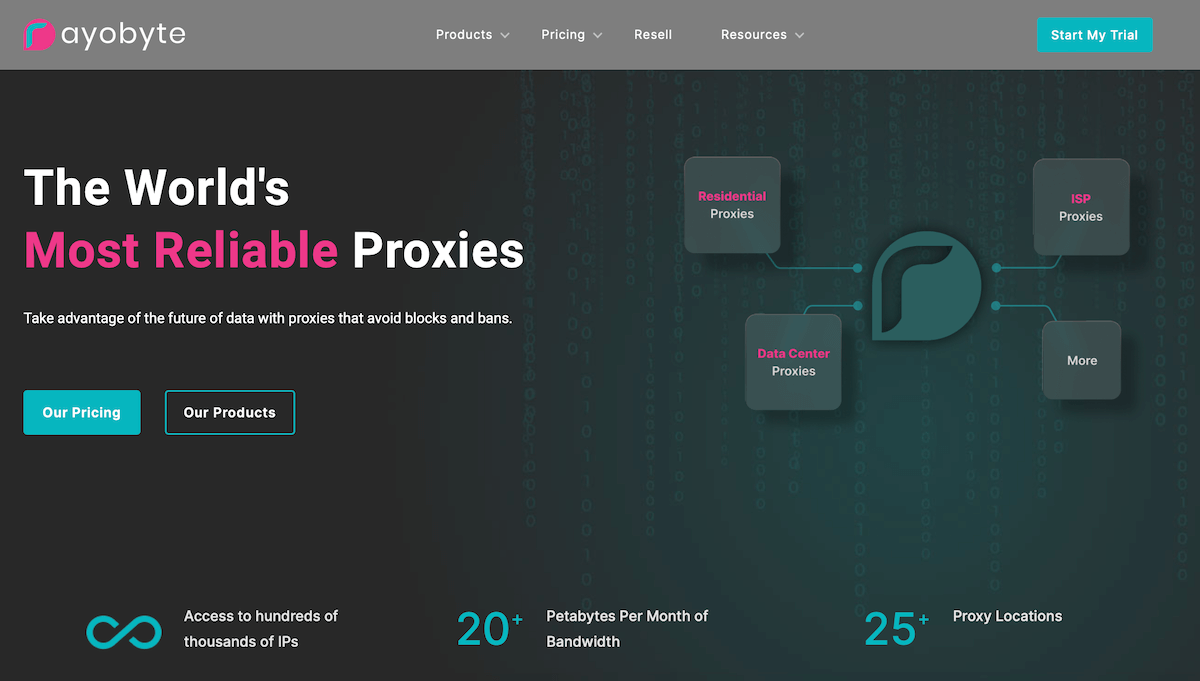 Key Features:
Residential, Mobile, ISP, and Datacenter proxies

Proxy Pilot (Beta) and Scraping Robot
Unlimited bandwidth
Concurrent connections
Free trial
Best Suited For: e-commerce web scraping, SEO monitoring, market research, price monitoring, tracking, review monitoring, non-profit data collection.
6. LimeProxies – Best for DNS Leak Protection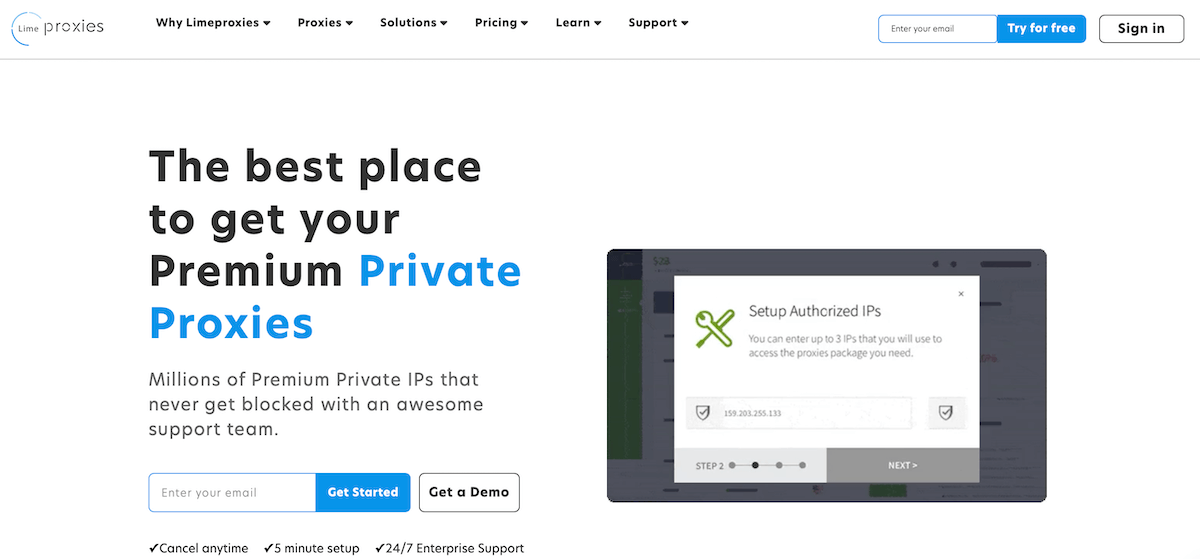 Key Features:
256-bit encryption
DNS + IPv6 leak protection
Multi-mixed subnets
Dedicated proxy control panel
5-minute setup
Best Suited For: market research, travel fare aggregation, ad verification, pricing intelligence, SEO monitoring, online gaming, sales intelligence.
7. SOAX – Best for Specific Geo-Targeting
Key Features:
Elite proxies
Detailed geo-targeting (including ISP-level)
 No usage limitation
100% whitelisted
Data gathering tool
Best Suited For: price monitoring, ad verification, SEO monitoring, data collection, market research, speed testing.
8. ProxySeller – Best for Social Networking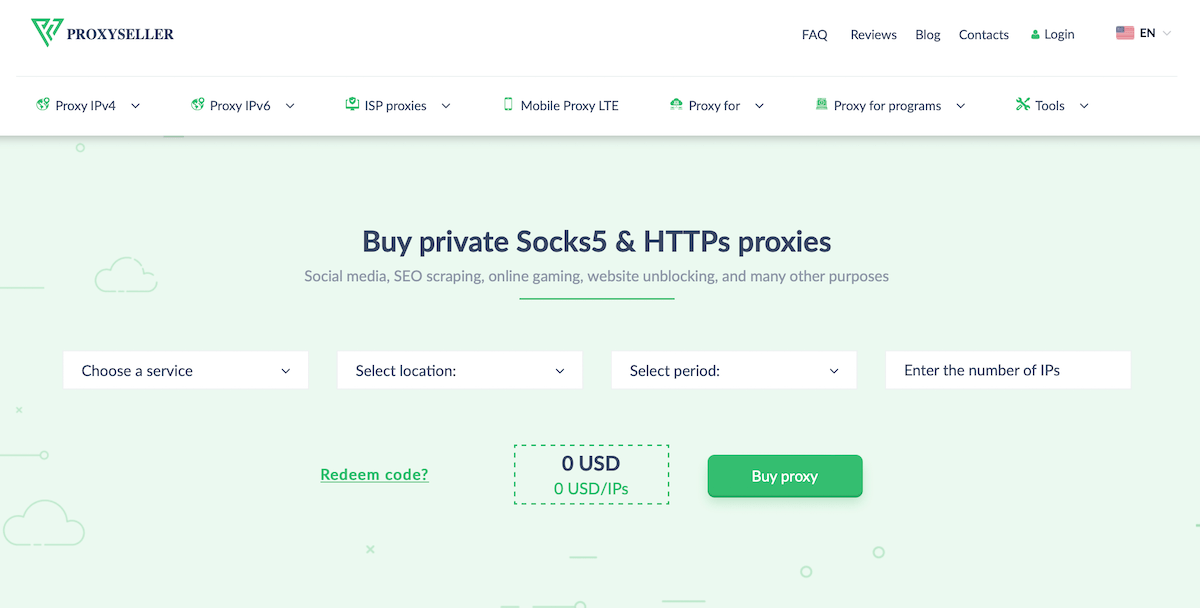 Key Features:
Flexible payment options
SOCKS5 and HTTPS protocols are available
Access data within 5 minutes after purchase
400 networks and 800 subnets
Multifunctional panel control
IP masking
Encryption
24/7 customer support
Best Suited For: social media marketing, gaming, and surfing.
9. ProxyBonanza – The Cheapest Proxy Provider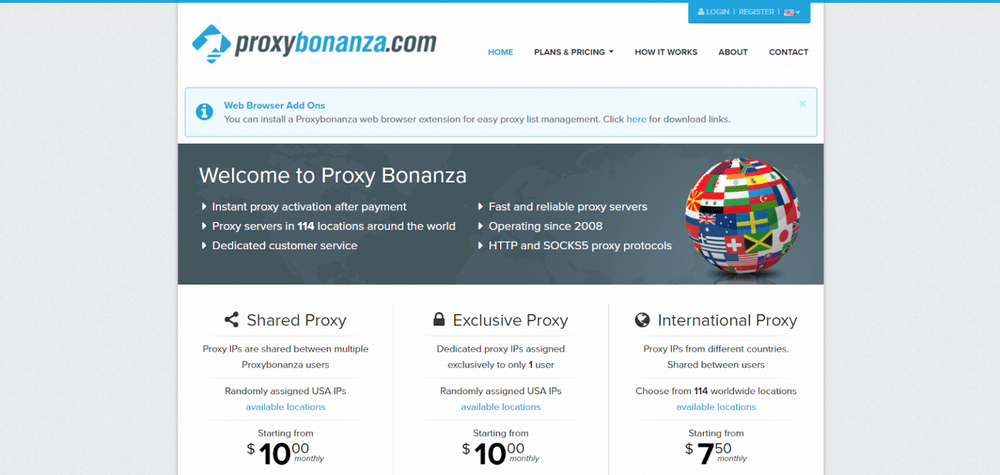 Key Features:
HTTP and SOCKS5 proxy protocols
114 locations around the globe
Dedicated customer service
Fast and trustworthy proxy servers
30-day money-back guarantee
Web browser
Cheap proxy packages
Best Suited For: automation and international marketing.
10. Proxy-Cheap – Best For Flexible Pricing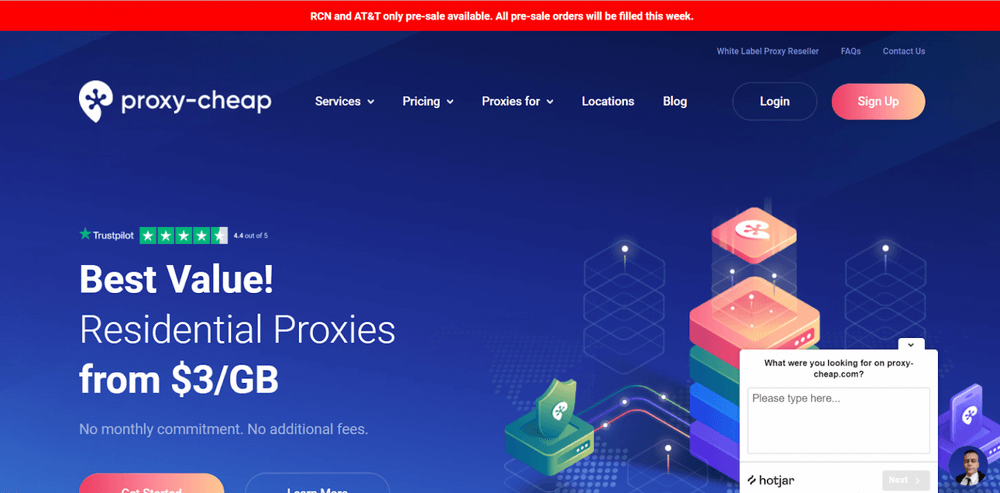 Key Benefits:
127+ proxy locations
Flexible pricing from

$1.99/GB

24/7 support live chat
Worldwide network –

11M+ IPs

Self-service dashboard
Instant setup proxies
Proxy generator
Best Suited For: market research, sales & e-commerce, sneaker & tickets, and data scraping.
FAQ
What is better to choose between SOCKS4 and SOCKS5?
To choose the appropriate proxy, you need to understand their main differences. SOCKS5 is a newer version of SOCKS4. It has several unique features like authentication options, support for IPv6 IP addresses, remote DNS queries, and compatibility with the UDP protocol, while SOCKS4 does not offer that all.
What Can I Do with SOCKS5 Proxies?
Once you purchase SOCKS5, you can use it for various purposes. For example, you can hide your IP address, chat and make video calls, use streaming websites, download torrents, play different games, access blocked content, etc.
Are There Any Disadvantages of Using SOCKS5 Proxies?
While the SOCKS5 proxy has numerous advantages, it also has some drawbacks. For example, the data that goes through SOCKS5 proxies is unencrypted, which means it is not advisable to use for browsers where you need to leave your personal information or online payments. Besides, not all applications support SOCKS5, and the prices are higher than other proxy types like HTTP(S) IPs.
Can I Get a Free SOCKS5 Proxy?
Technically, you can find a free SOCKS5 proxy, though it is not advisable due to the lack of features. Free proxies are slow and unreliable because you need to share them with others. Yet, you might experience downtime because the provider will not be interested in resolving it. If you are on a budget, you can try to find more affordable SOCKS5 proxy providers that can offer you a good deal.
What Are the Best SOCKS5 Proxy Providers?
We studied and determined the 10 best SOCKS5 proxy providers that offer great pricing options, features, and customer help. Do not hesitate to scroll up and read about the Top 10 SOCKS5 Proxies.