A proxy server is an intermediary between a device connected to the Internet and the rest of the Internet.
If you have thought about improving your company's data security or taking your work with data to another level, you know about proxy servers.
Proxy software products bring benefits to businesses in many ways. Among their main advantages are high-security level, data privacy, and anonymity. Besides, they can greatly optimize your overall work processes like data gathering, analysis, market research, or web browsing — part and parcel of every company. Finally, proxies allow you to save the bandwidth of your internet connection and so reach the fastest possible connection speed.
We have researched and compared the best proxy services on the Internet. As a result, we found the ones best suited for business and personal use. Why?
First, they are optimized for different use cases and have various pricing plans. Besides, each company has a personal approach to customers and provides them great UX.
This proxies review will guide you through top providers' terms to help you choose the best proxy service for you.
PAID options
FREE options
12. Hidemyname – best free proxy list
13. BrightData – best free VPN
14. Smart DNS Proxy – best for bypassing DNS block
15. CroxyProxy – the best free online proxy tool
Proxy Recap
What Is a Proxy
A proxy server is an intermediary between a device connected to the Internet and the rest of the Internet. All the user data passes from a device to a destination server through a proxy server. This connection scheme can be used in many different ways to make the Internet browsing experience more efficient.
Proxy Server Use Cases
Work with data
Browsing anonymously and securing the data are essential parts of any data-gathering job. Proxies are in high demand for such use cases: SEO monitoring and optimization, SERP tracking, web scraping, data aggregation, web testing, lead generation, and social media (boost followers' engagement).
E-commerce and Finance
Some purchasing and finance schemes require a high level of anonymity, fast connections, and bot integration. Intermediary servers are widely used for collecting stock market data, data mining, crypto exchanges, retail, and e-commerce.
Cybersecurity
According to the annual FBI report for 2021, the overall number of complaints of suspected online crimes has exceeded 847.000 in the USA. This is almost twice the amount in 2019. In 2019 the FBI reported 467.000 complaints. Most of the cases were the consequence of identity loss or a data leak.
Proxy server is a data security technology that can help to avoid scammers and hackers. It masks a user IP with another IP and works as a firewall to avoid malware and threats. Many companies buy intermediaries for security reasons: malware protection, preventing hacker attacks, DDOS protection, brand protection, identity protection, and software protection.
15 Best Proxy Servers – Free & Paid
PAID options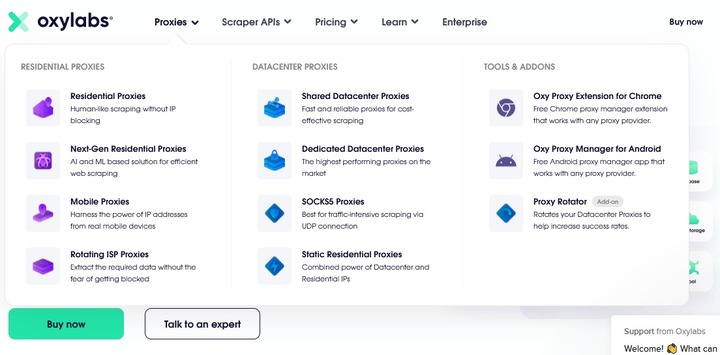 Oxylabs is one of the most known data security companies. The service provides comfortable solutions for individuals as well as stable and reliable business offers. Oxylabs has its own residential proxy network and servers for demanding clients. Corporate pricing plans with terabyte traffic and special terms are available.
The range of purchasing options is impressive. The packages include datacenter, residential, ISP, and mobile servers of all kinds. There are private proxies, servers with IP rotation, and IPs based on AI technology. Moreover, Oxylabs offers its proxy management software, such as Android manager and Chrome browser extension.
Oxylabs offers payment plans based on traffic. An example of Oxylab pricing is listed below:
Residential IPs – 25 Gb traffic – $300/month; 1 Tb traffic – $5000/month
Mobile IPs – 20 Gb – $500/month; 1Tb – $11000/month
Key features
Residential pool (over 100 million)
Datacenter pool (over 2 million)
Mobile IPs
SOCKS5/HTTP servers
Dashboard available
Unlimited concurrent sessions
Big business solutions
IP rotation
High anonymity
Best suited for: Market research, brand protection, SEO monitoring, ad verification, and web scraping.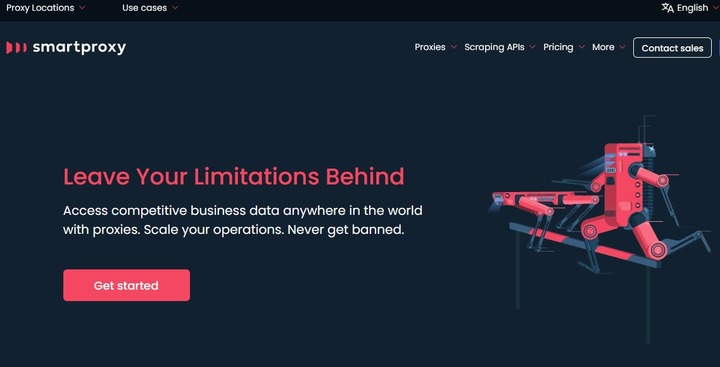 SmartProxy is a premium proxy provider that offers a P2P network and its own stable proxy servers. The platform can boast an excellent price-to-quality ratio and flexible pricing.
SmartProxy is also one of the best free software services for IP management. The anonymous multi-session X-browser helps to avoid detection using anonymous fingerprint profiles. Firefox and Chrome add-ons allow you to keep and configure proxy server lists inside your browser. Address Generator lets you use and manage the whole proxy pools.
SmartProxy payment plans are quite affordable. An example of SmartProxy pricing is listed below:
Residential IPs – 1 Gb/month – $12.5; 100Gb/month – $700
Datacenter IPs – 50 Gb/month – $30; 1Tb/month – $500
Key features
Residential pool (over 40 million)
Datacenter pool (100K)
ISP IPs
SOCKS5/HTTP
Dashboard available
City-level targeting
IP rotation
High anonymity
Three days money back option
Best suited for: Market research, social media, and retail.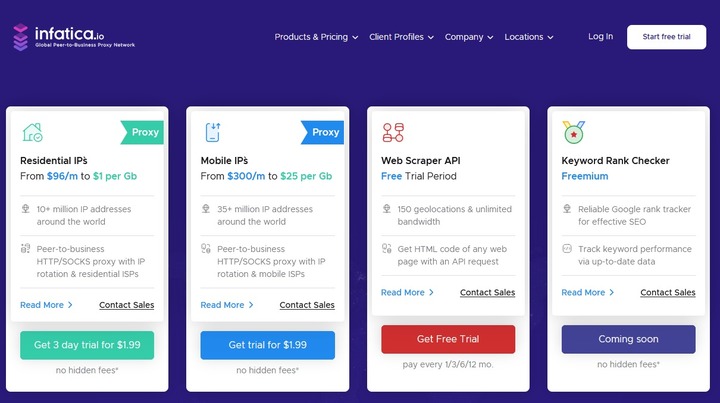 Infatica is a P2B proxy network that offers residential proxies as well as mobile ones. It also offers SEO software such as Web Scraper API and Keyword Rank checker to help your business optimize your marketing content. Informatica is a service with a constantly growing IP pool and countries-based geo-targeting.
Infatica offers a splendid variety of payment plans. An example of Infatica pricing is listed below:
Residential IPs – 8 Gb/month – $96; 1000Gb/month – $3,500
There are custom payment options for companies. To get your own flexible plan, contact Infatica to create it.
Key features
Residential proxy pool (over 10 million addresses)
Mobile IPs
HTTP/SOCKS
Free trial
SEO Software
Best suited for: Brand protection, cybersecurity, SEO services, and marketing.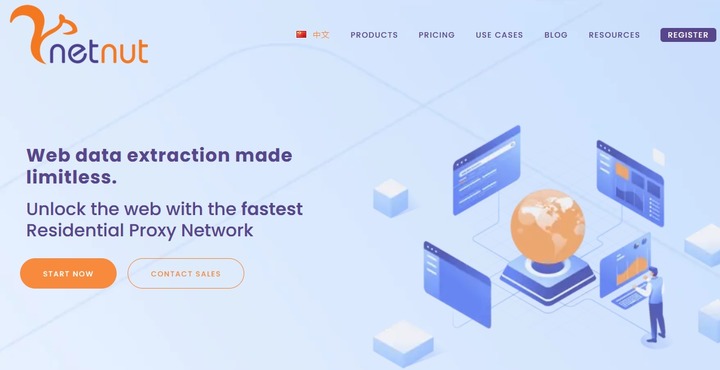 NetNut is a premium proxy provider best known for its ISP proxy network. It offers stable and fast residential, datacenter, and ISP servers.
The company's main products are static ISP intermediaries. NetNut has more than 1 million static IPs. These ISP connections show really high speed and nice performance due to ISP direct connectivity. The company cooperates with DiviNetworks to have direct ISP connectivity instead of using a P2P network. This feature makes NetNut the fastest service in the market.
The prices for ISPs start at $25 for 1 Gb to $5000 for 1Tb. City/state targeting is available from a Semi-Pro plan which is $2000 for 250 Gb.
Key features
Residential proxy pool (over 20 million)
1 million ISPs
Great speed
Seven days free trial
Unlimited connections available
Best suited for: Web data extraction, market research, brand protection, anonymous data aggregation, for SEO and advertisers.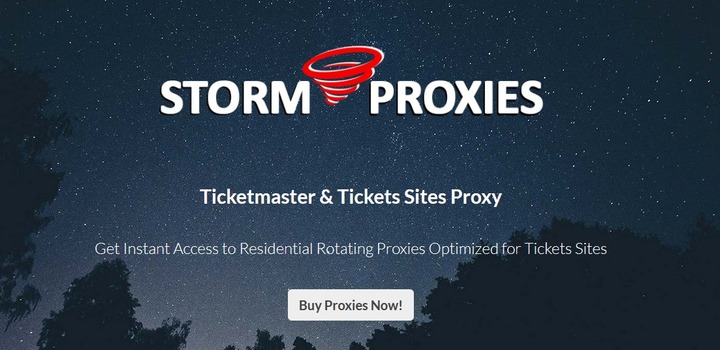 StormProxies offers proxy packages and plans for niche solutions. Its target audience is resellers who make money by browsing sneaker websites, ticket sites, and social networks.
Storm sneaker proxies work with sneaker bots like AIO Bot, Nike bot, Sole Slayer, etc. They help to buy the latest boots collections anonymously at lightning speed.
StormProxies cannot boast of an extensive list of countries. Its servers are located in the USA and EU only.
Unlike many other services, StormProxies website is extremely simple. There is no extra content and no pop-up ads. It offers only the brief information a user needs to know. You can find a quick explanation about what sneaker and ticket proxies are. You can also take a look at a comparison of different proxy server types. And, of course, you can find price lists on the site.
To see different payment plans switch between all types of proxies and find the package suitable for you. StormProxies offer proxies by quantity: 5, 10, 20, 50, or 100 ports. An example of pricing is listed below:
Ten ports – $90
500 ports – $1600
Key features
Residential proxy pool (over 40K addresses)
Sneaker proxies
Ticket proxies
Unlimited bandwidth
Dedicated proxy pools
Money-back guarantee
Best suited for: E-commerce, retail.

ProxySeller is a service that allows you to buy an individually customized proxy. The process is straightforward.
You do not need to buy any package or subscription. Instead of this, you choose the protocol version – IPV4 or IPV6, country, term, IPs amount – and you immediately see the proxy address and the "Buy" button to proceed to the purchase order. ProxySeller provides IPv4, IPv6, and Mobile LTE proxies.
You can also buy a package for 2, 3, 6, 9, or 12 months to have a discount. An example of ProxySeller pricing is listed below:
Ten pcs IPv4 – $47/month
1000 pcs – $2964/month
The service also offers related software on its website. You can use a proxy checker, port scanner, and IP ping tool for free.
Key features
SOCKS5/HTTPS proxies
IPv4/IPv6
Mobile proxies
Proxy manager tools
Personal dashboard
Best suited for: Social media, web scraping, gaming, crypto, and marketplaces.

ProxyHub is a perfect place if you are looking for a certain number of semi-dedicated proxies. Semi-dedicated proxies are a hybrid of shared and private intermediaries. They are well-known for their over-the-average price-quality ratio.
The packages on ProxyHub are based on the number of proxies: 10, 20, 30, 40, 50, 100, 250, 500, 1000, and 2000 pieces. An example of ProxyHub pricing is listed below:
Semi-dedicated proxies – 10 pcs – $10/month
Semi-dedicated proxies – 2000 pcs – $1200/month
Dedicated proxies – 10 pcs – $20/month
Dedicated proxies – 2000 pcs – $2300/month
Although the website does not offer a user-friendly interface and live support, the prices are very affordable and attractive.
Key features
Dedicated and semi-dedicated proxies
HTTP proxies
High anonymous proxies
Affordable prices
Unlimited bandwidth
Best suited for: SEO services, social media, and online gaming.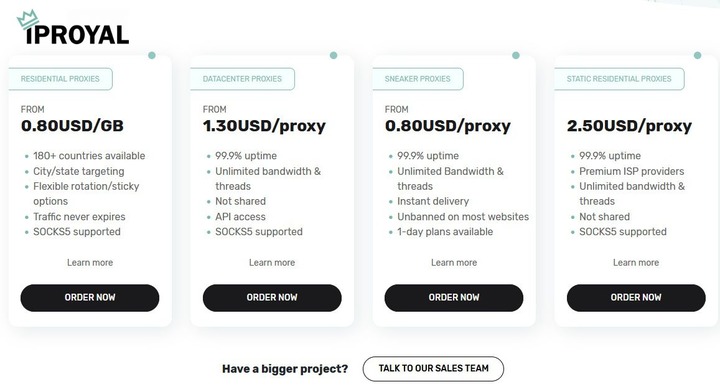 IPRoyal provides datacenter and static proxies. This service is one of the best places to buy private proxies for superior anonymity. You can buy from 5 to 100 dedicated proxies.
Another IPRoyal feature is its support of sneaker proxies. If you are looking for sneaker proxies or any information about them, IPRoyal has proxies specially optimized to work with sneaker bots. The website also has a detailed guide about how sneaker proxies work.
The platform allows you to download the related software: Chrome and Firefox browser extension managers, as well as a proxy tester tool.
IPRoyal pricing example is listed below:
Residential IPs – 1GB – $41; 5000 Gb – $5000
Key features
Datacenter, Residential, ISP proxies
Mobile proxies
Dedicated pool is available
IPv4/IPv6
SOCKS5
Dashboard available
Live chat support
Mozilla/Chrome browser add-ons
Unlimited amount of concurrent sessions
Best suited for: Data scraping, social networking, and retail.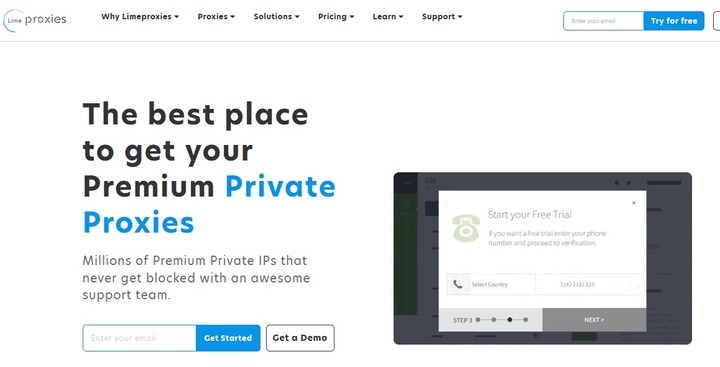 LimeProxies offers proxies from more than 50 countries. It also has 4G mobile and SOCKS proxies. The company claims to have the ultimate speed of 1000 Mbps which is a very impressive number. Fortunately, LimeProxies have a free trial to see if this blistering speed is true for your tasks.
The exciting thing about LimeProxies is that it offers a good learning base. You can find books, guides, tutorials, and videos by the link "Learn" in the menu. The "Blog" submenu is the complete database on this website. Here you can find many specific topics for all situations, like "Ways to reduce the risk of getting blocked" or "Mobile 5G proxies".
Key features
Datacenter and residential proxies (over 40 million addresses)
Mobile proxies
Private proxies available
Live chat support
3-days trial
Unlimited bandwidth
AES encryption
IPv6 leak protection
Best suited for: Data mining, web testing, brand protection, e-commerce, ad verification, and SEO monitoring.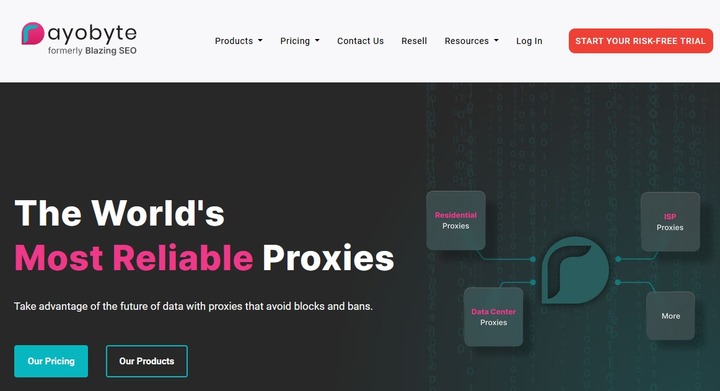 Rayobyte provides intermediaries for an impressively wide range of use cases. There are rotating, datacenter, ISP, residential, and dedicated and semi-dedicated proxy servers with targeting by countries.
This is no surprise because the Rayobyte service is built especially for reselling. The Rayobyte team will help you to find the proper combination for your clients. The API is developer-friendly and easily integrated. Rayobyte officially uses a white-label strategy and does not require mentioning the origin of proxies you buy.
The variety of customized proxy options is massive. Rayobyte offers intermediaries purchased by country and subscription length: 1,3, 6, or 12 months. You can choose from 4 payment plans: Starter (5-99 IPs), Personal (100-1K IPs), Corporate (1K – 5K IPs), and Enterprise (5K+ IPs). For example, 10 US proxies for one month cost $25. 1000 rotating proxy servers for a month cost $2810.
Key features
Datacenter, residential, ISP servers
Mobile IPs
Easy-to-use reseller API
Live chat
Free trial available
Best suited for: Web scraping, e-commerce, SEO services, and ad verification.
11. ProxySale — Best proxy for private usage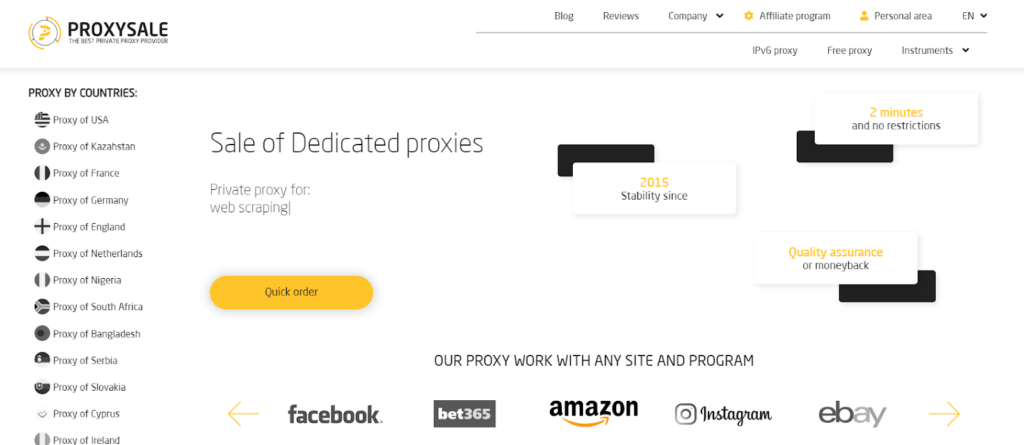 ProxySale combines everything you may need for your private usage – a 95 MB/sec speed, stable operation, and a 24/7 dedicated support team. It is also the universal option. With this service, you will enjoy access to any site or program, as well as flawless use for gaming and social media.
ProxySale allows choosing IPv4 or IPv6 proxies with HTTP(s) and Socks5 support. Last but not least, this service puts affordability as its top priority. That is why you can enjoy reasonable prices or use free proxies for your needs. Despite not being as speedy and well-optimized as paid ones, free proxies still turn into a good option for regular day-to-day usage.
IP addresses in almost any country in the world,
65 000 active IPs,
Proxy issuing time below 1 minute,
IPv4 or IPv6 proxies,
Money-back guarantee,
Round-the-clock support.
Best suited for: private usage, social media, web scraping.
FREE options
Here are the best free proxy servers provided on the Internet. Most of the services listed below are not free by their origin. They have free proxy lists as a bonus to their own products – VPN or proxy packages. Free lists are usually published for a user to make a comparison between paid and free proxies.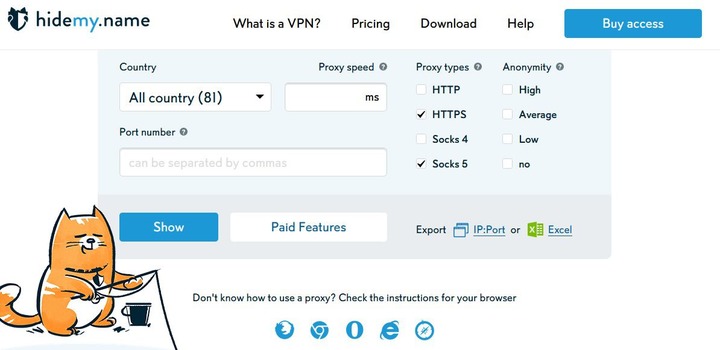 Hidemy.name is one of the quality VPN services available for Windows, Android, macOS, iOS, Linux, and router configuration. There is a free VPN trial available for 24 hours.
The service provides a full database of VPN-related bonus materials such as ping tests, proxy checkers, and free proxy lists. You can go to a proxy lists database and select a country, proxy speed, and proxy type to find a free proxy list. Export options are available only for customers with Hidemyname subscriptions.
Key features
Free proxy list
81 countries
SOCKS5 available
HTTPS available
Best suited for: Web scraping, connecting to restricted websites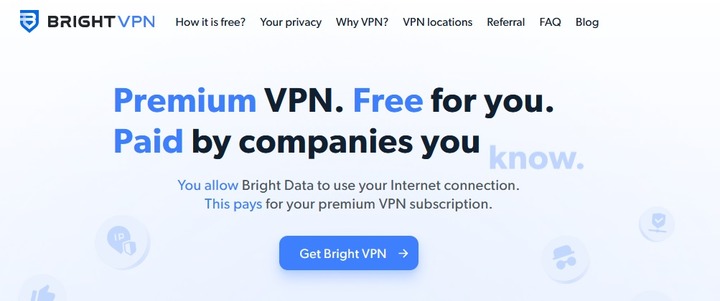 BrightData is a premium proxy giant on the proxy market. It offers data security solutions for businesses and demanding clients. It offers all types of proxy server IPs: datacenter, ISP, and mobile, as well as lots of useful server management tools.
BrightData has a free VPN solution that can be downloaded directly from the Bright VPN website. This free VPN works as efficiently as VPN services with a subscription. BrightData claims the tool has full functionality because it is already sponsored – by the companies who benefit from removing the restrictions. The major con of this tool is that Bright VPN is a desktop app that needs to be installed. However, the app is secure and malware-free.
Key features
70 million IPs
Geo-targeting
Reliability
HTTPS available
Automation with developer API
Best suited for: Anonymity, data protection, privacy
Smart DNS Proxy offers DNS server IPs to bypass DNS blocks on websites anonymously.
DNS blocks are often used in a workplace to prevent employees from visiting social networks. Sometimes a website can be DNS-blocked by an ISP. If you know that there is a DNS block for sure, a Smart DNS Proxy service is for you.
However, Smart DNS publishes a free proxy list also. You can use it to manually configure your router, computer, or mobile device. To use this free option, go to the Smart DNS servers list, choose a server and use it in your network configuration. All the instructions are also available on the Smart DNS website.
Key features
List of free DNS server IPs
23 countries
38 IPs
Best suited for: Avoiding DNS-block.
15. CroxyProxy – Best Quick Online Proxy Tool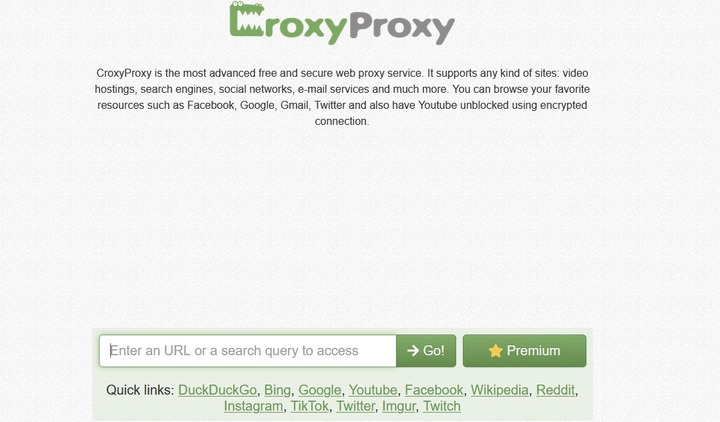 CroxyProxy is a straightforward online service that does not need any configuration on your device. CroxyProxy redirects your URL online via a proxy You go to CroxyProxy, enter your link, and CroxyProxy redirects you to a destination page via proxy.
Unfortunately, you cannot directly see what IP address CroxyProxy is using.
Key features
HTTPS available
No configuration needed
Youtube videos support
Best suited for: Quick access to restricted sites
Types of Proxy Services
There are several classifications of proxy services that should be taken into consideration before choosing a proxy. The main classification methods are by hosting type, by type of connection, and by the number of users assigned to a proxy (private or shared).
Hosting Type
Every proxy is, basically, an IP address. An IP address defines every device on the internet. The device can be real, artificial, or artificial with approval. There are three main types of proxies specified by hosting type: datacenter, residential, and static ISP servers.
Residential
Key features:
More legitimate
Look natural to servers
Very low possibility of being blacklisted
Higher prices
Lower speed
Residential IPs are real IP addresses that exist physically. They are attached to real existing devices connected to the Internet. Internet service providers usually provide these IP addresses. Since residential IPs belong to real homeowners, their amount is limited, and the price is higher than average. However, these addresses look natural and are doubtful to be blacklisted.
For example, if you use intermediaries to make multiple requests on the website – for data gathering or multiple purchases – the website will consider it as the activity of hundreds of different real users.
Datacenter
Key features:
Fast speed
Low prices
High possibility of being blacklisted
ISP
Datacenter proxies, like residential IP addresses, do not exist in the real world. Datacenters and hosting services generate these IPs in bulk and manage them through cloud servers.
This server type is much cheaper and faster than residential ones. They can be created in an unlimited number without any expenses while not being affiliated with Internet providers.
The negative side is that the data center proxies look suspicious for websites. Modern website protection systems can reveal a fake address and block it, especially if your activity differs from the activity of an average user. The result is that the datacenter server is not good enough for data analysis or research.
Static Residential (ISP)
Key features:
Fast speed
Low possibility of being blacklisted
Higher prices
Static intermediaries, also known as ISP, are not, in fact, residential. ISPs are artificial in the same way as data center servers are. However, these addresses have the approval of Internet Service Providers (ISP). In simple terms, an ISP approved address is an artificial address officially recorded as a real address.
As a result, a company that sells ISPs offers fast data center IP addresses but with the low possibility of being blacklisted. Although ISP proxies are datacenter servers, eventually, they are not as cheap as unapproved datacenter ones.
Private/Shared Proxies
Private
This proxy is also known as a dedicated one, is an IP address that can be used only by one user of a proxy network at a time. A proxy provider sells an IP address to one user only, so only this user can access the Internet via this server for an agreed period of time.
Providers usually sell these IPs by amount – for example, 1, 5, 10, or more addresses for a month. The average price of a private server is much higher than the price of other server types.
Semi-Dedicated
Semi-dedicated IP addresses are available to a limited number of users simultaneously. A certain number depends on the provider. You can share a proxy address with 5, 10, or 50 users – this is a compromise between expensive private and inconvenient shared proxies.
If you choose semi-dedicated IPs, always check how big is the pool of users simultaneously using an IP address. It may occur that there is no reason to pay more, or it is better to buy private servers.
Shared
Shared proxies are available for multiple users at the same time. These intermediaries are usually cheap, but the use of shared intermediaries often causes errors, blocks, and a high possibility of running into a captcha.
Free VS Paid Proxies
Several criteria can help you to evaluate the difference between payable and free proxy services. Most of the providers offer trial versions of their products. Free proxy lists are available on the Internet, so it is easy to compare the best free and payable services using criteria mentioned below.
Server Speeds
Free proxy IP addresses are always slow. Many users use them simultaneously without any limitations. Even shared proxies from a provider service are divided into pools and do not intersect with each other.
As a result, when you choose payable services, you may be more or less happy with the result, but free services guarantee you a low connection and browsing speed.
Access Guarantee
The very fact of paying for proxies does not guarantee you a seamless experience. Only a trusted platform and an adequately chosen package for your tasks guarantee success.
At the same time, free proxy guarantees you nothing at all, no matter how carefully you choose them. Massive connections via a single IP address cause errors and endless captcha inputs.
With free intermediaries, you sometimes get to the website, sometimes not. A free proxy is a good option if you do not mind waiting. If you use intermediaries at work, it is better to use payable services for guaranteed access.
Security
The majority of free intermediaries are not trustworthy because they do not use secure protocols. If you want to use free IPs, always check that there is an HTTPS connection. Public proxy services can log your information.
You can use a public proxy to access a website or hide your identity, but it doesn't really make much sense to use these IPs for security reasons.
Server Locations
You will probably choose several most efficient servers if you do not need to use specific locations at work. The most efficient proxy locations are usually the nearest ones to your accurate geolocation.
There are usually no limitations based on locations for free proxy lists. They often have the same countries listed as paid proxies. However, the proxy pools of the best proxy server providers are much more significant.
For example, a free proxy list can have one proxy in the USA, while a proxy provider usually has no less than 10 US servers.
Proxy Type
Free proxies do not leave much choice to users: usually, they are shared data center servers. It means you can not configure these intermediaries or use them in a package.
Meanwhile, payable service can offer more flexible solutions for each use case.
However, it is not recommended to choose such service by chance. Not all intermediaries can be compatible with your tasks. An incorrect choice of a proxy will not become correct only because you pay for this service.
FAQ
What is better: VPN or a proxy?
VPN and proxies are completely different inherently. VPN encrypts your traffic, while proxy just routes your traffic through a proxy server. VPN is considered a more secure tool, but at the same time more complex and expensive.
Are there any free proxies?
Yes, you can find free intermediaries on the Internet or choose a free VPN tool. These tools are not secure and have much fewer advantages. However, it is possible to use these tools for personal use if you are not a demanding person.
Do I need proxies for market research?
Yes, you do. When building a business strategy based on market research, you need to send multiple requests to a search engine or a competitor's website. This is known as web scraping. Intermediaries solve this problem perfectly. Remember that, in this case, you cannot rely on free, unstable, or untrusted intermediaries.
How to avoid captchas using a proxy?
The captchas are triggered only if the website considers your activity suspicious. You will avoid captchas if you act via a proxy like a real human. If you get captchas too often, try to change the strategy to a more human-like one.
Use static servers to make your intermediary look like real existing IP addresses. Use rotating servers to change (rotate) IP every time you enter the website. Try to avoid direct links to enter the website.
Why do people use SOCKS5? Is it better than other protocols?
SOCKS5 is the latest version of the SOCKS protocol, which supports IPv6 and UDP. UDP is a much faster and more efficient communication protocol than TCP. SOCKS5 sends smaller data packages than previous versions to reach a new level of speed. However, the TCP communication protocol is still considered to be more reliable. IPv6 Internet protocol solves the problems of its predecessor, IPv4, and gives better performance. To sum up, SOCKS5 is faster and causes fewer errors than other protocols.