If you are looking for private data center proxies for personal use, Proxy-sale.com can become one of the really nice and promising options. Proxies offered by this service are not only fast but also available at a reasonable cost, catering to the needs of users engaging in social media, gaming, and other online activities.
Overview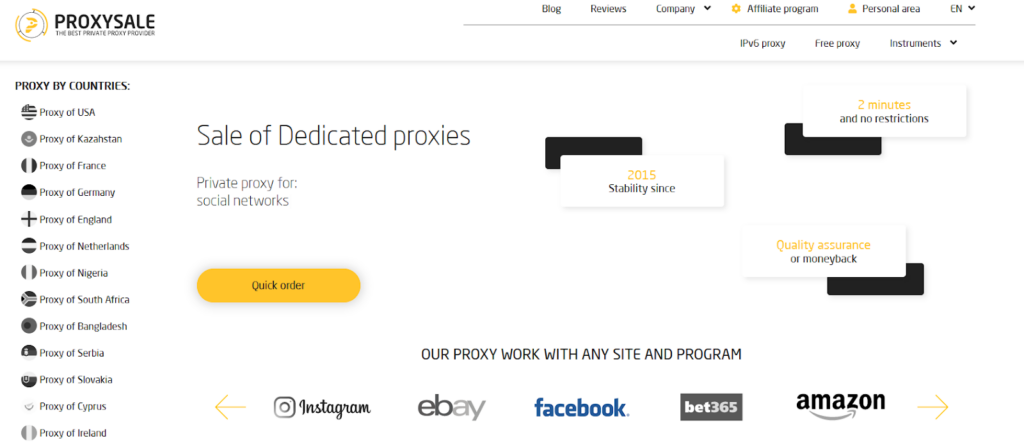 Although Proxy-sale.com is a relatively small platform, it is not a newcomer to the proxy providers market. The company has been active since 2015, selling private data center proxies. Over the years, it has experienced significant growth, attracting a larger audience than before.
The site is a subsidiary of Internet Connection Broker LTD and is now registered in Sofia, Bulgaria. Today it provides private proxy IPs for sale in 43 locations worldwide. The best part of its website is the whole set of network utilities that you can use to your advantage for a better online experience.
Feature-Set and Guidance
IPv6 private proxies
Free proxy server
My IP check
Free proxy checker
IP port scanner
Ping test
Anonymity check
Proxy speed test
IPv6 accessibility validator
IP blacklist check
Proxy list filter tool
IP tracing
Online UTM builder
Keyword grouping tool
IPv6 Private Proxies

While many other providers do not have an IPv6 option at all, Proxy-sale.com has a notable advantage as it offers a good selection of IPv6 IPs.
There are a lot of distinctions between the IPv4 and IPv6 protocols, but the most important thing for the users is the enhanced performance and better security when using IPv6.
Currently, the company offers IPv6 proxies for sale from 7 countries: Canada, France, Germany, Netherlands, Russia, the United Kingdom, and the USA. This list is not particularly large, but that is enough for individual purposes.
Free Proxy Server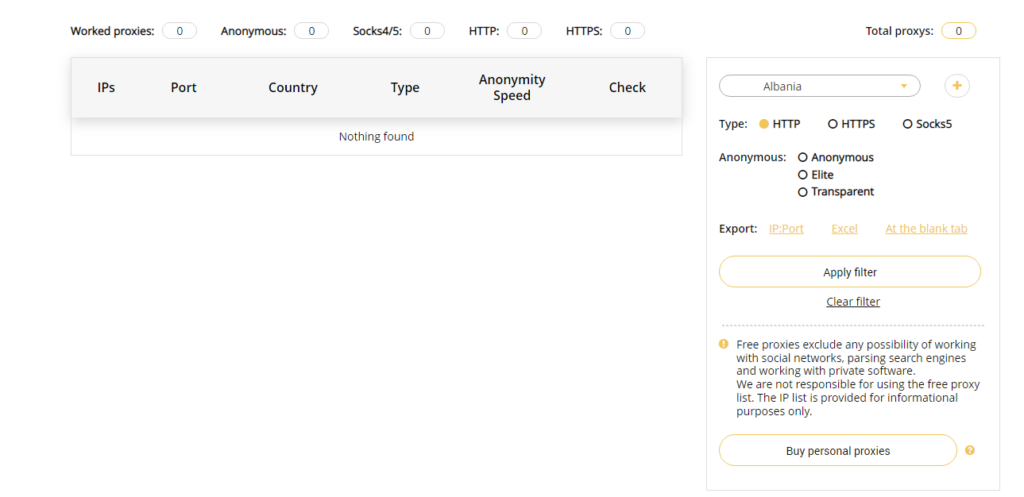 Proxy servers can turn your web surfing into a more secure and protected activity. Thus, the provider offers to choose the server for free. Furthermore, you can also accustom it while applying filters by country, anonymity, and port type.
However, note that the functionality in the free service is also significantly lower. Thus, it does not allow working with social media, private software, and parsing search engines.
My IP Check
One of the many proxy utility tools available on the website is the online tool for instant IP lookup. This tool has some advanced features you may like. On the "My IP" page, you can check the detailed information about how the endpoint servers see you.
This is not only your current geo-location by country and city but also your browser version, the operating system, and your provider. On this page, Proxy-sales.com also answers some popular questions about how your IP is displayed.
Free Proxy Checker
The checker is an online tool that allows you to view the proxy servers' parameters, including anonymity, ping, and connection speed. You may need this tool to check any list of free proxies, third-party proxies, or the proxies you purchased at Proxy Sale.
The checker validates IPv4 and IPv6 addresses, supports HTTP and SOCKS protocols, and can be used to check both free and paid proxies.

All you need to get the detailed server information is to input your public or free proxy address (or list of addresses) into the field or upload it in .txt or .csv format. If you proceed with the list of proxies, each address should be on a new line. The format is IP: PORT.
To see the result, click the "Check proxy" button on the right and get the information about your IPs.
IP Port Scanner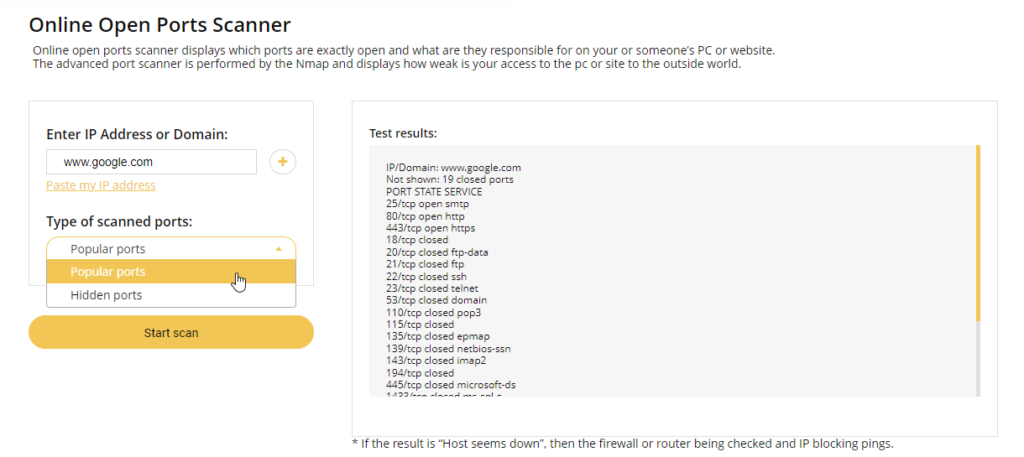 A port scanner is a tool that probes a server for open ports. Most of the time, this type of software is used by system administrators to secure the servers. A scanner for professional use can determine the port's state as open, closed, or filtered and manage its configuration.
A port scanner can be helpful for proxy users too. Thus, sometimes, sudden problems can occur with the connection. Most of the time, it means there are problems with the user's connection or the host itself. However, it can happen that a user cannot identify the problem because the actual connection is good. The real problem can be with a closed port. If a port scanner check has revealed this problem, it makes sense to switch to another port.
Ping Test
The ping test allows you to perform a reliable test of your connection stability. A standard ping range is typically between 40-110 ms. If your ping exceeds 110 ms, you may experience issues with online gaming and other high bandwidth activities. However, the speed of this range will not affect your ability to visit websites.

To test your connection speed, turn the proxy on, enter your endpoint IP, select the number of ping packages, and click the "Start Ping Test" button. You will see the result in a window on the right.
Anonymity Check
The anonymity check is a special tool to assess the level of your connection security. It provides you with all the necessary information to establish the most anonymous connection possible.

After you set up your proxy connection and go to the Anonymity check page, you will see the green and red symbols, which will help you understand the details of the connection and fix the problems that affect your anonymity.
Proxy Speed Test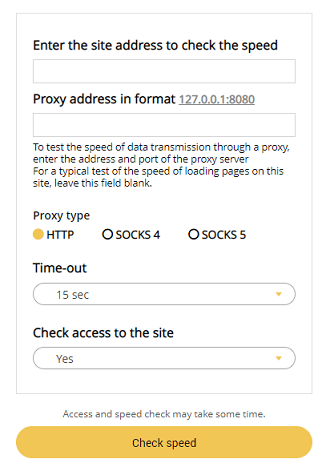 Connection speed is vital for online games, watching videos, web scraping, or botting. Low speed and repeating losses make the proxy connection useless in certain situations. For example, online games require extremely high speed and bandwidth.
The speed test tool can measure the data transmission rate through a proxy. It can also assess the page loading speed if you use it for web surfing.
To check your speed, enter the destination IP in the field provided, specify the connection details, and click the "Check speed" button.
IPv6 Accessibility Validator
On the IPv6 Accessibility page, you can ensure that the site you want to enter has IPv6 support. Even though the IPv6 protocol has been around for a long time, only some websites have implemented it.

For example, you want to buy an IPv6 proxy package for better performance but are still determining if your endpoint server supports IPv6. You can check it with IPv6 Accessibility Validator. If it does not, opting for an IPv4 proxy would be a reasonable choice.
IP Blacklist Check

Another helpful tool is the IP blacklist check, which enables you to determine whether the IP address is present on any spam/scammer database. For instance, you can enter a free proxy address into the window provided and confirm its legitimacy. ?
Proxy List Filter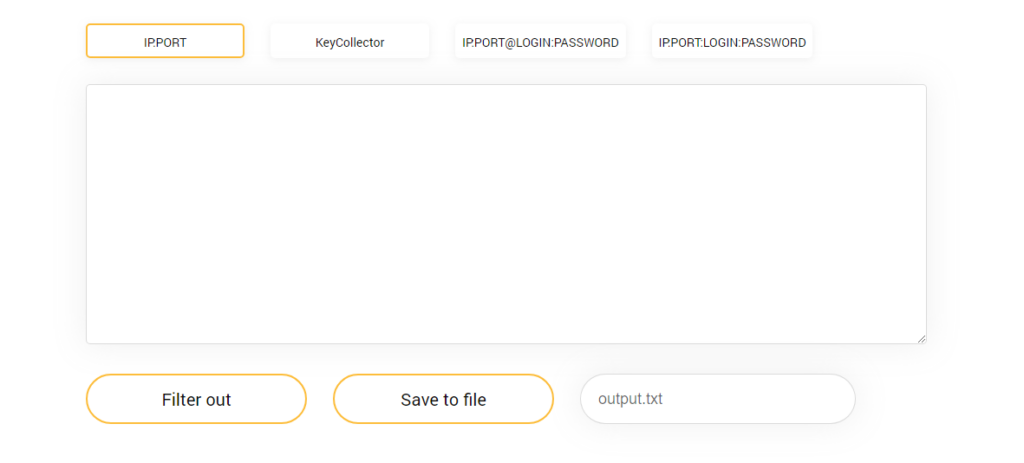 Proxy list filter is a tool that helps you to organize your list of proxies and convert it into a user-friendly format such as proxy:port:login:password and save it to a text file.
For example, you can copy a list from a free resource and compile it into a file that can be used with various applications, such as sneaker bots or traffic bots.
To utilize this tool, select the desired filter format, paste it into your list, and choose the "Filter out" button to get a list appropriate for further usage.
IP Tracing

IP tracing is a crucial part of any network diagnostics. IP tracing gives you a complete picture of the connection for enhanced troubleshooting. For example, you connect to a server through a proxy. Your connection can be suddenly interrupted at any point during the transmission. To determine the weak links in the chain, you must get a comprehensive and detailed trace of the entire path.
Traceroute technology allows you to see the entire path of a sent package and identify each device a package encounters. This is important to examine the performance of each section of the path and understand the connection's weak points.
Online UTM Builder
UTM stands for Urchin Tracking Module — the Google software designed to provide the most accurate measurements of unique website visitors.
UTM tags are particular parameters in URLs used by marketers to track advertising campaigns on the Internet. Each UTM tag consists of a parameter and its corresponding value, which allows analytics systems to gather important information about website visitors.
By including UTM tags in their URLs, marketers can track which specific sources generate the most traffic to their website and gain insights into their audience's behavior.
UTM builders are special software that generates links that include UTM.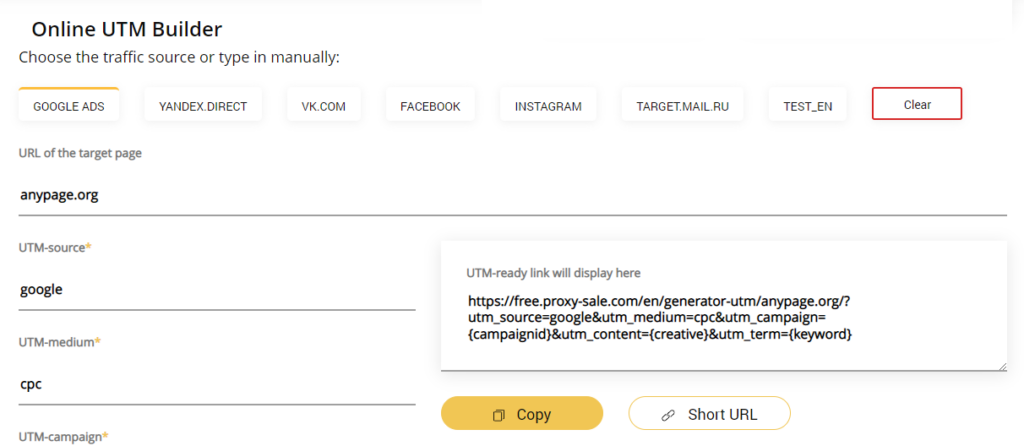 Keyword Grouping Tool
SEO specialists widely use proxy servers, and Proxy-sale.com offers some unique tools for them. One of these tools is the keyword clustering tool, which is helpful for SEO specialists who promote their online projects. This software helps users group an extensive list of keywords into logically related categories or topics. It is crucial for content planning, optimizing search queries, creating marketing campaigns, and analyzing competitors' research.
A free keyword grouping tool is available on Proxy Sale. This tool enables users to choose the scraping region, set grouping thresholds from 1 to 10, and receive an automatic list of keywords separated into logical groups. The grouping is based on analyzing the top 10 search results from the most popular search engines.
Usability

The website's minimalistic design emphasizes the company's focus on private proxies. All the necessary information is easily accessible on the main page, allowing you to choose your preferred location, target platform, and proxies, as well as view rates, place orders, and ask for help from technical support. Moreover, you can easily switch to the IPv6 section and access a comprehensive list of free tools, which is a central feature of this site.
As for the cons, the service has some localization problems and limited language support. There are only two languages currently available: English and Russian. Despite this inconvenience, the free tools are still easy to use and intuitive.
The site uses HTTPS format for the best user security and offers two-factor authentication. Additionally, users can opt-in to receive system notifications, including payment reminders, confirmation, and renewal reminders.
Customer Service
The platform provides many options for contacting support managers. Thus, Proxy Sale has official communities on social media. You can read its articles on a Facebook channel and watch tutorial videos on Youtube. Finally, there are several options for getting individual help if you have questions on any proxy for sale or configuration troubles:
Concerning users' reviews, this service received an overall mark of 4.4 on Trustpilot, which is quite a considerable result. For example, Kishore Mahbubani gave Proxy-sale 5 stars and commented, "I use several types of proxies for gaming botting, ISP and mobile proxies are more than fine for me. From disadvantages I would like to use more different subnets and for mobile proxies the possibility to set rotation time by myself, although the rotation by link is also not a bad option." Similarly, Clayton Harlow left a positive review saying, "I am thrilled with my purchase of private IPv4 proxies from proxy-seller.com for my social media campaigns. The proxies are high-quality and cheap!"
Performance Testing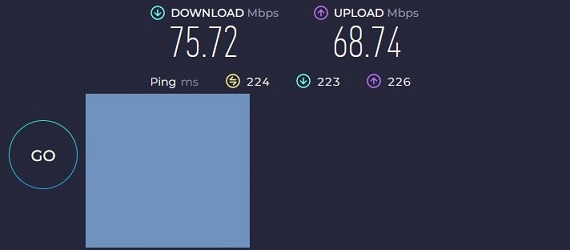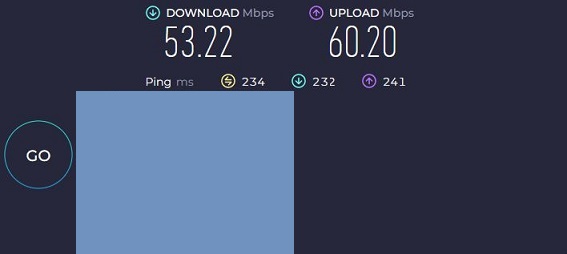 On average, the speed decrease when using proxies or VPN should not exceed 30%.
Based on the Ookla speed test, the performance study shows there was a slight decrease in speed when using IPv4 proxies. However, the IPv4 proxies maintained this standard performance range and showed good performance for upload speed.
Pricing

The service pricing is very flexible and depends on your personal needs. It is primarily focused on selling a limited number of private proxies, which means that there are no significant discounts or bonuses for purchasing a large package of proxies or business sets.
On the other hand, the prices for a small package are much more affordable than those offered by the big market players.
Thus, the prices are reasonable and accessible for an average buyer. Moreover, Proxy-sale does not force you to commit to a long-term purchase, unlike the services primarily geared towards businesses. Instead, customers can buy proxies for seven days and choose a plan that best suits their requirements, whether for seven days, a week, two weeks, or more.
Proxy-sale.com is a convenient service for individual or small business use. Here you can find many handy tools for everyday work online and even earn extra income using the affiliate program 💰.
The service provides transparent and reliable proxies for sale. The proxies have been thoroughly tested and consistently demonstrate strong performance. This good quality makes them a valuable asset for various online activities.
FAQ
What are the locations that Proxy-sale.com provides?
The 43 locations for IPv4 proxies:
Australia, Austria, Bangladesh, Belarus, Belgium, Brazil, Bulgaria, Canada, China, Cyprus, Czech Republic, Finland, France, Georgia, Germany, India, Indonesia, Ireland, Italy, Japan, Kazakhstan, Korea, Latvia, Lithuania, Malta, Mexico, Moldova, Netherlands, Nigeria, Norway, Poland, Portugal, Russia, Serbia, Slovakia, South Africa, Spain, Sweden, Switzerland, Turkey, United Kingdom, USA.

The 7 locations for IPv6 proxies:
Canada, France, Germany, Netherlands, Russia, United Kingdom, and the USA.
Are there any hidden fees at Proxy-sale.com?
No, you get proxies at a price listed on the site. All transaction fees depend on the particular payment method. Thus, you will be charged according to the rules of a bank or a payment company.
Does Proxy-sale.com have IP rotation?
No, if you want to have a rotating proxy pool, you can buy a proxy package and rotate them with the help of a third-party bot.
What is the Proxy-sale.com pricing model?
All pricing plans are based on the location, number of proxies, and the chosen protocol.
I want to earn money from the affiliate program. Where do I start?
1. Sign up at Proxy-sale.com.
2. Go to the "Personal area" tab on the top right corner of the page.
3. You will see a menu on the left. Select "Partners program" – "My profile."
4. Copy your affiliate link and post it to your blog, website, Youtube video description, etc.
5. You will get your reward for every sale on your link.