Many entrepreneurs and their employees who use data mining for web scraping face IP bans, CAPTCHAs, and slow speeds. This is especially important in the case of web scraping using bots and crawling scripts. Some companies solve this problem by using a proxy connection. 
Unfortunately, time is of the essence when it comes to gathering information and making it work. Therefore, a single IP proxy or proxy list cannot adequately optimize the job. However, the backconnect proxy is a solution that is the most advanced anti-bot measure available today. This review describes the best backconnect proxy providers, as well as their features, advantages, and disadvantages.
What are Backconnect Proxies, and How Do They Work?
Modern marketing, analytics, and research rely entirely on data mining and gathering information from the Internet. However, this can be difficult due to defensive algorithms used by servers.
Although web scraping is not illegal, servers often prohibit multiple requests from the same IP address to prevent DDOS attacks or malicious actions such as querying sensitive data.
Another challenge is that some sites are geographically restricted, making the data unavailable. Dozens of corporate departments, therefore, need the ability to retrieve data from multiple IP addresses:
Market research;
SEO research;
Price aggregation & comparison;
Competitors analysis;
Tickets purchase;
Social media management;
Data mining;
A normal proxy does not provide this capability, but a traditional proxy server connects a client computer to a destination server, masking the client's IP address with its own. When using web-scraping bots or automation tools, a single IP address is enough to mask identity multiple times. Most servers prevent multiple requests from the same IP address by blocking only one IP address and sending CAPTCHAs.
A backconnect proxy uses several different IP addresses and changes the IP address it uses at specific intervals or according to other instructions. A single backconnect proxy tricks a server into thinking that all your requests are coming from different locations. Finally, this connection scheme helps you avoid blocks and bans.
Best Backconnect Proxies
Smartproxy is a reliable data access platform that offers all types of proxies, including residential, shared datacenter, and dedicated proxies. This company is a high-quality mid-tier provider: less expensive than premium services yet not as limited as low-costs. Its paid plans are generally more affordable than other services, starting at $5.6 for 1 GB. 
The provider offers four types of scraping APIs: SERP, E-commerce, Social Media, and Web Scraping. Furthermore, it provides a convenient No-Code Scraper — the must-try tool for those without coding knowledge and skills. Smartproxy offers regular and enterprise payment plans, guidance, and documentation for quick API integration.
Beginners will benefit the most from Smartproxy, as it includes numerous tools that do not require integration. The Starter Kit's comprehensive documentation also guides beginners in developing Smartproxy solutions.
Key features:
40M+ residential IPs
195+ countries
Small/medium enterprises
IPv4
HTTP/HTTPS and SOCKS5 proxies
Scraping APIs
Proxy extensions
City-level targeting
99.99% uptime
3-day money-back guarantee
Best suited for web scraping, price aggregation, sneaker purchase, and ad verification.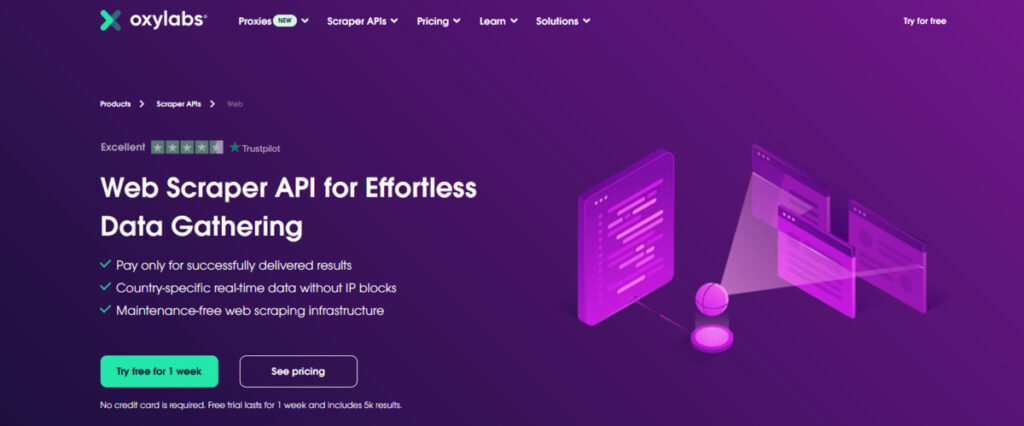 OxyLabs is a well-known provider of high-quality enterprise proxies. Like most major enterprise providers, Oxylabs allows you to integrate the entire data collection infrastructure into your proxy network. You can experiment and request different types of web scraping APIs for your business needs:
API for SERP scraping;
API for web scraping;
API for e-commerce scraping ;
API for real estate scraping.
Detailed developer documentation helps you integrate OxyLabs solutions into your infrastructure. You can also use OxyLabs proxies with your scrapers and bots, as they work well with third-party software.
Among proxy vendors, OxyLabs' proxies have the best overall performance. Since most IPs are unique, the company can guarantee speed and stability.
In addition, OxyLabs has the largest IP pool on the market. It includes 100 million IP addresses from every country in the world.
Fast proxy pricing, full support, and quality assurance are predictable.
Regular payment plans start at $15.00 for 1 GB. Enterprise payment plans include offers like $3,000 for 500 GB or custom plans over 2 TB.
Key features:
100M residential IPs;
195 countries;
Medium/large enterprises;
IPv4/IPv6;
SOCKS5/HTTP proxies;
Scraper APIs;
Developer-friendly;
City-level targeting;
Up to 99.9% success rate;
Unlimited concurrent sessions.
Best suited for SEO monitoring, ad verification, data verification, and price monitoring.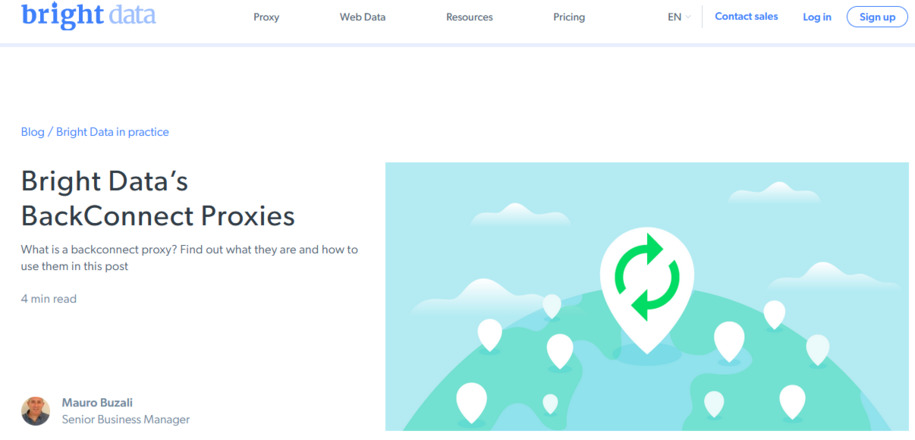 Both BrightData and OxyLab are high-profile companies. In addition, BrightData is considered the largest proxy provider in the market with its huge pool of data center, residential, and ISP proxies.
Today, BrightData is working hard to improve its brand awareness and stability. The company makes very attractive offers to its business partners. For example, it is possible to create customized payment plans or set up traffic depending on the company's needs. BrightData also organizes webinars and events on security and anonymity. Its free subscriptions for educational institutions show the company's ambitions and possibilities.
BrightData provides an ideal infrastructure for data mining. The web scraping environment is ready to use and includes web scraping templates, a CAPTCHA solver, debugging tools, and, of course, proxies.
Overall, BrightData IDE is suitable for any purpose, including social media management, e-commerce, real estate, and others. If you are not ready to integrate an IDE, you can request ready-made datasets with publicly available data from Amazon, Walmart, eBay, Etsy, and others.
Residential IP starts at $15.00 per GB and goes all the way up to custom enterprise solutions.
Key features:
72M residential IPs;
195 countries;
Medium/large enterprises;
HTTP/HTTPS proxies;
Scraper APIs;
Developer-friendly;
City-level targeting;
Up to 99.9% success rate;
Unlimited concurrent sessions;
Best customer support.
Best suited for: eCommerce, market research, real estate trends, and social media marketing.

Most proxy providers rarely have more than 50% unique IP addresses. However, NetNut is a high-end ISP proxy service that offers dedicated private proxy pools with 96% unique addresses. NetNut claims to have fantastic proxy speeds because it has direct access to real ISP addresses.
Thanks to DiViNetwork's collaboration with over 100 ISPs, it is possible to obtain a significant number of new IPs. DiViNetwork is a service that enables ISPs to sell unused bandwidth while providing real customers with perfectly legal IP addresses.
NetNut offers numerous configuration options, including API integration and browser configuration. It can be privately configured in a wide variety of popular browsers and extensions, including Chrome, Safari, Firefox, Dolphin, Incognito, Lalicat, Octoparse, Foxy Proxy, and others.
NetNut's prices are above average, starting at $20.00/GB.
Key features:
20M residential IPS;
Medium/Large Enterprises;
Fast speeds;
Dedicated proxies;
HTTPS Proxies;
Scraper API;
Up to 93% success rate;
Unlimited concurrent sessions;
Seven-day free trial of the rotating proxy.
Best suited for: market research, AEO monitoring, price comparison, and social media management.

Storm Proxies is a low-cost proxy backconnect service for individuals and small businesses. Many proxy packages are designed to work in conjunction with sneaker bots. However, Storm Proxies focuses on rotating proxy packages for sneaker-coping and web-scraping. Its Backconnect proxy plan includes Residential and data center IPs.
StormProxies is handy for entrepreneurs who are willing to pay for additional services and subscriptions. It's easy to get just one IP access to access the proxy pool with a 15-minute rotation time. This amount of time is sufficient for automated bulk purchases and manual scraping tasks.
Storm Proxies is also suitable for individual use due to its flexible payment options. Using the 200,000-proxy pool costs $39 per month. At this price, you can establish 40 simultaneous connections.
Key features:
200K backconnect IPs;
USA and EU locations;
Medium/large enterprises;
Integration of sneaker bots;
Ticket purchase integration;
HTTP proxies;
24-hour money-back guarantee;
Unlimited bandwidth.
Best suited for: sneaker copping, ticket purchase, social media management, and web scraping.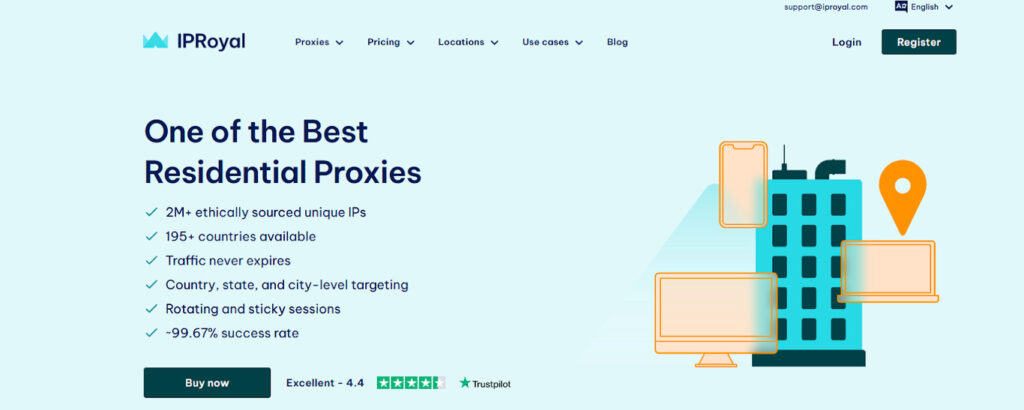 IPRoyal is a provider of high-quality, reasonably priced proxy services. It offers prices as low as $7 for 1 GB and flexible payment plans ranging from 1 GB to over 10,000 GB.
Despite being a low-cost provider, IPRoyal has extensive functionalities including SOCKS5 proxies, a high hit rate, city-level targeting, and manageable IP rotation. You can choose to rotate automatically every 1, 10, or 30 minutes or manually switch IPs at the push of a button.
Key features:
2M residential IPs;
195 countries;
Small/medium enterprises;
IPv4/IPv6;
SOCKS5/HTTP proxies;
Add-ons for Google and Firefox;
City-level targeting;
Up to 99.8% success rate;
Unlimited concurrent sessions.
Best suited for: web scraping, price comparison, collecting stock market data, and SEO monitoring.

Rayobyte is one of the providers that does not exclusively offer residential rotating backconnect proxies. It has both data center and residential IP addresses, as well as rotating ISPs that are rarely available.
The benefits of residential and data center proxies also apply to ISP proxies. They can be very effective for bulk data mining because of their high speed. Like data center proxies, they use existing addresses from legitimate ISPs but are faster than residential IPs.
Rayobyte's prices are very reasonable. ISPs are available for as little as $2.5 per month for an IP address. Residential IP addresses are available for $15 per GB.
Key features:
72M residential IPS;
USA, UK, CA, and GER locations;
Small/medium enterprises;
SOCKS /HTTP proxies;
Scraper APIs;
HTTPS/SOCKS;
City-level targeting;
Up to 99% success rate;
Developer-friendly;
Free trial version.
Best suited for: ad verification, SEO monitoring, market research, and price monitoring.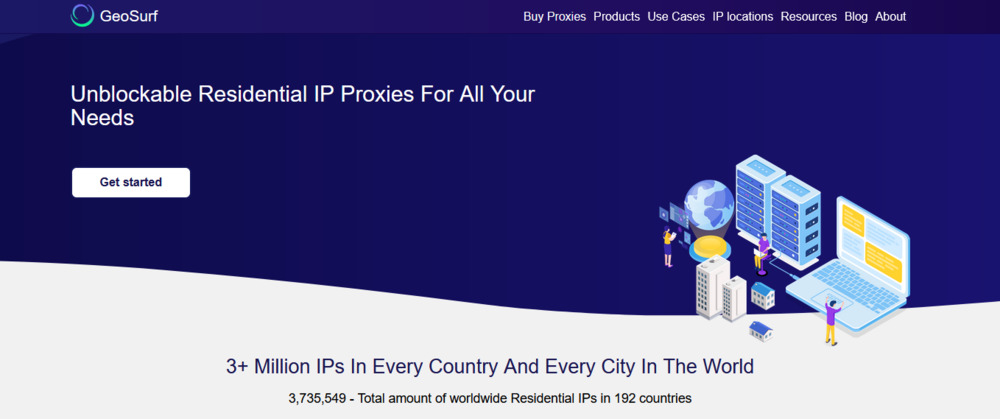 GeoSurf is the oldest proxy platform and has been providing proxy services to large enterprises since 2009. Today, GeoSurf may be inferior to newer premium platforms, but it has numerous advantages for large enterprises.
GeoSurf offers several limited options, such as ISP selection and special speed options for enterprise customers. It also offers enterprise services such as desktop and mobile VPNs. These products are available when you become a GeoSurf partner.
Instead of signing up, a user or company representative must apply to become a GeoSurf customer. This old-fashioned registration form may seem cumbersome to the modern customer, but it is the only way to contact the company.
GeoSurf backconnect proxies can be managed in several ways. For example, GeoSurf supports a configuration for data scraping with each new request from a different IP address. Otherwise, you can configure the IPs to rotate every 1, 5, or 30 minutes.
While GeoSurf's pricing and ambitions are comparable to industry titans such as BrightData and Oxylabs, the service offered is somewhat more limited. Still, GeoSurf is an excellent solution for multi-shopping, ad verification, and other low-bandwidth tasks. The basic 25 GB package costs $300 per month on GeoSurf.
Key features:
3.7M residential IPS;
192 countries;
Medium/large enterprises;
Chrome and Firefox extensions;
HTTP/HTTPS proxies;
Developer-friendly;
City-level targeting;
Up to 99.6% success rate.
Best suited for: multiple purchases, sales intelligence, social media marketing, ad verification.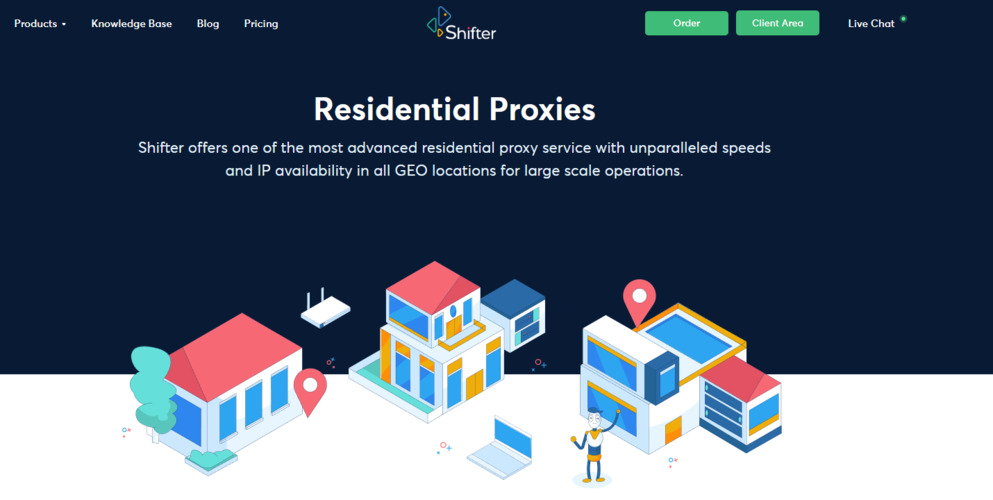 Shifter has been operating under Microleaves for over ten years. The platform provides high-quality power of attorney services for large and mid-sized companies. Although the name sounds new, it is one of the oldest power of attorney providers on the market.
Today, the company has a variety of capabilities for developing web scraping infrastructures. Scraping APIs, cloud hosting, and two types of medium- and high-speed rotating proxies are the most popular options. The backconnect proxies rotate every 5 minutes. The fast-rotating proxy option for home users allows proxies to rotate every minute. Shifter's proprietary cloud hosting gives you extremely low latency.
Large businesses can benefit from special options like dedicated IP pools. Payment plans are also tailored to the needs of businesses. Shifter offers its scraping API for $89.99 monthly, and the smallest 5-port proxy package starts at $99.98.
Key features:
50M residential IPS;
195 countries;
Medium/large enterprises;
Developer friendly;
SERP API;
Web scraping API;
HTTPS/SOCKS5 proxies;
99.5% success rate;
Try for free.
Best suited for: ad verification, sales intelligence, SEO, Web scraping, and online shopping.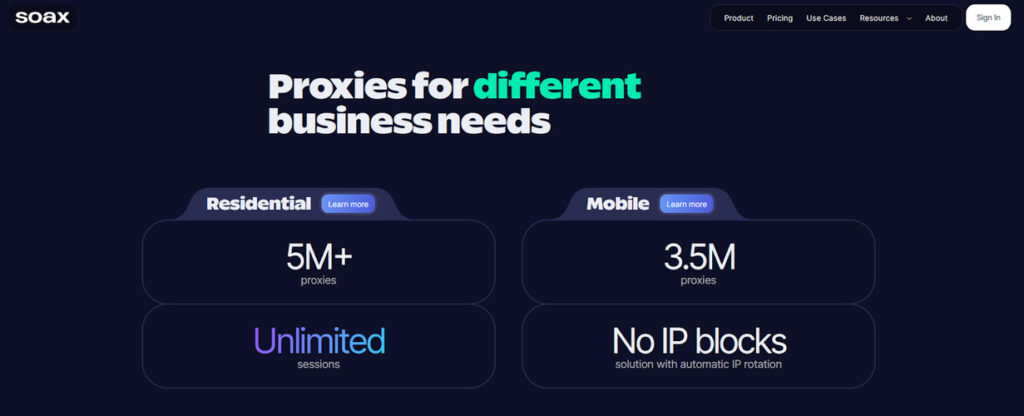 Most market leaders such as OxyLabs and BigData have mobile proxies, but their main customers are large enterprises. SOAX supports 8.5 million IP addresses worldwide, including 3.5 million mobile proxies. It is cost-effective for small businesses and focuses specifically on mobile proxies. SOAX has 3G, 4G, 5G, and LTE proxy networks to easily search for trends or consumer information on social networks. Monthly plans start at $99 for 8GB (residential IPs) and $99 for 3GB (mobile IPs).
Sticky sessions are automatically rotated every 5-10 minutes.
Key features:
8M residential IPS;
195 countries;
Small/Medium enterprises;
IPv4/IPv6;
HTTPS/ SOCKS proxies;
Success rate up to 98%;
Unlimited concurrent sessions.
Best suited for: social media, data collection, price comparison, SEO monitoring, and trends research.
Pros and Cons of Backconnect Proxies
Since a single proxy address is easy to detect when extracting data from websites, backconnect proxies are required for almost every web scraping job. The thought of being almost 100% undetectable may seem perfect. However, each company must decide if they need a rotating backconnect proxy or if generic proxy lists are a better choice.
Pros of Custom Essay Writing Service
Guarantees anonymity & security
A sticky proxy IP is better than your IP, but it is still possible to track the original address. Multiple IPs are used to uncover the original IP address of hackers and scammers.
Reduces a ban possibility
With the huge pool of manageable IP addresses, it is nearly impossible for a server to detect scraping or bot activity. Although detection algorithms are getting better every day, backconnect proxies are still the best answer to these problems.
Many of the companies offering backconnect proxies understand the needs of their target audience. They offer anti-CAPTCHA solutions as well as rotating backconnect proxies for sale.
Most vendors' dashboards offer the option of automatic rotation based on a time interval or the number of requests. There is no longer a need to manually assign IPs or fear that they will be blocked due to an incorrect setting.
Cons of Custom Essay Writing Service
Providers offering access to back-connect proxy pools tend to be at least mid-market focused. The increased security and anonymity is a premium product that usually costs more than an individual business owner can handle. However, some low-cost providers offer excellent services at reasonable prices.
Connection speed instability
Data extraction is a time-consuming and resource-intensive task. When extracting a large amount of data from a remote server, the connection can become very slow. For this reason, companies with a larger number of geo-locations are preferable. The connection speed also depends on the proxies that your provider provides. Sometimes you will get a very slow server and a very fast one occasionally. Be prepared for speed fluctuations.
Free vs. paid proxies
There are no free backconnect proxies. That's because maintaining a functional network of servers is an expensive endeavor that must pay for itself.
However, there are free proxy networks all over the Internet. Most of the time, they consist of users who voluntarily share their IP addresses.
However, these proxy networks are risky and offer few features typically provided by reliable vendors. Such features include IP rotation management, dedicated networks, and API integration support for developers.
Nevertheless, free rotation proxies do not provide security or anonymity, nor can they guarantee fast connections. The best way to obtain free proxies is to carefully examine trial or promotional offers from reputable companies.
FAQ
What are residential proxies?
Residential proxies are the IP addresses assigned to a particular user. These are the addresses of the existing PCs, cell phones, or laptops. If you connect through a real user's computer, your connection will look 100% natural. 

Unlike residential proxies, ISP proxies and data center proxies are artificial.  However, an ISP address belongs to an Internet provider and looks natural.
Are rotating and backconnect proxies the same?
These terms are often used interchangeably. Both describe a connection method that uses a "rotating" IP (i.e., a proxy IP address) that is periodically replaced with a new one.

However, the term "backconnect" is often used to describe bot/script connections for business purposes. This can be web scraping, SEO monitoring, data mining for aggregator websites, and other automated data mining activities. In addition, 99.9% of backconnect proxies rotate with connections that are usually static.
Are residential and backconnect proxies the same?
A backconnect rotating proxy can be a residential proxy and vice versa, but they are different. A residential proxy is a type of proxy where the physical IP address belongs to a single owner. A backconnect proxy is a connection setup with the constant change of IP addresses, for example, from a residential to a data center, or an ISP.
Can you buy rotating IPs for individual use?
Yes, some companies grant access to proxy networks based on the number of ports. For example, Storm Proxies lets you buy a port for $19 per month.
Are rotating proxies legal?
The use of rotating proxies is legal. Dozens of people rely on them to do honest and valuable work. Backconnect proxies, on the other hand, can be used for more than just good purposes. Remember that web scraping is illegal if it extracts data without the owner's permission or accesses data that is not intended for external use.