Whether you are travelers crossing the country borders or businesses requiring Canada IPs for marketing purposes, the ultimate goal is common for everyone – we need to access the blocked content. Anonymous web browsing in Canada is also not the last point to mention. In the rapidly changing Internet industry, we strive to secure our data, especially when it comes to online transactions. Here are the best solutions for getting access to blocked Canadian websites we will cover in our review: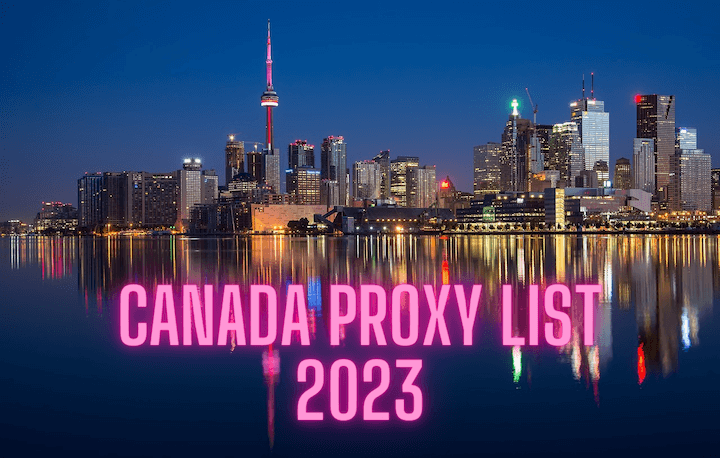 10 Top Canada Proxy Services – Forget About Denied Access
When estimating the quality of Canada proxy services, we carefully examined proxies' speed, stability, number of available IPs, privacy terms, pricing, and payment options. Now, we are ready to come up with the ten best proxy servers for Canada. Read our Canada proxy review and pick out the server that comes to your liking!
1. BrightData – Best Overall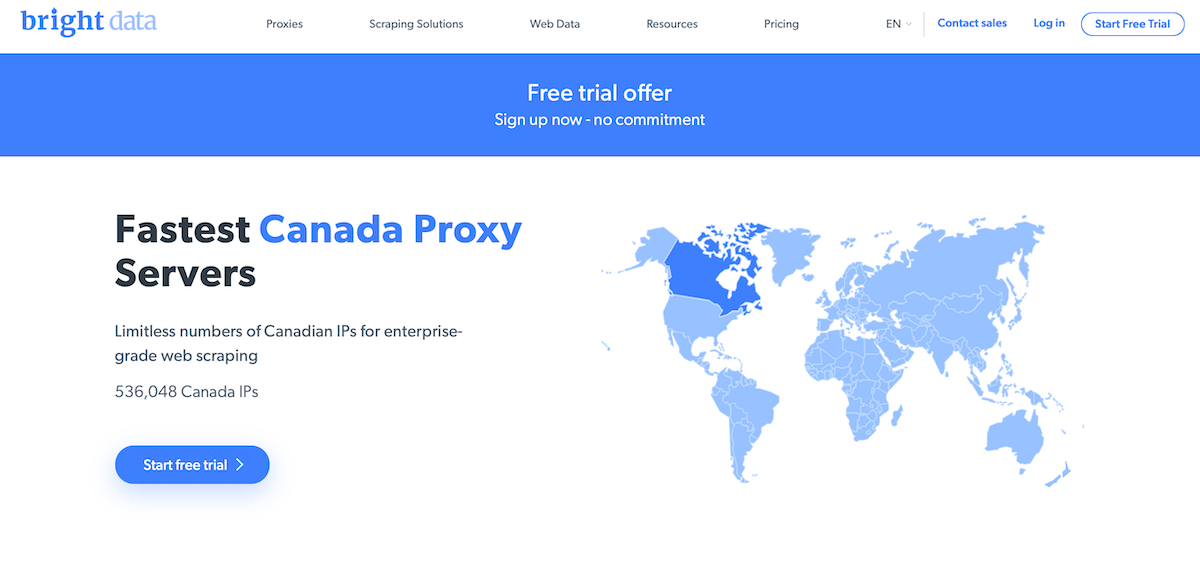 BrightData heads the list of top Canada proxy providers and has earned the title of the Best Canada Proxy Overall. Formerly Luminaty, BrightData was launched in 2014. It has gained over 72 million IPs in the pool for years of stable performance, with 442,157 IPs issued in Canada.
This proxy provider offers two types of IP addresses – residential and datacenter; the supported protocols are HTTP(s) and Socks5. The residential proxies you order can be of a mobile type, shared, static, and even exclusive, which assumes the choice of desired IPs.
The website presents three modes of IP rotation: rotation with each new session, a sticky session with a specified period, and 100% self-control. Among the filtering options are ASN targeting as well as general targeting by city and country. As for additional features, BrightData provides Web Unlocker, Data Collector, Browser Extension, and Proxy Manager. 
The scraping performance shown by BrigthData proxies is the best, with a 93,6% success rate. Over 90% of mistakes that occurred during scraping were caused by captchas. If you have a good captchas solver, you won't have any problems with scraping activity. 
Pricing plans
The pricing system offered by BrightData is flexible and is charged by the bandwidth ordered. Customers can choose one of three payment options: a monthly subscription, a yearly subscription, and the Pay as You Go option, which is convenient in identifying the proxy type and bandwidth you require. Regarding the testing of proxy opportunities, BrightData offers a free trial that lasts seven days after you start using the proxies.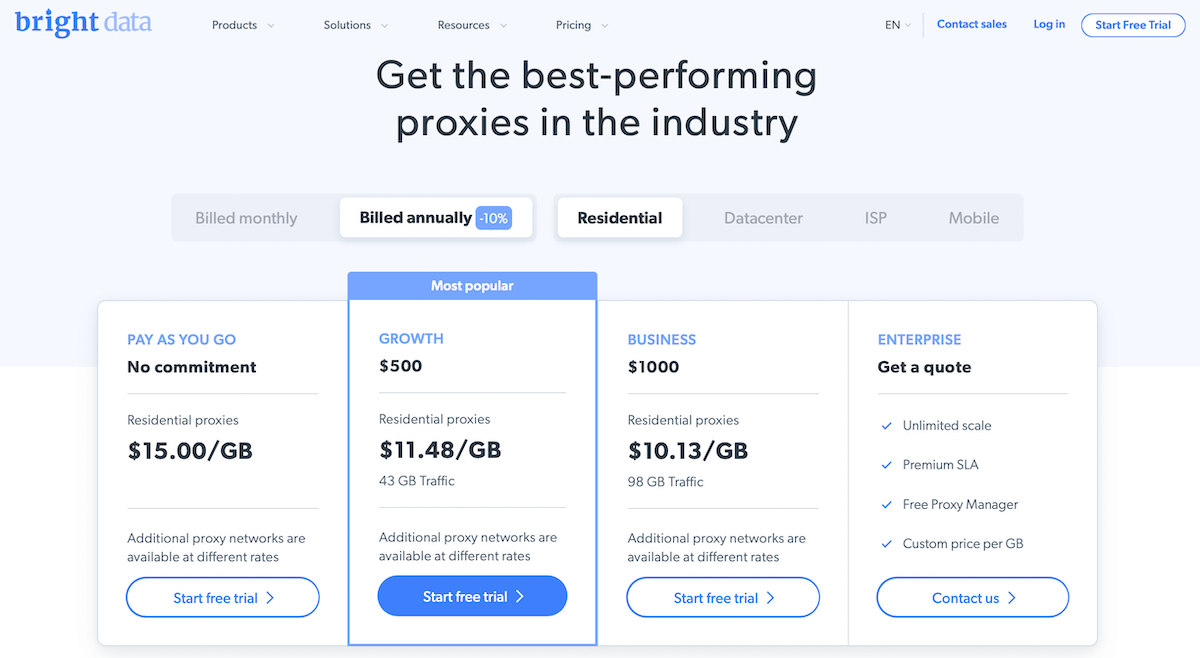 Pros & Cons
Pros
Cons

Unlimited concurrent sessions 

High success rate 

Decent speed of connection 

Dedicated account manager 

Supports Socks5 

Browser extension 

Web Unlocker 

Data Collector 

7-day free trial 

Expensive servers 

Limited bandwidth 
User reviews
According to user reviews published on TrustPilot, BrightData is a highly reputable company with a great number of satisfied clients and an overall rating of 4.8. Mostly, users give the service 5 out of 5, paying tribute to the level of customer support. In addition, they note the service and support team's professionalism, dedication, and kindness.
2. Oxylabs – Best for the Selection of Canada IPs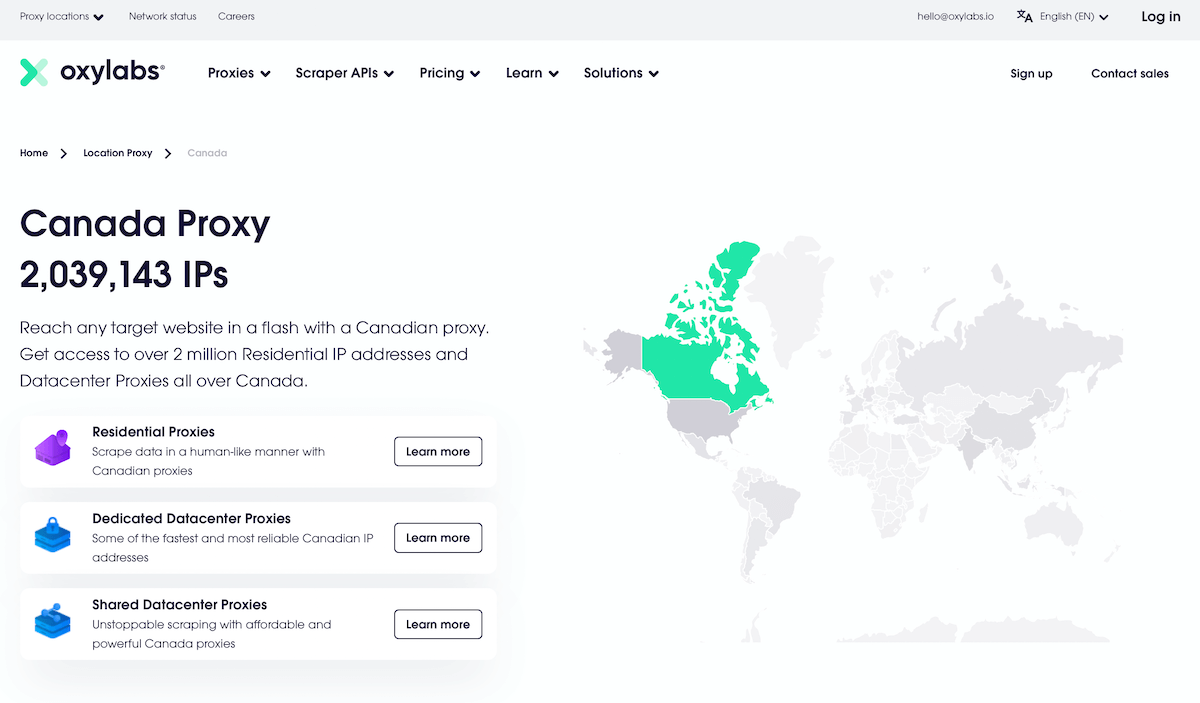 Oxylabs ranks second in the Canada proxy server list. It was launched in 2021, and despite its short existence, Oxylabs has gained universal acceptance. Currently, it offers over 3 million Canada IPs, which is very impressive compared to BrightData. 
The website presents two major types of proxy servers – residential and datacenter. These are ethically sourced proxies from trusted and legitimate sources, making scraping secure and uninterrupted. Datacenter servers are subdivided into two categories – dedicated and shared. Also, Oxylabs supports the SOCKS5 protocol, which is very convenient.
The IP rotation modes offered by Oxylabs are limited to rotation with each new session and a sticky session. The filtering of IPs is carried out at the city and country levels. Among the extra features Oxylabs provides are Next-Gen proxies, SERP Scraper API, E-Commerce Scraper, and Web Scraper API.
Proxy speed is acceptable but inferior to those presented by BrightData. Regarding the response time, it is pretty common and reaches 3.49s. The success rate is about 87% which is also lower than in BrightData. You will additionally need a captchas solver to decrease the error rate because websites like Google and YouTube will block you.
Pricing plans
Oxylabs' pricing system contains plans both for individuals and enterprises. Similar to BrightData, Oxylabs provides a Pay-as-You-Go option. Remarkably, these two providers have practically equal prices set for their services. Thus, the Pay as You Go option costs $15 per GB.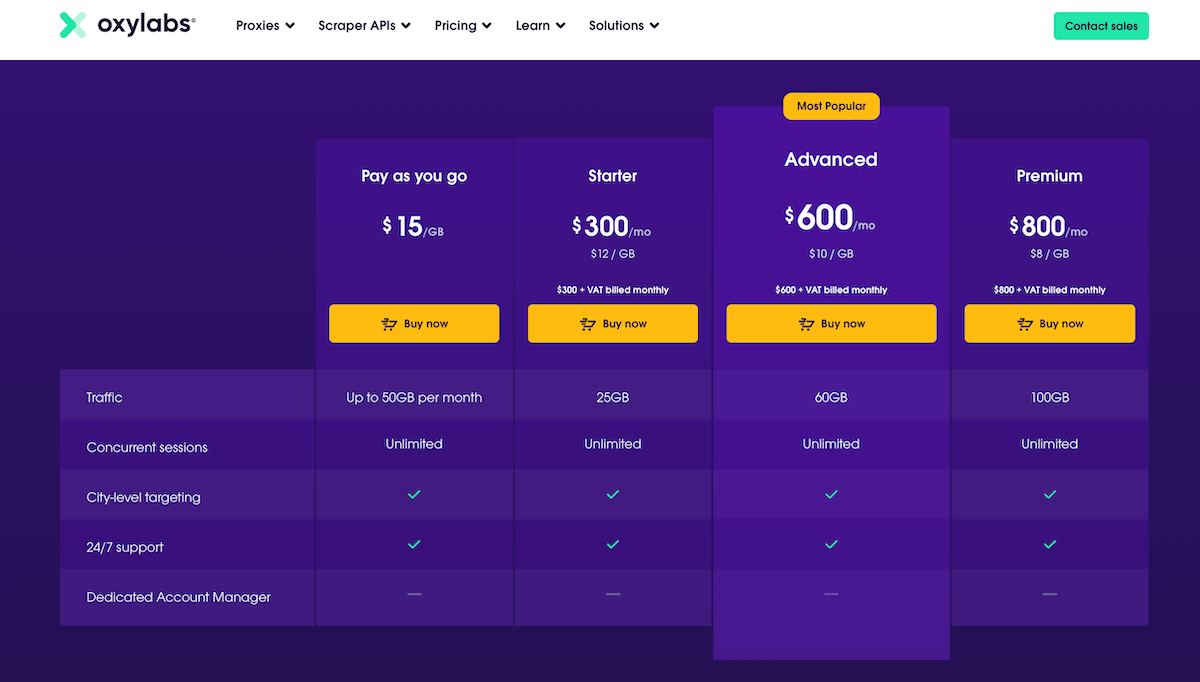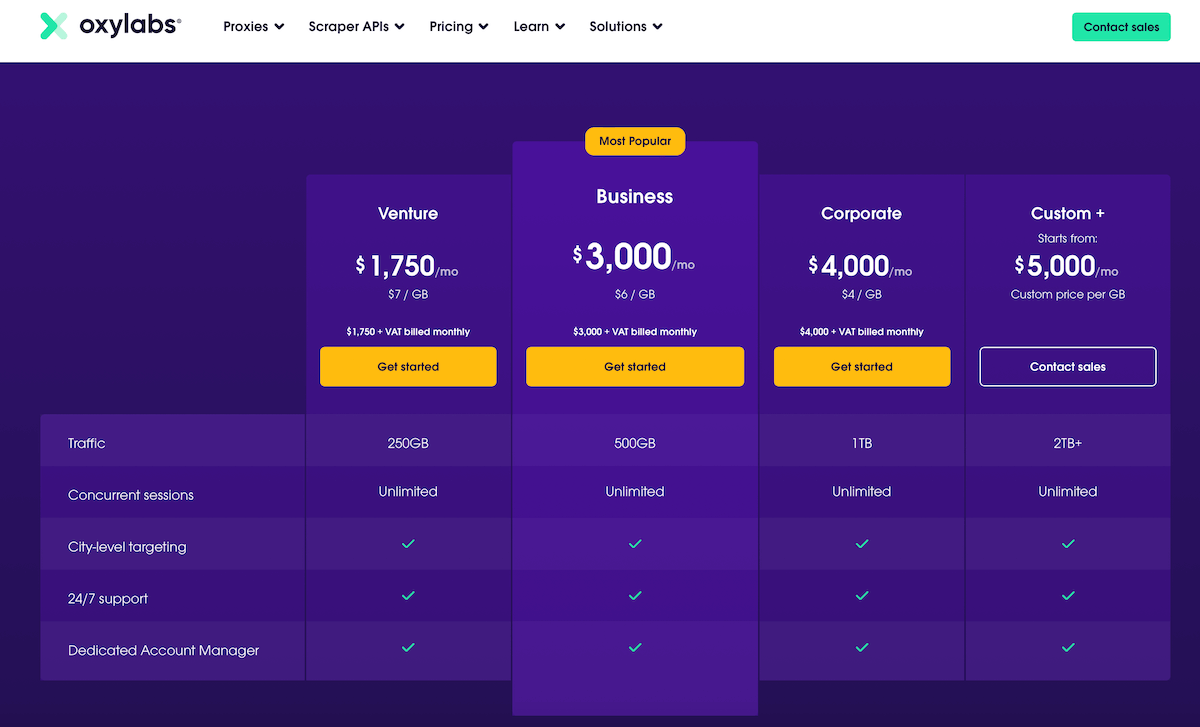 Pros & Cons
Pros 
Cons

An immense pool of Canada IPs

Supports Socks5 

Dedicated account manager 

Next-Gen proxies

SERP Scraper API

E-Commerce Scraper

Web Scraper API
User reviews 
The overall rating of Oxylabs on TrustPilot is 4.5, with 89% of 5-star reviews. Users appreciate a large pool of high-quality IP addresses as well as a professional support team.
3. Smartproxy – Best for the Free Additional Features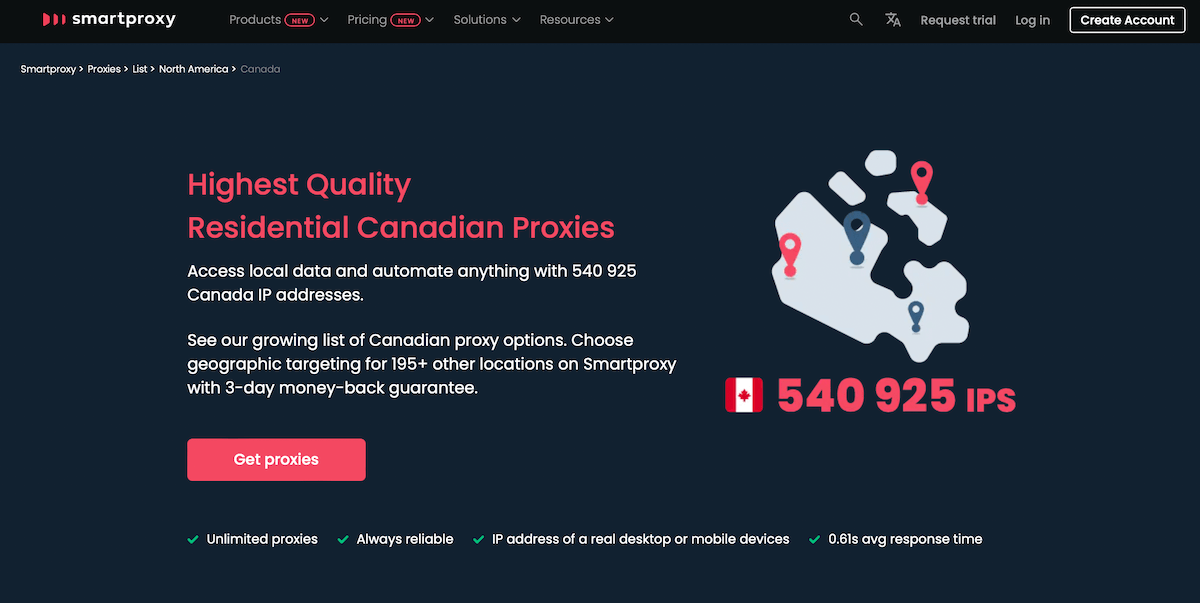 Another proxy bypass in Canada is Smartproxy which ranks third on our list. Smartproxy is a reputable proxy provider that was established in 2018. Currently, it offers 540,925 residential Canadian proxies of excellent quality and high connection speed.
Smartproxy stands out for high-quality proxy servers coupled with free scraping tools: Social Media Scraping API, SERP Scraping API, E-Commerce Scraping API, and No-Code Scraper. Also, SmartProxy offers X-Browser, Chrome Extension, Firefox Add-on, and Address Generator. Among proxy types covered on the platform are residential proxies, datacenter servers, dedicated datacenter servers, and mobile IPs.
Smartproxy can boast stable performance with a decent speed rate and excellent scraping performance. The test has shown that SmartProxy is one of the best services for scraping purposes – the success rate we've obtained is 91.3. 
Pricing plans
Smartproxy has one of the lowest price limits on the market, which makes it a top pick for those who search for low-budget solutions. The flexible pricing plans start with the Pay as You Go option, valued at $8.5 per GB. There are some plans for individuals and a fully customizable plan for enterprises.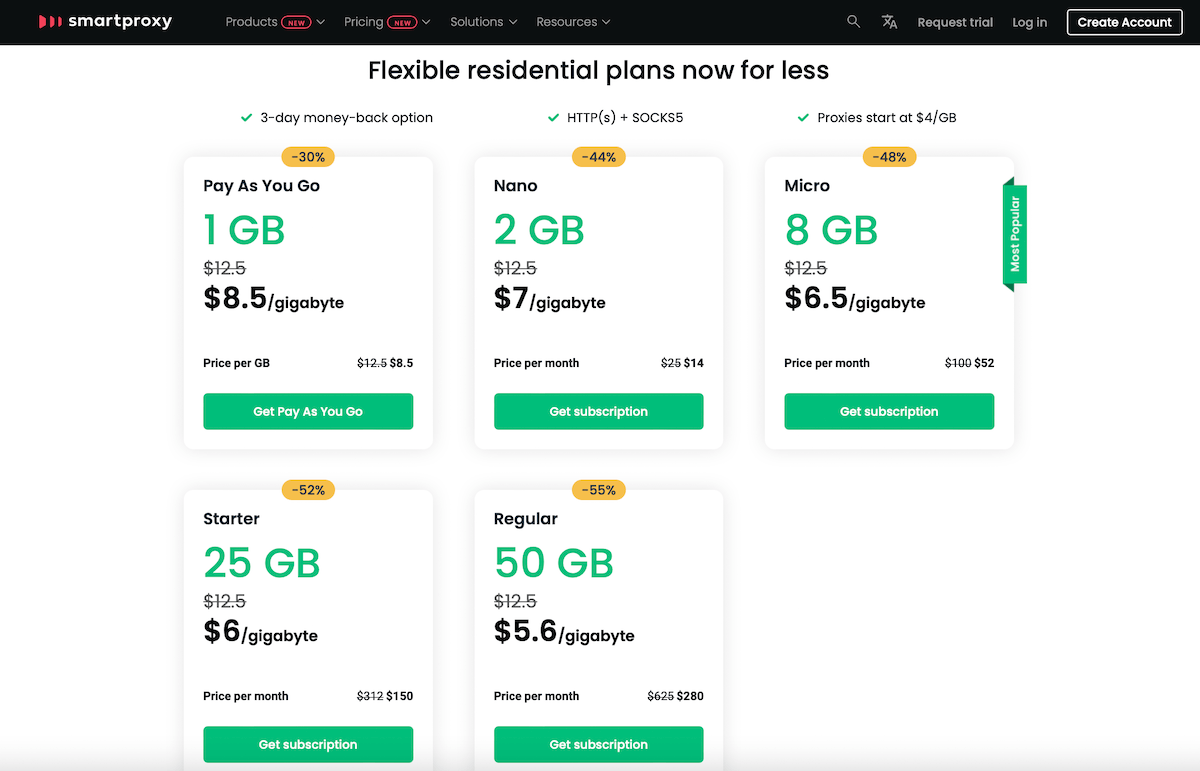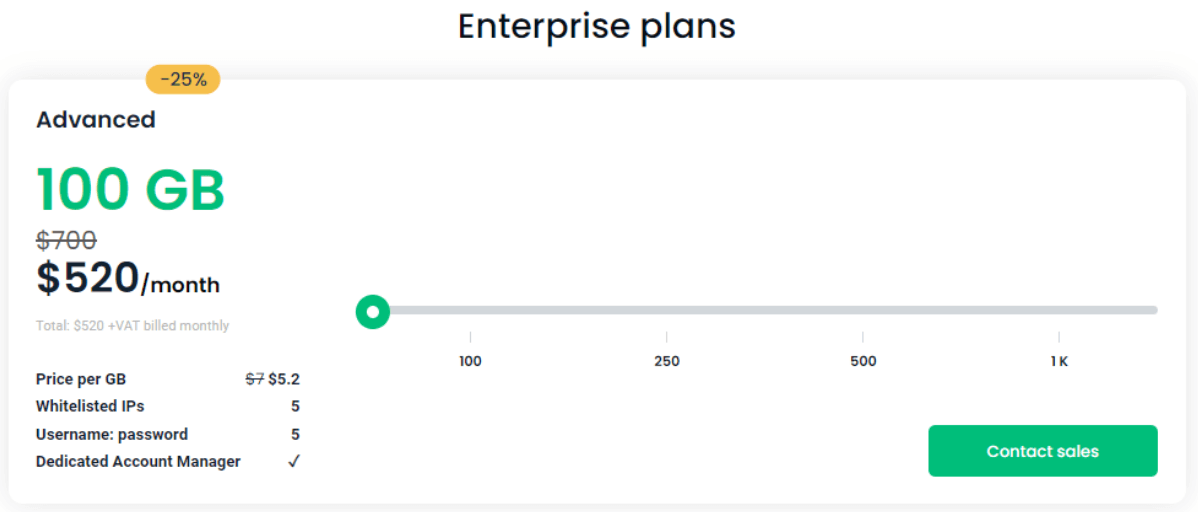 Pros & Cons 
Pros 
Cons 

Affordable rates 

Free features 

Decent scraping performance 

Unlimited concurrent sessions

No subnets 

3-day money-back 

Does not support Socks5

Limited geo-targeting
User reviews 
Smartproxy is one of the most beloved proxy providers with a rating of 4.7 on TrustPilot. Users appreciate high-quality servers, the ease of the scraping process, and excellent customer support.
4. Infatica – Best for Session Control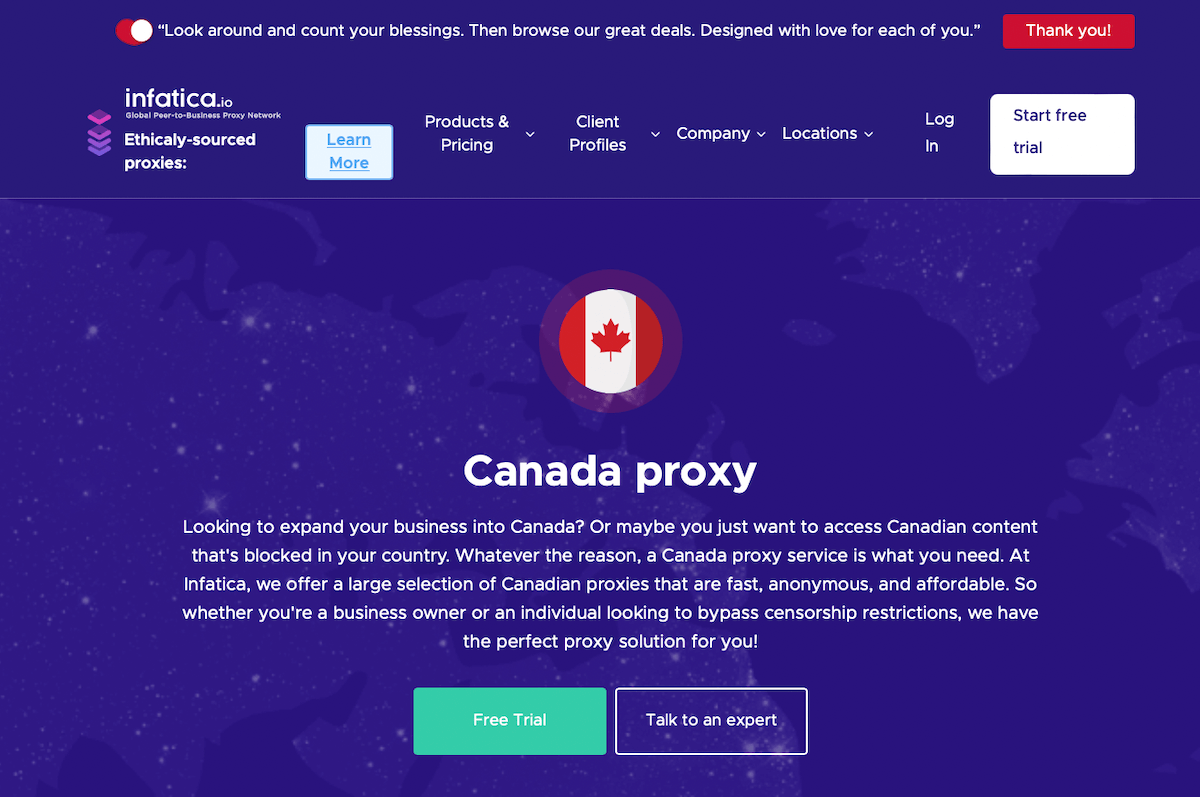 Infatica ranks high among secure proxy services in Canada and deserves our attention as well. It was founded in 2019 and has over 100,000 Canadian IPs. This platform provides mainly residential and datacenter proxies, but also you can order mobile ones here. Among the proxy types presented on Infatica are IPv4 servers, Anonymous IPs, ISP proxies, as well as Shared, Private, and Fresh servers.
Infatica can be truly proud of the session control it provides. There are two modes of sessions – rotations with each new request and sticky sessions stable for a specific period. The proxies you obtain are fully in your control. Note that when you use a single IP, you launch a sticky session. Also, you can track the uptime and performance, which is very convenient. 
Pricing plans 
Infatica offers a little bit different pricing plans. The company does not distribute them according to the potential customers: individuals, businesses, enterprises, etc. Instead, Infatica provides packages with a specific amount of bandwidth, from 8GB to 1,000 GB. If desired, one can purchase a plan for a month or a year.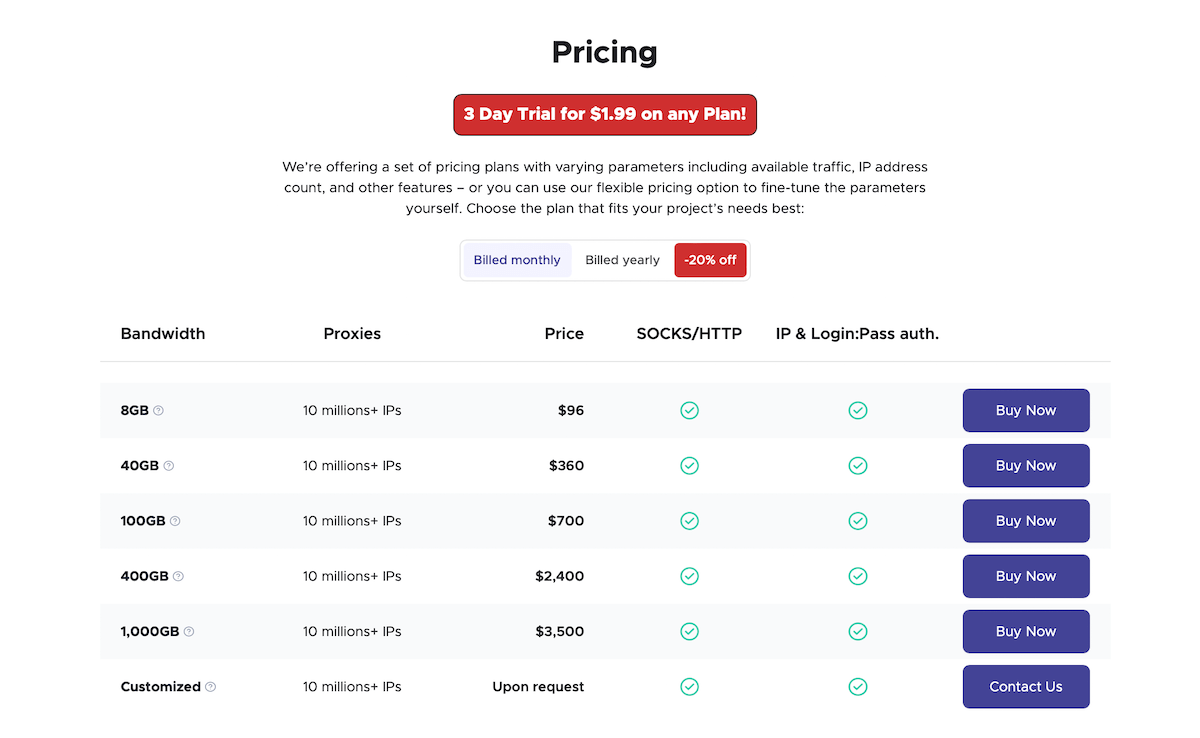 Pros & Cons 
| | |
| --- | --- |
| Pros | Cons  |
| | |
User reviews  
Though Infatica cannot boast a large number of user reviews, it has a high rating on TrustPilot – 4.2 points out of 5. Some users appreciate the platform being user-friendly and straightforward. Others emphasize a good scraping performance with a high success rate. 
5. IPRoyal– Best for IPRoyal Pawns Feature
This Canada IP proxy service was launched in 2014 and now provides 219,846 Canada IPs. Remarkably, the jurisdiction of the company is Canada. IPRoyal delivers ethically-sourced residential IPs that support HTTP(s) and Socks5 protocols.
One feature that makes IPRoyal stand out among other intermediary providers is IPRoyal Pawns. IPRoyal informs its customers that their IP is being used as an exit node for the service and compensates for it. This service is designed to source IPs ethically. The amount you get as compensation depends on the amount of bandwidth and the duration you left your device open to the network.
In terms of performance, IPRoyal is far from record holders. It lacks a connection rate, which is essential in choosing an intermediary provider. Though the speed needs some improvement, it does not mean it is terrible. It is quite acceptable, but if the speed is crucial for you, it is better to find an alternative. 
Pricing plans 
IPRoyal offers affordable prices, making it a top pick for small businesses. Similar to Infatica, IPRoyal adjusts the pricing system to the amount of bandwidth purchased. Still, there is a small difference between these two companies. Unlike Infatica, IPRoyal provides a flexible pricing system fully customizable according to the needs of clients.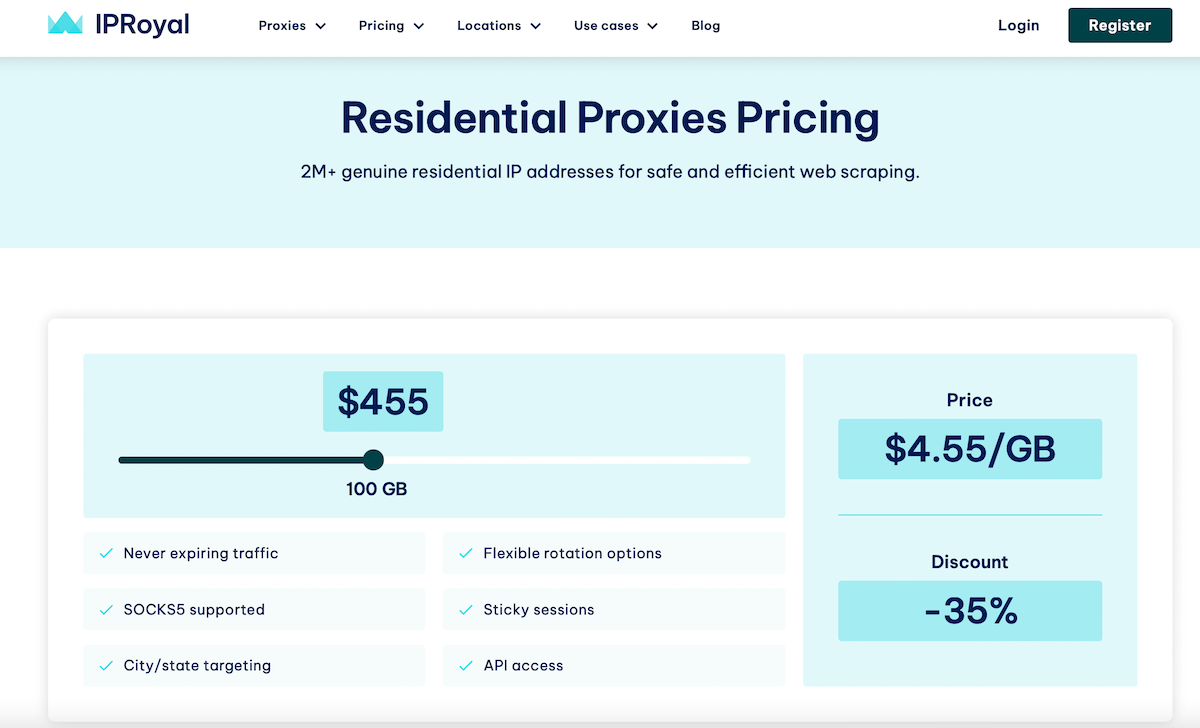 Pros & Cons 
Pros
Cons 

No clear refund policy 

Small pool of IPs
User reviews 
IPRoyal has proved its title of Royal proxy provider and gained a score of 4.6 points on TrustPilot. Users value the level of provided customer support, the prices, and the speed of the proxies. Unfortunately, some reviews were not so positive and related to the undesired purchase of extra bandwidth. The support team reacted instantly and gave the users instructions on how to solve the problem or claim a full refund.
6. Proxy-Seller – Best for Static Servers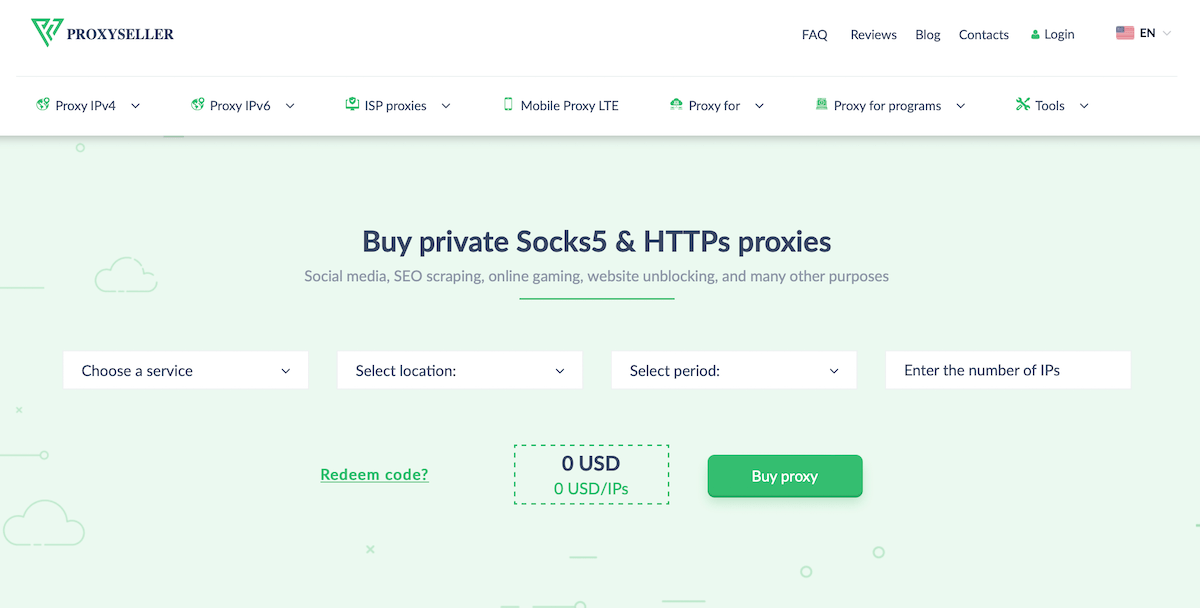 Proxy-Seller was founded in 2016 and is famous for its good choice of subnets. This provider specializes in static servers, so if you are looking for rotating IPs, you went to the wrong address. All in all, these proxies are at a high level and support the Socks5 protocol. What distinguishes this service from the rest is convenience in use and a fully customizable personal account. As for the level of performance, Proxy-Seller has proved itself as a decent service.
Pricing plans 
Proxy-Seller charges users for the number of proxies they order but not the bandwidth as commonly. Such an approach makes the Proxy-Seller pricing system rather flexible because the number of purchased nods can vary significantly. The duration of rentals is also very flexible: from 1 week to 12 months.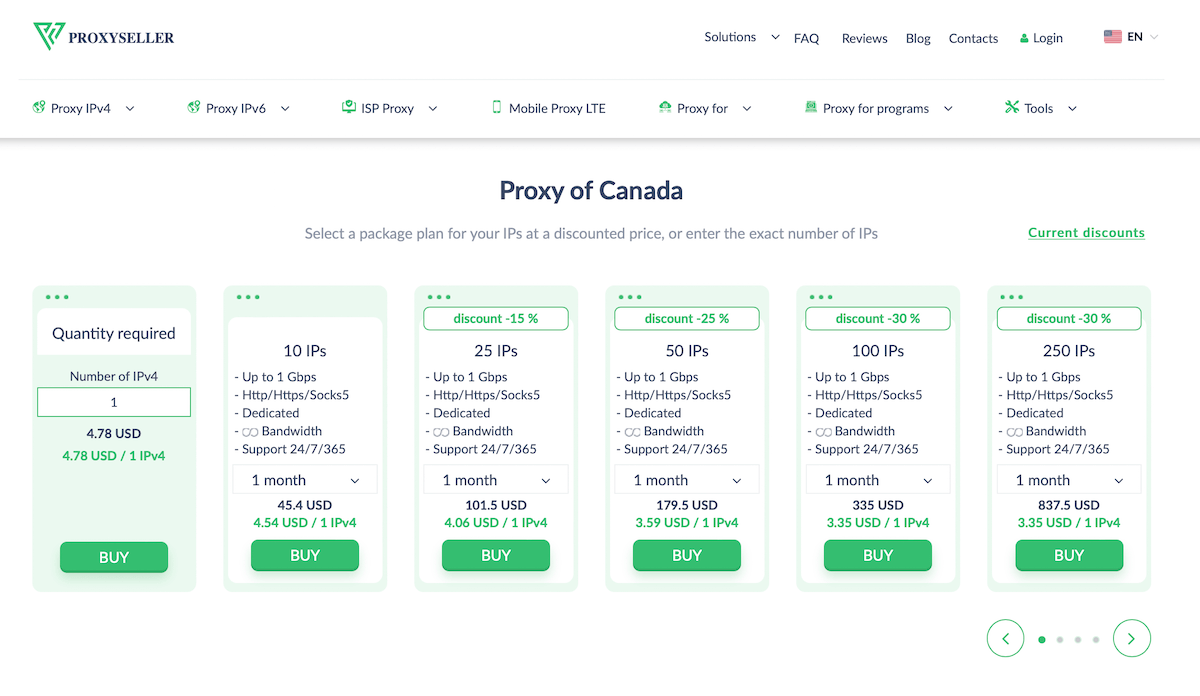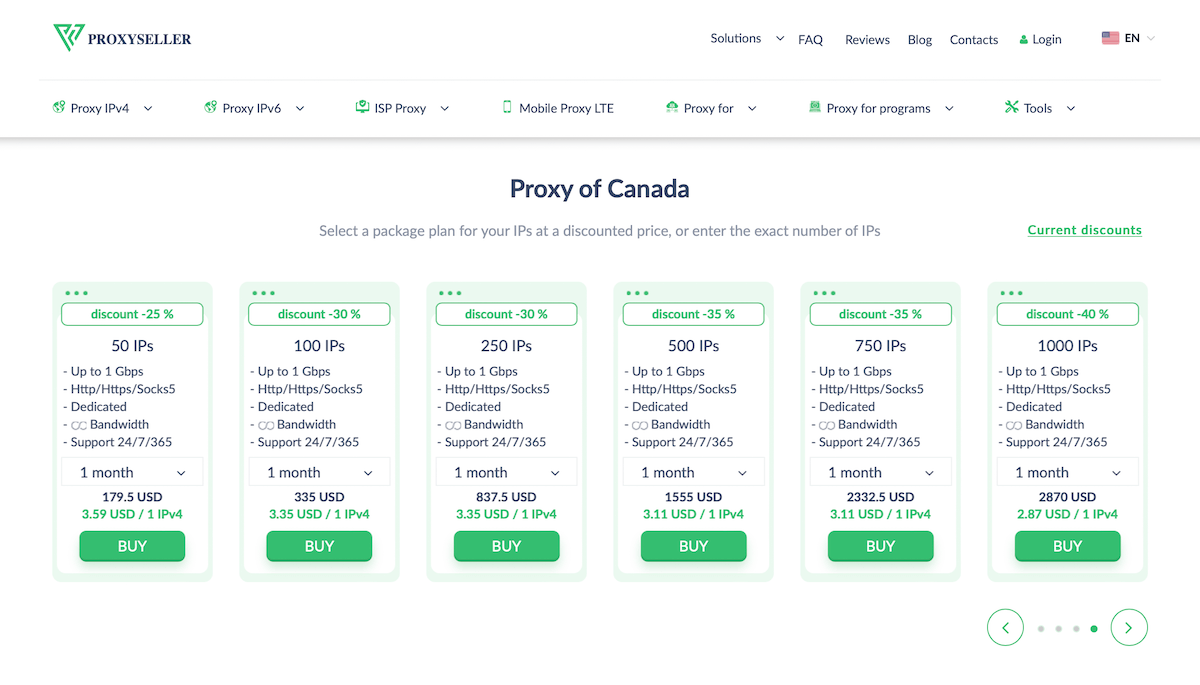 Pros & Cons 
Pros 
Cons 

Supports Socks5

High connection rate

Decent choice of subnets 

Refund and replacement 
User reviews 
On TrustPilot, Proxy-Seller scores 4.7 points out of 5, which is impressive. Mostly, users are satisfied with the speed rate, stable performance, and of course, with the quality of provided support.
7. NetNut – Best for the Connection Rate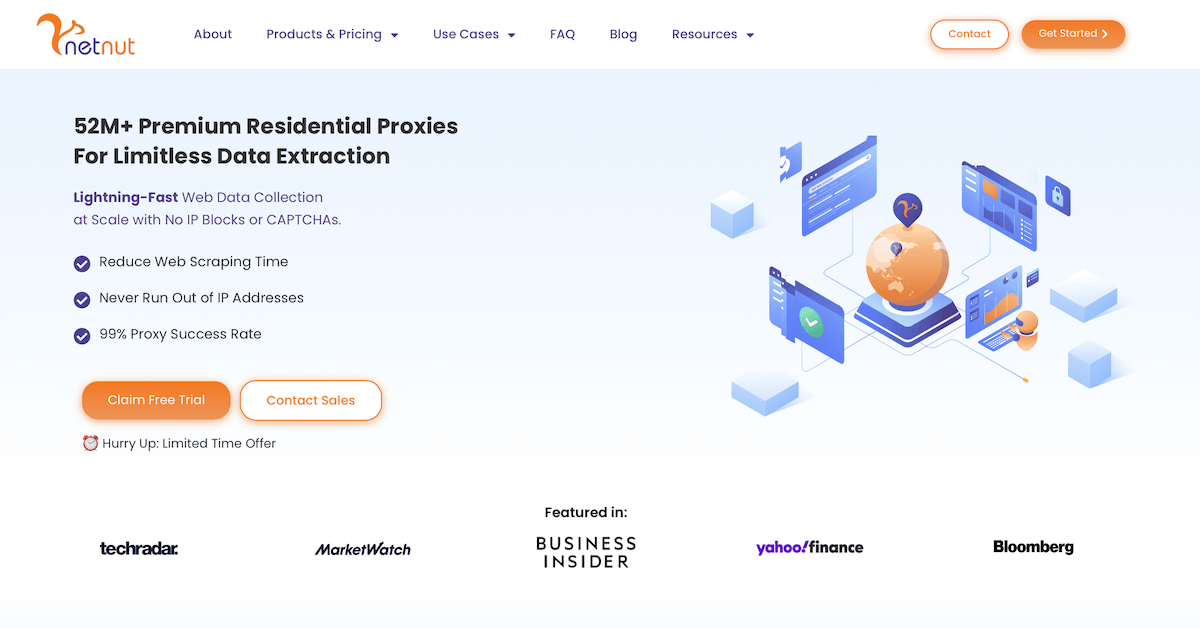 Being launched in 2017, NetNut has earned a reputation as a leading proxy provider. It offers a decent choice of solutions and features, from rotating residential to static ISP proxies. The platform is convenient to use and has an easily navigated dashboard. There you can track the amount of bandwidth you have already used and how much you have left. If you need super-fast proxies, NetNut is for you. You will be amazed by the connection rate provided.
Pricing plans 
NetNut's pricing depends on the amount of bandwidth you use. Several pricing plans have their set of GBs, so it is easy to pick the most suitable package. Also, prices depend on the features included in the package, like Skype support, IPs whitelisting, or API access.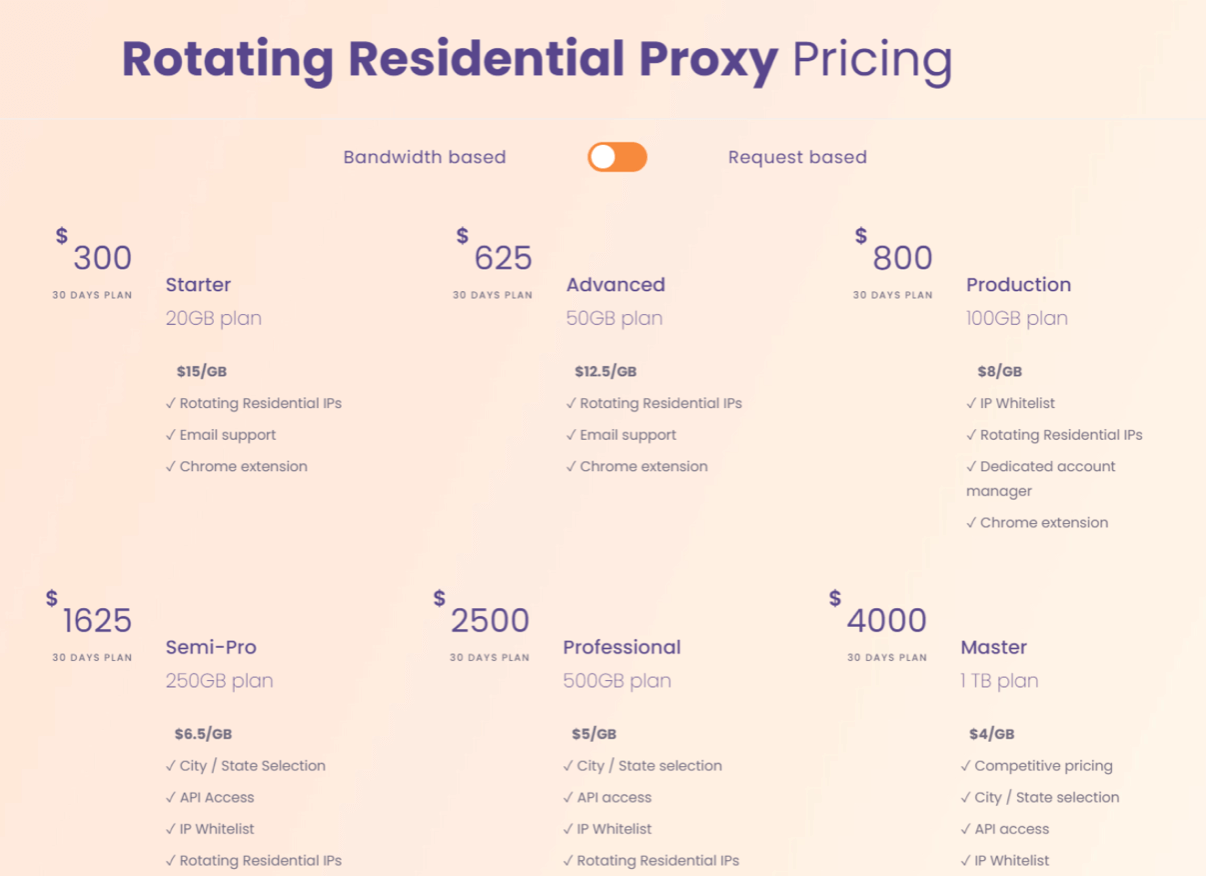 Pros & Cons 
Pros 
Cons 

Stable performance 

Good value for money 

Variety of pricing plans 

7-day free trial 

Does not support Socks5 

Limited bandwidth 
User reviews 
NetNut does not dispose of a large number of reviews on TrustPilot but still, they are mostly positive. Users appreciate the value for money they get from this service.
8. HideMy.Name – Best for VPN Feature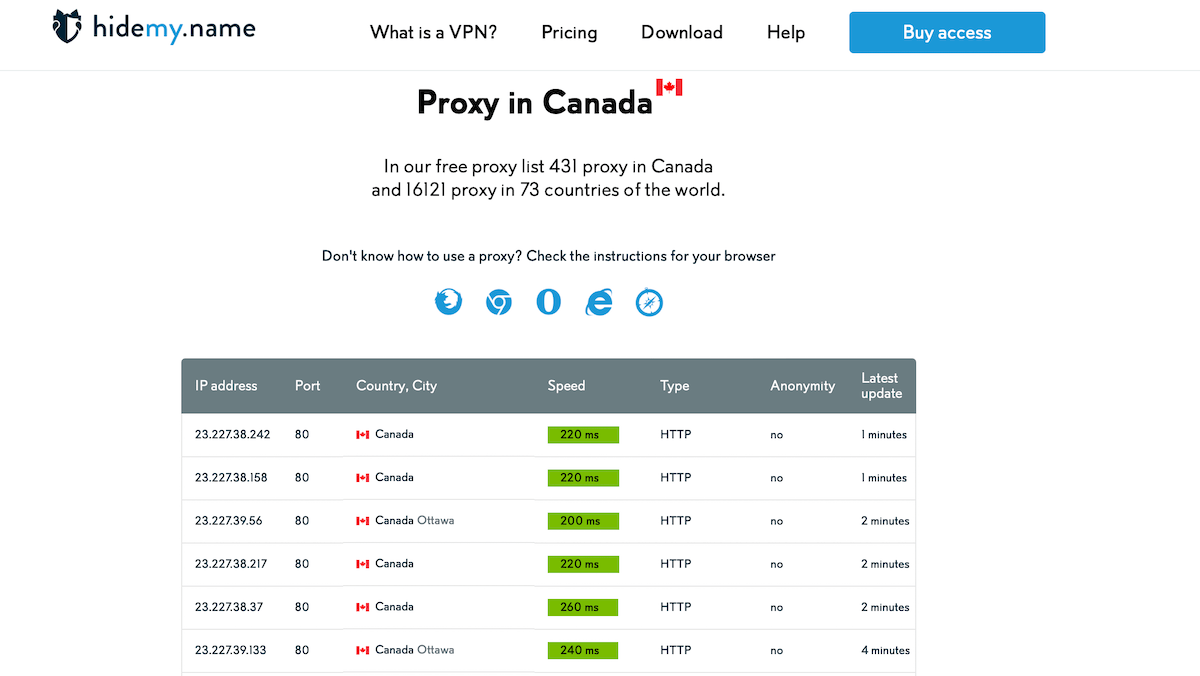 HideMy.Name is a Canada VPN proxy service that is good for maintaining anonymity on the Internet. It is a good alternative for those seeking stable performance and speedy browsing and considering using VPN. HideMy.Name changes the IP address of all computer programs, defends traffic, and removes blocking from any sites. Meanwhile, all your Internet activity remains unnoticed. One of the most popular uses of this online service is access to blocked social networks.
HideMy.Name is known for its high-speed rate and absence of malfunctions. However, there may be some downfalls in connection rate caused by local in distant servers. Unfortunately, there were some cases with irregular work of Canadian proxies issued by HideMy.Name. However, we haven't encountered any problems when testing the service. 
Pricing plans 
HideMy.Name pricing is not the cheapest on the market, though it can be called adequate due to an impressive set of features. There are pricing plans divided by the duration of usage – from 1 month to 5 years.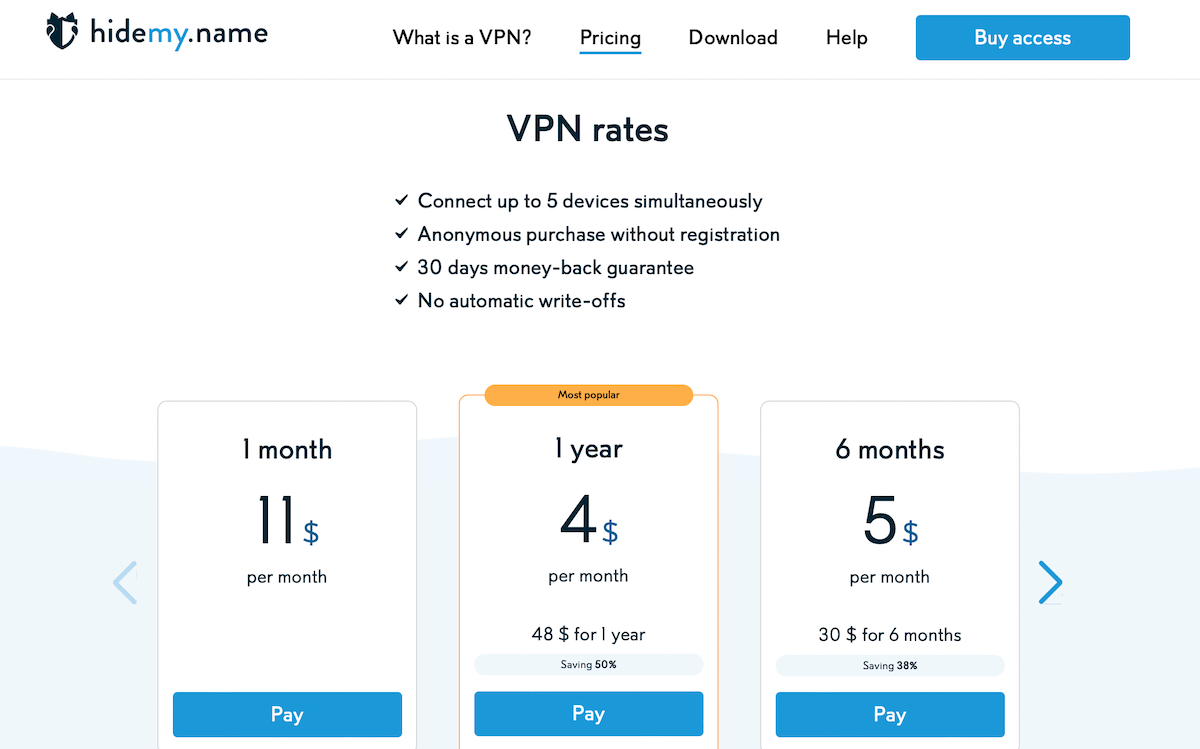 Pros & Cons 
Pros 
Cons 

Unblocks hardly accessible targets

Allows changing encryption 

Stable performance 

High compatibility with different devices 

Supports Socks5

Monthly plans may appear pricey

Local and distant servers can lower the speed
User reviews 
Mostly, users are satisfied with the services provided, but there used to be some downfalls in the performance of proxies. It does not neglect the overall quality of the platform, but still, you have to bear in mind possible malfunctions like a decrease in speed.
9. Smart DNS Proxy – Best for Unblocking Streaming Services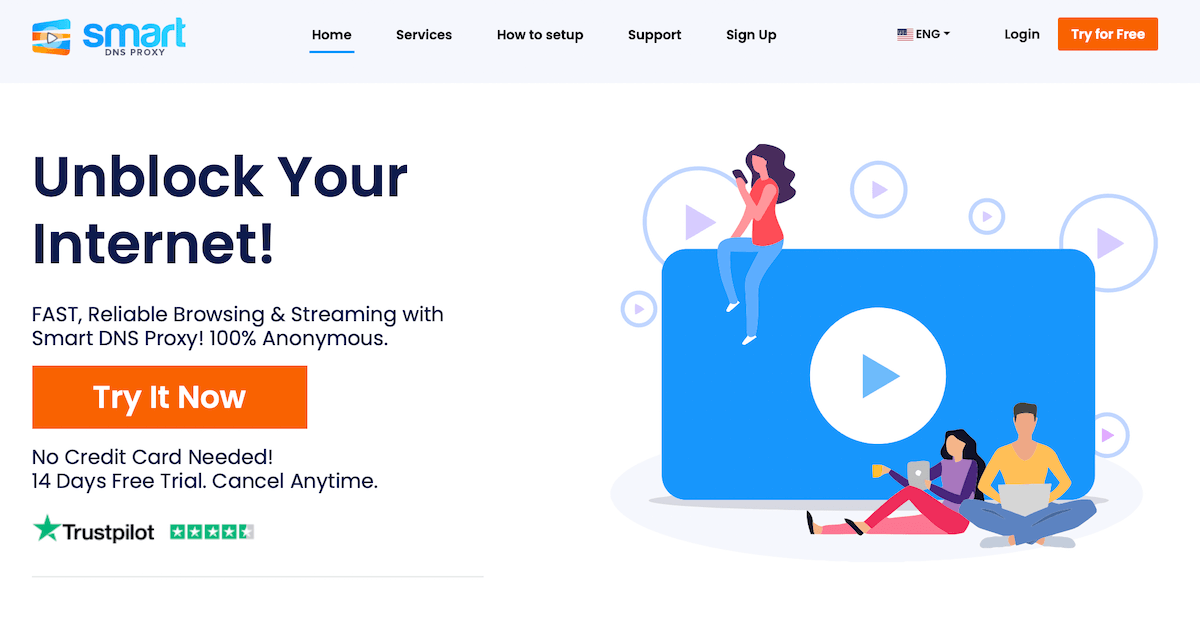 This proxy provider is primarily famous for affordability and unblocking facilities allowing users to access Netflix, Disney+, HBO, and others. Also, this service has a VON feature that can launch five simultaneous VPN connections.
Smart DNS Proxy is a reliable provider which yet requires some improvement in terms of stability. When some users access Netflix and other services of that kind, others cannot attain the same result. However, it is paid off with the affordability of pricing plans.
Pricing plans 
As commonly, pricing plans presented by Smart DNS are offered in the form of packages distributed by the duration of usage. The prices are among the lowest on the market, which makes it the best alternative for those seeking low-budget solutions.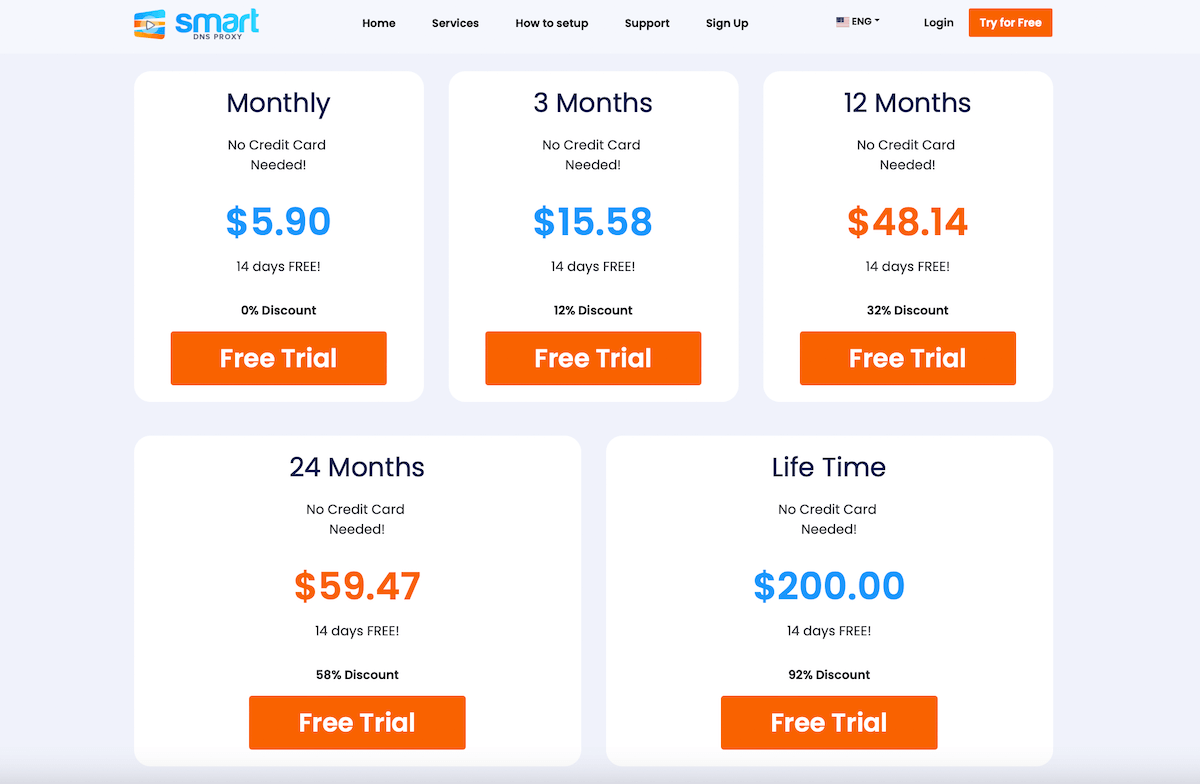 Pros & Cons 
Pros 
Cons

Low prices 

Unblocks many essential sites 

High compatibility with devices 

14-day free trial 
User reviews 
With over 4,5K posted reviews, Smart DNS Proxy scores 4,7 points on TrustPilot. Users noted super-fast support and ease of use.
10. LimeProxies – Best for On-Demand Proxy Refreshing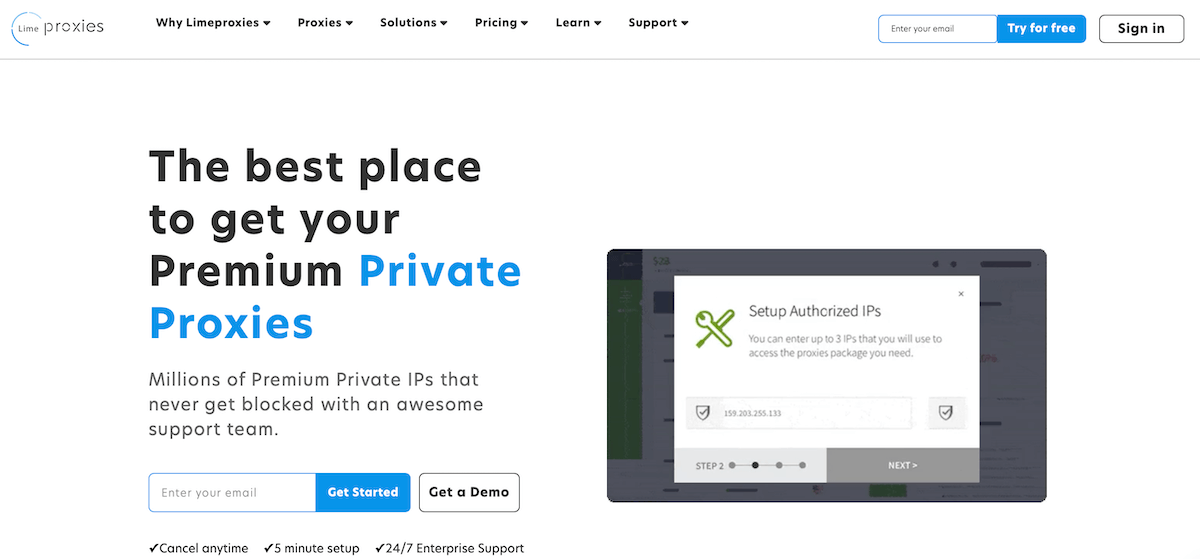 Our Canada proxy server list ends with LimeProxies. This platform stands out for its user-friendly interface and monthly IP refreshing that goes for free. LimeProxies offer both virgin and recycled IPs. Virgin IPs are of premium quality and are unlikely to be banned. Recycled IPs are cheaper but less sophisticated compared to virgin ones.
The service has shown a great response time test – 1.9s. The ping reached 53ms, download is 28.92 Mbps, upload – 14.55 Mbps. However, there can be some malfunctions in the performance of these proxies, but they can be easily eliminated with the help of the support team.
Pricing plans 
The prices set by LimeProxies are among the lowest. Packages are subdivided into categories for Startups and Enterprises.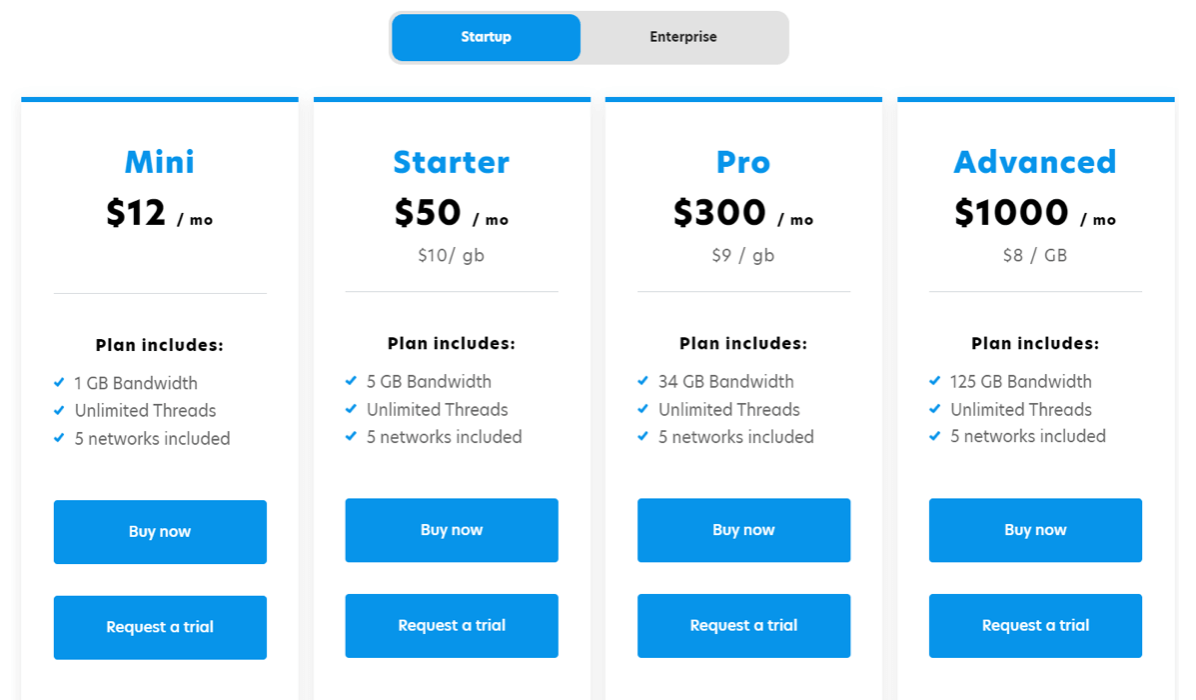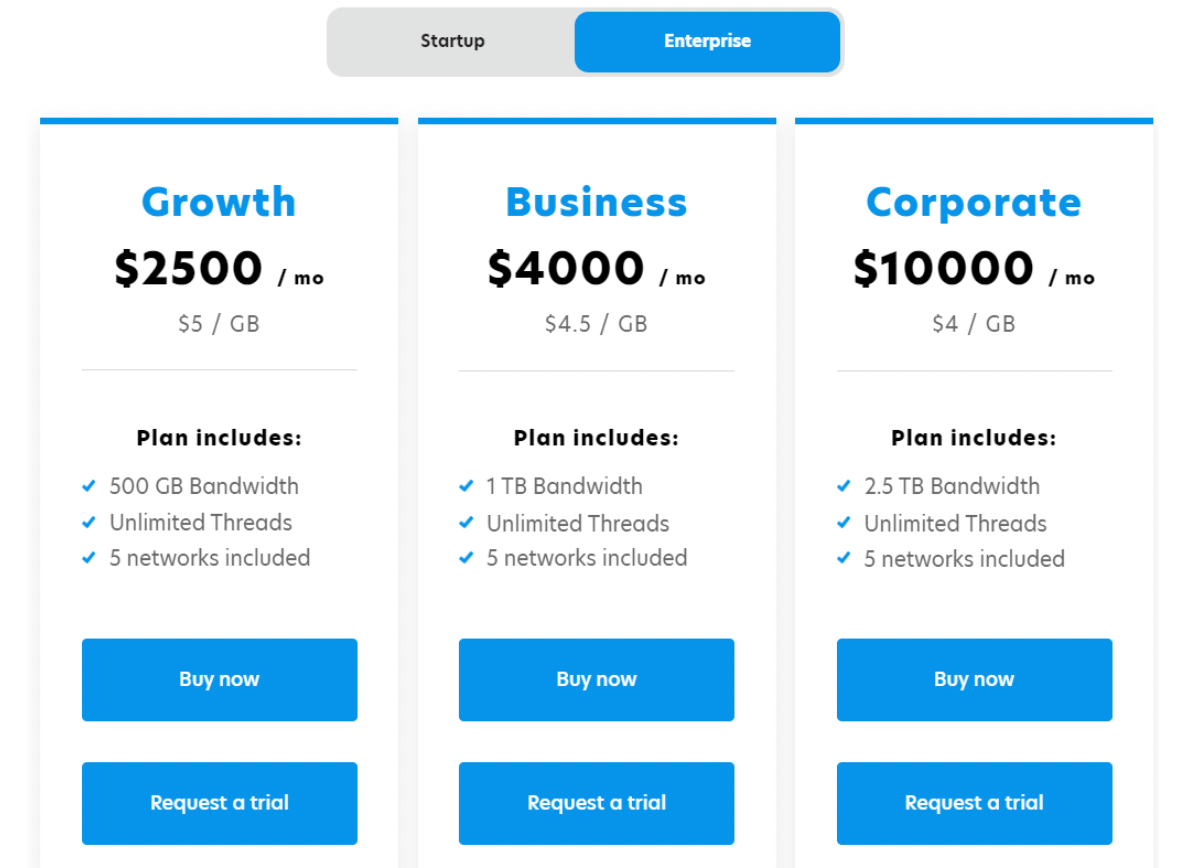 Pros & Cons 
| | |
| --- | --- |
| Pros | Cons  |
| | |
User reviews 
Regarding user reviews, LimeProxies is not the best here. The overall rating on TrustPilot is poor – 2 points out of 5. Though the rating is low, 70% of users gave this service 5 out of 5. As for the criticism LimeProxies encountered, users rebuke the company for charging for canceled products and poor support.
Factors to Consider when Choosing Canada Proxy Services
When choosing appropriate Canada proxy services, one should first consider the reason for using a proxy in the first place. Depending on the use case, one can easily set a mind on a proxy type to use.
Then, it is crucial to determine the proxy features you require. Perhaps, you need a specific type of IP rotation, flesh-lightning speed, or scraping tools. Check the available features in advance so as not to be upset in the future. Read user reviews on the services to identify possible pitfalls and malfunctions.
To ease the choice of a provider, we list here key features to check when choosing a reliable and high-quality Canada proxy service.
The size of the Canada proxy pool. The larger pool the company provides, the more options you can obtain. So, visit the website and see how large the pool of Canadian IPs is.
Speed and reliability. These are the key aspects to consider when selecting IPs because the possible speed level determines the performance quality. Reliability can be checked in real user reviews.
Encryption, security, and privacy features. Visit the company's terms & conditions and study the measures they take to ensure security for their users. The privacy policy is also important to pay attention to.
Compatibility with different devices and operating systems. The level of compatibility determines the level of the website's development. The more devices are compatible with the proxies, the better it is.
Pricing and payment options. Sure, it is always good when the company provides flexible pricing plans and covers various payment options. Still, you need to rely on your preferences here.
Customer support. No one is safe from malfunctions, so companies must provide high-quality support. Mostly, platforms have a live chat, support via email, and offer a detailed FAQ section.
Having estimated the quality of various proxy providers, we can say for sure that these are the best proxy servers for Canada on the market. They have different unique features so it is up to you to decide which one you prefer.
---