The finest social media and residential proxies for marketing, scraping, and sneaker copping.
Overview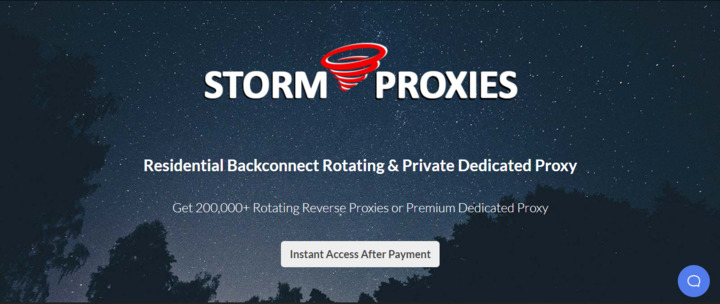 StormProxy has been in the market for over six years now positioning itself as a unique proxies solution. But how worthy is the company's offer in practice as opposed to other big players such as Luminati and the like? Let's figure it out together!
On paper, StormProxes' offer looks fairly decent, although non-competitive to leading providers such as Luminati and the like. Its IP pool is far less ample (200k IPs vs millions of IPs) than that of top private proxy providers and the geo-targeting is largely limited. On the bright side though, the features and functions available at Storm Proxies look sufficient to guarantee smooth small-scale scraping and cheap social media management.
Key Features Review
Storm Proxies' feature set does not stand out for any special functionalities but there is no significant backlog from an average market offer either. So here are some features worth mentioning.
1GB network and unlimited bandwidth
Storm Proxies has a 1GB system that is optimized for delivering high performance and speed. They likewise boast the fact that their dedicated proxies are hosted on a server that is owned by the company. This allows them to sell proxies at a lower cost and, thus, gives them an advantage over companies that have to resell proxies.
Instant service delivery
At Storm Proxies, you start using the proxies right after you've paid for them without having to wait for the account activation or other setup processes. This is a huge bonus for those looking for a quick solution that doesn't require a lengthy implementation.
Adjustable IP rotation
Depending on your needs, you might want proxies to rotate in different intervals. Storm Proxies allows you to choose the rotation format that best suits your needs. For example, if you select one of the backconnect rotating proxies plans, you can set it up to get new IP on each HTTP request. Or, if you plan to use the solution for creating social media accounts and regular browsing, you can set proxies to change IP every 3 minutes. For longer sessions, they can be set up to change it every 15 minutes.
Geo-targeting
Geo-targeting opportunities are not very abundant but still available at Storm Proxies. Unless you choose private proxies which only allow geo-targeting within the USA, residential proxies allow geo-targeting within the USA and Europe member areas. And backconnect proxies also allow targeting some locations beyond the USA and Europe.
IP replacement
In the case with rotating proxies, both backconnect and residential ones, you deal with large IP pools of up to 70k IPs, which is why IP replacement is regarded as unnecessary. In the case with private proxy, Storm Proxies allows you to request the IP replacement twice a month maximum unless you have banned over 20% of the IPs.
Flexible price system
The price of each plan varies depending on your specific requirements. Thus, for instance, if you purchase private dedicated proxies, the pricing will be based on the number of IPs. In the case with backconnect rotating proxies, it will depend on the number of threads, and in that with rotating residential proxies — on the number of ports ( each port has a limit of 50 threads).
24-hour money-back guarantee
StormProxies does not have a free trial but it has a 24-hour money-back guarantee which serves as its equivalent in a way. As follows from numerous client reviews on independent platforms, Storm Proxies normally has no issues with returning the money within 24 hours so the guarantee is workable.
Review of Proxies
Storm Proxies has two types of proxies: rotating proxies and dedicated proxies. These proxies are, in turn, available in three types of packages:
private dedicated proxies;
backconnect rotating proxies;
rotating residential proxies.
Let's now briefly review what kind of rotating and dedicated proxies there are at StormProxies and what purposes they are best fit for.
Rotating proxies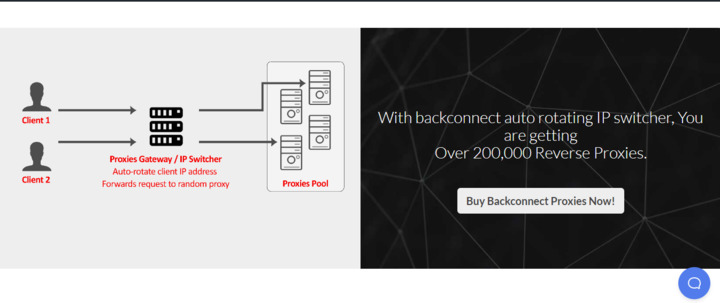 Rotating proxies are available in four variations: rotating dedicated proxies, rotating residential proxies, sneaker sites residential proxies, and ticket sites residential proxies.
Type
Dedicated rotating
Residential rotating
Sneaker sites residential
Ticket sites residential
fit for
SEO tools;Scraping;
Brand protection;
Pricing intelligence;
Traffic bots;
Ad verification;
Market research;
Data verification;
Bulk account registration, etc.
Traffic bots;
Ad verification;
Scraping;
Brand protection;
Bulk account registration;
Travel fare aggregation, etc.
To be used onYeezy, Adidas, Nike,
and other sneaker sites;
As addition to sneaker bots like AIO Bot, Nike Bot, etc.
To be used onTicketMaster, Evenue,
TicketFly, and others;
As addition to ticketbots, Insomniac,
and other custom bots for ticket sites.
key features
A pool of 200k+ IPs;
IP rotation with every HTTP request/every 3 min/every 15 min.
IP rotation every 3 min/every 5 min;
Pure residential IPs.
Same as residential proxies + optimized for sneaker sites
Same as residential proxies +
optimized for ticket sites
price starts
from $39 for 40 threads
from $50 for 5 ports (up to 50 threads each)
from $160 for 20 ports
from $160 for 20 ports
Dedicated proxies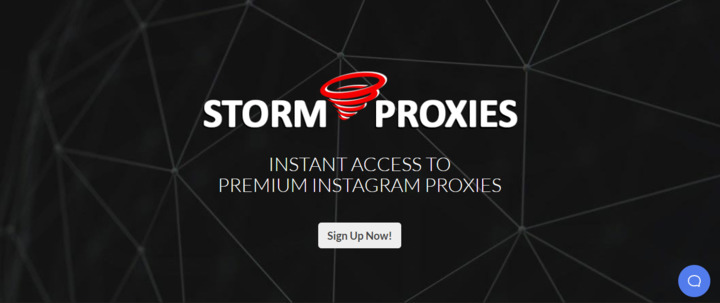 Dedicated proxies are of two major types: general dedicated proxies and those optimized for use on specific sites. General dedicated proxies are fit for browsing, gaming, and other common Internet activities. They cost $10 for 5 private proxies and more. They use static data center IPs that can be replaced up to two times a month upon request. Besides general dedicated proxies, there are likewise dedicated proxies optimized for
ticket sites;
Instagram;
Facebook;
Twitter;
Tumblr;
Pinterest;
Linkedin;
Snapchat;
Pokemon Go.
Usability
Overall, Stormproxies is super straightforward. Some might even find the design too simplistic as opposed to Luminati and the like but, thanks to this simplicity the service is available to all client groups including complete newbies.
Registration
You will need to provide your email address, full name, and password to get started with StormProxies. You will also be prompted to select a plan. However, you may sign up without any payment, although you will not see the IP addresses so this option is not very useful.
Plan selection
It's crucial to keep in mind that some proxies aren't suitable for certain use cases, so double-check your usage of a proxy before continuing with any registration form on the website (as the information may be slightly different). Luckily, Stormproxies is really friendly, in this regard. For example, if you choose the basic residential proxies plan, it will warn you that the plan might be unsuitable for scraping projects.
Proxy setup and management
The dashboard is, again, super simple containing some basic account management tasks only. That is, you may extend your subscription, change your password, add IP addresses to the whitelist, and use proxy servers.
The most crucial feature lacking is use reports. This might be due to the fact that StormProxies does not limit traffic but some customers may want to know how many requests they created and what their success rate was.
On the whole, it is pretty easy to set up a proxy server at Stormproxies:
purchase a plan;
an IP address can be whitelisted;
in the dashboard, go to the IPs proxy type tab;
in your web scraping or automation software, find the list of servers.
After a predetermined interval, the gateway servers will exchange IP addresses without altering their type.
Rotating residential proxy & backconnect rotating proxy usability
Here are some important points related to the use of the service's proxies:
residential proxies rotate from a small pool of roughly 40,000 IP addresses;
rotating residential proxies only support the whitelisted IPs authentication technique, and you can not whitelist more than one IP;
StormProxies provides three gateways for its backconnect rotating proxies;
StormProxies does not limit bandwidth but it requests that the number of threads for your scraper does not exceed 25% of the total threads permitted for your account.
Customer Service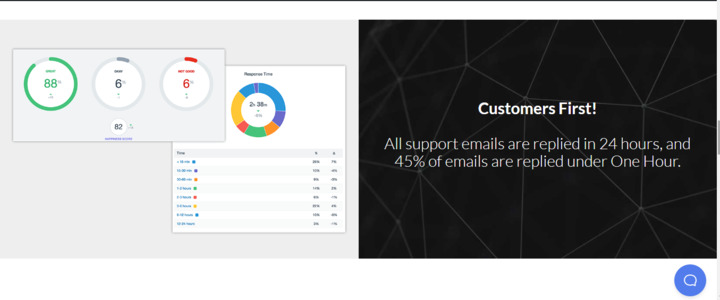 The information available on the StormProxies website is quite detailed. It provides a wealth of data regarding the services. The issue is that you must sift through the website's numerous pages to find it. More than that, the information on one page may sometimes contradict that on another page.
Another issue with customer support is that they can only be contacted by filling out a contact form, which appears to be quite old. After that, a customer service representative responds through email. The average response time of StormProxies is less than an hour but no longer than 24 hours. Let us be honest, 24 hours is quite a long time in today's market where companies strive to ensure their support is either instant or, at least, super fast. With this in mind, albeit not totally poor, customer service at Storm Proxies could use a bit of improvement.
Performance testing
Storm Proxies dashboard has a very simple, not to say primitive design, which guarantees you'll know how to use it even if you've never worked with proxies before. The basic features are in place and … that's it. If you are looking for anything slightly more advanced — don't because you won't find it here. That is, they offer the targeting option but this is state (not city) targeting so, in fact, you only choose between the USA and some European countries. Similarly, you can choose a plan with the IP rotation format that looks most suitable to you but you cannot customize rotation time exactly as you need. And so on and so forth.
As to the speed of Storm Proxies, the results of the testing are fairly good given the low cost of the service:
Response time – 2.814 seconds;
Average ping – 101ms;
Average download – 25.17 Mbps;
Average upload – 14.86 Mbps.
And here are the results of performance testing completed for this StormProxies review:
| | | | | |
| --- | --- | --- | --- | --- |
| Test | Success Rate, % | Error, % | Timeout, % | Block, % |
| TicketMaster | 60 | 16 | 6 | 18 |
| Instagram | 78 | 8 | 2 | 12 |
| Facebook | 81 | 2 | 1 | 16 |
| LinkedIn | 77 | 13 | 2 | 8 |
| Craigslist | 72 | 7 | 1 | 20 |
Overall, albeit not flawless, the speeds and other performance results that Storm Proxies shows are satisfactory given the cheap price that you pay for it.
Pricing
As was previously mentioned, there are three plans available at Storm Proxies:
Private dedicated proxies have a limit on the number of IPs that can be assigned to an account. The cheapest monthly package costs $10 for 5 proxies, while the most expensive plan costs $640 for 400 proxies. All of these have the ability to run 100 threads at the same time.
Backconnect rotating proxies, likewise, base their monthly plans on the number of simultaneous connections. You can run 40 simultaneous connections for $39 and up to 150 simultaneous connections for $97.
Finally, there are rotating residential proxies, which have costs based on how many ports they have. Each port handles a maximum of 50 connections at once. These monthly plans start at $50 for 5 ports and go up to $300 for 50 ports.

To sum it up, our review showed that the major advantage of StormProxy over its competitors is the low cost of its services. This provider's core strength is that it is aware of its constraints and clearly advertises its use cases. We gave StormProxies three stars because albeit not perfect, its performance is effective for the stated purposes.
FAQ
Is there a trial period where I can test proxies?
There is no trial period but there is a 24-hour money-back guarantee. This means that if you are unsatisfied with the quality of the service, you can ask for a refund within 24 hours and you will get your money back.
How do I use the service?
Simply input two IPs from the member area after payment into your SEO tool or directly into your browser, and all connections will go through our proxy pool, which rotates a large number of IPs. Within the user area, you can choose between two types of proxies: one that forwards each HTTP request to a different IP address ideal for SEO or scraping, and another that rotates IP every three, five, or fifteen minutes.
What to do if I encounter errors?
The number of threads in each plan is limited. You will encounter issues, and proxies will not operate if your package has 40 threads and your software has 41 threads. The same rule applies if you utilize proxies on two servers: the total number of threads cannot exceed the package's maximum number of threads. Some programs use the browser to carry out automatic tasks. Each browser tab consumes roughly ten threads because it loads graphics, javascript, and other content all at once. With such software tools, you'll need to reduce the number of threads inside the software and upgrade to more robust packages.
How can I upgrade to a bigger package?
You can obtain instant access to a larger plan by ordering a new package from the home page.