Limeproxies is a stable and fast proxy that has a user-friendly interface and plenty of support resources.
Overview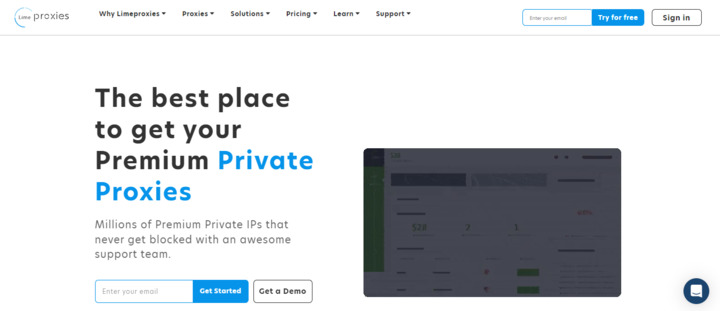 Four proxy types from residential to mobile coupled with one-clock integration — in this review, we'll cover all there is to know about Limeproxies.com.
Feature-Set Review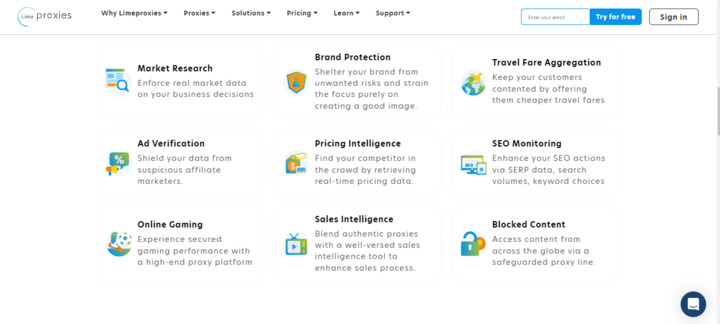 Millions of IPs & 1 GBPS speed
Limeproxies boasts a huge pool of over 40 million IPs which is less than market leaders such as Oxylabs offer but still sufficient for a premium proxy provider. Besides, the provider promises that its proxies show 1 GBPS speed which is, in fact, the fastest performance you find in the market at present.
Monthly IP refreshing
When it comes to IP refreshing, the provider's site offers some conflicting information. On the one hand, they say their dedicated and residential proxies come with unlimited IP refreshing, and, on a different page of their website, they say you can only request a free IP refreshing once a month. The latter sounds more like the truth but even if that is the case, free monthly IP refreshing is a nice feature anyway.
Virgin IPs & Recycled IPs
One thing we liked when preparing this review is that depending on your goals, you can choose between premium and private proxies. The former use virgin IPs which means that they are unlikely to be banned or encounter any other issues. The latter, in turn, use recycled IPs but they are cheaper, too, so you can use them for less sophisticated tasks while saving some money.
Select proxies by role/use case
One common issue with many proxy providers is that you carefully read the descriptions of their outstanding proxies, study their website, and still end up not knowing which proxy solution is fit for your particular tasks. At Lime Proxies, you can choose solutions by use case (e.g., web testing, price tracking, etc.) and role (e.g., gain competitive advantage, protect your data, etc.). This feature is of great help, especially if you are a newbie.
Worldwide coverage
Some more good news is that Limeproxies allows geo-targeting including city-level targeting with more than 50 locations available for residential IPs and more than 40 — for datacenter IPs. There are over 8 US locations and over 30 countries worldwide on their list. This includes but is not limited to Austria, Canada, Ireland, Romania, Mauritius, and others.
Extensive support resources
Besides the Limeproxies' dashboard which is really simple to use, there is also a whole host of support resources available from product updates to the extensive knowledgebase. In this regard, we especially liked their tutorials. These are short videos covering popular questions such as how to change your IP or comparing proxies to other solutions such as VPN.
Types of Proxies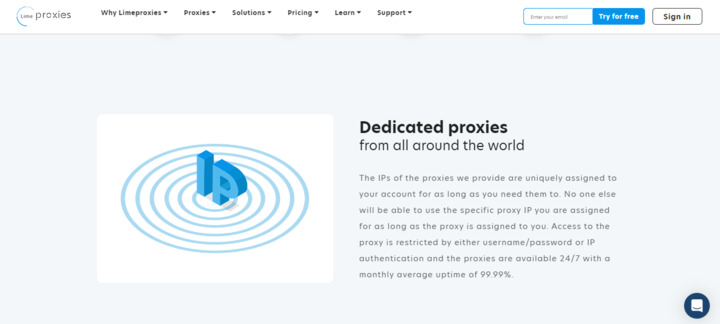 Limeproxies provides four types of proxy solutions: dedicated (including private SOCKs), residential, and mobile. Let us review each of them in more detail.
Dedicated
Dedicated proxies are available in two variations: USA-based and EU-based ones. One main difference between the two is speed: the former will provide you with faster speeds than the latter. These proxies are the safest solution because you won't have to share IPs with anyone. As Limeproxies promises, you will also be able to replace IP whenever you want but we have not been able to verify if this is, indeed, so.
Dedicated proxies are available in three packages that vary in terms of the number of subnets (1, 3, or 5) and locations converted (1 or 8). The lowest price starts at $50 for 10 proxies. If you choose private SOCKS proxies, you will need to contact the manager to find out the price of the packages available.
Key features:
1M+ IPs around the world;
zero CAPTCHAs;
1 GBPS speed;
99.99% uptime.
Best suited for:
ad verification;
data scraping.
Residential
Residential proxies come with unlimited concurrent sessions and city-level targeting. The declared speed is 0.3s, which is good even compared to top proxy providers. They also promise the proxies easily avoid IP bans and show a great success rate of 99.98%.
There are four packages available: starter, business, corporate, and enterprise. Each package involves a dedicated account manager, both static and rotating residential IPs, and the coverage of 100+ countries. The only aspect that differs is the bandwidth. The lowest price starts at $75 for 10 GB bandwidth.
Key features:
40M+ IPs around the world;
zero CAPTCHAs;
city-level targeting;
99.98% uptime.
Best suited for:
ad verification;
travel fare aggregation.
Mobile
The provider sources its mobile proxies from a real residential 4G ISP with over 50M users connected to the Internet. Those who purchase mobile proxies, thus, get dedicated access to a real device and they can also automatically switch between IPs using simple HTTP requests.
Just as residential proxies, mobile proxy solutions are available in four packages: micro, starter, plus, and regular. The packages vary in terms of bandwidth (from 2 to 20 GB) and the number of ports (from 300 to 600 ports). The micro package with 2 GB and 300 ports starts at $70.
Key features:
2M + IPs worldwide;
99.99% network uptime;
instant response;
ANS & carrier targeting.
Best suited for:
market research;
brand protection.
Usability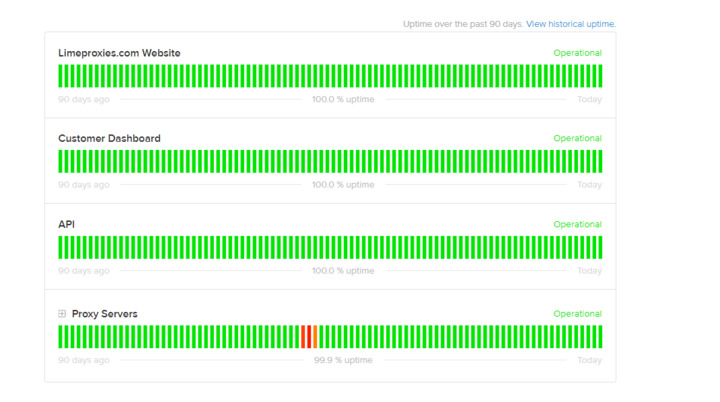 Signing up
Limeproxies offers a well-organized website that appeals to customers and is simple to navigate. The pricing plans are simply accessible from the top navigation menu, and you can purchase the preferred package straight immediately. After selecting a package and completing the purchase, you will be able to access the list of various proxy locations around the globe to choose from.
The number of available alternatives will depend on the package's limits. The proxies are assigned quickly, and you will receive an email confirmation with instructions on how to access your control panel. Limeproxies accepts credit cards, PayPal, Bitcoin, and other payment methods.
Settings
Limeproxies employs IP-based authentication by default, meaning username-based authentication is only allowed in exceptional circumstances and only after submitting a support case. Limeproxies includes a specialized control panel for managing proxies, from which you may authorize IPs to connect to the proxy, among other things. If you properly established the proxy network settings, the proxies should start operating right away.
You will need to adjust the proxy settings in your web browser or other applications after allowing IP. Each application's proxy settings can be customized separately, and the process is the same for all programs. In most cases, you will find the opportunity to add proxy settings in the application's settings menu. You can set up the system proxy configuration to utilize the same proxy settings for different apps.
Compatibility with mobile devices
Limeproxies also offers solutions that you may use on your smartphone. Individual proxy setting for each application is not possible on smartphones. To use proxies, you must first add a system proxy, which may be located in your mobile's Wifi settings. In Limeproxies' proxy management panel, you will need to add the proxy IP and port number and authorize your existing IP.
Customer Service

Lime Proxies' customer support is available through a whole deal of channels and they respond to any request really swiftly. The simplest way to reach out to the support team is through live chat. They respond within a few minutes, and the customer service representatives try to resolve your issue as quickly as possible, or they refer you to someone with greater experience in that area. They provide support 24/7.
Customer feedback on Trustpilot is mixed. While some clients say dealing with Limeproxies' support managers is "a pleasure," others accuse them of being too slow and inflexible. When scanning the feedback to prepare for this review, we've noticed that more recent feedback is more negative which is an alarming sign on the whole. Our interaction with the support team was utterly positive though.
Performance Testing
We began with testing Limeproxies' geo-targeting option that allows you to choose the proxy locations while purchasing the proxies. On the whole, you can choose between the United States and other countries, as well as cities within the United States. The location of the proxy IP provided by MaxMind Geo can be found in Limeproxies' control panel. We ran a location test and determined that the locations stated by the provider were accurate. They also allow the user to create custom locations if necessary. By contacting support, you can request the creation of a bespoke location for a nominal setup cost per location.
Our next task was to test the speed. In this regard, we liked the great response time best. Here is what we've found out in general:
Response time — 1.9 sec;
Average ping — 52 ms;
Average download — 28.91 Mbps;
Average upload — 14.55 Mbps.
Finally, we've carried out a full-scale performance test and, as you'll see below, the performance indicators are, for the most part, in line with what you expect to get from a premium proxy provider. The especially good news was the proxies' fine performance on Craiglist.
| | | | | |
| --- | --- | --- | --- | --- |
| Test | Success Rate, % | Error, % | Timeout, % | Block, % |
| Booking | 81 | 4 | 1 | 14 |
| Instagram | 82 | 7 | 2 | 9 |
| Facebook | 78 | 3 | 2 | 17 |
| Nike | 77 | 4 | 1 | 8 |
| Craigslist | 75 | 4 | 2 | 19 |
Pricing
There are three proxy types available, and each of them comes with a variety of packages. You can also try Limeproxies for free for three days to get a feel for how they function. The prices are generally competitive and, as with all premium proxy providers, it is much more cost-effective to purchase bigger plans. Below is a review of the provider's pricing structure.
| | | | |
| --- | --- | --- | --- |
| proxy type | dedicated | residential | mobile |
| # of plans | 3 | 4 | same as for residential proxies |
| minimal cost | $50 for 10 proxies | $75 for 10 GB | same as for residential proxies |
| maximum cost | $300 for 100 proxies | $7500 for 2000 GB | same as for residential proxies |
Wrapping up, there are a lot of things to like about Limeproxies from the stable and fast proxy performance which is paramount to the user-friendly interface and plenty of support resources. In the meantime, the provider's website does not produce an impression of a premium proxy platform as there are many inconsistencies and the information provided is often conflicting. For the rest, the service seems to offer a good price-quality balance.
FAQ
How long does it take for the account to be activated?
After payment, all standard orders are immediately activated. If have a non-standard order, it might be a good idea to contact Limeproxies' support team to ask them for help with the activation.
Is there a money-back guarantee?
If you request your money back within 72 hours of receiving your product, Limeproxies will give you a full refund as long as you use less than 100 megabytes of bandwidth.
Does it support SOCKS5?
Yes, SOCKS5 is supported by all of Limeproxies's proxy plans.
Is it possible to choose proxies from a specific location?
Sure, Limeproxies have good geo-targeting options with over 40 locations in the USA and worldwide. City-level targeting is likewise available.
Is there a free trial?
Yes, to request a free trial, you need to select the plan that interests you, choose the type of proxies (there is a "not sure" option there, too), choose the task (e.g., web scraping, tickets, etc.), and provide some other details such as the domains and websites you will use proxies on.