Datacenter, rotating/static residential proxies + Chrome Extension, ISP connectivity, and over 20 million IPs.
Overview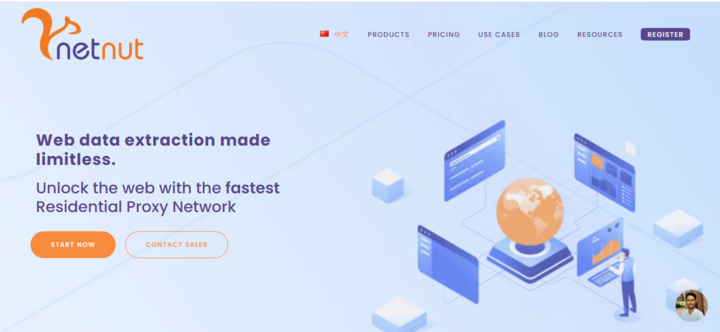 NetNut has been there for over 5 years now and has already earned a reputation as a leading provider of all sorts of proxy solutions from US datacenter proxies to static and rotating residential ones. So are NetNut's proxy networks as stable and reliable as they are said to be? Is NetNut proxy pool huge enough to cover your needs? Let's review it together!
At first sight, NetNut has the characteristics of a premium proxy provider with an impressive IP pool, a decent selection of proxy solutions and plans, and an attractive NetNut free trial. Some features lacking are unlimited bandwidth and payment methods other than PayPal and credit cards. These are the primary aspects that stand out when you glance at the characteristics table. To better understand what Netnut is and what it is not, let us examine each of its features in more detail.
Feature-Set Review: NetNut's Value Proposition
3 proxy types for numerous use cases
NetNut positions itself as a premium proxy service provider that sells three product types: rotating residential, static ISP, and datacenter proxies. These are, in turn, fit for a wide spectrum of use cases such as:
scraping + data extraction;
market research;
SEO monitoring + SERP tracking;
social media tasks + travel fare aggregation;
price comparison;
ad verification;
brand protection.
With such an ample scope of offering, NetNut successfully caters to the needs of both regular Internet users and clients with high-volume requirements, such as social media marketers, search engine scrapers, and sneaker resellers.
A proxy pool that is both huge and efficient
NetNut is a game-changer in the proxy world as it seems to have established a pool that is both ample and speedy. How is that? Well, that has become possible due to how IPs are obtained. Unlike other proxy services, that only use peer-to-peer (P2P) networks, NetNut sources its rotating residential proxies from a P2P network and static residential proxies — directly from ISPs. To that purpose, the Tel Aviv-based provider employs the services of DiviNetworks, a company that divides bandwidth across its global networked ISPs. As a result, the proxy server provides stability and speedy performance and offers IPs that are more difficult to block than other residential static IP addresses.
Worldwide geo-targeting + great performance
NenNut residential proxies are sourced from a huge (20M+) pool of real devices from all over the world. This means that the proxy server allows you to access any web page from any state in the world, which is particularly useful when you need to bypass geo-restrictions. Besides, the residential rotating proxy solution is based on NetNut's rooting technology that allows for fast handling of requests because it does not require them to be sent through intermediaries. As a result, residential Netnut proxies do not only come with worldwide geo-targeting but are also speedy and efficient.
Types of Proxies NeNut Provides
As was previously mentioned, NetNut.io offers three proxy types: residential rotating proxies, static ISP proxies, and datacenter proxies. Let's closely review each of them!
Rotating residential proxies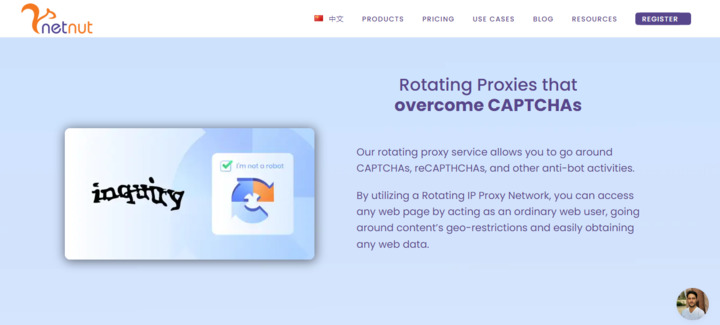 NetNut's home proxy network rotates between 10 and 20 million IPs per month. NetNut does not give much information regarding its rotation options. However, it appears that you can rotate the IPs with each request or create a session to preserve the IPs until it becomes unavailable.
When preparing this review, we've been also able to verify that the residential proxies cover more than 150 countries. You can pick and choose the regions you want to target. Another nice feature to mention is that NetNut's rotating residential proxies are capable of going around CAPTCHAs, reCAPTHCHAs, and other anti-bot instruments.
Best features:
unlimited concurrent connections;
rotating session support;
generated through real end-user devices;
speed above average;
gather any data;
API for stats;
dedicated private pools;
sticky IP sessions;
worldwide geo-targeting;
go around CAPTACHAs and other anti-bot tools.
Best suited for:
SEO;
ad verification;
price comparison;
brand protection.
Price starts from $20 for a nano 1GB plan.
Static ISP proxies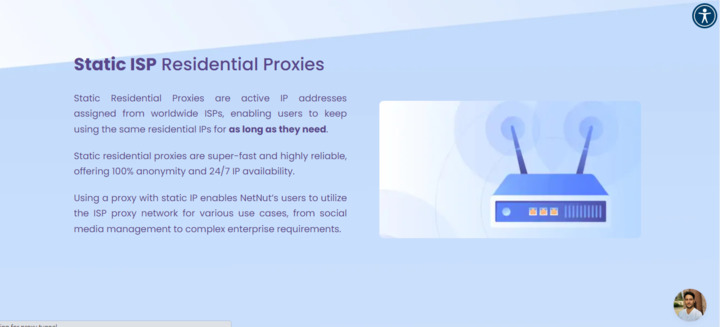 Around 1 million static home proxies are advertised on NetNut. The network covers roughly 30 sites, mainly in the United States and Europe. City-level targeting is only available for the USA. This is adequate for most purposes. However, if you need IPs from Africa or small South American countries NetNut's rotating residential proxies are a better solution.
NetNut proxies use backconnect gateway servers. Every request can be rotated, but you will have to make up special sticky sessions manually. NetNut stresses that its proxies can be used with any website, including search engines. This is a refreshing approach in an era where most providers require whitelists or refer clients to pro scraping tools. If you have a specific target in mind, you can request specialized proxies from NetNut for that website.
Best features:
premium fast static IPs;
one-hop ISP connectivity;
allow keeping residential IPs as long as you need;
gather any data;
API for stats;
dedicated private pools;
100% network uptime.
Best suited for:
social media management;
complex enterprise projects.
Price starts from $25 for the nano 1GB plan.
Datacenter proxies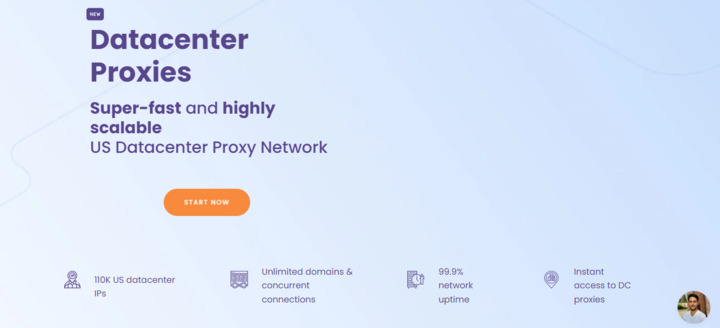 The network of datacenter proxies is NetNut's most accessible service. This is a collection of 110k+ shared IPs sourced from cloud hosting providers. They cycle automatically, making the service appealing for scraping unprotected websites. Unfortunately, the United States is the only location provided.
One major limitation, we've pinpointed when working on this review, is that NetNut does not have a plan that would include unlimited bandwidth. Given the fairly high cost of the minimal Netnut.io plan, it is more cost-effective to opt for bigger plans: in the biggest plan, you only pay $0.5 for a GB as opposed to $1 which you pay for a GB in the minimal plan.
Best suited for:
social media management;
monitoring competition;
academic research;
bypassing geo-blocking.
Price starts from $100 for the 100-GB plan.
Usability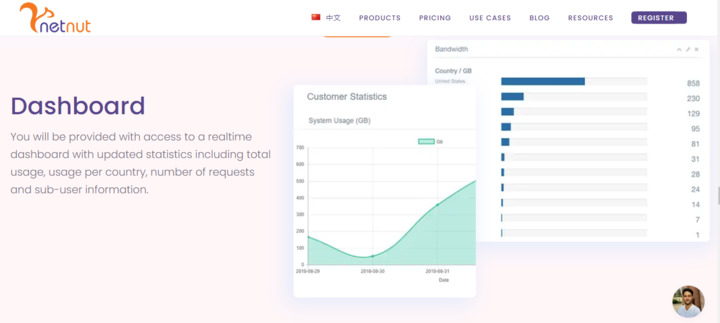 Netnut's proxies are very simple to set up, which is something you will appreciate. They have a really user-friendly dashboard that feels intuitive even if are not too proxy savvy. This, combined with the fact that you have been allocated an account manager, makes things even easier. An account manager is available to users who have bought a subscription or to companies that use NetNut.io free trial.
You get access to the NetNut dashboard as a subscriber. There, you can see how much bandwidth you have used and how much you have left in this online dashboard. There is also a section that explains how to use their proxies in your own applications. They have a simple API that allows you to get real-time bandwidth usage data. When you need to know how much bandwidth is left, this will come in handy.
If you have any questions on how to use NetNut.io products, the platform offers three types of resources:
proxy integration guidelines;
general NetNut FAQs;
IP-pool tab.
The guidelines are straightforward and reader-friendly containing lots of images, tabs, and other visual aids.
Customer service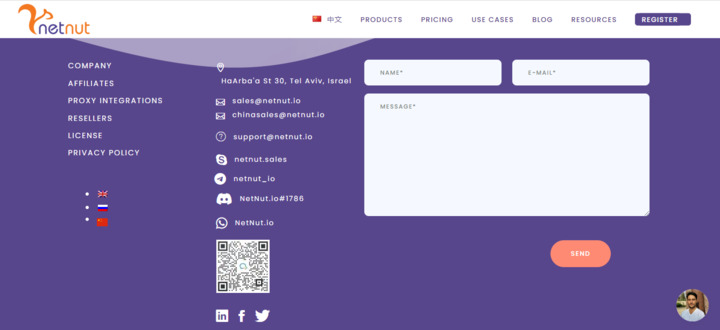 Netnut.io customer support can justly get 5/5 for accessibility as it is available through a wide range of channels including email, Skype, Telegram, WhatsApp, and, most importantly, live chat. We also liked the fact that the help of the account manager is available even if you use the free trial so that you can get the right idea of what the service is like on the whole.
On Trustpilot.com, NetNut.io has a rating of 3.2. Here, it is fair to note that 70% of clients rate the service at 5 or 4, while 30% rate it at 1. So, quite predictably, reviews are mixed. Those who give it a high rating say the customer service is top-notch. Those who had an issue with the service and gave it the lowest rating accuse support managers of being unprofessional and not prompt enough. Our own experience of using the services encourages us to give it 4.5: albeit not unmatched, the quality of the service is generally adequate to what you expect from a premium provider.
Performance Testing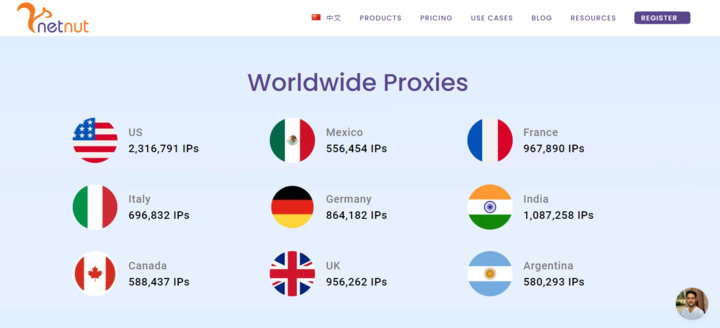 Proxy speed & Ping tests review
We were excited about speed and Ping tests because you naturally expect a proxy provider that does not rely on the peer-to-peer network solely to offer advantageous and more competitive solutions. So far, the speed and latency of almost all proxy providers we've tested during previous proxy reviews have not broken any records.
The NetNut results are, in turn, incredible: only one proxy had a latency of more than 100 milliseconds, while the rest were well below that threshold. The speeds are also solid — while some proxy providers could only demonstrate speeds of a few MBPS, NetNut showed more than 50 MBPS in certain cases. So here are the average results:
| | |
| --- | --- |
| Ping | 72 ms |
| Download speed | 29.01 Mbps |
| Upload speed | 12.01 Mbps |
Geolocation & ISP test review
One thing you expect from proxies is that they are workable and come from the locations they claim to be. When accessing geo-blocked web pages, having a bad proxy should be a problem. Fortunately, NetNut.io residential proxies are mostly of decent quality, so all IPs we tested were valid.
IP address compatibility test review
NetNut includes endpoints specifically designed for sneaker websites. The rest of the sites we looked at yielded excellent results. We were able to access all of the websites on our list with no problems. However, when we used their proxies to visit Nike and Adidas, we got an HTTPS problem, so we couldn't test it on them. We have already notified their support team, and they should be able to resolve the issue shortly.
Pricing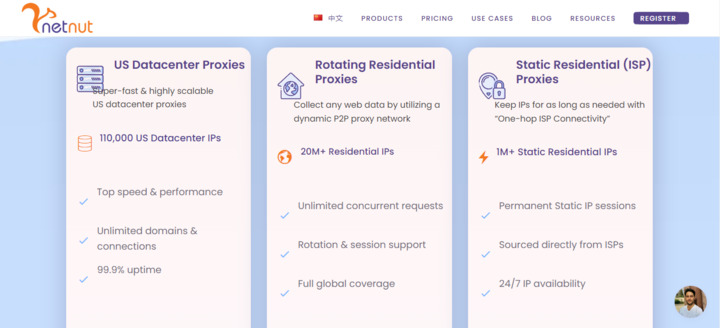 NetNut's pricing depends on traffic. You can choose from several plans, each with its own set of gigabytes. If the display options are not enough for you, custom plans are also available. NetNut is on the higher end of the pricing curve compared to other residential proxy providers. This is especially true for the entry-level plans, which start at $25 for a static plan and $20 for a rotating plan for 1 GB. However, they scale nicely and become very appealing once you reach 250 GBs. The data center proxy plans, in turn, are less costly starting from $100 for 100 GB.
You can also choose to pay based on your requirements. This option is for consumers with many needs, and it costs $7.5k per month. When scraping big web pages, paying for successful requests makes the most sense. Plans differ not only in terms of traffic but also in terms of features. The cheapest plan, for example, does not include Skype support, IPs whitelisting, or API access. You can get them unlocked by paying extra
To sum this review up, NetNut, like every other proxy service provider, has its strengths and disadvantages. On the whole, however, it is a reliable source for purchasing premium proxy solutions. For one thing, you will likely enjoy the service if you are after a pool of over 20 million IPs, IPs acquired directly from ISPs, good connection speed and scraping performance, as well as skilled, dedicated account managers. You may likewise sign up for a 7-day free trial to try their proxy products which is also a plus. On the other hand, they do not provide SOCKS proxies and the prices are fairly high as opposed to non-premium proxy providers.
FAQ
What makes NetNut stand out from other proxy providers?
While other providers rely on peer-to-peer networks, the NetNut is a service that relies on DiViNetworks' existing data transport and network management solutions. DiViNetworks has built a global proxy network and technology, with hundreds of servers hosted by the company at various ISPs throughout the world. The network can also manage hundreds of gigabits per second of network traffic, allowing users to access data and information from any web source.
Is NetNut faster than other proxy solutions?
A built-in smart IPs rotation management layer ensures that each request is properly handled. The proxy supports a large number of simultaneous sessions and has a very high success rate. To speed up, it is highly advised to start as many concurrent NetNut proxy sessions as needed. You will outperform any other solution if you use NetNut and the proper proxy architecture.
Is there a free trial for Netnut residential proxies?
Before subscribing to one of the monthly plans, NetNut provides a 7-day free trial on their home network. Rotating Residential and Static Residential IP networks are subject to a short and simple compliance procedure that requires you to submit certain information about yourself, your business, and your use case. Only certified businesses are eligible for the Residential 7-Day Trial. As an independent user, you can purchase one of NetNut's micro plans to test residential proxy products.
What proxies does NetNut offer?
NetNut is a service that comes with a variety of products including DC proxies, static ISP proxies, and residential rotating proxies. Each comes with its unique set of features and subscription plans available.
What happens if my account usage exceeds my minimal commitment?
You will receive an email warning you that your plan is going to exceed its balance if you have utilized 85 percent of your plan during a payment cycle. When the old plan's bandwidth limit is reached, you can purchase a new plan, which will immediately activate and alter the start date. To keep your plans active and running without interruption, you can select the "auto-renewal" option.