Ethically-sourced proxies with free instant replacement, customizable plans, and unique C-class subnets.
Overview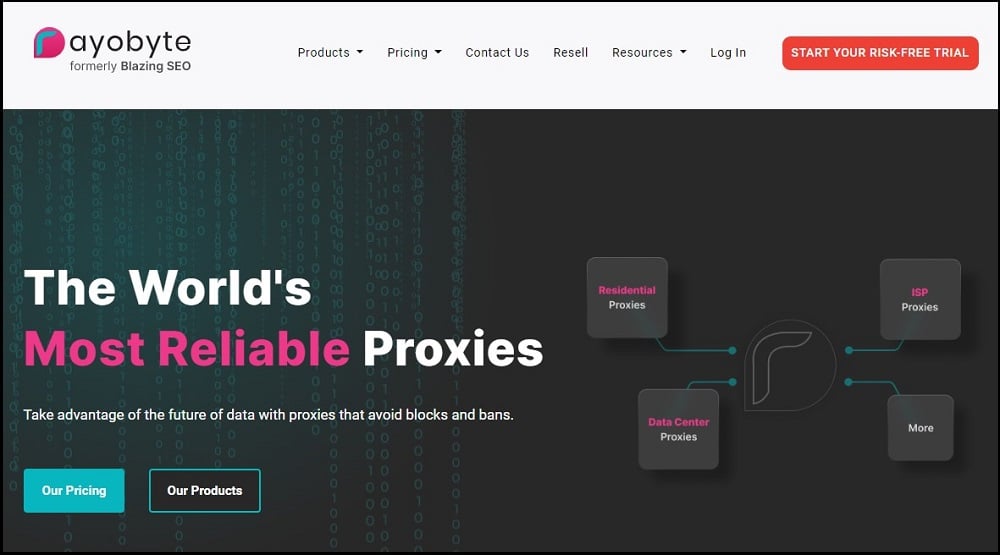 Rayobyte (formerly Blazing Seo) proxies have been in the industry since 2015. Having started as a one-man show, in the following years, the number of servers, employees, and IP addresses was quickly growing. And today, with over 40 employees to back the company, Rayobyte is known as one of the largest data center providers on the market. And, in the past, one of the cheapest ones, yet first things first.
Rayobyte provides a wide range of web services, including servers, windows VPS, and proxies. Basically, it is a proxy provider with the main focus on datacenters with IP pools from 29+ countries, Brazil and the US included. Their data center proxies rotate occasionally at a range of 10 to 120 minutes. Although their data center packages can brag about unlimited bandwidth, some users find their data center IPs somewhat dubious. The best news lies in the speed of the Rayobyte data center proxies: the rotating options come with a speed of 1GBPS connection. Thus, no need to worry about latency, especially given a free 2-days trial for any package – try it out before you buy.
Feature-Set and Guidance
Taking up a decent space among all the other proxy players on the market, Rayobyte delivers outstanding features. And we decided to highlight the following:
Free Proxy Management
Residential Proxies
Unlimited Bandwidth
ISP Proxies
Scraping Robot
Data Center Proxies
Affiliate Program
Mobile Proxies
Trial Period
Let's have a closer look at each of them.
Free Proxy Management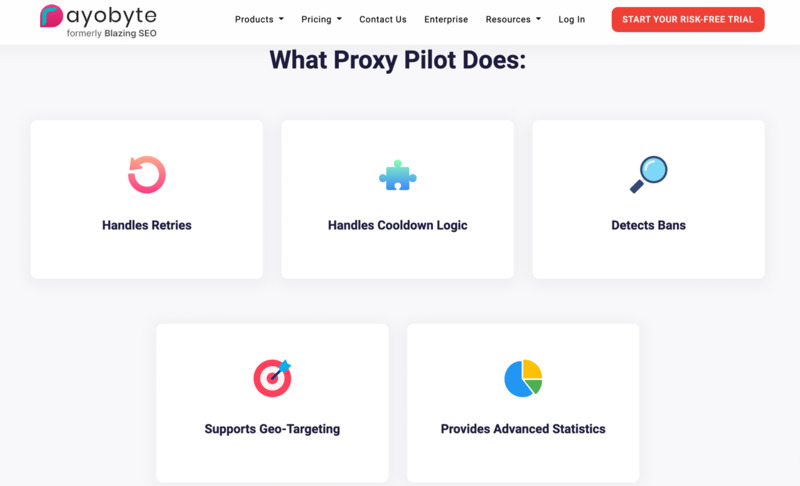 This feature is still in beta, so keep in mind that it's pliant to change. Yet, what we already know is that Proxy Pilot was designed to perform two functions:
It rotates static proxies;
And it outfits the server with the newest proxy management technique that entails cooldowns, automatic retries, and ban detection. In fact, this advanced logic transforms "dumb" IPs into a smart service (could be compared, for instance, with the Oxylabs' Next-Gen Residentials or Zyte's Smart Proxy Manager).
For the moment of writing this review, Proxy Pilot is offered free of charge. Thus, if it continues working well, it'll be able to deliver a lot of value for Rayobyte proxies, making them even more cost-efficient. Or, at the very least, reduce some headaches induced by web crawling.
The problem with Free Proxy Management, at least in its current state, is that it has to decrypt passing traffic like a MITM attack. To some users, it might sound intimidating, let alone a level of trust required, and not all users might be willing to show that trust in a proxy provider. On the bright side, though, if you open up to Rayobyte, you will get some really detailed usage statistics.
Residential Proxies
Rayobyte residential proxies will allow you to tap into a network consisting of millions of devices around the globe from real users. If you conduct data scraping, these proxies will make your traffic look more human-like to the target websites. They will enable you to collect information from websites that can show different data based on region.
Even though residential proxies are a somewhat new option in Rayobyte, it already can brag about some prominent characteristics:
10M+ Residential IPs
CAPTCHAs' Avoidance
Residential Proxy Ethics
Unlimited Threads
Geo-Targeting
The list of use cases includes e-commerce, price aggregation, market research, social media, ad tech, SEO monitoring, brand protection, and travel aggregation.
A stand-alone important point for the company is residential proxy ethics. The thing is that, as a rule, most providers declare to take an ethical approach while acquiring IPs for their networks. However, under an independent survey, here and there we ascertain that those assertions do not hold up. It happens because that very "Consent" is more often than not gained through huge terms of service that nobody reads in fact. What one can find there is a "social accountability" point but it includes no actual specifics. All this results in the usual unawareness of most end-users to be part of a residential proxy network. Rayobyte claims they are not satisfied with such half-measures and states to act differently.
Unlimited Bandwidth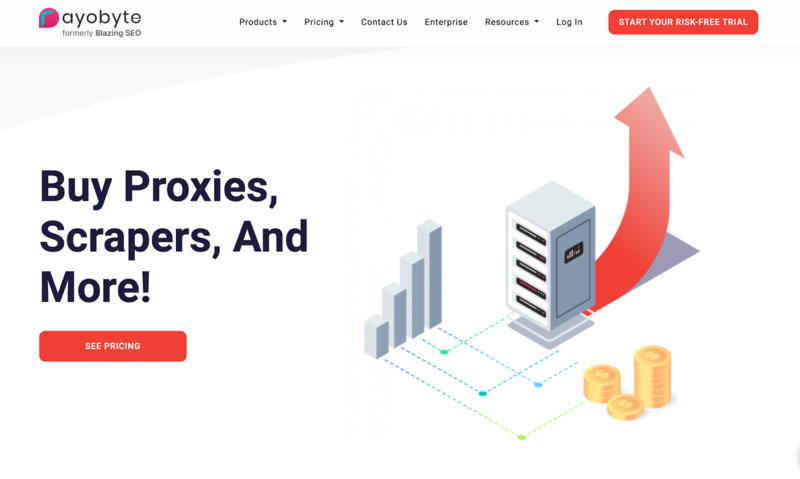 This is one of the best features of this company. Whatever the Rayobyte proxy package may be, everyone will be able to use it to their hearts' content. Whereas many other proxy providers charge based on bandwidth limit, Rayobyte proxy packages depend on the number of proxies you buy.
Given that you pay per proxy and it will serve during the chosen subscription timeframe, the service will not charge for bandwidth. With the users averaging up to 100 GB of traffic every month, the provider can cope with 25 petabytes per the same period. It is pretty convenient, isn't it?
However, this option might not be the most affordable on the market, provided the company's structure of pricing. But we will get back to financial aspects, in both the short and the long run, later in our review.
ISP Proxies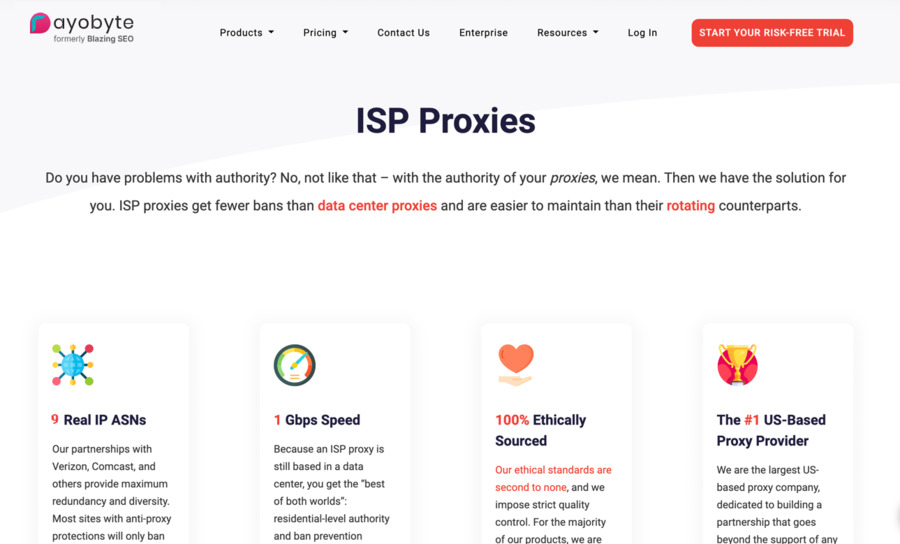 As a new feature of Rayobyte, ISP proxies are currently pretty limited but otherwise rather promising. Last year, this option included nearly 3,000 IPs in three various ASNs. For the moment of writing this review, the ISP proxies are based only in the US. The company states that all ISP solutions come from serious internet service providers.
Similar to the datacenter proxies, these addresses apply 1 Gbps lines and do not enforce any thread limits. What's curious, though, is that ISP proxies are marketed as if delivered with unlimited bandwidth, however, the small print claims you shouldn't exceed 200 GBs with one IP.
All three protocols, as well as two authentication methods, are backed.
Given that the format is an IP list, no rotation is available in this case. But you can always resort to the Proxy Pilot once need be.
Scraping Robot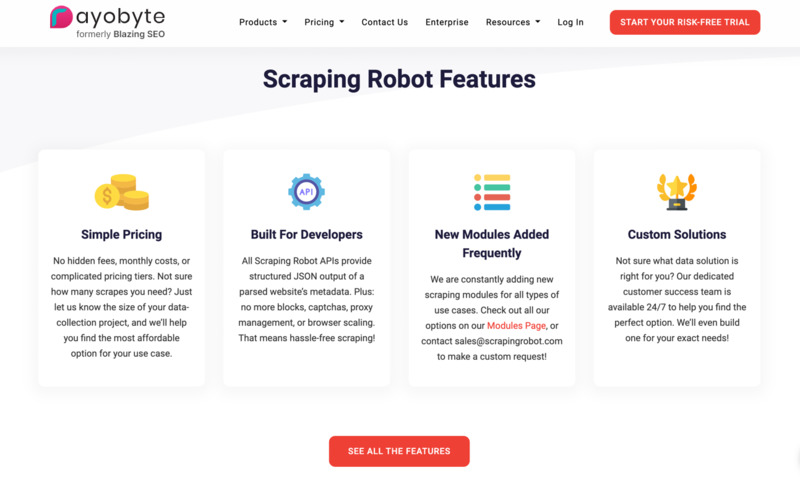 Scraping itself can be complicated and it is even more so if the required resources aren't available. That is why, at some point, Rayobyte. decided to create API and custom scraping solutions for users with any budget. As a data company, they made up their mind to cover it all concerning web scraping, be it high-end proxies or conducting the activity with Scraping Robot for clients.
Using Scraping Robot can exempt your team from the usual headaches that come with scraping, including server management, CAPTCHA resolving, proxy rotation and management, browser scalability, and regular searching of any new anti-scraping updates released by target websites.
As unique and promising as it may sound, Scraping Robot features the following characteristics:
It is designed specifically for developers (all APIs deliver structured JSON output of a parsed metadata of a website);
Regular updates of new scraping modules for various types of use cases;
Custom solutions are available, and even building the one according to your needs is possible, too;
Javascript Rendering;
Proxy solutions are not required while using Scraping Robot;
Effective results are guaranteed.
There are also some additional features that Rayobyte is currently working on to add to the solution in the nearest future. Such add-ons include POST requests, browser screenshots, webhook callbacks, and session management.
As for the pricing, the company claims the offer has neither hidden fees, monthly costs, nor any other complicated pricing tiers.
The free package entails getting 5,000 free scrapes per month (not excluding any other Scraping Robot features).
The business package implies 0-500k scrapes and costs $0.0018/scrape.
And the Enterprise option envisages 500k+ scrapes per the price of as low as $0.00045/scrape. In addition to all Scraping Robot features, this package includes access to custom API requests.
Data Center Proxies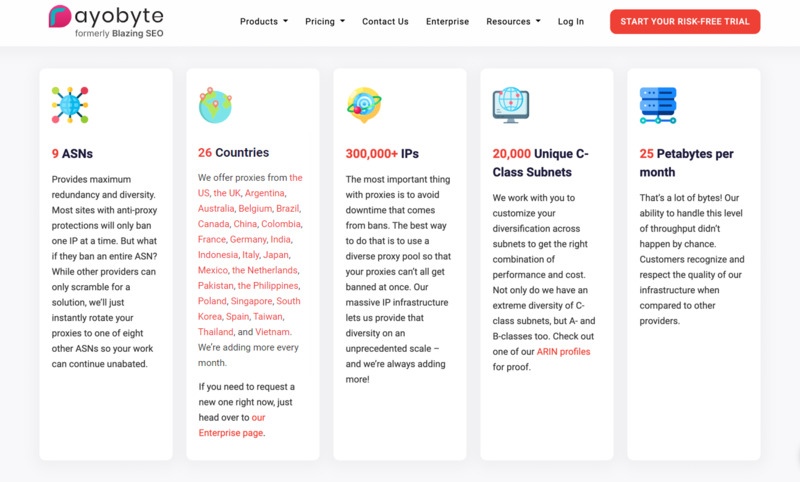 Rayobyte states to control more than 300,000 data center IPs that are spread around 20,000 C-class subnets. This guarantees a diverse variety of addresses and means they could less likely get mass banned. Those who are familiar with the market would definitely say that not so many providers in the industry can match this scale.
The subnets and IPs come from 9 ASNs. Given that some websites tend to ban a whole ASN, having several ones at their disposal helps in that regard. The company also emphasizes that it has end-to-end control over the hardware. What, in its turn, means faster troubleshooting and the capability to fine-tune the service according to your needs.
The datacenter proxies from Rayobyte run on 1 Gbps lines. Provided that it's probably shared by multiple IPs, getting the full bandwidth is not implied. And yet, the connection speed is really fast, anyway. While many other providers limit the number of threads, here no limits on traffic or threads are imposed.
There are dedicated IPs in about 30 countries and a large number of them are in the US. The rotating proxies support 4 locations, while the semi-dedicated ones – 10. City-targeting is also available, mainly in the US. Choosing the rotating plan will enable you to access a backconnect gateway server with various ports. It will provide a proxy pool with 20 times the number of ports that you purchase (2,000 IPs for 100 ports for example). The IP address behind the gateway server will be replaced every 10-120 minutes.
The dedicated and semi-dedicated solutions come in the list yet no rotation is available. Again, setting up rotation is possible through the Proxy Pilot tool. There is also an opportunity to replace every IP once a month and do so free of charge. It is rather helpful in case you get a proxy banned or if it doesn't work with your target site.
Here, too, all three main protocols, including SOCKS5, are backed.
Affiliate Program
Apart from selling proxy options and other web services, the company also provides its clients with an opportunity to generate extra revenue. The Affiliate Program suggests earning some money by just referring Rayobyte to mates and friends. It will give you 15% over each referral – rather customer-centric, isn't it?
Mobile Proxies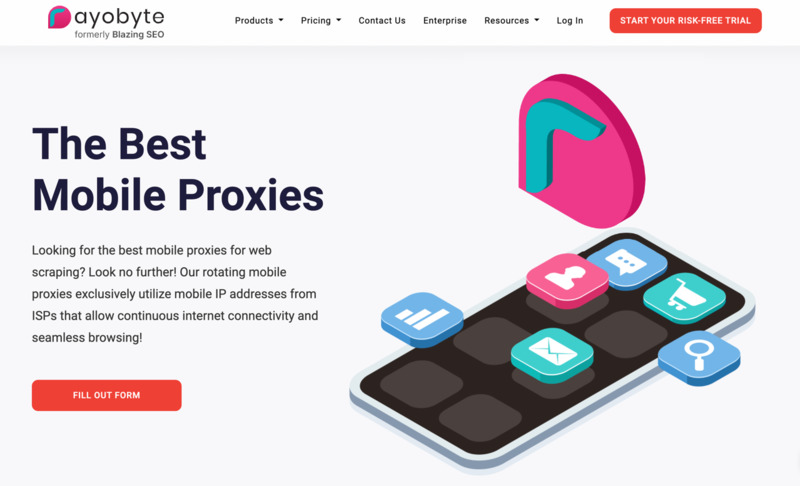 Dissimilar to residential and data center proxies, mobile ones use IP addresses and the bandwidth of a mobile telecom provider plan. Once a cell phone user buys such a plan, they receive a SIM card for the phone, which ensures a way to join mobile cellphone towers as well as the telecom provider's satellites. Rayobyte proxy software provides the opportunity to utilize real phones and their SIM cards. Thus, having bought a mobile proxy, you will be employing a real IP address from the telecom provider.
Trial Period
The company suggests a trial period of 48 hours to test its offers. This proposal comes with no limitations and is available on all grounds. The trial is in force when you buy any proxy package from Rayobyte. In case you are not satisfied with it, you then can request a refund.
Usability
The registration with Rayobyte means completing a rather lengthy form. This process is also paired with purchase, thus even if you decide on a trial, you still will need to choose a package, location, and the number of IPs to buy. Once you fill in the form, you will be granted access to the dashboard. If you paid for your IPs and they are in stock, they should be delivered to you automatically within 30 minutes.
At the dashboard, you can purchase a plan, manage and authorize Rayobyte servers, check invoices, and contact customer support service. Provided that the bandwidth is unlimited, no usage metrics will be available. A convenient touch of this dashboard is a specifically designed tool for filtering out bad IPs. It's also nice that here you can find the location associated with every address.
If your purchased plan supports it, the dashboard enables you to pick a specific city within the country where it is located. Another attractive feature is the opportunity to upgrade or downgrade your plan. All you need to do is just insert the number of IPs you would like to add or discard, and the system will do it all for you. You will not even need to contact the customer support service.
You can also replace an IP if it doesn't work the way you need it. Just press a button, and within 30 minutes, a previous IP will be replaced with the new one. Or, you can insert a list of proxies to change them en masse. Such a replacement is available once a month.
And one more important tab that we would like to pay your attention to is Proxy Settings/API. Here, you can do the following:
Replace an IP in case it goes down. This guarantees 100% uptime, however, this feature might seem a bit wary, given that your hand-picked options will be substituted by an automated system.
Choose the rotation of the static proxies after 30 days.
Export the information about your Rayobyte account (billing info included).
Access the API. It enables to authorize, check assigned IPs by category or country, add/remove or substitute proxy options – all programmatically.
So, to summarize it all, we have to admit that Rayobyte has put in lots of effort to make our user experience feel well-crafted. Here, you will not get lost and will be able to find help on every corner if need be.
Customer Service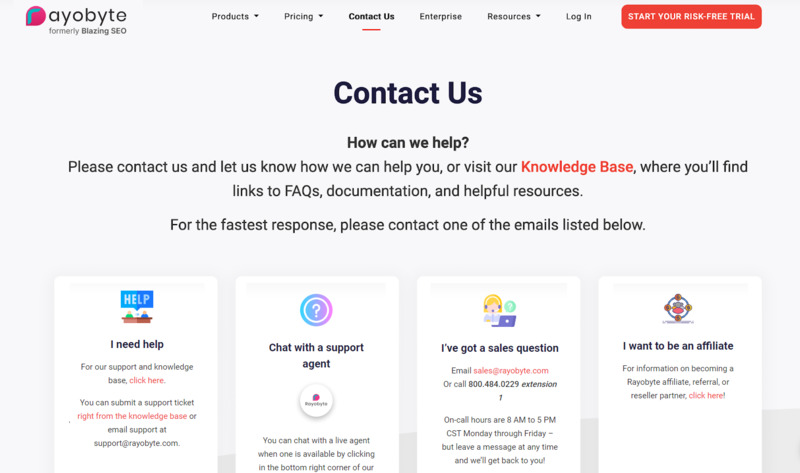 You can find the link to the customer support portion at the bottom of their website's home page. The Rayobyte team is ready to help 24/7, all year round. No matter what problem you encounter or when exactly it happens to you, getting help shouldn't be an issue. A pretty handy feature, when submitting through their ticket-based system, is the ability to attach files. The customer support page contains a Frequently Asked Questions section that has already answered lots of the most common questions.
When it comes to feedback from customers, we have reviewed all the trustworthy platforms out there. And we must admit that opinions differ: some users were satisfied and grateful, while others reported some complaints. Rayobyte, represented at TrustPilot for instance, has replied to 7 negative reviews out of 8 and did so in less than a week. The curious thing that has caught our attention is that the most positive feedback was coming from those customers who use Rayobyte proxies for a long time. Whereas negative reviews have indicated some issues that appeared at the very beginning. And after that, users rejected further using Rayobyte servers on any terms.
We dare to assume that it somehow might be connected with the inability to solve any possible issues with customer support in the first place. Although the live chat is finally available, one might wait for quite a long time to get an answer. Therefore, we hope this will change in the future. As success is not only about the product you deliver, it is also (or even more so) about those who consume it and how you go about the users.
Performance Testing
We decided to test ISP and data center options from Rayobyte.
As for the latter, they showed great performance, although we had to substitute some IPs for particular targets and did so several times.
We got a combination of 100 dedicated proxy options in selective US locations and checked them in an IP database. It showed 41 IPs as hosting addresses, which was anticipated (for the data center type) and not that bad. More than half of the addresses were already tagged as proxies, which can lead to IP blocks. And six addresses were designated as neither proxy nor hosting, and that is a rather good indicator for data center type.
The target test proved that they were pretty fast. The success rate was great, too, except for Amazon and Google. There were also no issues with completing the stress test, which means that proxy services are hosted on strong hardware.
We checked 10 accidental proxies from various subnets and the speed showed great for streaming in any definition.
And as for the ISP options, they proved to be just immaculate. None of the addresses was found on common IP blacklists. No DNS leaks, either. The results of our speed and success rate tests were perfect, too. There were also no problems with the proxy services running hundreds of requests per second.
Pricing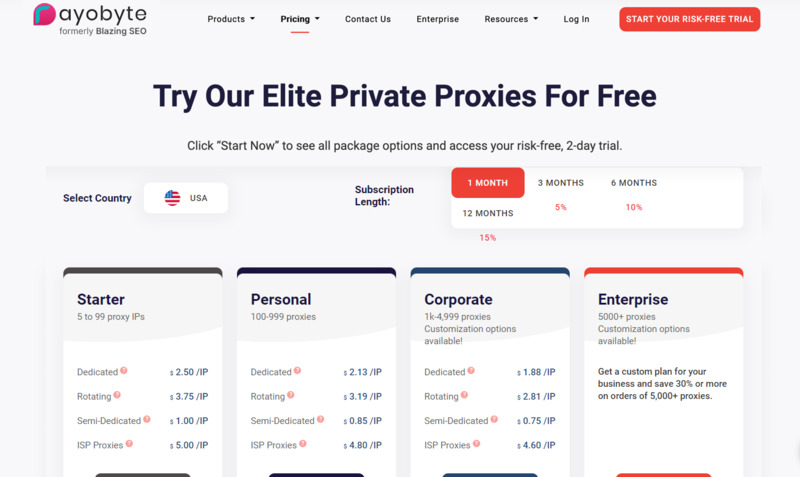 The company applies a time-based subscription scheme. Here, you can purchase proxy packages for 1, 3, 6, or 12 months. Longer plans cost less. The price also depends on the number of proxy options you get. Another factor that affects the cost is IP location: options in the US are usually cheaper.
Some time ago, Rayobyte was considered one of the cheapest providers, yet according to the current prices from the screenshot above, those times have passed. Their today's prices seem to push them into the premium space.
Payment methods include PayPal and credit cards through Stripe for orders amounting to $50 or more. No cryptocurrencies are accepted, unfortunately.
A hands-on approach and flexibility are major reasons to opt for Rayobyte proxies if you need dedicated data center options. The ethical point concerning residential proxies sounds just compelling, whether you are a freelance web scraper or a large business in need of scaling its data obtaining efforts. The company itself knows of some problems with IP databases, yet is working to resolve them. And as for the best impressions we have got while reviewing Rayobyte, that is most likely the ISP addresses – best on the market yet the availability could be bounded for now.
On the downside though, the customer support and users' feedback leave much to be desired. We hope this will be solved once the company improves the quality of its live chat to avoid possible issues.
FAQ
Any limits on threads or parallel connections?
No, no restrictions in that regard!
How many residential IPs Rayobyte pool comprises?
10 million IPs compose the mix that you can choose from having bought one of their packages.
Are static residential IPs available?
Yes, they are.
How is the ethical sourcing of proxy services achieved?
Rayobyte sources only those residential proxies that come from users after purposeful and manual permission. All such users get fair compensation for their involvement.