The Top 5 Sneaker Bots For Successful Copping Every Single Time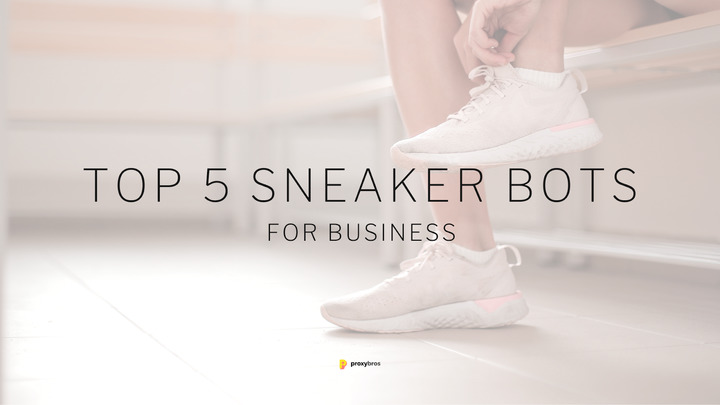 Business challenges and rivalries are mere routines for entrepreneurs. Of course, a business person might get used to constant anxiety over being the last to offer a new excellent product. Yet, why tremble because of a new business race for footwear? An entrepreneur can obtain a sustainable advantage using bots to buy sneakers (but only with proxies). And here is an all-covering guide to choosing shoe bots (with several tested suggestions) for your business.
But first, here is a quick recap of the programs you might prefer:
| | |
| --- | --- |
| Suggestion | Focus |
| AIObot 🤖 | Buying Adidas, but the program is good for other brands too. |
| Prism 🎉 | Getting shoes from Shopify. |
| MEKpreme 👟 | Buying shoes from Supreme. |
| BetterNikeBot 🏃‍♀️ | Buying Nike. |
| Ganesh 💪 | That is a versatile shoe bot. |
What Are Bots to Buy Sneakers?
Sneaker bots, aka automated instruments for sneaker copping, are software for shopping online. Those bots exist to give business people specializing in footwear a row of advantages. In brief, those programs make the target website think ten different clients are ordering shoes, not only you. The program also remembers your client base's preferences, sizes, and other vital details for shoe shopping. So, those present:
Faster actions. While your business rivals type a new shoe collection, your bots find the available product instantly. And when your competitors add items to carts by clicking for minutes, the robot does this automatically with a supersonic speed.
Minimizing the block risk. One user (your rival) cannot make many entries, as websites do not allow massive buying of the limited collections. The top sneaker bots, in turn, bypass that restriction by ordering footwear from different IP addresses.
Cutting the price (sometimes). Some stores have different prices for specific countries. For instance, US shops sell the same products for a higher price than Eastern European ones. As a rule, that principle works for digital services, but it might be actual for footwear in some businesses. Plus, there might be unexpected discounts! And if your best sneaker bot has a lucky day, it might order a pair for a lower price.
There are other minor benefits, but the mentioned ones are vital. Momentous timing is the most significant advantage any business needs. So, bots to buy sneakers are your keys to obtaining limited footwear faster than anyone else.
Note: Bots for Shoes Do Not Work Without a Proxy!
A business person can buy a sneaker bot without a proxy and suppose that the bare software suffices. Nevertheless, no top sneaker bots function stably without extra tools. At a minimum, your business needs a proxy server or a VPN to be ahead when you use bots to buy sneakers. And here is why proxies are necessary:
Location Matters
The stores might become suspicious seeing remote locations when you want to buy sneakers and get them in the neighboring state. Why order them from China, Ukraine, or Ghana when you receive them in California? And the website's suspicion results in blocking you immediately. Hence, it is advisable to use proxy locations that are not far from the target but differ from your location for more coverage, entries, and deals. The proxy might make your requests from the neighboring cities even!
Time Determines Your Business Success
Time depends GREATLY on server locations. As a rule, Asian servers make your speed drop down to oblivion. Many African servers make your downloading speed like an uploading one, too. Some proxy services can make rare locations work fast, but that is a rarity. Still, choosing locations near your residence is wiser to get sustainable high speeds. And if you are one second late, do not blame your rival for being faster.
Proxy Type Changes the Process
There are various proxy types, which all have differences. That is a separate topic that deserves two lectures. For instance, Datacenter VS Residential proxies have contrasting vital features. And a speedy choice might hinder your shoe botting experience! To cut the three-hour long story short, ISP and Resi proxies are the finest choices.
The Number of Proxies is Important
Adept business doers buy a sneaker bot from one brand and obtain three proxies with hundreds of servers. That helps rotate locations more efficiently and avoid blocks to the maximum. And that is also a vast plus to anonymity for extensive shoe shopping with the best sneaker bots.
Are Sneaker Bots Illegal?
No! It might seem like using extra tools for more successful business shopping is unfair. Nevertheless, no law prohibits using sneakerbots. Moreover, such programs would be on the darknet shelves if they were unlawful.
Also, it is well-appraisable to meditate on the moral aspects of using top sneaker bots for business. But again, business people do not violate any moral laws with that. Using narrowly-focused tools to optimize and enhance their retail projects is okay.
The List Unfolds: Top Shoe Bots for Business Purposes
So, shoe bots are practical tools that work best with proxies and are 100% legal. The only concern a business person might have at this point is choosing an instrument to attain business success.
Remember that your choice remains independent. Of course, here you can find some suggestions. Yet, no one has the right to oblige you to buy a sneaker bot from this list. You might think that the mentioned suggestions are not a wise fit for your business — that is okay. That is why there is a guide on how to find the best shoe bots independently (in the next section). And now, the list unfolds!
1. AIObot — Adidas Shoe Botting Tool (but Still Versatile)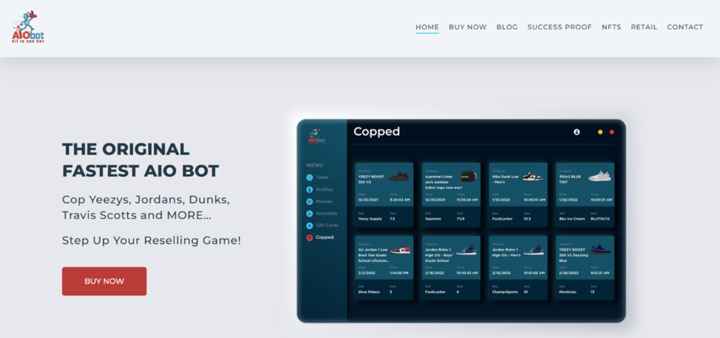 Rating: ⭐⭐⭐⭐
Supports proxies: Yes
Success proof: Yes
User-friendly: Yes
AIO is one of the best-used shoe bots that gets mentioned in reputable media like Forbes and Esquire. Of course, the program demands payment during your registration process. However, it is one of the cheapest options, given that it asks for a one-time $325 payment. While such a price is high for mere personal usage, shoe bots for business are rarely cheaper. Hence, a single payment allows businesses to obtain bots to buy sneakers for years — at first sight. The reality shows that the price has more conditions, including extra pay for updates.
AIO bot for shoe shopping functions with many business proxies without interruptions. There might be occasional inconveniences (like with any other program). Still, AIO tends to work fast and comply with the maximum client requirements.
Overall, this company tends to mask its disadvantages, which is worse than admitting them. It would be five stars! But unnecessary informational subterfuges spoil the picture.
Advantages include:
The trouble-free task set up;
Many sites for shoe botting;
Perfect for Adidas shoe botting;
It already has optimized proxies, but you can still use other services;
That is the most novice-friendly program among the best sneaker bots;
Many positive reviews about the bot on Trustpilot — check here.
Still, the negatives:
AIObot is for Windows only. Even though the website says the program works with macOS, that statement is fake. Technically, the bot does, but only if you have a virtual machine with Windows!
The catch with a price. Yeah, the business person pays once and successfully enjoys using the bot for shoes. Having no subscription obligations seems perfect… Until you find out that all updates cost money. $69 per six months is not detrimental, but missing an update makes the program useless!
If you buy a sneaker bot from AIO, you can use it on ONE SOLE computer. Installing the bot on another computer costs $200!
The feedback comments are either stellar-positive or very negative. While the bot has many positive reviews, there is a lack of comments that give four or three stars. So, there is a suspicious contrast on Trustpilot in that regard.
2. Prism — Shopify Shoe Bots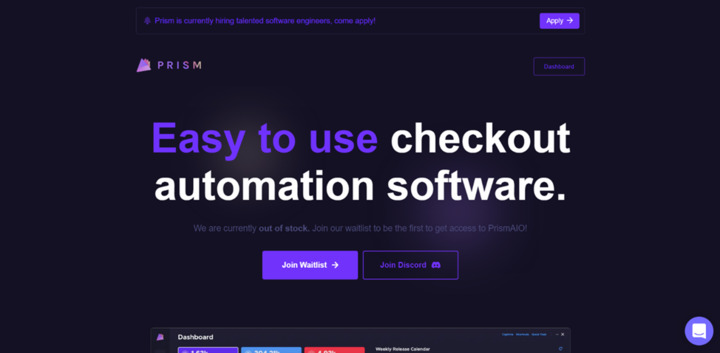 Rating: ⭐⭐⭐⭐
Supports proxies: Yes
Success proof: Yes
User-friendly: Yes
Prism can boast over-usage by clients. And there are solid reasons to pick this shoe bot over all other options. It has a smart design and a convenient release calendar and works on macOS and Windows. The program might be complex for new business players, but the website has all guides for installation and usage. Prism is also great for data systematization, which boosts users' control over processes.
The strengths here:
That is a good Shopify-oriented shoe bot that may access other websites;
Stellar success rates. Prism functions stably and transparently;
Clear, and intuitive dashboard that will be good even for novices;
Excellent calendaring and monitoring;
Useful stats and data systematization;
Zero issues with cross-platform matters;
Works with many proxies.
But, of course, the weaknesses:
Prism is very expensive. The price tag says $400, but a business person has to pay $150 per three months for renewals! Even though it offers objectively top sneaker bots, the price scrapes the skies and prevents users from contributing.
Out-of-stock issue. The aftermarket price, in turn, is around $2000! The retailer might not provide the bot when you need it most.
Sure, using this bot for shoes on Shopify rarely brings inconveniences. But many foot sites are inaccessible.
3. MEKpreme — A Shoe Bot for Supreme
Rating: ⭐⭐⭐⭐
Supports proxies: Yes
Success proof: Yes
User-friendly: Yes
While the software presentation needs extra details, the performance saves this bot. The program focuses on Supreme solely and works with both Windows and macOS. MEKpreme also has the potential to be the most affordable shoe bot. Its price is $168. But the renewal is $120 every six months. Given that the program solely works with Supreme brand shops, it might not be the most practical purchase. Of course, you may switch to its sister program, MEK AIO, but the price-efficiency ratio might lose to other options.
Nevertheless, MEKpreme shows good performance. Reddit reviews give this constituent 9/10. In addition, the program is quite user-friendly.
So, the positives of the mentioned option are:
Tolerable price;
That is the best shoe bot for Supreme;
Task creation takes zero effort;
It is a trouble-free option for beginners;
Windows and Mac support;
Functions well with proxies.
Negatives:
Insufficient information. There are no guides and instructions on how to operate the app! Users might encounter some difficulties and wait for help for too long.
The $120 renewal might not be worth it when you want other brands (even prioritizing Supreme).
4. Better Nike Bot — A Shoe Bot for Nike (Apparently)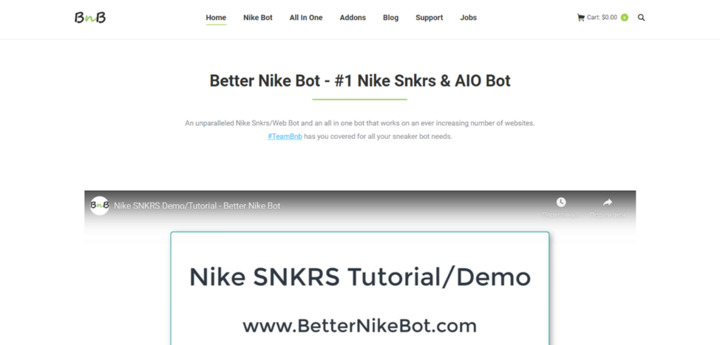 Rating: ⭐⭐⭐
Supports proxies: Yes
Success proof: No
User-friendly: Average
Better Nike Bot (abbreviated: BNB) is not a versatile tool, but it has the right to focus on one brand. It deserves only three stars for other weaknesses. Yet, the overview first.
It objectively is a nice program for Nike shoe botting. It works with all regions except for China. It is also good to see that a user may create up to five daily accounts and monitor all checkers a retail store owner might need. In parallel, we can see a great range of supported proxies and a CAPTCHA solver in the bundle. So, it all seems like a dream…
Until you start working. It takes extra minutes of manual adjustments before you can enjoy getting limited products. Of course, you will get used to the program, but it is not the finest choice for urgent Nike shoe botting. And we cannot state that first-timers will have a great time with this program because it is hardly intuitive.
Also, we cannot neglect that customer support here could use enhancements. Still, the functionality erases many issues. And, by the way, the price is tolerable — $200. The company also offers an Ultimate version of the app, which is $600. The latter unlocks ways to use the program on different computers (up to three though) and a year of free updates. But the basic one is more than sufficient if you need the app for one computer.
BNB's strengths:
Nice price;
10/10 best shoe bots for Nike;
It covers many countries and shops;
Handy checkers;
Unlimited accounts, but only five per day (which suffices);
No setup processes, merely click and use;
Free updates for the first six months.
And weaknesses:
Yes, free updates for a period, and no information about how much that costs later;
$200 means you can have the app only on one PC;
No refunds;
Like Prism, BNB is out of stock. So, you may get it in the aftermarket only;
There are no stories about successful usage, even though the site claims more than a thousand.
5. Ganesh — A Stellar Shoe Bot for EU Countries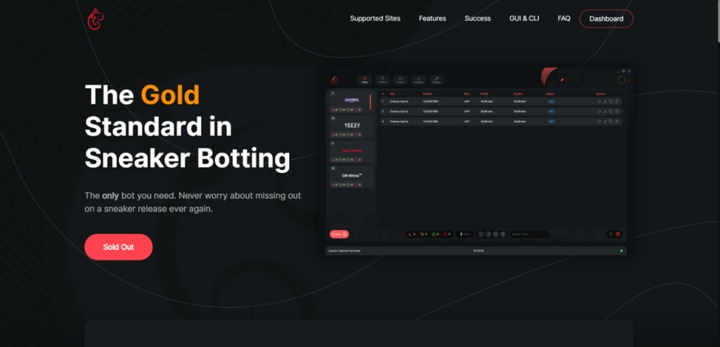 Rating: ⭐⭐⭐⭐⭐
Supports proxies: Yes
Success proof: YES
User-friendly: Yes
This bot deserves a crown even though it is the last one on the list. The mentioned bot is practical for the EU more than for the US. It supports many websites, functions with many proxies, and gives a positive shoe bot usage experience. Furthermore, the bot is capable of good data systematization and documentation. The support performs well! Hence, all issues are solvable. No wonder there is not so much criticism over this service. But some users say that there is overrating of Ganesh.
Ganesh is also affordable, which is a great plus. And gladly, there are systemic restocks (because the aftermarket price is over $2000). The interface does not need enhancements either. Overall, the policies here are transparent. Various comments on Reddit say the bot is the finest choice for EU business people. There are many posts, but we see: "30 tasks, 30 checkouts", "I have Ganesh […] Phenomenal bot". So, we congratulate European retail shop owners on a good finding!
Strengths:
Everything;
Jokes aside, the bot performs well;
Easy tasking;
Business doers who can code may use it as a command-line interface in parallel;
Adequate price (£100 for 3 months, i.e., $101,28 at the moment of writing);
Functions with proxies trouble-free;
Supports many sites;
Restocks often;
Genuine comments, no bot comments suspicions;
Hundreds of thousands of successful checkouts, even though Ganesh is not #1 in popularity.
No one cancels weaknesses:
$2K+ aftermarket price;
Windows-only.
How to Get a Bot for Sneakers Independently: A Guide for You
If the reviewed best sneaker bots do not look good, you can analyze all programs independently! Moreover, it is always wise to double-check all suggestions and be a bit picky. So, here is how a business person may scan the shoe bots!
Step 1: Read the website for details
See the supported websites, success stories, and other facts. You may also estimate the dashboard, as sneaker bot websites publish screenshots with essential tools. And do not neglect the FAQ section!
Step 2: Compare sneaker bot prices
Some best sneaker bots perform equally well but offer different prices. Moreover, be attentive to renewals and prices of updates! The standard tag should not be your final stop!
Step 3: Ensure that the bot is compatible with proxies
The finest sneakerbots are nothing without a proxy. Moreover, even the best bots for shoes might not function with the top proxies. You want to see that your chosen program works well with what you have already obtained. Or you may purchase a bot and then find a proxy for it.
Step 4: Read sneaker bot reviews
Try finding them beyond the site. Of course, the company will post only positive reviews. That is why independent platforms like Trustpilot, Sitejabber, and Reddit exist.
Step 5: Test the support team
Let your question be something simple. You do not have to come up with an elaborate question about the top sneaker bots. You are estimating the reaction and seeing how long it takes to get a response.
Wrapping Up
Getting the best sneaker bot means winning the race for limited products. So, studying all details and analyzing each program to the maximum is vital. And we hope your business wins each time there is a new release! You may use the suggestions or take our checklist to find the best shoe bots independently.
FAQ
How do I get a sneaker bot?
First and foremost, analyze the offer and compare it to other options. If the program meets your business demands, buy a license. Some programs require installation, and some do not!
Where can I find sneaker bot reviews?
The best review hubs are Reddit, Trustpilot, and Sitejabber. There is also g2.com — a site that specializes in business software reviews.
What is the best shoe bot?
All of them have specialties, strengths, and weaknesses. Our estimation result says that Ganesh is the best shoe bot — but it is better for EU countries. The US's best shoe bot is AIObot, although it has some pitfalls.
Are best bots for shoes expensive?
Yes, unfortunately. The prices are hardly for personal usage purposes. But some affordable programs allow a one-time purchase and small charges for renewals.
Are sneakerbots popular?
Yes, many business people use them to get limited edition footwear. Of course, some programs are more popular than others. Still, this program type can boast popularity in the retail sphere.