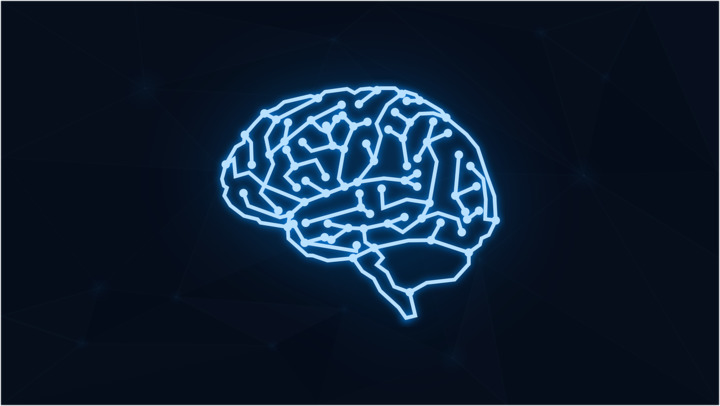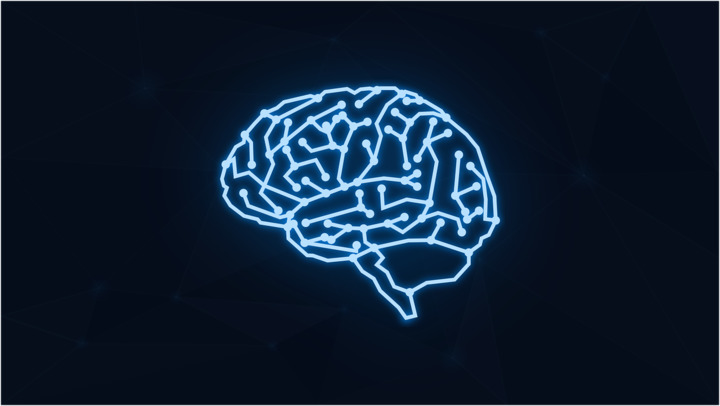 Whether you are a regular Internet user or an entrepreneur, you have to think about how to ensure your web activity is safe. At an individual level, you are, first and foremost, concerned about protecting yourself from spam and keeping the data private. At an organizational level, you must be able to foresee and prevent all sorts of attacks and phishing that can disrupt the business processes causing substantial reputational harm and economic losses.
Research shows that half of all attacks occur due to human error. Yet, many people and even organizations tend to underestimate the risks implied by hacking and fail to take any measures to protect themselves. The reason for this is low cybersecurity awareness, that is, a poor understanding of existing threats, their consequences, and available methods for their mitigation. In this article, we will discuss why it is useful to study cybersecurity online and review the top six courses to consider in this regard.
Cyber Security Courses Online: What Will They Give You?
Now, what is the point of cybersecurity training programs? Are they really worth your time and money? Let's take a look at some specific examples of how IT security trainings boost your self-efficiency.
Protection against cybersecurity threats
The first and utmost benefit of cyber security courses is that they introduce you to major trends in IT security and provide practical instruments to protect yourself against threats. Simply put, you learn what type of risks to expect, how to prevent them, as well as how to manage different safety incidents. Whether you are a regular Internet user or an entrepreneur planning the training for a workforce, the first thing you can expect from Internet security classes is advanced expertise and self-confidence.
Exciting career prospects
Another advantage of cyber security training online is that it can foster your career growth and open avenues for professional development. By acquiring new skills and competencies, you get prepared to take on more types of tasks at work and, thus, can reasonably ask for a salary increase. Or, if you are in search of a job, a line with a reputable web safety course in the CV might be a good boost to your competitive advantage over other candidates.
Great networking opportunities
A less obvious yet no less important gain that a cyber security course brings with it is exciting networking opportunities. Thus, the big plus of online education is that it draws together motivated learners from all over the world. Whether you are an individual Internet user or a small company, studying cybersecurity online is likely to connect you to like-minded people. This kind of networking is favorable to both personal and professional growth for it implies an exchange of ideas and expertise.
Reputational benefits
Finally, cybersecurity awareness is a must if you want to uphold your reputation in 2022. Whatever your profession is, understanding the fundamentals of IT safety has become a rule of etiquette: you are not expected to possess advanced expertise but it is preferable to know the basics. This reputational aspect is especially relevant to companies because data breaches and other unmanaged risks can cost them clients.
How To Choose The Best Courses For Cyber Security?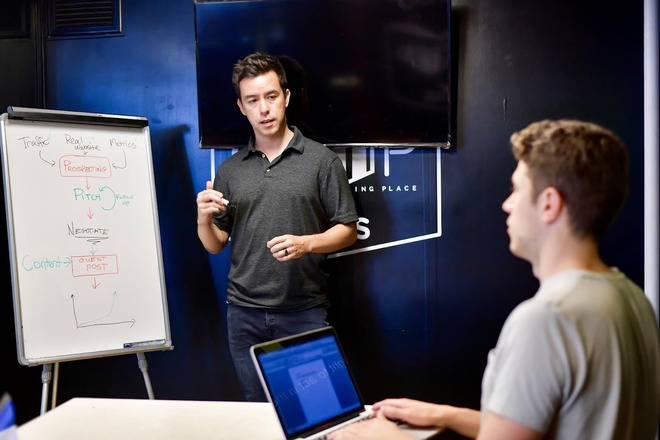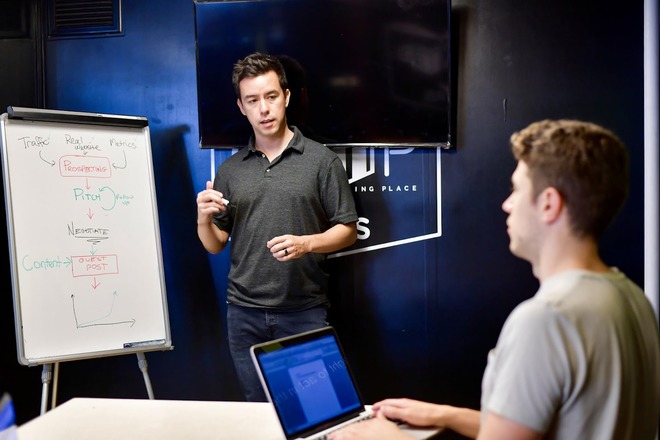 If you plan to study cybersecurity online, the question naturally arises as to how to choose an appropriate course. In this section, we will review some aspects to consider when picking online cybersecurity courses.
Level: To begin with, it is a good idea to find out which audience a course targets. Thus, cybersecurity training for beginners should not be suitable for expert specialists and vice versa, which is why it is critical to find a level-appropriate program.
Content: Best cyber security courses online provide relevant and up-to-date content. Ideally, they should cover both the essentials of IT safety such as forensics or cloud operations and the latest trends such as ways to minimize digital footprinting or the threats of free proxies.
Price: Online training can be either free or paid and it is important to understand the gains and limitations associated with each type. Free cybersecurity classes are an excellent way to get clear on the basics. Meanwhile, you should be prepared that a free cybersecurity certificate is not as credible as that of a paid program when it comes to verifying your qualification.
Form of presentation: Watching videos and completing comprehension tasks is great but good courses would normally offer different forms of content presentation including lectures, how-to videos, slides, readings, class discussions, and more. It is also a big plus if your cyber security training program allows for self-paced learning.
Top 6 Suggestions to Learn Cyber Security Online
To spare you time and effort, we have carefully scanned the most popular cyber security classes available online and now present our six top picks. We wanted this selection to be as varied as possible so that it would have something for everyone. This is why our top six selection comprises both cybersecurity training for beginners and more advanced learning options.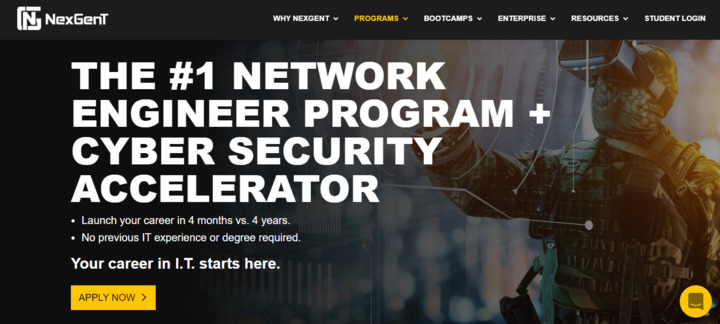 NextGenT's Network Engineer program with a focus on cybersecurity is designed for those willing to launch an IT career notwithstanding a lack of relevant experience. The course offers unique content specifically designed by NextGenT's professionals to meet the needs of learners with no prior knowledge of IT safety. The training covers three broad themes: core networking concepts (e.g., frames, MAC addresses, etc.), systems and safety (e.g., operating systems, cloud technologies, etc.), and networking.
The program's design allows for self-paced work and, at the same time, offers a structured curriculum to ensure learning is both flexible and systemized. The central source of content presentation is a workbook that brings together all materials, activities, labs, and guides. There is also weekly live training and three mentor sessions to provide for consistent guidance and follow-up assessment.
The course lasts for four months and opens a variety of career paths from Computer Network Defense Specialist to Penetration Tester. The fairly high cost of the course ($15k) is compensated by the guarantee to get a job soon after completing the cybersecurity training at NextGenT. The company claims its graduates earn over $90k at their new jobs. Overall, the course is a perfect fit for those willing to start a new career as it prioritizes practical tasks and hands-on experience preparing its students for solving real-life tasks.
Best for making a well-paid career in IT-Sec from scratch.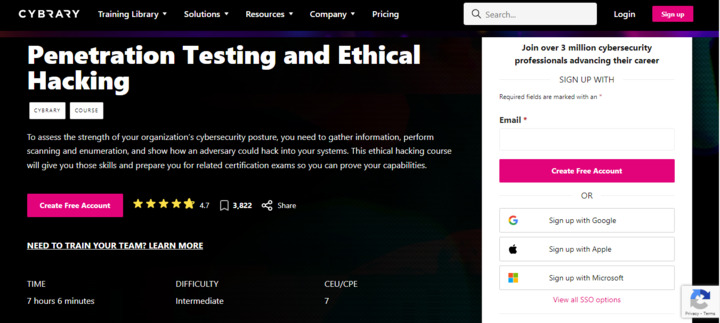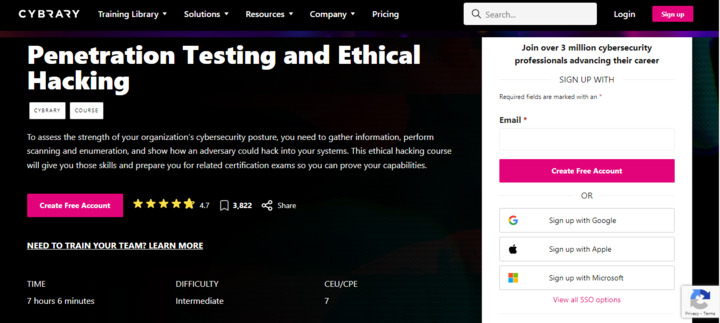 Cybrary's Penetration Testing and Ethical Hacking earned its place on our list of the best cyber security courses online thanks to a cool and elegant idea behind its design. Thus, the course is structured in such a manner that it teaches you different types of attacks: by learning to exploit vulnerabilities yourself, you get more skilled in identifying these vulnerabilities to protect them from malicious attacks. This is why the course has ethical hacking in its name: it teaches students to exploit vulnerabilities to boost their IT-sec awareness.
The program is only seven hours long but within this short period, students are introduced to a great variety of themes and concepts including footprinting, system hacking, and cryptography, to name but a few. The course is certified by EC-Council and upon its completion, students get the corresponding certificate. Of course, this short cyber security training program does not make you a certified ethical hacker yet. Rather, it gets you prepared for taking EC-Council's exam for the Certified Ethical Hacker (CEH) certification.
One of the best things about this cyber security course is that it gives you a lot of hands-on experience which should be useful even if you do not plan to work as a Penetration Tester in the future. Besides, Cybrary offers a lot of free materials and if you purchase a team account, you can use it for free for as long as 2 months. This should be enough to complete Cybrary's Penetration Testing and Ethical Hacking and a few more courses of your liking.
Best for learning the specifics of protecting a network from attacks.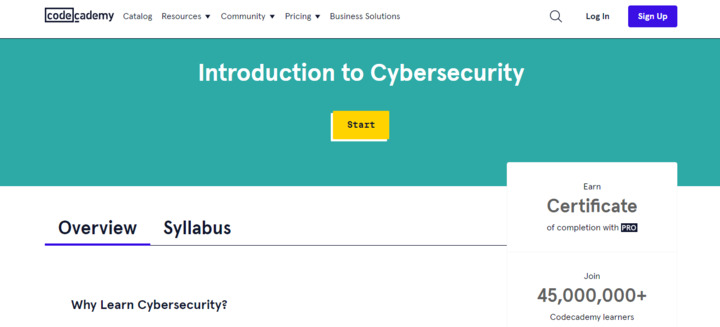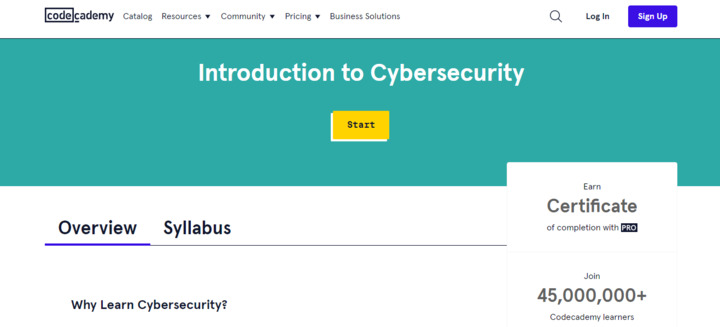 CodeAcademy's program is another cybersecurity training for beginners on our list. In a nutshell, it is a good option to get the most out of online learning without spending much time or money. Well, judge for yourself: the program covers all fundamentals of computer safety, takes only six hours, and leaves you with a certificate and portfolio projects to showcase the newly acquired skills. All this comes at a minimal cost: CodeAcademy's subscription plans vary from $11 to $15 for individuals and there are custom prices available for teams, too.
The course content consists of seven core modules and is mainly presented in the form of articles. Comprehension is assessed through readings and hands-on tasks. Thus, for instance, students practice using the command line to decrypt intercepted data. The results of their work are further summarized in the form of a portfolio project which they can showcase to verify the competence
Overall, the course is best suitable for those who would like to get a good introduction to the fundamentals of computer safety and receive proof of their learning without spending too much time or money on that.
Best for getting a certificate and portfolio projects in IT security at a low cost.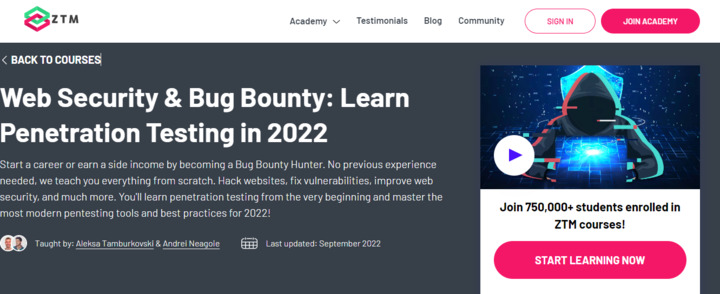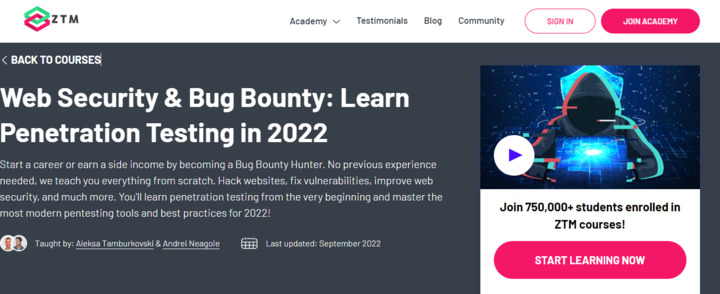 Of all the cybersecurity courses on our list, ZTM's program is probably the best option to get started in the profession of a penetration tester at an affordable cost. One central advantage of this ZTM's classes is that they introduce you not only to the basics of web safety as such but to interdisciplinary skills, too. Thus, for instance, there is a separate section with three bonus modules devoted to coding, which can be skipped by experienced users but should be of great help to complete novices. In this manner, the course does exactly what it promises — guides you from zero to mastery.
Another plus of this cyber security training program is that the content is presented in different formats from articles to videos and can be downloaded for personal use. Although the course is not free — it will cost you $39 a month — it turns out to be truly cost-effective given that you can use all materials offline and have a free preview of the first module. Upon completion, students get a certificate. As a nice bonus, they can add the course to the education section of the LinkedIn profile.
With that said, we recommend ZTM's online learning for those who seek a solid start in penetration testing at a cheap price. The best thing about it is that it really takes care to introduce the fundamentals teaching you all basic IT skills even if they are not directly related to computer safety.
Best for loads of offline web safety materials for independent learning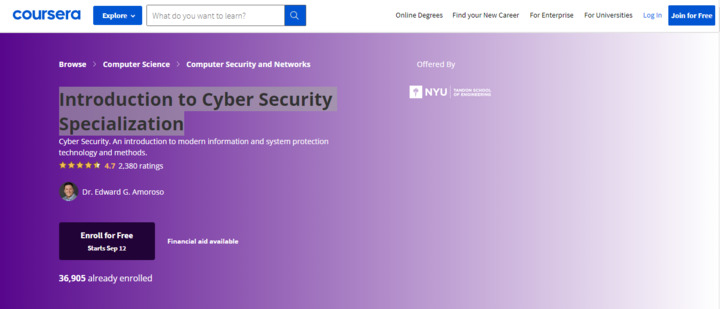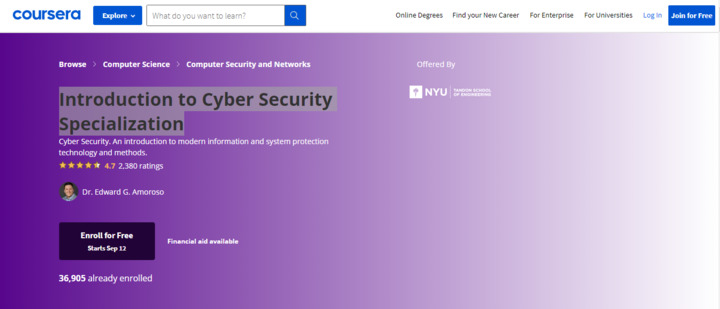 Coursera's introductory course is one of the best online cybersecurity certificate programs for novices on our list. On the one hand, it is free and does not require any prior knowledge except for some basic IT awareness. And on the other hand, it is led by a trusted security expert Edward G. Amoroso and provides Coursera's certificate upon its completion.
In the frame of the program, students get introduced to the purpose of computer safety, the strengths and limitations of defense through obscurity, and the fundamentals of identification and authorization. The training implies a self-paced format: according to Coursera, it takes approximately four hours a week (four months in total) to complete the training. A great plus is that all learning materials have subtitles in a variety of languages including Arabic, Vietnamese, and German, to name but a few.
In terms of structure, Coursera's Introduction to IT Security is a large specialization module that, in turn, consists of four smaller courses: Introduction to Cyber Attacks, Cyber Attack Countermeasures, Real-Time Cyber Threat Detection and Mitigation, and Enterprise and Infrastructure Security. To get a certificate, students need to complete all of them but if you do not need one, you can only choose the IT security trainings that best appeal to you. In effect, Coursera's online cybersecurity classes are fit for any audience. They focus on practical foundational issues as well as on live business experiences. This makes the classes equally useful for regular Internet users and businesses planning corporate training for their employees.
FREE
Best for a free introduction to the basics of Internet security.

Udemy offers over a hundred cybersecurity classes online, both free and paid. We've selected Cybersecurity 101: Adopting A Security Mindset for our top six and here is why. First, it stands out for its efficiency from other cybersecurity classes available online: it is free, short (an hour of video content only), and full of different activities such as comprehension tasks and assessments. Second, it places a great emphasis on practical tasks and hands-on experiences. As a result, having completed this cybersecurity training for beginners, one is actually prepared for assessing and addressing risks.
Another reason why we selected this particular cyber security training online among all Udemy's offers is that despite its small size, the program covers plenty of themes and aspects. Thus, for instance, apart from the foundations such as threat actor types and CIA model basics, the program includes securing AI, CTF set up, and XSS intro. This makes it suitable for different audiences from computer safety enthusiasts to those considering the penetration testing career path.
Like many free web safety courses online, Udemy's training is not without disadvantages. Thus, the content is only presented in the form of videos and there is no interaction with the instructor or peers implied. Upon completion, students do not get any certificate either. This is why we suggest considering this course as a free self-development tool to understand the basics and start thinking with computer safety concepts in mind.
FREE
Best for developing a web safety mindset.
Before Goodbyes
To sum it up, taking a cyber security training course online is a great way to boost your web safety awareness as well as to learn the basics of IT defense. In addition to becoming more self-efficient and confident, which is of great importance in and of itself, such training opens new avenues for exciting professional development, too. Luckily, there is a rich selection of all sorts of cybersecurity classes online and we have tried to review some of the top ones for you in this article.