Still searching for a France proxy server to access localized France web services online? The latest rating of residential proxy services is right here.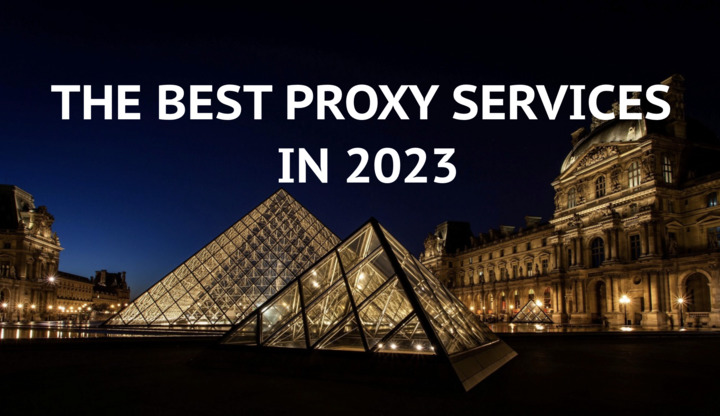 It might seem embarrassing, but the search engine results differ from one country to another. Most websites focus on localized content creating multiple versions of their pages. So, the particular website displays entirely different verbiage to users surfing from France and USA. As the Google SERP has shown, the same search keyword differs depending on the country of your current location. That's why you will need to use France IPs to access localized websites if you are not in France.
You can get the France IPs differently, but VPN servers and proxies remain the most available and popular choices. Anyhow, proxy services retain their rank as the best solution for changing IP addresses because they provide millions of real IPs that hardly any other service will. Here is the rating of French proxy services we highly recommend trying:
Why Use France Proxies?
Let's first give some clues on what French proxy services are. These are regular residential proxies with an identical function – they mask your real IP address with a different one. The main difference is that these servers replace your IP with IPs from France. In other words, these are proxies from France. Each IP address has a specific location attached to it, according to which online web services identify the location traffic originates.
By replacing your real IP with France IPs, these servers adjust your device to a new location, France. With France as your current location, websites start treating your traffic as a France-originating one. Hence, you can access local traffic during web scraping, testing, and managing localized data. Besides, the best France proxy can unblock some services for users from France.
Things to Consider When Selecting French Proxy Services
When choosing a proxy provider, you must consider several pitfalls you might encounter.
The first thing we strongly recommend is to check whether the proxy provider is legitimate or not. The best here is to read expert reviews and look through user feedback which is quite helpful when studying the range of proxy sites.
Secondly, consider France proxies' pool size, pricing, and dashboard. These are the most important aspects to pay attention to if you buy a proxy for private purposes. Test the proxy service preliminary if your purposes go much further than accessing blocked sites. Bear in mind the scope of your project and select the platform according to your needs.
Finally, never use free French proxy servers. Entrusting your device to free proxies, you open a line leading directly to your company's network. Thus, you put your private information at risk, getting you and your company into trouble. In this case, the France private proxy is a better solution for securing data.
8 Best France Proxy Providers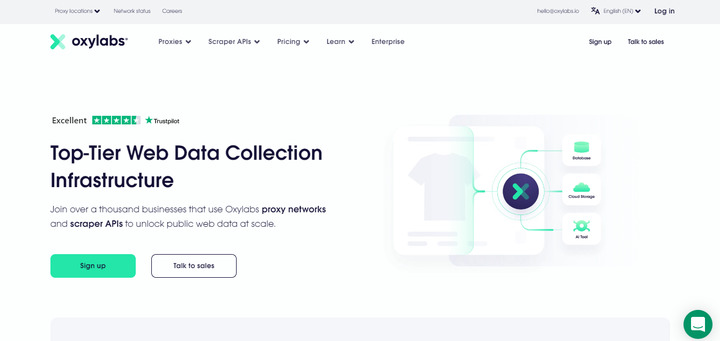 Oxylabs has already earned the title of the best France proxy, thanks to an extensive network of about 3 million France IPs and exclusive features. Along with country-level targeting that spreads worldwide, it provides an ASN mode (autonomous system number) to change IP addresses manually. Among server types, you can choose residential, datacenter, dedicated, shared, SOCKS5, rotating, static, and mobile proxies. It is more than enough both for the general user and a company.
This France residential proxy covers an impressive number of use cases, starting from the most common one – web scraping. Oxylabs offers several unique tools for scraping activity: SERP scraper API, E-Commerce Scraper API, and Web-Scraper API. Anyhow, this proxy provider is considered to be the best fit for ad verification as well as avoiding multiple captchas and IP bans thanks to IP rotation that increases the success rate. These servers are often used for review monitoring, allowing one to look through public reviews published on various websites worldwide.
As for the pricing models, Oxylabs has prepared 4 packages for monthly and yearly usage. The cost per package varies according to the amount of traffic needed, your use case, target sites, and other parameters. Here is a France residential proxy pricing plan offered by Oxylabs:
Monthly plan:
| | | | |
| --- | --- | --- | --- |
| Starter | Business | Corporate | Enterprise |
| $300/month | $600/month | $900/month | $5,000/month and more |
| 20 GB $15/GB | 50 GB $12/GB | 100 GB $9/GB | 1 TB and moreCustom price per GB |
Yearly plan:
| | | | |
| --- | --- | --- | --- |
| Starter | Business | Corporate | Enterprise |
| $270/month | $540/month | $810/month | $4,500/month and more |
| 20 GB $13.50/GB | 50 GB $10.80/GB | 100 GB $8.10/GB | 1 TB and moreCustom price per GB |
Key features:
Automatic activation
Blocking objects and scripts
ASN and country-level targeting
Additional data protection
Server directory
Unlimited traffic
Average 99.9% uptime
Best suited for ad verification and review monitoring.
2. Proxy-Seller — Best for Mobile Compatibility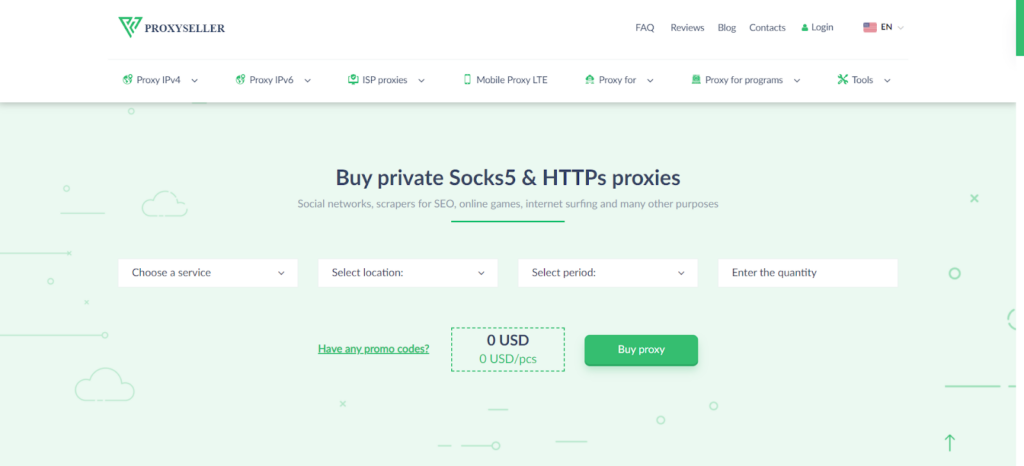 Proxy-Seller is a must-try option for everyone in France seeking enhanced speed and security. Accessible in almost any country around the globe, this service has some outstanding offers for France-based users. Thus, it allows admission to thousands of mobile proxy and data proxy services around the state. It also includes the rotating proxy that allows limitless data collection and boosts anonymity with automatic shifts every 2 minutes or per new link access.
In addition, Proxy-Seller is notable for its outstanding client care services. For instance, it guarantees 24/7 access to technical support in case you encounter any issues. Besides, it ensures a 100% refund or a proxy substitution within 24 hours trial period.
One more argument for this service is its universal usage. Thus, Proxy-Seller is the perfect option for anyone involved with web scraping. But it can also be helpful for those working with SMM, SEO, functional testing, or traffic arbitrage. All of this makes this service one of the most usable options on the list.
This proxy also offers some of the most pleasant prices on the market. However, please note that any subscription plans with Proxy-Seller are highly adjustable, and prices can change depending on the subscription longevity (1 week, 2 weeks, 1 month, etc.) and the number of proxies you are willing to purchase.
| | | |
| --- | --- | --- |
| Proxy IPv4 | Proxy IPv6 | Mobile Proxy LTE |
| $3.62/month | $0.16/month | $70/month |
Key features:
99% uptime,
The option to choose among 800 subnets and 300 networks,
1 GB/s speed channel,
24-hour trial period,
Rotating proxy,
A number of free tools: Proxy-Check, Pinh-IP, IP-Trace.
Best for data and mobile proxies.
Presenting itself as the world's #1 web data platform, Bright Data (former Luminati) managed to match its declaration. It has captured users' hearts thanks to high-quality France IP addresses. Although the number of France IPs provided is about 515 thousand, it does not distract from their quality. These are fast intermediaries with unlimited concurrent sessions and advanced city-level targeting.
With Bright Data France IPs, you can collect stock market information, protect the brand, get e-commerce competitive data, perform web data extraction, and many more. Since the company focuses on web scraping, you can find several advanced tools for scraping activity like Web Unlocker, Proxy Manager, and Proxy Browser Extension. Since the proxies are designed according to carriers, the number of Datasets offered by Bright Data help to uncover the most crucial data and focus your efforts on particular items.
Compared to Oxylabs, Bright Data offers a little more expensive pricing plans that start from $500 per package but with a 7-day free trial for companies. One of the remarkable features worth mentioning is a Pay per Use option. The price here varies depending on the chosen proxy type and user traffic. The residential pricing plan looks as follows:
Monthly plan:
Pay per use
Starter
Production
Plus
Enterprise
$300/month
$500/month
$1,000/month
$3,000/month
Contact support
$35/GB
$30/GB
$28/GB
$26/GB
Yearly plan:
Starter
Production
Plus
Enterprise
$450
$900/month
$2,700/month
Contact support
$25/GB
$25.20/GB
$23.40/GB
Key features:
ASN and career targeting
Global distribution
Exclusive IPs
Chrome extension
Fastest response time
Advanced data gathering tools
7-day free trial for companies
Best for web scraping.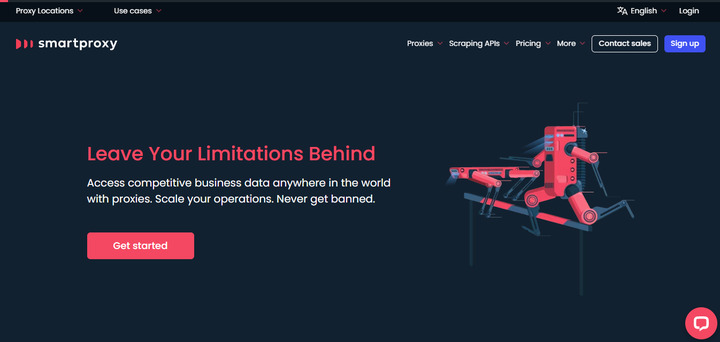 SmartProxy ranks third in our ranking with 200 thousand France IPs. Although SmartProxy covers practically all countries and locations, users appreciate French servers. The France residential proxy network is one of their strengths – the company offers one of the fastest on the market with unlimited concurrency. These proxies are rotating, but users can choose the mode they prefer for their work. The rotating session changes IP with every sent request when the sticky session allows keeping the same IP address for no more than 30 minutes.
Unlike Oxylabs and Bright Data, SmartProxy has a rich gallery of proxy types. Besides residential servers, it offers a datacenter, dedicated, anonymous, rotating, search engine, shared, social media, HTTP, backconnect, and sneaker proxies. All of them provide stable operation and work smoothly.
Along with intermediaries, you can order many free additional tools. For multiple purposes and use cases, you can order Chrome Extension, Address Generator, Firefox Add-on, and X-Browser free of charge. With SmartProxy, juggling multiple accounts simultaneously is no longer a problem. Scraping tools are also good: SERP Scraping API, E-Commerce Scraping API, Web Scraping API, and No-Code Scraper. Although scraping tools are paid, SmartProxy gives a free trial on them.
Depending on a proxy type, SmartProxy offers different pricing plans distributed into three packages with a 3-day money-back guarantee. For those who need an even larger package for France residential proxies, there is a reseller pricing plan for up to 1000 GB of traffic with unlimited connections and threads. The residential pricing plan is pocket-friendly here:
Pricing plan:
| | | |
| --- | --- | --- |
| Micro | Starter | Regular |
| $75/month | $200/month | $400/month |
| 5 GB$15/GB | 20 GB$10/GB | 50 GB$8/GB |
Key features:
Unlimited threads
Chrome extension
Smart scraper
X-Browser
Firefox add-on
Proxy address generator
3-day money-back guarantee
Best for additional tools free of charge.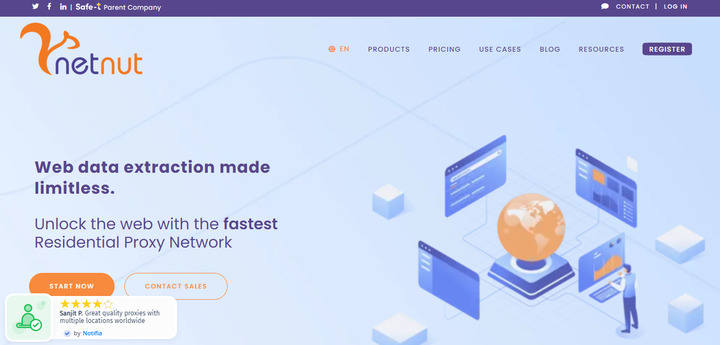 NetNut did a good job gathering proxies from France – by the moment, the number of France IPs exceeds 967 thousand. Among the services provided, there are rotating residential, static ISP, and datacenter proxies for multiple use cases. These are fast servers with one-hop ISP connectivity and city-level selection.
NetNut does not rely on a P2P network compared to other platforms – their IPs are always online, which is a great advantage for users. The service ensures an excellent session control that allows using the same IP for up to 30 minutes without changing it. Take note that having 100% control over the session, the IP rotation is completely in your hands.
Besides, the platform offers an account for Traffic Data Analysis and Reporting that will help to summarize the current statistics in real-time. This analysis includes the total bandwidth and request statistics based on country account information.
NetNut is a general-purpose provider that suits the best variant for home users. It supports an average scraping with a sufficient number of blocks and errors. Also, it is a good solution for price comparison and market research.
The pricing set by NetNut is average, starting from $300 for residential proxies with a 7-day free trial. In total, there are 6 pricing plans for NetNut services divided according to the package size. The larger the package is, the more features it offers. Besides, the price can vary according to a use case which is also important to bear in mind. Here is a NetNut residential package:
Pricing plan:
| | | | | | |
| --- | --- | --- | --- | --- | --- |
| Starter | Advanced | Production | Semi-Pro | Professional | Master |
| $300/month | $600/month | $800/month | $625/month | $2500/month | $4000/month |
| 20 GB$15/GB | 50 GB$12/GB | 100 GB$8/GB | 250 GB$6.5/GB | 500 GB$5/GB | 1TB$4/GB |
Key features:
One-hop ISP connectivity
City-level selection
A large pool of France proxies
Traffic Data Analysis and Reporting
7-day free trial
Best for home users.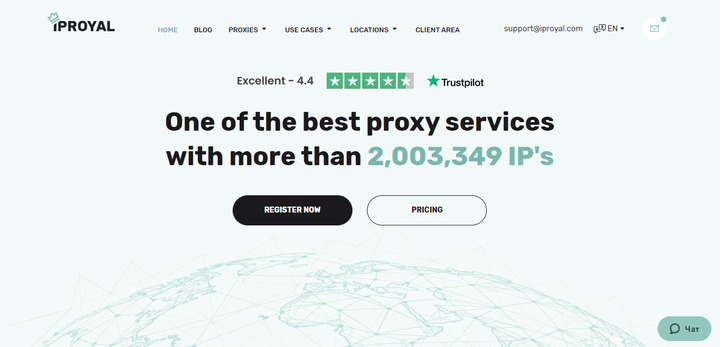 IPRoyal has over 223 thousand France proxies that provide reliability and anonymity for almost all use cases. Although the pool of proxies is not so large here, these servers are highly reputable, quick, and secure. One feature that makes IPRoyal unique is that the company informs you of your device being used as an exit node and compensates for it.
The choice of IPRoyal servers is not limited to residential proxies. The company also offers a data center, sneaker, private, static residential, and 4G mobile proxies for all use cases. Rotating proxies change IP automatically when a sticky session allows maintaining the same IP for up to 24 hours.
All scenarios are divided into 3 major categories for ease of use: data gathering, social networking, and retailing. Since all proxy servers are designed mainly for data gathering, IPRoyal offers data scraping activity. Besides scraping, it covers SEO crawling, price comparison, collecting stock market data, and travel fare aggregation. It is worth mentioning that IPRoyal distributes social networking according to 5 social platforms where a user can apply it. These are Discord, Reddit, Facebook, Instagram, and YouTube.
The matter of price is essential. The prices for services set by IPRoyal are lower than those set by competitors. The IPRoyal packages are:
| | | | |
| --- | --- | --- | --- |
| Residential | Datacenter | Sneaker | Static residential |
| $0.80/GB | $1.30/IP | $0.80/IP | $2.50/IP |
Key features:
100% genuine
Anonymity
Good choice of proxy types
Rotating and sticky sessions
Proxy tester
Best for Social networking.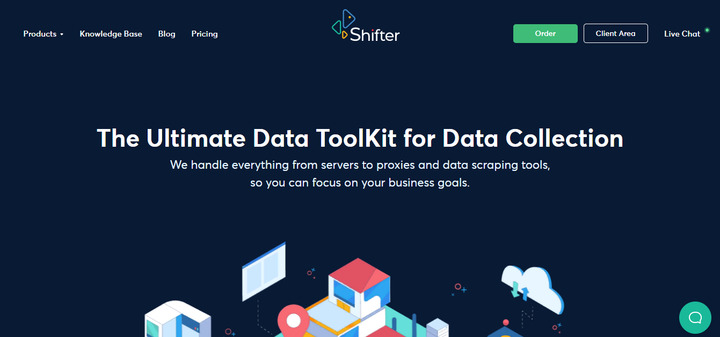 Shifter specializes in residential proxies and can boast a large pool of France IPs with over 1,736 thousand addresses. In terms of the France proxy pool size, Shifter comes second after Oxylabs. These intermediaries provide unlimited bandwidth thanks to pricing based on ports. The scraping performance and the proxy speed connection are also sufficient.
Why do we rank Shifter sixth in our rating? Well, there are several reasons for this. Although Shifter has shown itself as a good solution for web scraping on most sites, it is unsuitable for working with Google and Amazon. On Google, you will face an avalanche of captchas, but for experienced users, this might not be a problem since there are many ways to avoid captchas. Amazon is a special case for Shifter. The company forbids using proxies until you contact them to activate the intermediary for you. Even though they activate your intermediary, you must follow their terms and conditions to avoid deactivation.
Shifter offers rotating residential proxies that change with time, but there is no option for changing IP after every request. Session control is limited here. Customer support leaves much to be desired.
Shifter packages are divided according to the proxy type and geo-targeting presence. Here are special rotating packages with a geo-targeting option:
Pricing plan:
| | | | |
| --- | --- | --- | --- |
| 10 servers | 25 servers | 50 servers | 100 servers |
| $299.99 | $599.99 | $1,199.99 | $2,399.99 |
Key features:
A large pool of proxies from France
Acceptable scraping
Fast performance
3-day refund policy
Best for bypassing restrictions.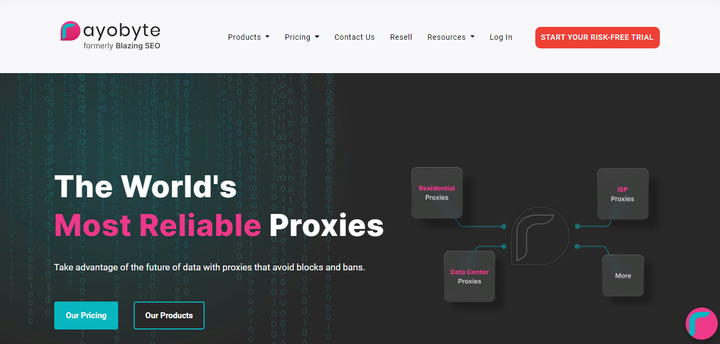 Rayobyte (formerly Blazing SEO) used to focus on dedicated data center proxies. Yet you can find practically all types of servers on the site. These are residential, rotating, ISP, data center, and mobile proxies that are fast and secure. Remarkably, these intermediaries suit well for SEO purposes like SEO monitoring and collecting SERP data on localized sources. Besides, the platform offers 1 GB for a free trial, which is a nice bonus.
Like Shifter, Rayobyte has some scraping problems with Google and Amazon. Though the company has reputed itself as a legal company with fast intermediaries, there are some nasty performance features we want to warn you about. The system of IP distribution is unpredictable. The system automatically chooses the server from various subnets when purchasing a France proxy. You can replace unsuitable ones until you find the subnet that manages to complete the task.
Pricing:
| | | | | | | | |
| --- | --- | --- | --- | --- | --- | --- | --- |
| Starter | Personal | Consumer | Professional | Business | Corporate | Enterprise | Custom |
| $15/GB | $12.50/GB | $7/GB | $6/GB | $5/GB | $4/GB | $3/GB | $1/GB |
| 1-15 GB | 16-49 GB | 50-99 GB | 100-249 GB | 250-499 GB | 500-999 GB | 1 TB – 4.9 TB | 5 TB + |
Key features:
Unique C-class subnets
Customizable pricing plans
End-to-end hardware control
Ethically sourced proxies
High availability
Good choice of proxies
Scraping robot
Best for SEO monitoring.
Conclusion
There are a lot of other proxy providers that warrant their service is at the top level. Unfortunately, not many of them are trustworthy and provide stable operations. To avoid problems with fraud and malfunctions, we strongly advise you to try France proxies from the list given above. Each platform has been tested by our experts and has already earned stripes among users.
FAQ
How to choose the best France residential proxy? 
When choosing a France proxy, it is crucial to bear in mind the ultimate goal you are aiming at. What is it? Do you want to bypass regional blocks and access localized content? Maybe you need to gather information from French websites or simply want to stay anonymous and keep your data secure. As soon as you've decided on your purposes, study the platform's features, pricing plans, and user reviews published on independent sites. Don't forget to check the privacy terms. 
Can I use a free French proxy? 
You'll have no difficulty in searching for a free French proxy. For sure, there are some platforms offering proxy lists free of charge. The thing is, they are insecure and even dangerous for the company's data. Launching a free intermediary entrusts your data to someone you don't know. Hence, this someone gets direct access to your private information and is free to do with it everything they like. That's why using a paid proxy is much safer.
How to set up a France proxy? 
It is not of great difficulty to set up a proxy network. Go to "Start." Then, follow "Settings" and "Network and Internet." Find the "Proxy" item. In the address and port input fields, specify the IP address and port of the proxy. Select "Manual proxy configuration" in the operating system settings and then click on the "Use proxy manually" button.