A proxy server alters your perceived location to make you appear as an Italian visitor to websites by providing an IP address in your selected country. Selecting the right one from the multitude of Italian proxy services for your marketing or SEO initiatives can be difficult. To assist you, we've evaluated numerous proxy solutions and compiled a list of the top Italian proxy providers.
Keep reading to check a detailed review of each service on the list. We'll also share some key considerations to make when choosing an Italy IP proxy.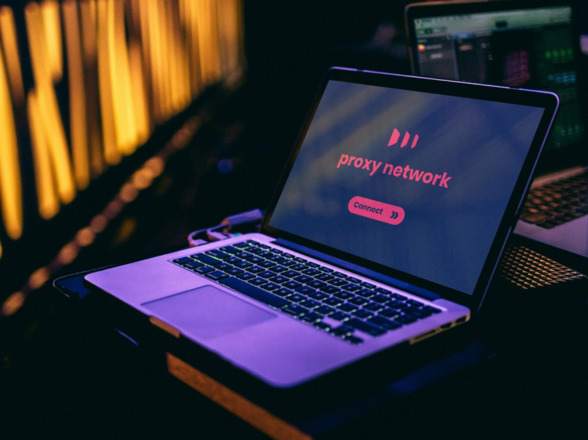 Top 10 Italy Proxy Services
1. Oxylabs — Best Overall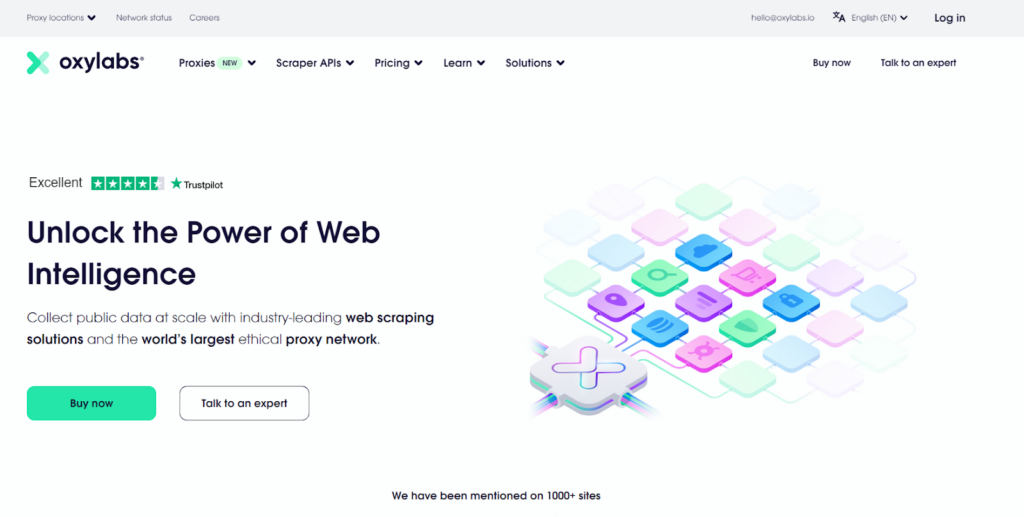 Overview and Features
Founded in 2015, Oxylabs is one of the best proxy servers for Italy today. With a proxy pool of 2,076,751 Italian IP addresses, Oxylabs enables you to access local content easily. Whether you need a datacenter or residential proxy server, Oxylabs has got you covered. The provider supports SOCKS5 and HTTP(S) protocols.
Pricing Plans
Residential proxies from Oxylabs are available pay-as-you-go for $15 per GB. The company also offers 25 GB, 60 GB, and 100 GB packages for $300, $600, and $800 per month, respectively.
Prices for shared datacenter proxies start at $50/month, while dedicated datacenter proxies will cost you $180 per month and more.
Pros and Cons
Pros:
A large proxy pool
High uptime
Fast and reliable connection
Targeting options by city
Unlimited bandwidth with datacenter proxies
Insurance coverage for all products on offer
Cons:
Expensiveness
Bandwidth restrictions with residential proxies
User Reviews
Most users rate their experience with Oxylabs positively. Customers appreciate the quality of proxies and the responsiveness of the support team. Oxylabs has a Trustscore of 4.5 on Trustpilot.
2. Bright Data — Best for Supported IP Types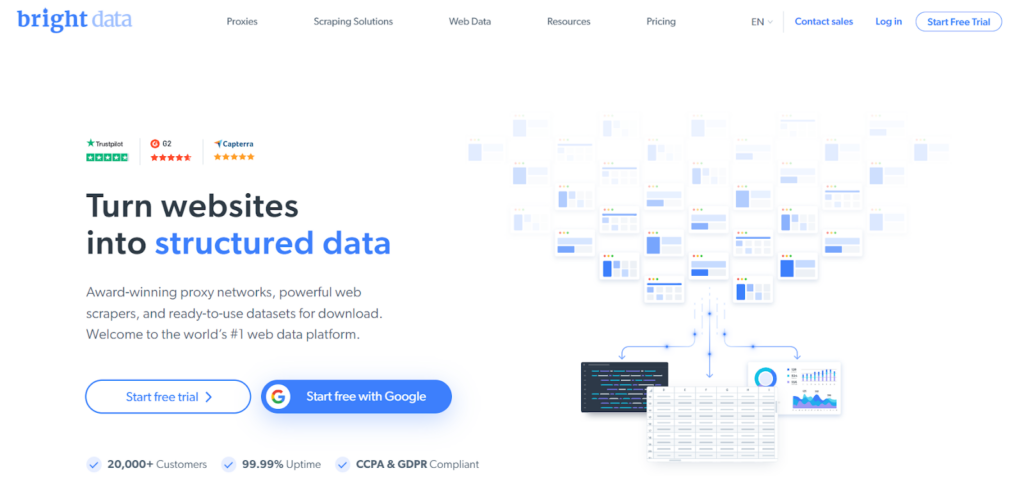 Overview and Features
Bright Data is another provider of solutions for anonymous web browsing in Italy. Compared to Oxylabs, it offers a broader range of proxies to buy. The supported Italian proxy types include residential, datacenter, ISP, and mobile proxies. Bright Data's Italian proxy pool consists of 1,176,244 IP addresses.
Pricing Plans
Prices for residential proxies from Bright Data start at $15 per GB with the pay-as-you-go plan. 35 GB of traffic will cost you $500 per month.
Datacenter proxies are available for $0.110/GB on a pay-as-you-go basis. With a $500/month plan, you'll pay $0.094 per GB.
Just like residential proxies, ISP ones will cost you $15 per GB. If you choose to pay monthly, a GB will cost $12.75 or $11.25, depending on your chosen plan.
As for mobile proxies, a GB of traffic will cost you $40 with a no-commitment plan or $30-34 for monthly plans.
Pros and Cons
Pros:
99.9% uptime
Unlimited scalability
An easy-to-use dashboard
24/7 support
Free trial
Cons:
A focus on business clients
A steep learning curve
User Reviews
Bright Data ranks high on online review platforms such as Trustpilot and Capterra. Based on their feedback, customers like Bright Data for a wide range of proxies, high performance, and top-quality support.
3. SmartProxy — Best for Budget-Friendly Pricing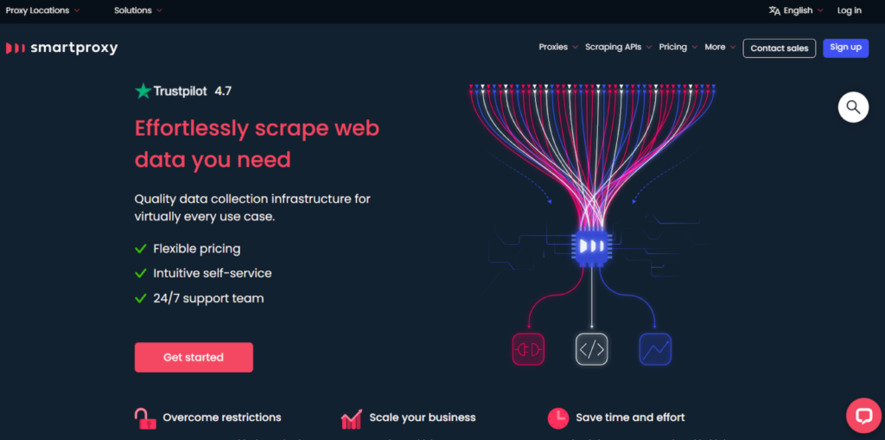 Overview and Features
SmartProxy is a trustworthy provider of residential, mobile, and datacenter proxies supporting HTTP(S) and SOCKS5 protocols. As for Italy proxy services, SmartProxy has more than 50 IPs to offer in this country. Moreover, the company ensures a fast response time, a 99.9% uptime, and a 99.4% success rate.
Pricing Plans
Unlike premium providers on our Italy proxy server list, SmartProxy is notable for more affordable pricing. With the pay-as-you-go plan, residential proxies will cost you as little as $12.5/GB. Prices for mobile proxies start at $50 per month, datacenter proxies — at $30 monthly, and dedicated datacenter proxies — at $7.5 per month.
Pros and Cons
Pros:
IP randomization
Seamless integration with third-party software
Pricing plans to suit any demand
Free tools to boost your scraping efforts
Round-the-clock support
3-day money-back guarantee
Cons:
A lower number of IPs in Italy
Limited bandwidth
User Reviews
SmartProxy has scored 4.7 out of 5 stars on Trustpilot and 4.6 out of 5 stars on Reviews.io. What customers like about this provider is competitive pricing, an easy-to-use interface, and helpful customer service.
4. IPRoyal — Best for Content Administration Features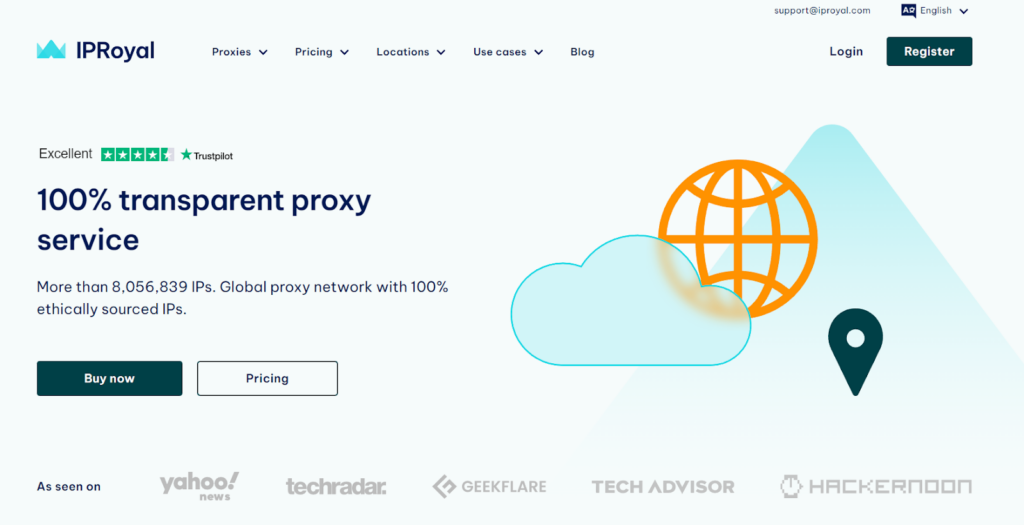 Overview and Features
IPRoyal offers residential, datacenter, sneaker, and mobile IPs, and its proxy pool in Italy features 86,688 IP addresses. The proxies support HTTP(s) and SOCKS5 protocols and ensure a 99.9% uptime. What sets IPRoyal apart from other proxy services in Italy is content administration tools. These tools come in handy for parents or companies looking to control the websites visited by their kids or employees.
Pricing Plans
Residential proxies are available with bandwidth restrictions and without them. For example, 100 GB of traffic will cost you $455, or $4.55/GB. For residential proxies with unlimited traffic, prices start at $1.80/IP, with plan durations ranging from 1 to 90 days.
Sneaker proxy servers are available for 1 and 30 days for $1/IP and $1.80/IP, respectively.
Datacenter proxies come in packages of 5, 50, and 100 IPs for $9/month, $83.50/month, and $157/month, accordingly.
Prices for mobile proxy servers range from $7 per day to $81 per month.
Pros and Cons
Pros:
High uptime and success rates
Solutions for different use cases
Plans with unrestricted bandwidth
City-level targeting
24/7 customer service
Cons:
User Reviews
IPRoyal has built a reputation as a reliable website for buying proxy services. The company's score on Trustpilot and G2 is 4.6 out of 5. In their reviews, users note the ease of using IPRoyal's services, the high speed of proxies, and outstanding customer support.
5. StormProxies — Best for Unlimited Bandwidth

Overview and Features
As one of the best proxy servers for Italy, Storm Proxies is notable for a pool of 700,000 IPs and unrestricted bandwidth. In addition, for European countries, including Italy, the company offers backconnect rotating proxies and rotating residential proxies. With these servers, you won't have to worry about changing your IP address — you'll get a new one every 3 or 15 minutes automatically.
Pricing Plans
Pricing for rotating proxy servers depends on the number of threads (simultaneous connections) or ports (IP addresses). Prices for dedicated rotating proxies start at $39 per month for 40 threads. With residential IPs, you'll have to pay at least $50 monthly for five ports.
Pros and Cons
Pros:
Unlimited bandwidth
Automatic rotation
Instant delivery after payment
24-hour money-back guarantee
A 24-hour trial period
24/7 support
Cons:
No support for SOCKS5 protocols
A limited number of Italian proxy servers
User Reviews
Compared to other providers on our Italy proxy server list, Storm Proxies hasn't received so many reviews yet. However, when sharing their feedback online, most customers usually mention high-quality proxies, affordable prices, and responsive customer service.
6. Proxy-Seller — Best for Discounts on Bulk and Long-Term Orders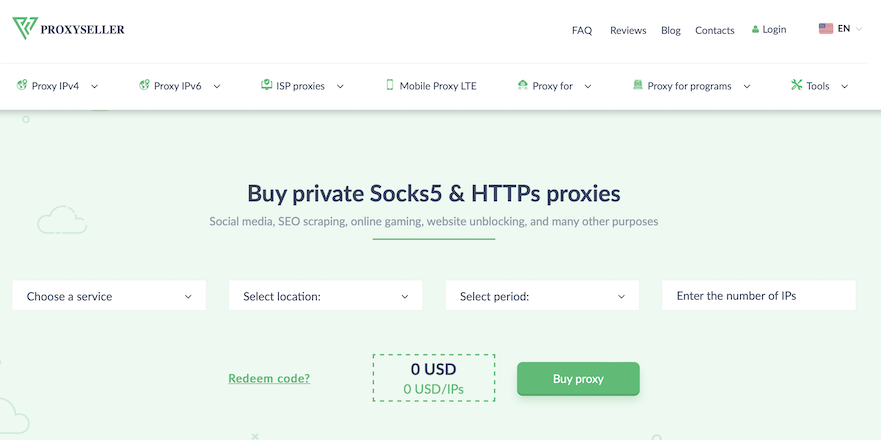 Overview and Features
Proxy-Seller offers SOCKS5 and HTTP(S) proxies for any of your browsing needs. As for proxy services in Italy, the company specializes in IPv4 and mobile proxies. The provider doesn't disclose information about the size of its Italian proxy pool, though.
Pricing Plans
When buying proxies for Italy, you can save on bulk orders and longer terms. 5 IPs for two months will cost you $44.8 or $4.48 per IP address. For 25 IPs rented for two months, you'll have to pay $189.5 or $3.79/IP monthly.
With a yearly subscription, 5 IPs will cost you $243.95 or $4.07/IP. For 25 IPs, you'll pay $1,011.75 over a 1-year term or $3.37 per address.
Pros and Cons
Pros:
Support for HTTP, HTTPS, and SOCKS protocols
An affiliate program in place
Round-the-clock technical support
Cost-saving options with yearly subscriptions
Cons:
User Reviews
Proxy-Seller has good scores on Trustpilot and G2 — 4.6 and 4.5, respectively. In addition, customers praise the provider for low prices, high-quality API documentation, and helpful customer support in their reviews.
7. NetNut — Best for a Hybrid Network of ISP and Residential IPs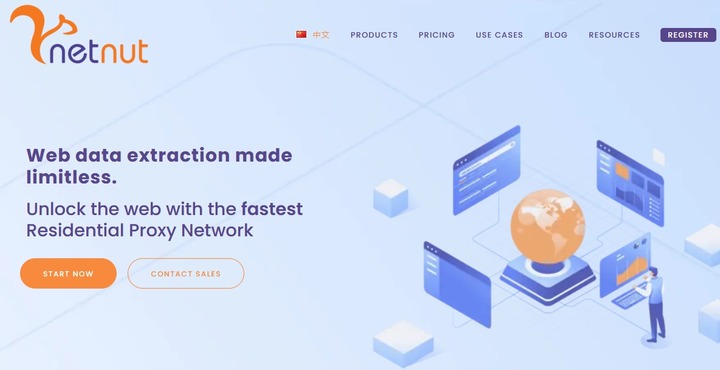 Overview and Features
NetNut is another great proxy provider to help you bypass geographic restrictions and access Italy-only content. Its pool comprises genuine 696,832 IP addresses that are reliable and undetectable. In addition, the company specializes in residential proxies, both static and dynamic.
Pricing Plans
Prices for residential proxies vary based on the amount of traffic you need. With rotating IPs, you'll have to pay $800 for 100 GB, $1,625 for 250 GB, $2,500 for 500 GB, and $4,000 for 1 TB. Prices for static IPs range from $1,000 to $5,000, depending on the traffic amount.
Pros and Cons
Pros:
Fast connections
Unlimited concurrent sessions
A high scalability potential
A 7-day free trial
Customer support working day and night
Cons:
Limited bandwidth
No money-back guarantee
User Reviews
According to customer feedback, NetNut enables users to easily access any content from anywhere without restrictions or IP blocks. Customers also mention a good price-to-value ratio. Besides, NetNut ranks incredibly high on G2.
8. Rayobyte — Best for Solutions for Individuals

Overview and Features
Previously known as Blazing SEO, Rayobyte is among the top Italy proxy providers. The company ensures high availability with zero downtime and prides itself on handling over 25 petabytes of data monthly. In addition, Rayobyte features a pool of hundreds of thousands of IPs, although it doesn't disclose the exact number of addresses by country. Free proxy replacement available once a month is an added benefit that most Italy proxy services cannot match.
Pricing Plans
Prices for residential proxy servers starting at $1 per GB make Rayobyte one of the cheapest solutions for individual customers. Renting 5 to 99 datacenter proxy IPs will cost you $3/IP with dedicated proxies and $1.20/IP with shared ones. Prices for ISP proxies start at $2.5 per IP. Mobile proxies will cost you $50 monthly, with 2 GB of traffic included.
Pros and Cons
Pros:
Support for HTTP(S) and SOCKS protocols
City-level targeting
An unlimited number of connections or threads
Non-expiring traffic
One proxy replacement per month at no cost
A free trial period
Cons:
The lack of transparency about the Italian proxy pool
Limited availability of live chat support
User Reviews
Since its rebranding in July, Rayobyte hasn't received too many reviews online. However, from the feedback found on the Internet, we can conclude that customers appreciate the reliability of proxies and the quality of support.
9. GeoSurf — Best for Comprehensive Guides and Tutorials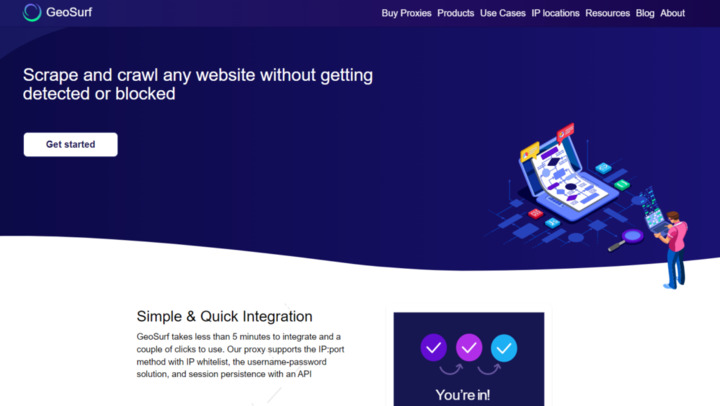 Overview and Features
GeoSurf is one more trusted provider of secure proxy services in Italy. With a pool of 64,757 residential IP addresses, GeoSurf will help you unlock the content you need without worrying about getting blocked. In addition, GeoSurf's solution supports sticky IP sessions and provides the IP rotation API.
Pricing Plans
If you're looking to buy proxies from GeoSurf, the cheapest plan with 25 GB included will cost you $300 per month. For each additional GB, you'll have to pay $12.
Pros and Cons
Pros:
Unlimited connections and threads
Targeting by city
Browser extensions
An API for developers
Cons:
Not the cheapest pricing
No support for the SOCKS5 protocol
User Reviews
GeoSurf has earned the trust of numerous online media companies that use its solutions for their SEO, marketing, and advertising efforts. In addition, customers appreciate GeoSurf for its reliability, support for multiple countries, and customization opportunities.
10. Shifter — Best for Developer-Friendly Tools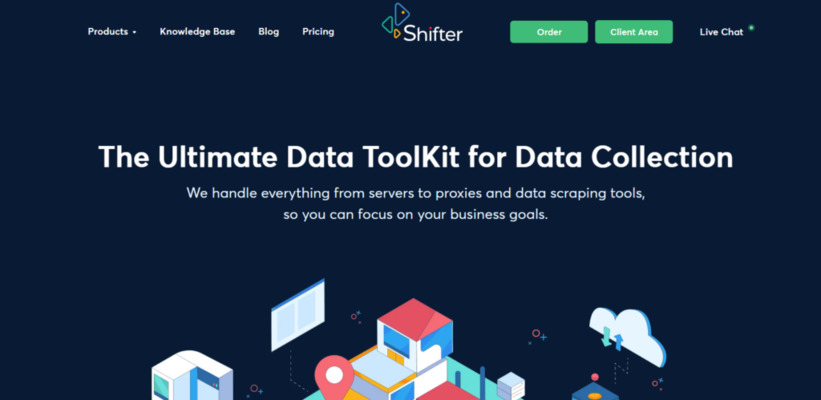 Overview and Features
Finally, we have Shifter on our Italy proxy server list. Previously known as Microleaves, Shifter hosts 1,070,241 IPs in its Italian proxy pool. The provider offers rotating and static proxies to buy and supports HTTP(S) and SOCKS4/5 protocols.
Pricing Plans
When buying proxies from Shifter, you'll need to choose a package with the number of IPs that works best for you. Prices for rotating IPs start at $99.98 per month. Prices for static residential proxies range from $74.99 to $299.99, depending on a chosen package.
Pros and Cons
Pros:
Instant activation and easy configuration
An API for advanced users
99.9% uptime and high success rates
Unlimited bandwidth
Money-back guarantee
24/7 customer service
Cons:
No free trial
No rotating proxies that change an IP after each request
User Reviews
Based on user reviews, Shifter, aka Microleaves, is a trustworthy service provider. What customers appreciate is a huge array of IPs, high uptime, and fast connections.
Factors to Consider When Choosing an Italy Proxy Service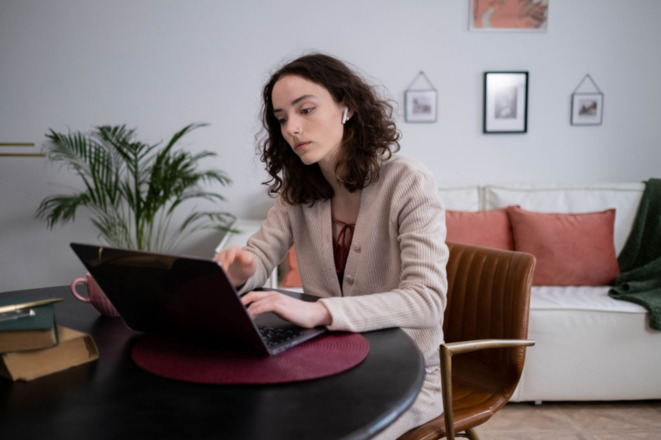 Now that you know where to buy proxy services for Italy, how do you pick the best one? Here are some key considerations to make when buying proxies for Italy.
Speed and Reliability
When it comes to web scraping projects, speed of connections and uptime are essential. You cannot afford to wait minutes for the page to load finally.
To compile our list of the best proxy servers for Italy, we've speed-tested numerous solutions available in the market. As a result, only the providers that ensure up to 99.9% uptime have made it into our list.
Encryption, Security, and Privacy Features
To access Italy-targeted content unavailable in your country, you need a proxy server to spoof your geolocation, leaving your browsing experience anonymous. At the same time, protecting yourself from possible attacks from third parties is crucial, too. Therefore, when choosing a provider, ensure it guarantees data encryption and uses strong cryptography.
The Size of the IP Pool
Next, pay attention to the number of IP addresses that the provider hosts. Sticking with services that have few IPs lowers the potential subnet diversity. As a result, you may risk having the whole subnet of IPs blocked.
To avoid this risk, look for solutions with the largest IP pools that fit your budget.
Customer Support
When buying proxies, issues may arise day or night. So, reliable customer service becomes of utmost importance. Most of the top Italy proxy providers we've covered offer 24/7 customer support via live chat or phone.
Pricing Options
Finally, finding the best value for the price you pay is essential. Hence, decide on the critical features for you and those you don't need. Then, cross the unsuitable providers from your list and pick the right solution for your budget. Giving up unnecessary functionality can save you significant sums.
Wondering about free proxies? Despite saving money, free resources don't guarantee the safety of your browsing sessions.
Finding the best proxy servers for Italy is a challenging task. From speed and performance to security and customer support, there is a lot to consider. We hope our selection of top Italy proxy providers will help you find the right solution for your web scraping needs. See how these services compare and stick with the one that will bring the best value for your money.
---
FAQ
Is it legal to use Italy proxy services?
Buying proxies in Italy is not against the law. Still, you need to make sure that your use case is legal. You can consult with a lawyer to ensure that your intended use of a proxy won't violate the law.
When should I buy Italy proxy services?
An Italy IP proxy enables you to access local content that might be restricted in your area. Bypassing geo-restrictions can help you conduct market research, gather competitors' prices, run social media marketing campaigns, and more.
What's the difference between datacenter and residential proxy servers?
The main difference between these two types is the source of the IPs. With datacenter proxies, IP addresses come from data centers. Residential proxy servers are IPs supplied by Internet Service Providers (ISPs) to real people.
Why use a rotating IP?
Rotating proxies change your IP with each new request initiated. Rotating IPs can help you mimic multiple users' behavior, lowering your risk of getting detected or blocked.
Should I use free proxies?
While saving money and sticking with free proxies might be tempting, you must be aware of the risks involved. Chances are, a free proxy server will build a profile on you and resell it to third parties later.
---