Private proxy server solutions for multiple use cases - social media, SEO tasks, data scraping, etc.
Overview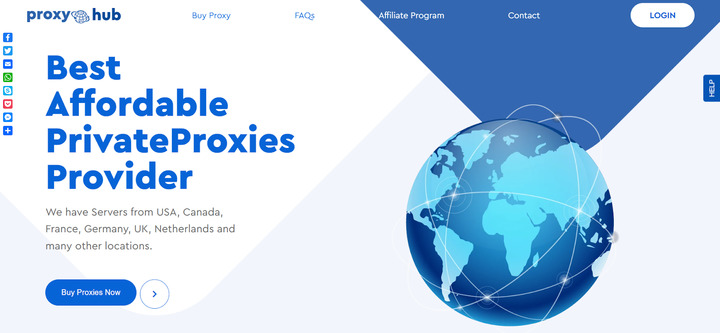 Founded in 2008, Proxy-Hub has a well-developed infrastructure encompassing private proxy server solutions for multiple use cases, from social media and SEO tasks to data scraping and shopping. The platform offers two private proxies: semi-dedicated and dedicated proxy IPs. Using private proxy servers allows Proxy-Hub's customers to keep their data secure, stay anonymous when performing sensitive tasks, and balance their traffic effectively.
Proxy Hub only uses HTTP proxies! Although they are less secure or flexible than SOCKS proxies are, there are some tasks for which HTTP proxies are an excellent fit, like web scraping. Learn more about how proxies work.
Proxy Hub mainly uses data center proxies, although unlimited bandwidth residential proxy options are available on-demand along with mobile proxies. To get these dedicated proxy IPs, clients must contact the support team via Skype or Outlook. The same is relevant to specific city proxies that are available on-demand only. For the past ten years, the company has earned a reputation as one of the best private proxy services with Shopify, vidIQ, and iProspect among its clients.
Feature-Set and Guidance
What makes Proxy-Hub stand out from other private proxy services is the combination of rare features:
2 types of private proxy IP options;
Multiple industry use cases;
Self-service control panel;
Monthly IP replacement;
Non-sequential IPs;
DIY IP Auth;
API access;
100 Threads/IP;
Chrome + Firefox extensions;
Unlimited bandwidth;
99% uptime;
Affiliate program and trial period.
Let us analyze each feature in more detail to understand their practical value better.
2 types of private proxies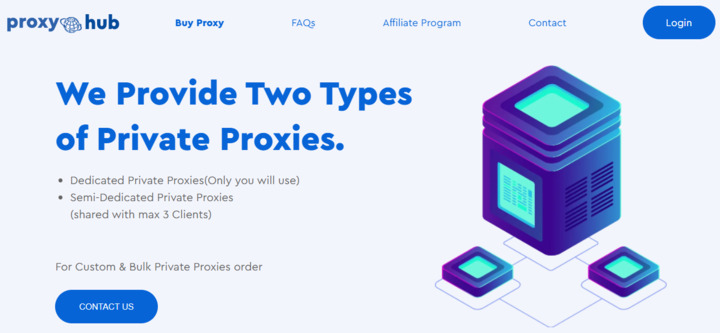 Proxy-Hub provides two private proxies: semi-dedicated and dedicated proxy IPs. The latter implies using a private proxy IP is not for sharing with other clients. Semi-dedicated proxy service, in turn, suggests that a small group of clients (of up to three) shares the IP address. Although such IPs are not as fast and secure as dedicated proxy IPs, their low cost makes them an excellent cheaper alternative. The price of the smallest package (10 proxies) available at Proxy-Hub varies between $10 for semi-dedicated proxies and $20 for dedicated ones.
Multiple industry use cases
Proxy Hub provides proxy solutions for a variety of industry use cases:
Social media proxies. The platform's product line contains Social Media proxies that focus on social media platforms. That allows companies to create multiple accounts without having their IP blocked.
SEO tools. The company's SEO proxies are compatible with SEO tools making them a perfect fit for companies' large-scale SEO projects. Thus, the search engine does not block multiple search queries because SEO proxies create the illusion that these queries come from different IPs.
Data scraping. Datacenter proxies that Proxy Hub uses are optimal for scraping projects as they are cheap and easy to use. With the help of data center proxies, companies can build a reliable and efficient scraping infrastructure that meets their business's unique needs.
Market research. Collecting market data is another industry use case for which the platform's instruments are an excellent fit. Proxy Hub's proxies allow masking the company's requests and collecting large volumes of data within short periods.
Classified AD's posting. On top of all else, the platform offers a specifically designed Classified AD proxy solution. Those are principally new proxies that can be of great help when posting on such websites as Craiglist, eBay, and others. Besides, Proxy Hub has Ticketmaster proxies and sneaker proxies.
Self-service control panel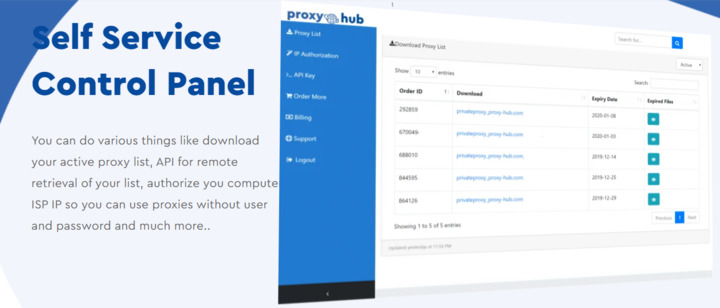 Configuring a private proxy server might be a challenging task that requires both time and expertise. Proxy Hub has designed a self-service control panel to facilitate the settings process. With its help, one can access and download the list of active proxies, authorize their IP to avoid setting passwords, use API keys, and monitor the billing details. The panel enables the client to order more dedicated proxy IPs or contact support. The tool might be especially relevant to those who run large-scale scraping projects and have to manage big proxy pools.
Monthly IP replacement
One good reason to opt for Proxy Hub is that it ensures a systematic IP replacement. Its clients can keep the same IPs or get fresh ones every month. That is particularly useful to those who plan to use proxies for large-scale scraping projects. A common issue with such projects is that a private proxy IP gets banned after a few rounds of scraping. You may reuse those proxies after a while. If a proxy server has 3 requests declined in a row, its proxies are considered dead. Monthly IP replacement, thus, helps companies to ensure their proxy hubs only contain good usable proxies.
Non-sequential IPs
Another attractive feature characteristic of the best private proxy servers and Proxy Hub is non-sequential IPs. We must highlight that cheap proxy servers are normally static and consequential. That makes such proxies an easy target for detection and denylist. In contrast, proxies that use non-consequential IPs (most commonly, these are residential and mobile proxies) are hard to detect and, thus, more efficient.
DIY IP Auth
That guarantees true anonymity instead of a more commonly used username and password authentication. In addition, DIY IP auth allows adjusting the settings under the project needs and helps to save a lot of time. All IPs are thus automatically safe-listed, which should be particularly useful when working with a large private proxy IP pool. So, the DIY IP auth is another feature that makes Proxy Hub an excellent fit for far-reaching scraping goals.
API access
API access is a feature that enables a proxy hub to reduce latency and improve its performance. Here are a few ways how API proxies help to achieve this:
By performing data transformations to facilitate communication between the user and backend services;
By optimizing calls to multiple services;
By using effective caching strategies to reduce pressure on the infrastructure.
100 Threads/IP
The limit on threads is the maximum number of simultaneous connections allowed for a single proxy. Proxy Hub allows a maximum of 100 threads per IP. While some private proxy servers can offer unlimited threads, the 100-thread limit still leaves you with 1000 simultaneous connections per the smallest proxy package of 10 proxies. Here, however, the maximum thread limit is the hard limit. Reaching it can impede the performance of the proxy pool.
Chrome + Firefox extensions

Proxy Hub is available on Chrome and Firefox. Users may download both extensions using the link from the company's website. The latter also has a link to download SwitchyOmega plugins for the two browsers. In a nutshell, SwitchyOmega is a proxy manager that helps clients to customize their proxies' configuration and modify proxy settings according to their needs. Besides Chrome and Firefox, SwitchyOmega is compatible with other chromium-based browsers (e.g., Microsoft Edge). There is also a detailed ProxyOmega tutorial.
Unlimited bandwidth
Like other best private proxy services, Proxy Hub offers unlimited bandwidth. That means the proxy services charge is calculated based on the number of proxies rather than the GBs used. Given the relatively low cost of Proxy Hub's packages, their unlimited bandwidth option allows for efficient and affordable web scraping. Whereas unlimited bandwidth datacenter proxies are common, cheap ones are rare.
99% uptime
Trusting a single proxy provider might be risky because even a minor downtime is costly and unfavorable. So, it is critical for a company only to choose those providers who guarantee minimal risks of failure. By promising 99% uptime, Proxy Hub states that it possesses a reliable monitoring system and the essential hardware control tools to ensure undisrupted operations and immediate proxy rotation.
Affiliate program and trial period

Proxy Hub's affiliate program allows earning 10% of referral sales. To become the company's affiliate partner, one needs to sign up and promote the brand by encouraging another person to use the affiliate link. Once a new client uses this link and purchases a Proxy Hub's product, 10% of the sale returns to the affiliate partner. In addition, Proxy Hub has a 3-day trial period. Clients who stop using the company's services before the trial expiration get the money back.
Usability
Registration process. The registration process here is a standard procedure in which you must provide basic personal information.
Website functioning. The website is one of the most contradictory aspects related to the service. On the one hand, Proxy Hub has a user-friendly interface that feels intuitive. On the other hand, some of its elements fail to function as intended. For instance, every second time you click "get Chrome extension," the platform redirects you back to the main page because the clickable area looks larger than it is. In addition, the company's blog only contains two articles.
Coverage. The service has servers from various locations from the USA and Canada to most European countries. When placing an order, the client can request specific city proxies.
Limits. Proxy Hub offers unlimited bandwidth for all proxies but has a thread limit (100 threads/IP). Proxies from a single package can work for a maximum of two locations simultaneously.
Types of proxies. There are two types of private proxies available: dedicated and semi-dedicated. All proxies provided by this hub are HTTP ones! Datacenter proxies are default, while you have to request unlimited bandwidth residential proxies and mobile proxies.
Proxy management. The platform has a convenient, user-friendly self-service control panel. Hence, users can manage their proxy pools easily and effectively. An online proxy manager SwitchOmega is likewise available for download directly from the platform to facilitate the client's management of extension settings.
Customer Service
As Proxy Hub states, their live support is available via Skype for any issues related to billing. For other questions, clients may use the platform's Help Center, which contains articles on the most popular topics and a How-To Guide. When you press the "help" button, you choose the type of help you need. There are, in fact, only two types for you to choose from: help with billing or anything else.
Whichever type you choose, the system will direct you to the help page, where clients can research any topic using the internal search engine.
You will have to report the problem using a contact form if the search does not bring the intended results. Thus, the whole procedure of reporting an issue to customer support looks time-consuming and non-linear.
To find out more about quality and customer service issues, we have examined customer reviews on Reddit, Affgadgets, and other platforms that publish private proxy reviews. We must note that there are no comments about the service on SiteJabber or Trustpilot.
There are no disturbing stories about neglect or inadequate reactions from the support. We might suppose this constituent deserves four and a half stars if not five. But we have not yet seen how the support deals with more complex issues.
Performance Testing
Here are the results we obtained after testing it:
Average ping – 79ms;
Average download – 24.23 Mbps;
Average upload – 12.16 Mbps.
| | | | | |
| --- | --- | --- | --- | --- |
| Test | Success rate (%) | Errors (%) | Timeouts (%) | Blocks (%) |
| Booking | 99 | 0 | 1 | 0 |
| Bing.com | 97 | 0 | 3 | 0 |
| Amazon | 93 | 0 | 4 | 3 |
| Linkedin | 93 | 1 | 3 | 3 |
| Craiglist | 90 | 2 | 5 | 3 |
Proxy Hub's website has a user-friendly interface and feels intuitive. After completing registration, one must choose the type of proxies package (semi-dedicated vs. dedicated) and its optimal size. The package sizes range from a 10-proxy package to a 2000-proxy package. Datacenter proxies are included in all proxy plans by default. If the client would like to work with other types of proxies (e.g., if they are after unlimited bandwidth residential proxies), they need to contact customer support. Custom proxies plans of non-standard sizes are likewise available on demand. The feature set is the same for all plans.
Once you have selected the suitable option, you may purchase using various payment methods, including Bitcoin. The proxies are available within 48 hours after the payment completion.
Pricing
As was previously mentioned, the platform offers packages of two types. Thus, there are semi-dedicated private proxy packages that up to three users share. And there are also dedicated private proxy packages with proxies for personal use only. The cost thus varies depending on the type of proxies and the package size. Proxy Hub is an excellent option for those who want a cheap residential proxy. It is not a private proxy for free, but its charges are way lower than we usually see in the market.
Semi-dedicated private proxies (10 – 100)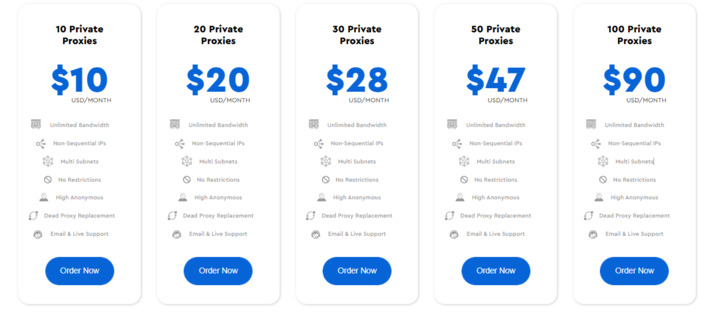 Dedicated private proxies (10 – 100)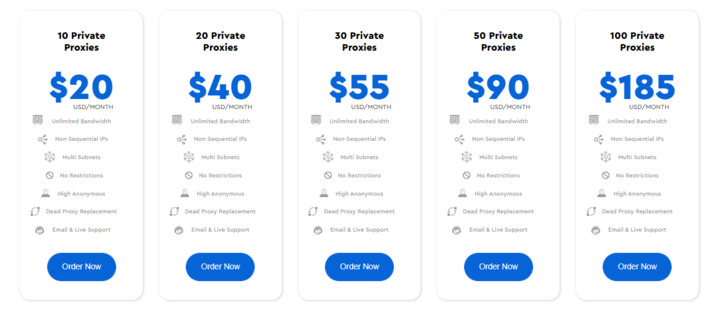 The platform accepts:
Bitcoin;
Visa;
Mastercard;
PayPal;
Amex;
Discover.
Proxy Hub is an excellent fit for those who want their proxy server cheap and, in the meantime, seek unlimited bandwidth and expanded geographical coverage. The platform offers an impressive combination of features for a fairly modest price. A 10-dollar private proxies package is one of the cheapest available today.
Although its default options are standard, Proxy Hub has some interesting options to be provided on demand. For example, the platform offers cheap residential proxy options and even rare mobile proxies. Another valuable feature available on-demand is specific city proxies. So, Proxy Hub provides its clients with rich opportunities for creating a comprehensive proxy pool customized for the needs of a particular task or scraping project. The self-service control panel further facilitates the management of this pool.
While taking advantage of the benefits above, Proxy Hub's clients should be flexible on some of its limitations! One such limitation is that the platform only uses HTTP proxies that are less secure. Although HTTP proxies promise high speed of performance and an increased success rate in scraping, they are worse for streaming or P2P file-sharing purposes. Despite the objective benefits of HTTP proxies, it would be preferable if Proxy Hub worked with HTTP and SOCKS.
Another solid issue is the lack of live chat. The platform would force the client to search its Help Center before reporting an issue to the support team. For the rest, the platform's features are diverse and useful. On the whole, Proxy Hub produces an impression of a private proxy service that has managed to find an optimal balance between quality and cost.
FAQ
What languages does Proxy Hub support?
Proxy Hub supports various languages, including but not limited to English, French, Italian, Chinese, Portuguese, and Dutch.
Can I buy ProxyHub with crypto?
Yes, Proxy Hub accepts crypto. But BTC is the only cryptocurrency you may use to purchase the software.
Does Proxy Hub offer a free trial?
Proxy Hub does not offer a standard free trial option! In the meantime, it has a refund policy, according to which the client can get a full refund if they realize the proxies do not suit them. The client needs to contact customer support within 3 days after purchasing the proxies package to get the refund. Customer support will either fix the issue or return the money.
Is it bad that this proxy works with HTTP only?
It is not 100% detrimental, but HTTP proxies objectively have some weaknesses. Nevertheless, HTTP proxies allow faster speeds and more efficacious web scraping. So, it is not entirely awful. Yet, it would be better if the proxy worked with HTTPs too, as that boosts the security constituent.
Are Proxy-Hub proxies anonymous?
Yes, the private proxy servers obtained from Proxy Hub are fully anonymous. For even more advanced security, these proxies can work with Incognito, a special tool that allows users to work with several online identities while preserving their anonymity and privacy. But note that it works with HTTP solely. Thus, there is no extra encryption layer, and that is a huge minus to informational safety.