Indonesian proxy providers have gained popularity recently. So, if you are looking for the best Indonesian proxy providers, this article is for you!
Whether you need a proxy server for business or personal purposes, read on to learn more about the 11 best proxy providers in Indonesia. These providers specialize in offering reliable services, excellent customer support, and much more. Let us discover the best proxies in Indonesia and what they do best.
Using Proxies in Indonesia
Indonesia is one of the most populous countries in the world with a population of more than 270 million people. With such a large demographic, it is no wonder that the archipelago is not spared from cyberattacks. Hackers are always on the hunt for new targets. That's why it's important to be familiar with Indonesia's cybersecurity landscape if you want to stay safe online.
Statistics from Kaspersky Security Network showed nearly 8 million cyberattacks in Indonesia in 2022 alone. Phishing accounted for 26% of all malicious operations targeting consumers, making it by far the most common type of activity. Other common attacks included Trojans and ransomware (13%) and exploit kits (12%).
Proxy usage
Due to growing concerns about security risks posed by unscrupulous actors, many Indonesians use proxy servers to provide an additional layer of security for Internet access. In particular, many people use VPNs (Virtual Private Networks) to access the network anonymously by hiding their IP address and encrypting their communications. This prevents hackers from tracking down or accessing critical data such as passwords and credit card details.

Indonesia Proxy Providers – Free & Paid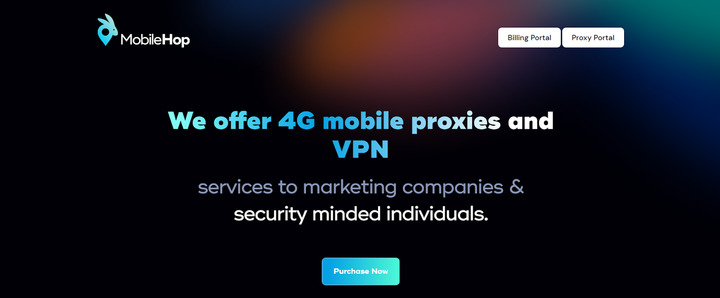 MobileHop is an advanced mobile proxy solution for both individual users and marketing agencies aiming to get the premium speediest experience with top-rated service.
Key features
Compatibility: MobileHop is 100% compatible with any tool or application installed on your device. It is also adjusted to work flawlessly with any industry-standard protocols, such as HTTP(S) or SOCKS5. It even has credentials for L2TP VPN that allow you direct access to a proxy modem.
Enhanced security and privacy: The proxy service stores no logs history. Plus, its developers worked hard to protect any user activities. They were able to gain outstanding results with specially developed features such as TCP Fingerprint Spoofing and other cellular identity mitigations.
Unlimited IP changes: Whatever plan you choose with MobileHop, you can change your IPs unlimited times. And the process will take you up to 5 seconds. Besides, the service also offers rotating IPs that can be conveniently adjusted to your requirements.
Support: MobileHop never leaves its users alone with their issues. That is why you can be sure that someone will help you set up your proxy. And in case of any problems, you can also talk to the support team 24/7 in a live chat.
Immense speed: This mobile proxy service allows you to enjoy an incredible connection speed of up to 80Mbps.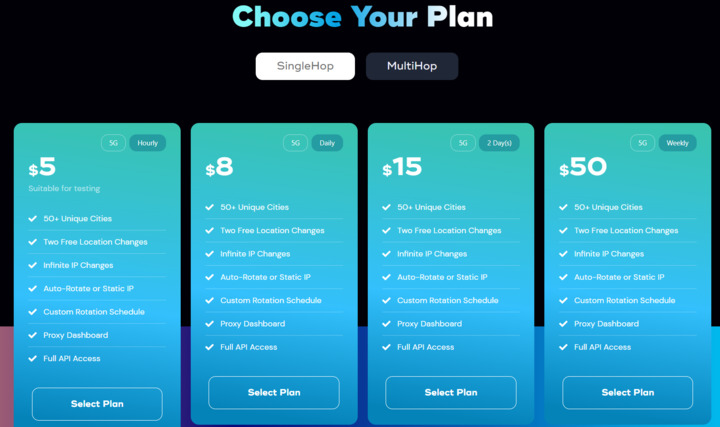 Pros
Flowless 4G and 5G connections: MobileHop's universal and app-compatible proxies will guarantee the best experience for any private user or company.
Total control: With this service, you can control all the aspects of your connections: from changing IPs to getting access to hard reset. No matter what are your setting and preferences, you will be able to manage everything in your proxy portal.
Cons
Pricing: When working with MobileHop, you should be ready to pay for the premium quality it provides. The prices start from $5 per hour of usage and can go as high as the $225 per month plan.
Ideal for: Premium mobile connections with the ability to control any activities and settings.
The company's over 40 million rotating private IP addresses, spread across 195 locations worldwide, should suit your needs. However, suppose you specifically search for Indonesian proxies. In that case, you can expect many benefits with Smartproxy: from flexible pricing to a 99.47% success rate and 24/7 friendly support — this service offers everything for a convenient web experience.
Key features:
Proxy networks: Rotating residential, data center, and mobile proxies.
Web crawlers: four APIs for web crawling (Web Scraping, Social Media, eCommerce, and SERP), no-code scraper.
Global site.
Target audience: Small to Medium Businesses.
Free extras: browser extensions, a proxy administration API, and an anonymous browser.
24/7 customer support via live chat or email.
Payment options: PayPal, credit card, and Bitcoin.
Trial: 3 days money back.
Pros
Large proxy pool.
Affordable rates.
Practical applications and browser add-ons.
Cons
Support responses may take a while in extreme situations.
Ideal for small businesses and home use, as it requires no additional software installation on your device and is easy to use.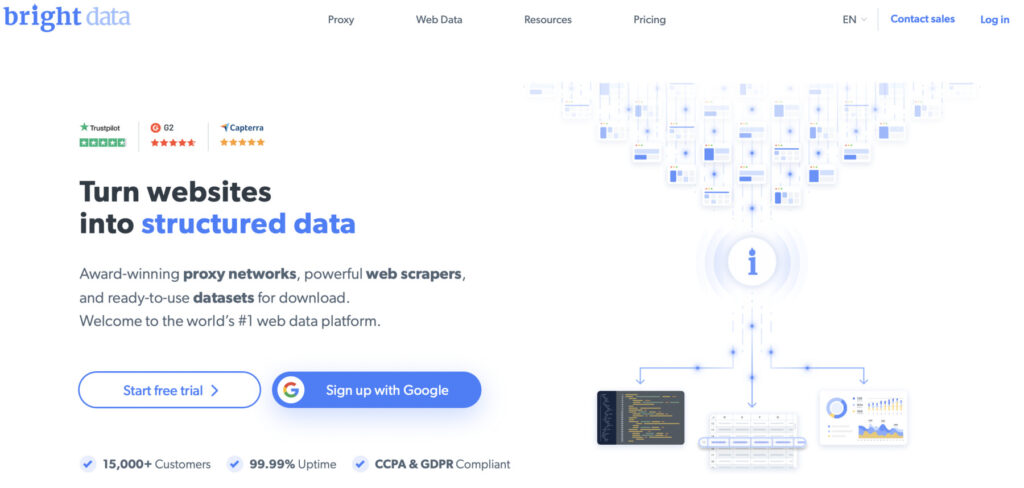 BrightData's new Indonesian proxy service offers countless benefits for companies looking to expand their customer base globally. This proxy is an effective solution for delivering content worldwide.
Key features
Low latency: Among the main advantages of the BrightData proxy is its low latency, which ensures that there are no delays in data transfer between your computer and the server. This increases your productivity and provides a smooth browsing experience on all devices connected to the network.
High bandwidth: BrightData's high bandwidth not only allows you to transfer data quickly but to also watch movies or download large files without any problems.
Unlimited access: One of the advantages of BrightData is that users can visit all websites securely and with unlimited access from anywhere in the world, whether they are in Jakarta or Surabaya.
Security and privacy: All BrightData connections are protected by 128-bit encryption, which ensures that data transmission is safe from cyber criminals. Besides, your browsing history is confidential. So you don't have to worry about someone spying on your online sessions.
Easy installation and configuration: The installation process is simple and only takes a few minutes.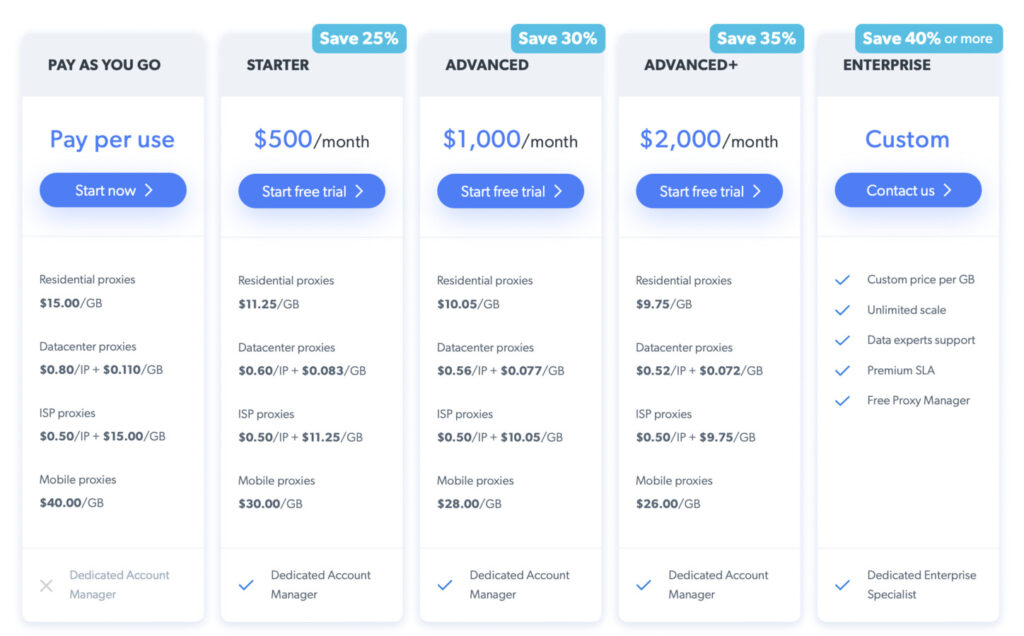 Pros
Flexible: You can choose from different options depending on your needs and budget. This allows you to customize the security and performance of your data protection.
Excellent customer support: Available 24/7. If you have any issues or questions about their services, their helpful staff are always on hand to answer them quickly and efficiently.
Cons
Limitations of BrightData proxies: BrightData proxies are not able to bypass certain types of firewalls. So if you are accessing data on a secure network, it may not be possible to use BrightData proxies.
Ideal for: Controlling your IP addresses and the ability to perform geographic targeting.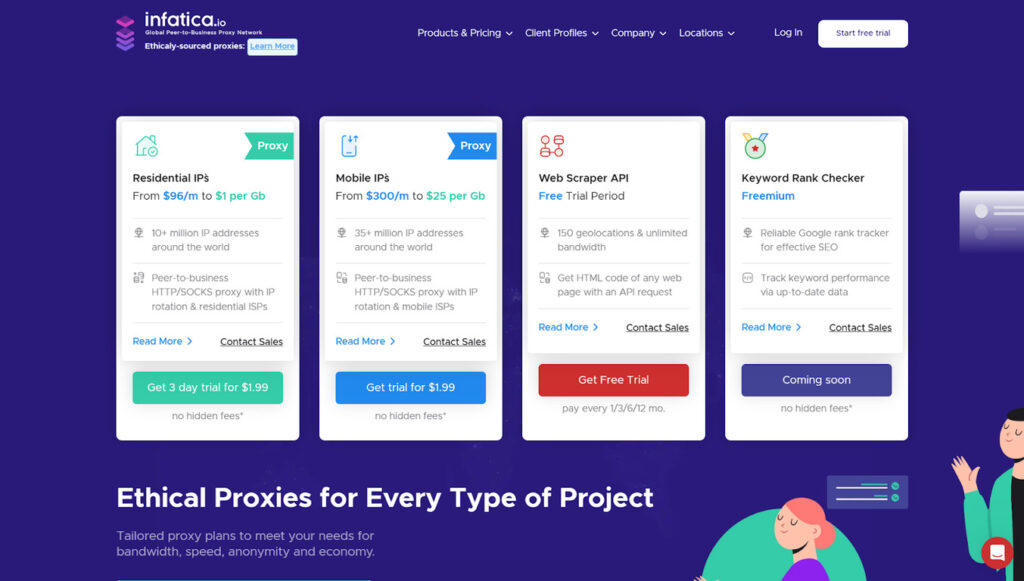 An Indonesian proxy provider, Infatica was first introduced to Black Hat World Forum members in February 2019 and launched its website in March 2019. It is a peer-to-business proxy service that provides brands, companies, and teams with access to a global network and proxy portfolio so they can surf the Internet anonymously for monitoring, research, and testing purposes.
Key features
Faster connection times: Infatica proxies aim to deliver superior performance. Thus, they offer faster connection than most regular proxies.
Increased privacy and security: The Indonesian version of the Infatica proxy has layers of encryption that provide additional protection against eavesdroppers or hackers who might try to collect data that passes through the network.
Bypassing blocked content: It is easy to bypass Indonesian government censorship regulations and access restrictions to numerous websites with an Infatica proxy.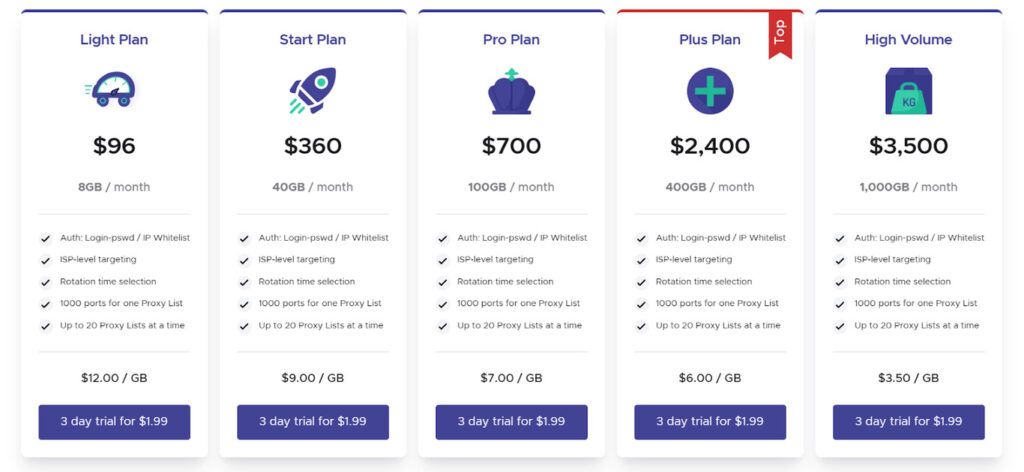 Pros
100+ sites with good scalability.
Affordable rates.
Free trial.
Cons
Rigid rotational settings.
Typical performance.
Insufficient user experience.
Ideal for: scraping web pages.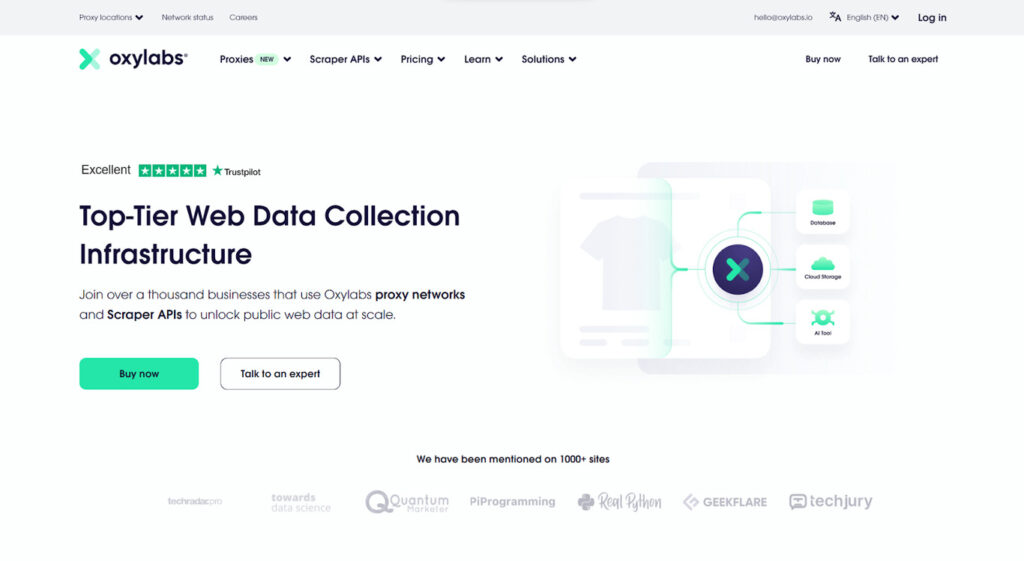 Oxylabs provides premium proxies and enterprise-level support to help organizations obtain business intelligence data. Organizations can use Oxylabs to manage essential data and find information in the right places. Moreover, the Oxylabs team's expertise in web scraping has made this Indonesia proxy an undeniable success.
Key features
A lot of IPs: Oxylabs has the largest number of worldwide intellectual property rights, covering virtually all regions of the six continents.
Security: Using AI/ML technology, Oxylabs' Next-Gen Residential Proxy can securely access even the most difficult publicly available data.
Smooth operation: Next-Gen AI's automatic retry feature reduces the effort and errors that could otherwise cost you time and money.
High protection: Every plan and proxy product offers protection against the alliance with Lloyds.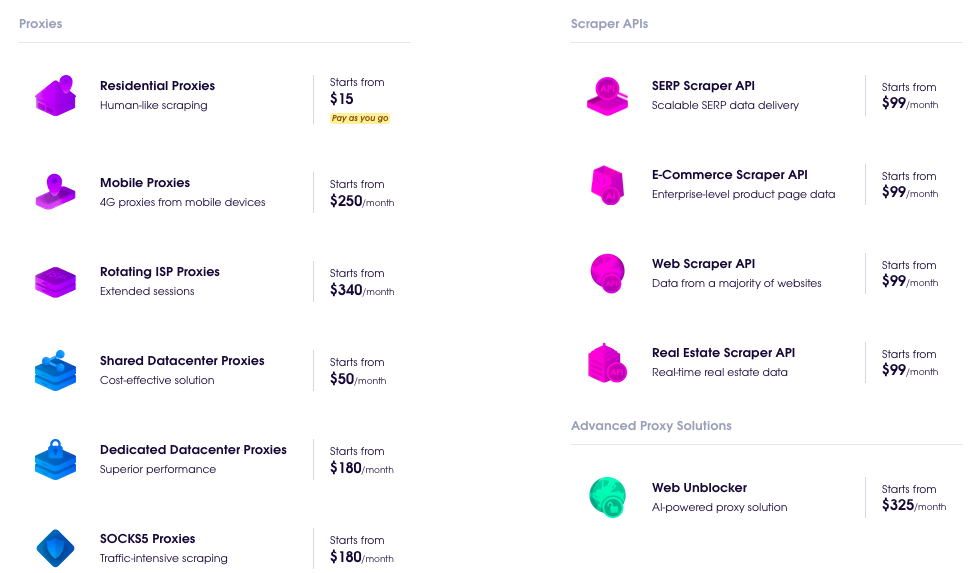 Pros
Features manual IP rotation.
Very large IP pool.
Prices are negotiable.
Outstanding client support.
Cons
Success rates are adequate, although progress is sometimes erratic.
It is possible to target cities, but only for bespoke plans.
Ideal for: processing large amounts of information due to its robust web scraping performance and speed.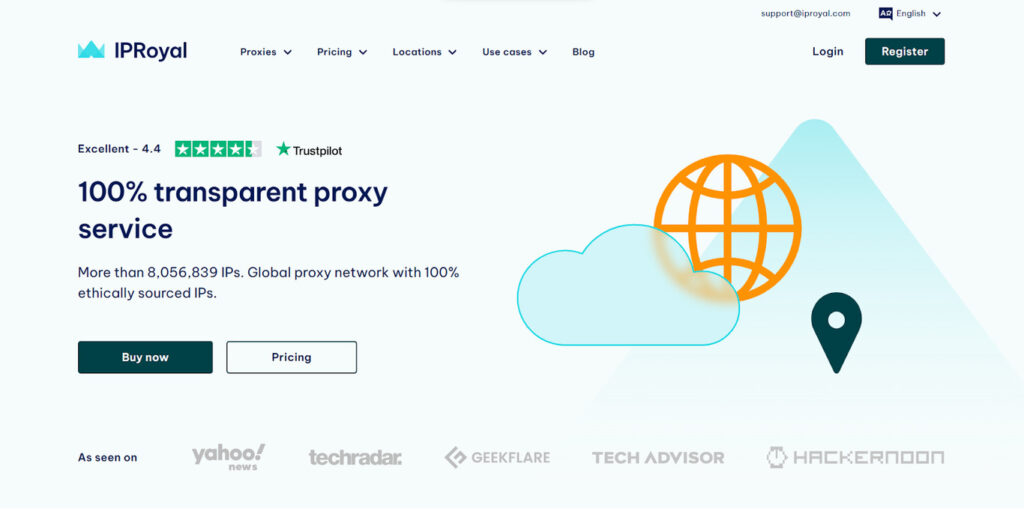 IPRoyal is a proxy service management program that helps users stumble through mazes of impenetrable borders.
Key features
Location sample: With IP Royal, you can choose between rotating and persistent proxies. With a persistent proxy, you can use the IP 24/7, while with the rotating proxy, you can do so only between 1 second and 24 hours, depending on your needs.
Security: The IPRoyal proxy server supports many forms of authentication for secure access, as well as HTTPS and SOCKS5 protocols.
Bypassing filters and censorship: IPRoyal proxy server allows users to bypass all filters and censorship imposed by the Internet Service Provider (ISP). This means that users can access any website without fear of being blocked by their ISP.
Unlimited bandwidth: IPRoyal offers its users unlimited bandwidth, allowing them to access as much data as they want with no worries about throttling or additional charges for exceeding usage limits.
Excellent customer service: The proxy server offers competent support, which is available around the clock via live chat.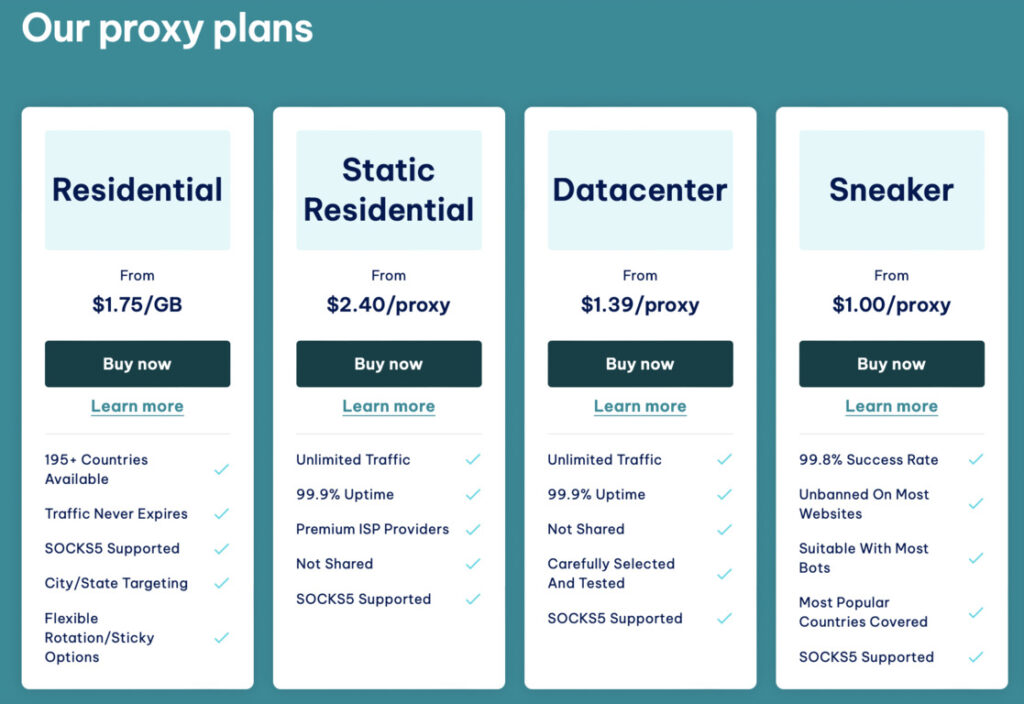 Pros
Affordable.
Variety of proxy networks.
A variety of subscription choices.
Cons
A small selection of self-help materials.
Slow proxy speeds.
Ideal for: Unlocking different platforms.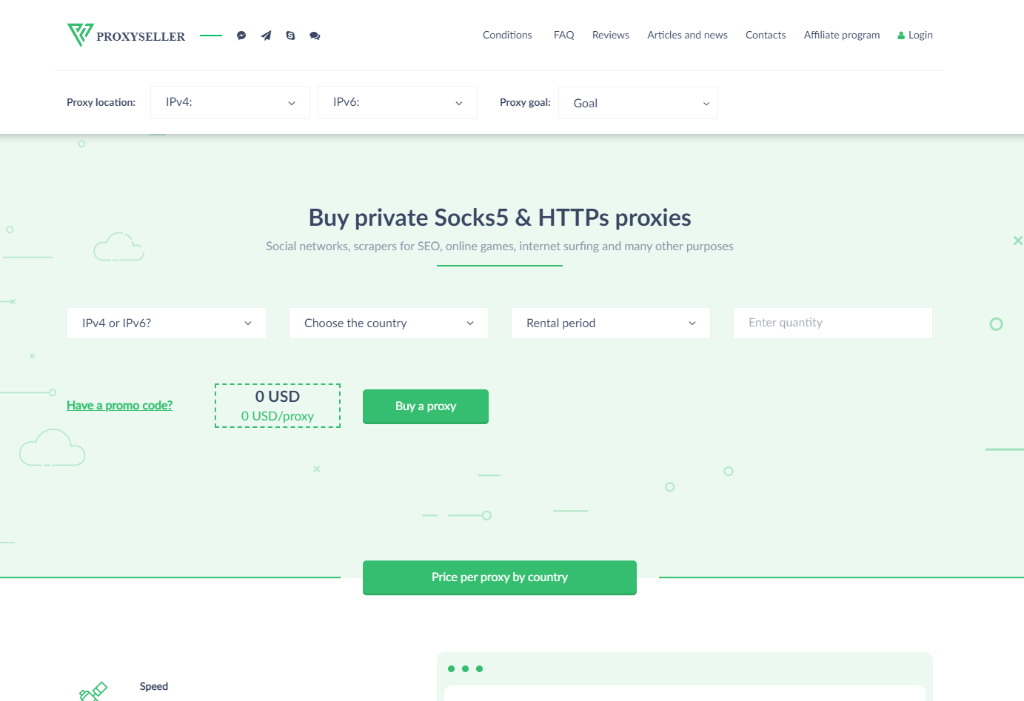 ProxySeller is a leading data center proxy service that receives top rankings from independent Internet users. The company allows you to buy proxies individually or in bulk, and you can specify a nation, city, or purpose for them (more on that later).
Key features
Privacy and security: SOCKS5 and HTTPS protocols are supported by Proxy Seller, making it compatible with a wide range of devices and providing top-notch security.
Support and customer service: Live chat allows you to communicate immediately with customer support agents. In case a staff member is not available, you can alternatively use ticket support. The company also has a presence on social media across multiple platforms.
Flexible payment options: There is no fixed minimum quantity that you must purchase from a merchant. You have the freedom to buy as many as you want. However, the more proxies you buy, the cheaper it is.
Good location coverage: there are proxies for the United States, Canada, Germany, France, Russia, Ukraine, India, the United Kingdom, and other countries.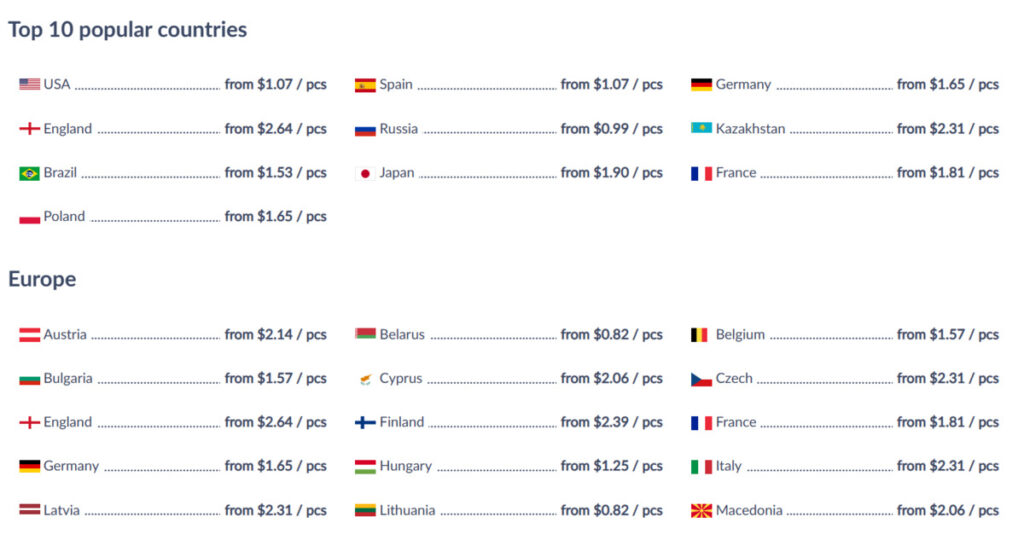 Pros
300 subnets and more than 100 networks.
IPv4 and IPv6 addresses are available.
Rental terms are flexible and range from one week to 12 months.
All payment options are accepted.
Cons
Proxy trials are not conducted
Ideal for: staying anonymous while using your mobile device.

A VPN service called HideMy.name is headquartered in Belize and is subject to English legislation. Although the parent company has been providing privacy services since 2006, the VPN service is relatively new.
Key features
Servers spread over 46 nations: For streaming, torrenting, and viewing prohibited content, HideMy.name features dedicated servers.
Money-back promise: 30-day money-back guarantee.
Wide range of services: It supports torrenting as well as streaming and provides over 102 servers spread across 79 locations and 43 countries.
Applications support: All popular applications and hardware, including Windows, Android, iOS, and macOS are supported.
Auto connection: When you turn on your computer, it connects to the VPN server automatically. This is useful for those who often forget to activate their VPN before accessing the Internet.
Pros
Solid speeds.
Affordable and offers a variety of pricing options.
Can unlock Netflix, BBC iPlayer, and more.
30-day money-back guarantee. amazingly user-friendly.
Cons
Ideal for: multiple protocols work, including OpenVPN (both UDP and TCP), IKEv2, L2TP, and PPTP.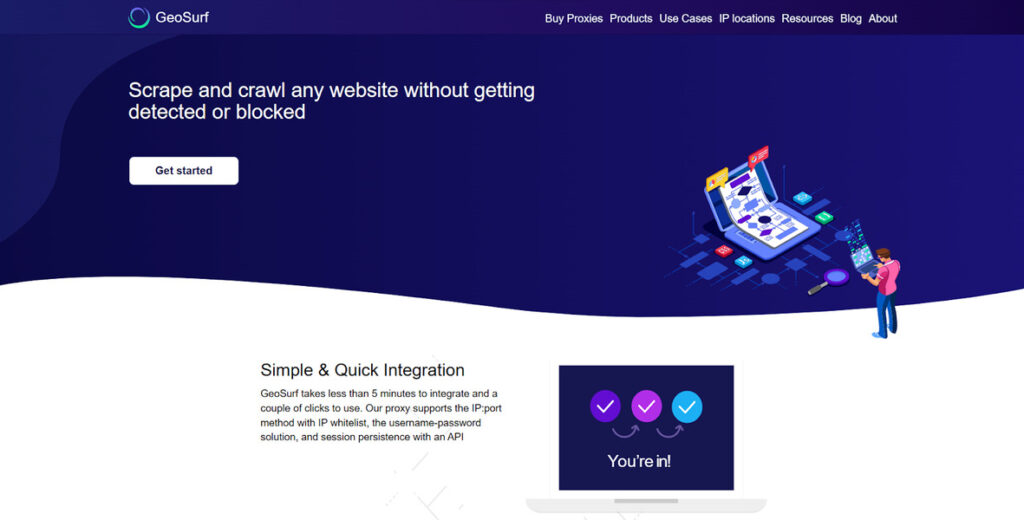 Geosurf, an early premium proxy network for B2B and enterprise applications, was officially launched in 2009. It is known for its private proxy network and claims to have a database of 2 million private IP addresses worldwide.
The Tel Aviv-based company signs a non-disclosure agreement with its customers, which legally binds it not to share any of their information.
Key features
Transparent: GeoSurf is designed to provide accurate and trustworthy results. When browsing the Internet in different regions, GeoSurf does not change the ads or content that customers see in any way, which the provider says sets it apart from the competition.
Sufficient IP pools and location: Over 2 million home IP addresses are available with GeoSurf. Featuring a high-rotating gateway that frequently changes IPs to avoid activating websites' anti-spam systems, GeoSurf allows you to do web scraping without fear of being blocked.
Geotargeting is beneficial: With your current plan, you can select specific nations if you are not too particular about selecting specific cities. The three fixed IP addresses available when selecting a nation change after either 1, 10, or 30 minutes.
Gateways with a high rotation: GeoSurf Web Scraping benefits greatly from highly rotating gateways. It works simply: the gateway has a large number of IP addresses that it uses and that changes with each request.

Pros
Easy to use.
Price range.
Possibility to break down to the city, state, or country level.
Cons
Cost per user.
Reliability.
For some countries, it is slow.
Ideal for: rerouting web traffic.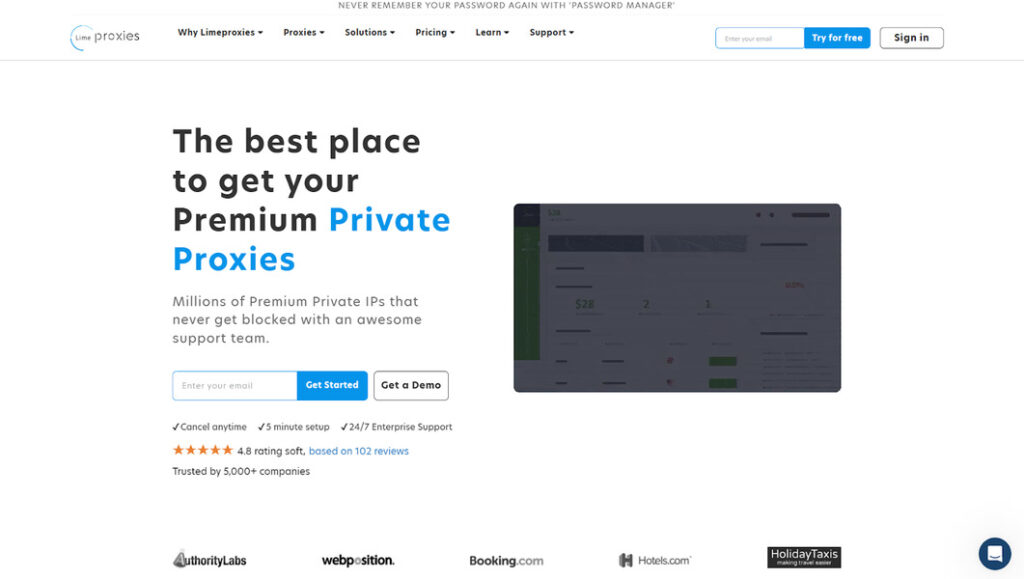 LimeProxies has been around since 2010 and is one of the most established proxy services. The company has a good reputation and generally positive user reviews, offering low-cost data center IPs for small to medium businesses and Internet marketers.
Key features
Choose proxies based on role or use case: With Lime Proxies, you can choose solutions depending on your use case (e.g. web testing, price tracking, etc.) and task (e.g. competitive advantage, protecting your data, etc.). This feature is especially useful for beginners.
More good news: Limeproxies supports geo-targeting, including at the city level, and provides access to more than 50 locations for residential IPs and data center IPs. The geo-targeting list includes more than 8 locations in the U.S. and 30 other countries, including Austria, Canada, Ireland, Romania, and Mauritius, to name a few.
Multiple Resources for Help: In addition to Limeproxies' extremely user-friendly interface, there are several support tools, from regular product updates to a comprehensive knowledge base. These resources include short movies that answer frequently asked questions, such as how to change your IP or how proxies compare to alternative options like VPNs.
Numerous IPs and 1 GBPS speed: While the massive pool of over 40 million IP addresses at Limeproxies may be smaller than industry leaders like Oxylabs, it is still more than enough for a top-notch proxy service.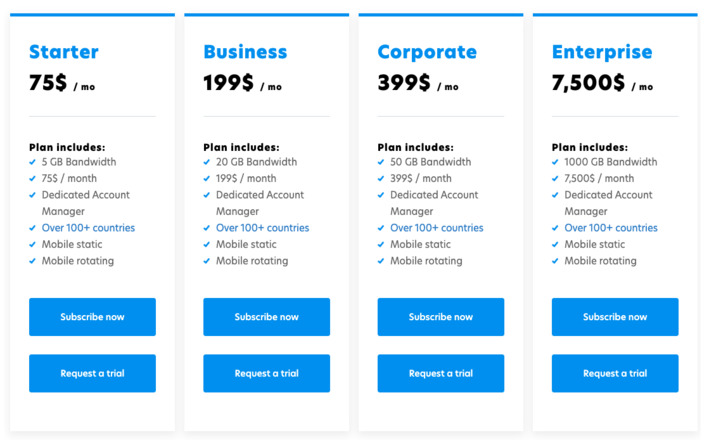 Pros
SOCKS 5 proxies.
Free trial AND refund promise.
Cons
Fewer use cases available.
There are trade-offs everywhere.
Ideal for: Scraping, link building, SEO tools, as well as Craigslist postings.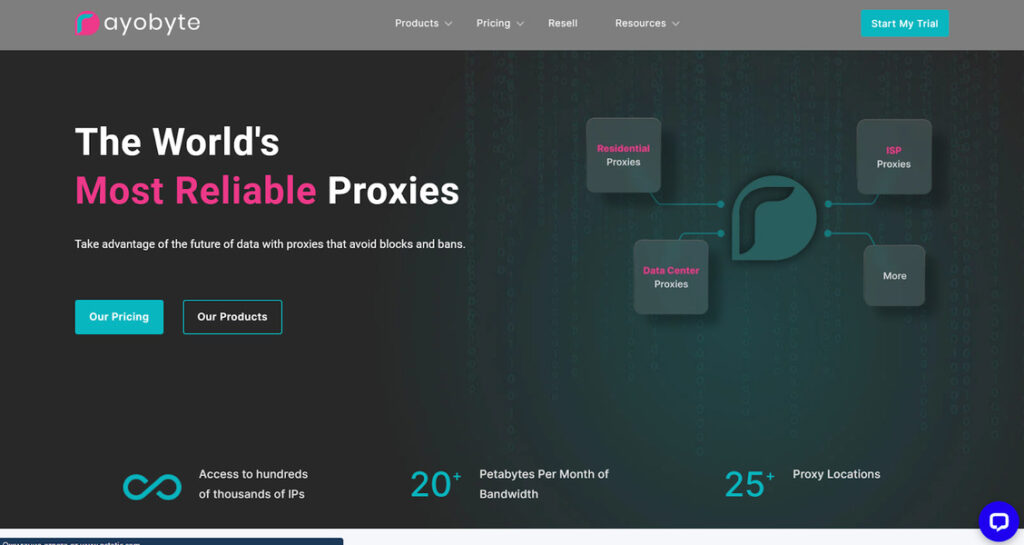 Rayobyte is a US proxy services company founded in 2015. It is part of Sprious, which offers hosting, web scraping, and data intelligence services. The company's main offering consists of dedicated data center proxies. Recently, the company has also started offering proxies for ISPs, home users, and cell phones.
Key features
Unlimited connections and bandwidth: One of the main advantages is that consumers have access to as much traffic as they want. Simultaneous connections are also offered, which is ideal for multitasking.
Replace your proxy for free: Each month, Rayobyte Proxies customers can receive a free proxy replacement. Many other proxy providers do not offer this benefit.
Locations: Rayobyte Proxies offers its services in approximately 17 countries across the globe.
Quick activation: The simplicity of setting up and using Rayobyte Proxies is a wonderful feature. When purchasing a plan, the company also offers quick activation.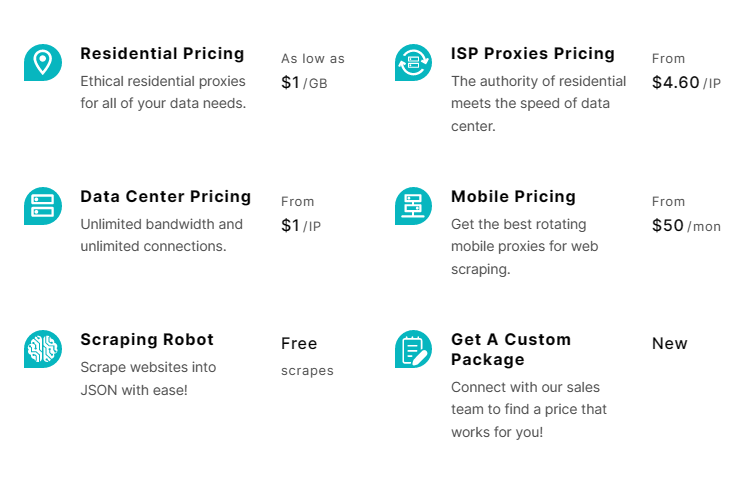 Pros
Unrestricted capacity.
Quick proxies.
Proxy for the HTTP, HTTPS, and SOCKS protocols.
Instant activation, for free.
Rapid reaction from customer service.
Cons
Costly over the long term.
No live chat.
Limited geographic scope.
Ideal for: large scraping projects.
Types of Indonesia Proxy Services
Several types of proxies are available in Indonesia. These include HTTP/S proxies, SOCKS proxies, CGI proxies, and VPNs (virtual private networks). Each type of proxy service in Indonesia has its own advantages and disadvantages when accessing web content in the archipelago.
HTTP/S Proxies
HTTP/S proxies are the most common type of Indonesian proxy services available today. They are relatively easy to set up and use. Simply enter the IP address supplied by your provider into your browser's settings (or use their dedicated software). The main advantage of using an HTTP/S proxy is that it allows you to access websites that are otherwise inaccessible due to geographical restrictions or censorship laws in Indonesia. However, they are not as secure as other types of proxies because they do not encrypt the traffic that passes through them.
SOCKS Proxies
SOCKS proxies differ from HTTP/S proxies in that they provide more security by encrypting the data before it is sent over to the network connection between your device and the server abroad. This makes it much more difficult for third parties – including ISPs – to monitor Internet activity on your device or computer, as all traffic appears to be encrypted as it passes through the proxy server itself. However, these services tend to be more expensive than those offered by HTTP/S providers, as they require more sophisticated infrastructure and technology than the provider itself.
VPNs
VPNs are another popular option for accessing blocked content in Indonesia. Unlike traditional proxies, VPNs encrypt all data before sending it over the Internet, preventing others from seeing or altering your data during transmission. VPNs also offer greater flexibility for users, as they can be accessed with any device that has an Internet connection (including cell phones). The downside is that they are generally more expensive than other types of proxies and can significantly slow down your connection speed if not configured properly.
CGI proxies
CGI proxies use HTTP GET requests to retrieve data from a website or application and then send it back over an encrypted connection. This prevents anyone from tracking your activity because the information is sent through an encrypted tunnel between your computer and the remote server.
Free Vs. Paid Proxies in Indonesia
Free proxies in Indonesia
Free web proxy services in Indonesia are ideal for casual users who simply want to access blocked websites or bypass geographical restrictions. The main advantage of a free proxy is that it does not require installation or additional software, which makes it easy for anyone to use. Besides, most free proxies do not have data or bandwidth limits, so you can use them for as long as you want without worrying about running out of data or incurring additional charges.
The downside of using a free proxy is that it usually offers a lower level of security than paid proxies. Also, many free proxies have limited functionality and may not be suitable for advanced users who need to access certain websites or other content that requires a higher level of security or anonymity. Moreover, some free proxies are slow and unreliable due to a large number of users being connected at the same time, which can make browsing unpleasant.
Paid proxies in Indonesia
Paid proxies offer more features than their free counterparts, but they come at a price! Paid proxies offer a higher level of encryption and privacy than free proxies because they don't rely on shared resources like public Wi-Fi networks or ISPs. Besides, these services offer special features such as dedicated IP addresses and unlimited bandwidth, so you'll be able to browse without worrying about a data shortage or speed reduction from your ISP. Besides, many companies offer customer support to help you in case you have connection problems or difficulties using their service.
For those who want to connect securely in Indonesia, there are several options, including free and paid proxies. As mentioned earlier, each of these options has its advantages and disadvantages. However, if you value privacy and performance, it may be worth investing in a paid proxy instead of a free one. This is because a paid proxy offers better security measures and other features such as dedicated IP addresses along with unlimited bandwidth usage.
FAQ
How do I choose a proxy provider?
There are many factors to consider when choosing a proxy service provider, including connection speed, security features, level of anonymity, customer service accessibility, price, etc. Make sure that the proxy provider you choose offers all the features you need by doing thorough research before making your decision. Also, read customer reviews to ensure that you are getting great value for your money.
What are the benefits of using a proxy?
The main advantage of using a proxy is anonymity. No one can track your online activity, as all requests are routed through the server. Moreover, proxies allow you to access geographically restricted content, bypass firewalls or other security measures and even get faster page loading times.
How do I set up a proxy?
Setting up a proxy is relatively simple. Most providers' websites feature detailed instructions on the setup process. However,  you need to install an application on your device (i.e. OpenVPN or Shadowsocks), configure it with the settings provided by the provider (such as IP address and port number), and then activate it when you want to use it.
What are the best proxy tips and tricks?
When choosing an Indonesian proxy, make sure that the servers are located in the country itself; this will ensure that your connection speed remains high when browsing local websites. Most providers offer free trials or money-back guarantees, which you should take advantage of if possible. Find out about any usage restrictions – some providers may restrict certain types of traffic, such as streaming videos or torrent files, so check before signing up.
How do I use a proxy in Indonesia?
Since Indonesia has strict censorship laws, it may be necessary for users who want to access certain websites or services within the country's borders to use a VPN or other types of anonymous networks, such as Tor or I2P, to effectively bypass these blocks without any issues. Fortunately, there are many VPN providers today that offer services specifically tailored for Indonesian residents, so finding one shouldn't be too difficult!
Conclusion
Indonesia is a great place for those who want to surf the Internet securely and privately while accessing local services such as banking and shopping. With the right proxy provider, you can enjoy anonymity and security in one package. The proxy list providers in Indonesia featured in this blog are all reliable and offer unique benefits that allow them to meet various business needs. Whether you are looking for something simple and affordable or an advanced plan with unlimited bandwidth, there is a perfect option for you in this list.